Triumph Bonneville T100 Review (2008)
"
This is a fantastic bike which guarantees smiles through miles. You could highly recommend this to any rider.
"
What Is It?
The Triumph Bonneville T100 is a retro style bike and is powered by an air-cooled 865 cc parallel twin engine, producing 67 bhp at 7,500 rpm and now benefits from fuel injection thanks to Euro 3 restrictions.
Specs
Seat Height: Low (

775

 

mm / 30.5 inches)
Weight: Heavy (230 kg / 507 lbs)
Economy: Average (40 mpg / 7.1 l/100km / 14.2 km/l)
Range: Average (140 miles / 225 km)
Power to Weight: Average (0.291 bhp/kg / 0.217 kW/kg)
Top Speed: Average (100 mph / 161 km/h)
Pros
Easy to handle at low speeds
Plenty of custom parts
Comfort
Sound
Looks
Cons
Budget to upgrade the rear shocks
Only a 5 speed gearbox
Limited range
Hard seat
Heavy
What Is It Like?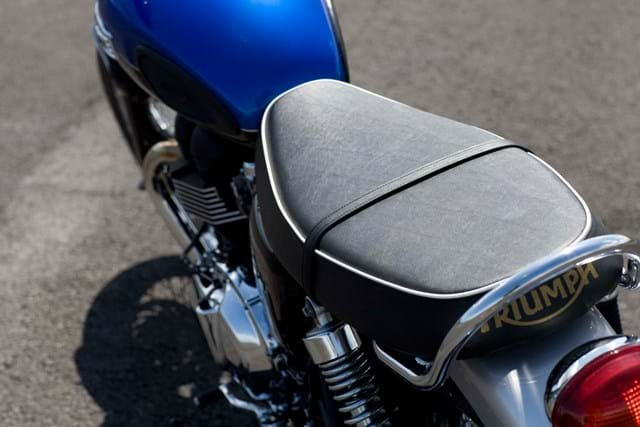 Choosing The T100
After riding a couple of Honda CG125s, a Honda CB500F and a couple of Honda CBF600s for learning, the time came to buy my first bike.
I shortlisted some and narrowed it down to two bikes. The Harley-Davidson XL883N Sportster Iron and the Triumph Bonneville T100 Black. I would say that these two are each other's main competitors in this retro-styled beginner friendly category.
I was torn and undecided as to which way to go because they are both beautiful bikes, but with Harley putting their 2018 prices up, it left little room for haggling on the used market with trying to get upgrades thrown in etc, so in the end I went for the Triumph, which is already a slightly cheaper bike.
Comfort and Feel
I'll start by saying that out of all the bikes I sat on and tried, the Bonnie is by far the most comfortable and natural feeling. It's a bike you can sit on and just go. There's no need to move around on the seat, no need to try and find a more comfortable position, you just sit on it and you're ready. The standard seat is very comfortable. I've done a few all-day rides and never once felt any complaint about the seat.
I've read a few reviews where weight is mentioned as a negative, and I personally would say the only time you notice it is when you're walking the bike in and out of the garage or moving it in similar walking scenarios. As soon as you're riding it however, even at slow speeds, it doesn't feel heavy or clumsy. I would put this down to the low centre of gravity and the low seat.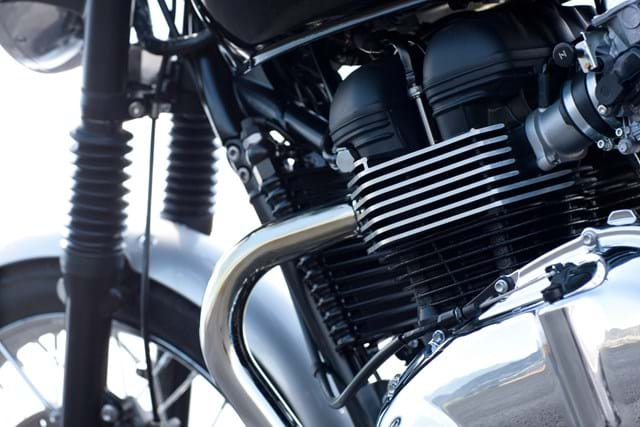 Performance
This is a wonderful bike for a new rider, a beginner, or even more experienced riders looking for a chilled and mellow approach to riding. I maintain that the golden age of Motorcycling is now gone due to lower speed limits, more speed cameras, too much traffic, poor condition roads and the time when you could gun around on a thou is now over.
The slower, safer approach to riding is now the desired approach and the Bonnie is the perfect bike for it. The air-cooled, 865cc parallel twin is never going to rival any Japanese 600cc in the speed stakes, but there's still plenty of torque and power for overtakes and it will really take off at traffic lights.
When tested on a private airfield, the bike seems to accelerate quickly all the way to 90mph, and lose steam after that, slowly climbing in speed until we ran out of runway. But for on-road riding this is perfect, all the torque and power is aimed at getting you up to legal speeds quickly, and in the real world, that's exactly what you want.
Performance-wise though, the one thing that this bike is really missing is a 6th gear. I am still constantly trying to shift up to an imaginary 6th gear, and on motorway riding, or straight A-road riding, I do feel that the engine revs a little high when doing 70mph in 5th gear, and a 6th gear as on overdrive would've been perfect for this bike.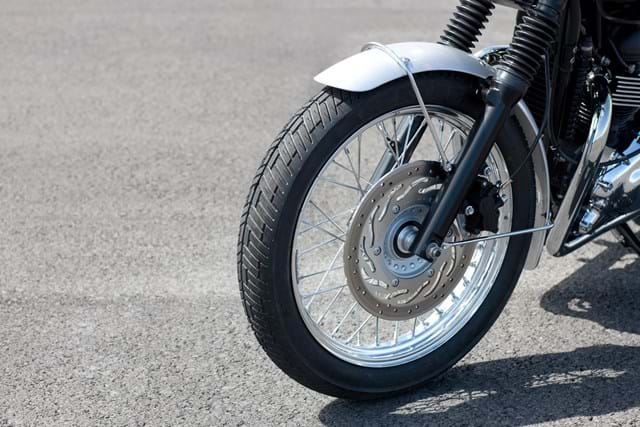 Brakes
The T100 only has a single disc up front and although it's in keeping with old 60s look there is really no need to have a single disc, twin discs up front would've been much better. Yes, it's not a fast bike, but when that car in front of you hammers their brakes on, and you need to stop quickly, it can feel a little bit dodgy and being pre-Euro 4 there is no ABS.
I'll be honest, in the four months I've had it, I've locked the rear wheel up three times in emergency braking situations. This may well be my lack of riding experience or technique, or it may well be the bike itself given all that weight shifting to the front when heavily braking, and in the process lightening the rear end, making it easier to lock the back wheel up.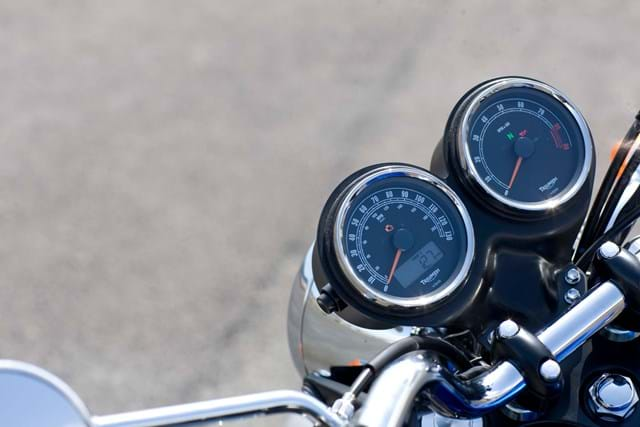 Economy
Petrol consumption is good. I've not worked out the MPG that I'm getting but the bike has a 16.6 litre tank and when filled to the brim the petrol light usually comes on around 140 miles in. The dealer told me you'll get around 35-40 miles when on the petrol light, so the range is very good.
Mods
One of the attractive aspects of Bonneville ownership is the sheer amount of parts support from both Factory and Aftermarket suppliers. Triumph really do seem to be making the effort to turn Triumph into a brand, similar to Harley-Davidson, and with their clothing and accessories, as well as their own range of upgrade parts available, you can see the future where Triumph is the Harley of the UK.
I've changed the ordinary chrome screw-in petrol cap for a 60's style Monza fast-fill cap, which not only looks the part, it also doesn't leave you looking for somewhere to place your filler cap when filling up. The other minor change I've made is putting a clear lens kit on, instead of the amber indicators and red brake light, they are now all clear with coloured bulbs, and it just completes the blacked-out monochrome look, taking all the colour away from the bike. I like it!
My next planned modification is to give the bike a basic state of tune, with a K&N air filter, a power commander and new exhausts. It's not that I wish for more power, otherwise I'd have bought a faster bike. It's simply because I want the exhausts to be louder and less restricted, and I have a personal hate for OEM paper filters.
Of course you can't change either the exhausts or the air filter without adjusting the fuelling, so a power commander is necessary. I've set a low budget of £700 and a high budget of £1,100 to get this sorted, which when compared to similar tasks with other bikes, is actually quite cheap!
Looks
The Bonnie is such a good looking bike. I have been regularly told by biking friends that it's the Bonnie everybody is looking at when riding through towns or stopping at biker cafes. I've not noticed it myself, but I do try to avoid such distractions and focus on the road ahead. I do feel it is a beautiful bike and it is the symbol of a Superbike from 50 years ago.
Keeping It Retro
I particularly like the fake carbs. Obviously Euro-compliance has killed off the good old carbs, but Triumph have kept the look of the classic Bonnie by putting all the EFI into a cash housing, which does complete the look. One of the 'quirks' is not being able to start the bike without using the 'choke'.
Obviously it's not an actual choke, but an idle control, which acts in a similar way. The bike will just bog down and die straight away if you don't have the choke pulled out, even if you've just had a two hour ride, it will still cut out without pulling the 'choke' out. I like it and I think it's a character quirk. Though I can see people complaining about it.
They've changed the engine in the new Bonnies to a 270° crank, water-cooled twin, which is all well and good and they were already using the 270° crank in the cruisers and Scramblers, but I just think that an air-cooled, 360° crank twin is a lot more classic British and desirable for this kind of bike, given the characteristics and sound, so I am happy to have had a pre-2016 Bonnie.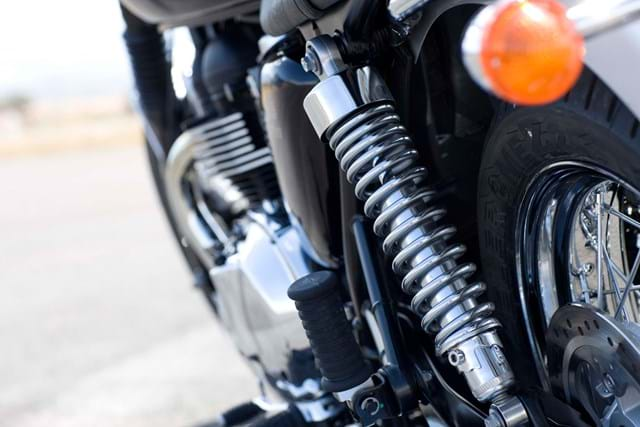 Any Downsides?
Obviously, you can tell that I love this bike. It's everything I wanted from a bike, and more, but there are two things which I feel aren't very good for a bike of this price-range.
Firstly, the paint seems of appalling quality and my tip for anybody buying a Triumph would be to get it ceramic coated and protected ASAP. I have never known paint so bad in all my life. It really is as bad as 'you'll only have to look at it and it will scratch'. But it only seems to be the tank, the mudguards and side panels are fine. One of my next tasks is to seriously polish and then protect the tank so hopefully it will be a little less prone to scratching.
The other negative is the chrome. Chroming is not what it used to be, but on these Triumphs it is seriously bad. I bought the bike second hand at three and a half years old and unfortunately there are parts which are already 'gone' as it were.
You're looking at the spokes, the rear shocks, the 'carb' tops and the inner side of the exhausts. Careful maintenance and patience would help this and I think the bloke who had it before me kept on top of the bike, but only the bits you could see and / or get to easily.
Anything that demands more effort to get to, like the rear wheel's spokes, he seems to have neglected and I don't think I'm going to be able to 'get the chrome back'. The best I can do is protect the bike with ACF50 and hope that the corrosion to the chromed parts doesn't get worse.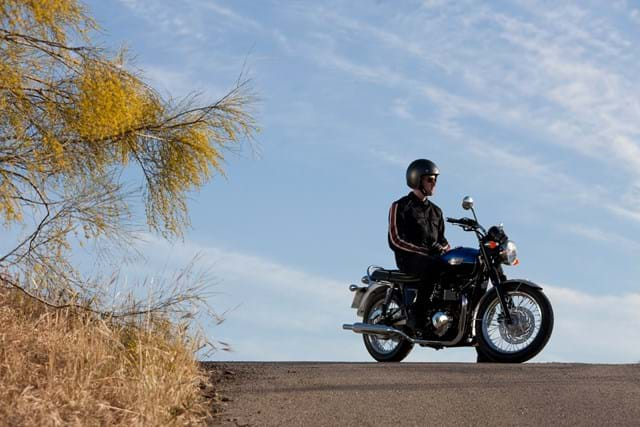 To Sum Up
At around £6,000 for a used bike, it is an expensive bike. There are things which you would expect to be better given the price of the bike. However, this is a fantastic bike, which guarantees smiles through miles.
You could highly recommend this to any rider. New riders and learners will particularly be safe with the lower power, yet still have enough power to not get bored with when ready. Older riders who may have owned an original Bonneville may want to relive their youth on the modern Bonnie.
People interested in customisation and making things their own will particularly like this bike, given the large amount of parts support and different paths this bike can take. Or even people looking for a second bike to tootle around on, polish on a Sunday etc. It is a very accessible bike for all riders.
- Kaine S, 2018
Price Guide
Year
Dealer
Private
Part Ex
Mileage
2016
£6,650
£5,350
£4,700
8,500
2015
£6,350
£5,100
£4,450
10,300
2014
£6,100
£4,850
£4,250
12,100
2013
£5,850
£4,650
£4,100
13,900
2012
£5,600
£4,500
£3,900
15,700
2011
£5,400
£4,300
£3,750
17,400
2010
£5,200
£4,150
£3,650
19,100
2009
£5,050
£4,050
£3,550
20,700
2008
£4,900
£3,900
£3,450
22,300
How to use the price guide
The Second Opinion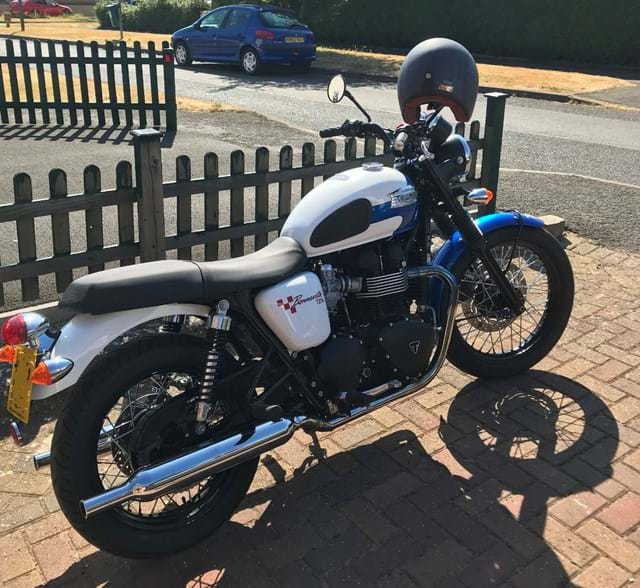 2015 Limited Edition T214
There are a few things different to the standard T100. You get a smaller front light, shorter rear fender, bigger wheels and it's limited to 1,000 bikes. Mine is number two.
Good Points
Low seat height feels like your sat in the bike rather than perched on top.
Very easy to move around at low speed, most of weight is high up.
Controls all nice and handy.
Mirrors do a great job.
Torquey motor. Most of it is low down and pulls well even in the higher gears making it a lazy ride if you prefer.
Riding two up. Rear suspension was soft so stiffened it right up. It made a difference but if riding two up all the time would probably upgrade the suspension. Motor still pulls fairly well.
Solo riding is a blast especially on the twistys.
Plenty there to get past slower traffic but it's never going to set the world on fire. You don't buy one for that reason.
Would probably buy a screen for motorway riding but it's fine up to 70mph.
Bad Points
Not many.
Seat not the most comfortable.
Exhaust very quiet.
Engine finish not the best, some paint loss on casings already.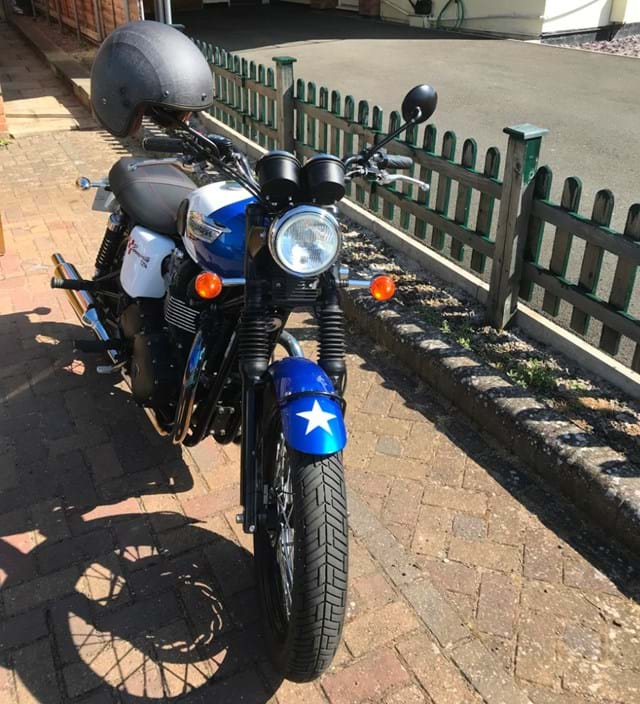 Overall it's a great bike which looks the business. There are some great colour schemes available, it gets plenty of attention and it's cheap to insure and run.
- John B, 2018
A Few More Thoughts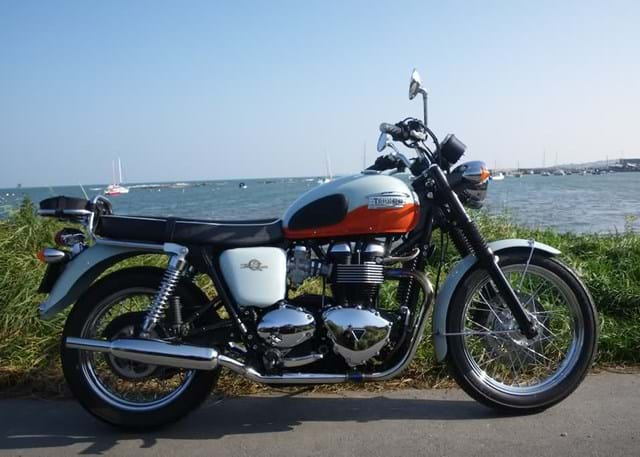 2009 Bonneville T100
It's a 50th Anniversary Limited Edition of which only 650 were made, as the original 1959 model was 650cc. This was to celebrate the launch of the original T120 in 1959 and it replaced a 2008 Bonnie Black.
I bought the bike in 2010 with only 880 miles on the clock as for some strange reason the previous owner didn't like it! It's now approaching 10,000 on the clock. Back in the late '60s, I used to own a '59 Bonnie in exactly the same colours and when I saw the modern version, I just had to have it.
Unlike the original, the new model doesn't mark its territory with puddles of oil, nor does it attempt to spit one off when going round corners and to date has been entirely maintenance and fault free. Apart from annual services, I have only had to replace front brake pads and fit a set of Avon Road Runners which are far superior to the original Metzeler fitment.
Mods
I've added a Scottoiler which is keeping the OE chain and rear sprocket in good condition. Also added Norman Hyde TOGA 'silencers' which, without baffles fitted, sound glorious and just the way a Bonneville is meant to sound!
This necessitated disabling the Air Injection (AI) system to cure popping on over-run but is a simple bodge (remove AI pipe, stuff a marble up the tube and re-affix pipe). This does not affect performance or emissions in any way.
I'll shortly be replacing the original rear shocks with the Hagon gas-filled variety and also replacing the front springs with the progressive type as after 10,000 miles, it's getting a bit tired front and rear. Prospective Bonneville owners might find it useful to register with the Triumph RAT website where the 'Twin Talk' forum has a mine of information on the bikes.
To Sum Up
All in all, it's a lovely 'sunny day' bike, fun to ride, adequate performance and stunning good looks. As far as I'm concerned, it's a keeper. I have my R1150GS for touring, the Bonnie for bimbling and these cover all my needs at present so I don't foresee myself getting anything else in the garage in the near future.
- Arthur G, 2016