Sinnis Bomber Review (2017)
"
For something to learn on and to "bomb" around the countryside at weekends, it's a great machine.
"
Specs
Seat Height: Low (

760

 

mm / 29.9 inches)
Dry Weight: Light (125 kg / 276 lbs)
Economy: Very good (80 mpg / 3.5 l/100km / 28.3 km/l)
Range: High (180 miles / 290 km)
Top Speed: Average (65 mph / 105 km/h)
Pros
Cheap as the cheapest chips
Beautiful cafe racer looks
Easy to modify
Economy
Range
Cons
No handlebar space for aftermarket accessories
Seat could be a bit softer
Brakes
Tyres
What Is It Like?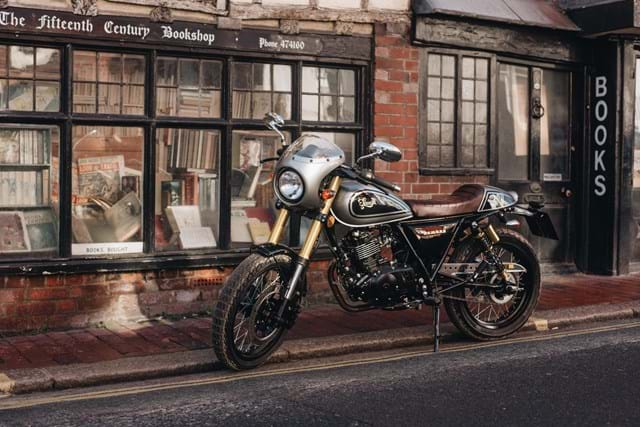 The Sinnis Bomber has been around since early 2018. It follows on from the Sinnis Café and this time Sinnis have really nailed the classic modern Café Racer look. Whilst I'm sure Sinnis's lawyers would vehemently deny any plagiarism, the overall stance of the Bomber, the gold USD forks and the headlight cowl make it look not unlike a mini Triumph Thruxton.
And that's the appeal – once on the Bomber with its lean forward position, "bombing" over the South Downs, you can imagine you're back there, in the 60s racing along the North Circular Road between the Ace Café and Hanger Lane. You're a ton-up boy (or girl), although anything over 55 mph on the Bomber is very hair-raising indeed.
So What Do You Get
You get the standard Sinnis air-cooled 124 cc Suzuki-based engine mated to a five speed gearbox to make it go, and single discs front and rear to make it stop. There are clip-on handlebars, pre-load adjustable rear shocks (not tested), USD forks and pea-shooter single chrome exhaust.
Single headlight, single tail light, a single dial instrument showing Km/h and Mph on the dial. Within the dial there's an LCD display showing fuel level (yes an actual fuel gauge), what gear you're in, and basic trip which is switchable between Km and Miles. Does anyone really expect a rev-counter for this money, and do you really need one on a 125?
Finally, there's a rather gorgeous-looking 10 litre chrome-capped teardrop tank with enough capacity for over 130 miles of hard riding.
At the end of the day, it's a fairly well-built basic 125 with a huge amount of styling. The simplicity of the Bomber also makes it eminently moddable, within reason. There are no specific aftermarket accessories, but go to the generic accessories market and there's little you can't do in terms of styling. The question is, would you want or need to for something you're only going to have for perhaps 18 months before you pass your A2 or full licence test and move up? The answer depends on how much of a poser you are.
The advantage of a cheap Chinese 125 is that you don't feel bad buying cheap Chinese accessories. Sure, you can buy top of the range bar-end mirrors for £200, but that's more than 10% of the cost of the machine. Online searches of Chinese markets brings up a host of cheap accessories – my bar end mirrors were £22 the pair!
One caution on modifications and accessories; there is no spare space on the clip-on bars. Want a USB port, phone holder, satnav, or anything else on the handlebars? Forget it – there's no room.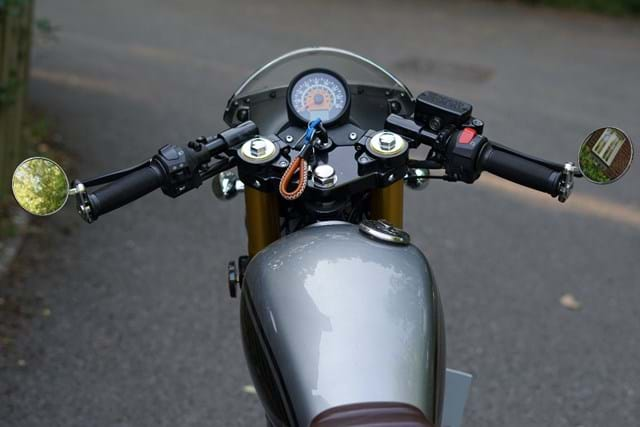 Modifications To Date
First thing I did, before the Bomber even arrived, was order new rubber. I'm sure the Timsun tyres are fine in dry warm weather, but as a new biker (yes at the age of 54), I wanted something with stickier credentials and so had Bridgestone Battlax BT46s fitted. And yes, as you can see from the picture, I got busy with some cheap tyre pens on the Bridgestone logos.
The standard mirrors are the basic common upright type. I swapped these out for some "chrome-effect" bar end round mirrors. Maybe this was a mistake for a new rider as I'm sometimes looking down at the mirrors, i.e. not always at the road ahead. But they really change the look of the Bomber to something much more aggressive than when it left the factory.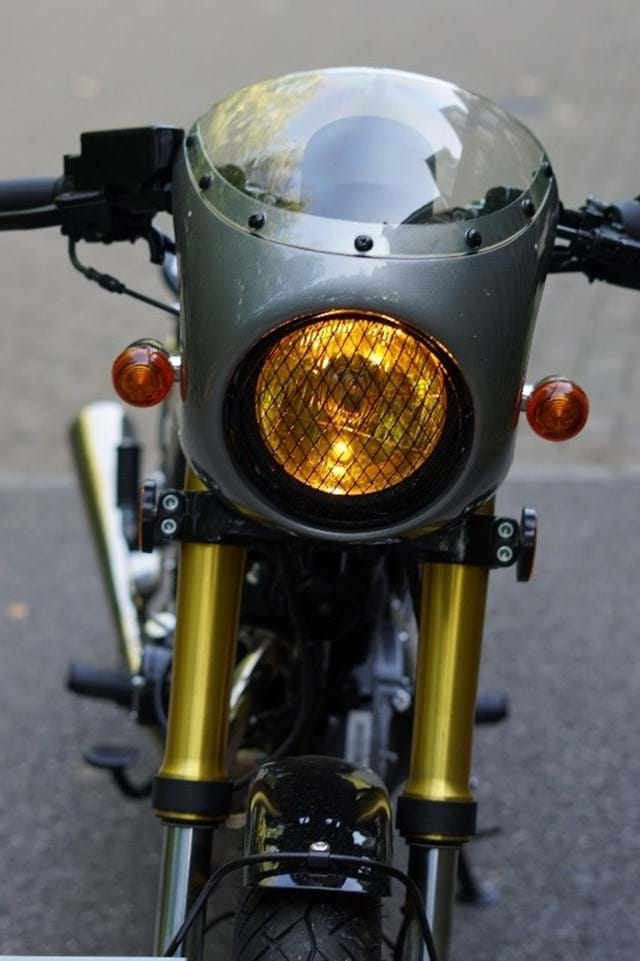 Then there's the headlight. It comes with a basic 6 inch round lamp, which I swapped for a yellow one with a grill. A bit of fettling with a Dremmel on the plastic cowl made it fit nicely. The cowl is easily detachable by the way, depending on the look you want.
Other than that, I've added a GRRC sticker and yellow wheel stripes. Poser? Moi?
The point is, the Bomber is so simple and basic, it's easy to make it your own with a few spanners and sockets.
I want to modify the rear end. The "37" cowl contains the rear light, and I'm still working out how and where to fit a new rear light (double round bullet-style chrome with number plate down light) without too much palaver.
I don't know why Sinnis decided that 37 was a good number for the seat cowl. Maybe after the late Marco Simoncelli's Aprilia racing number during parts of his too-short career. It would be odd as he rode racing machines. Maybe there's another reason but I've yet to find it.
I also want to fit a couple of small (3 inch?) front fog lights to the forks just below the headlamp. Not that I plan to ride it in the fog, or even in the rain!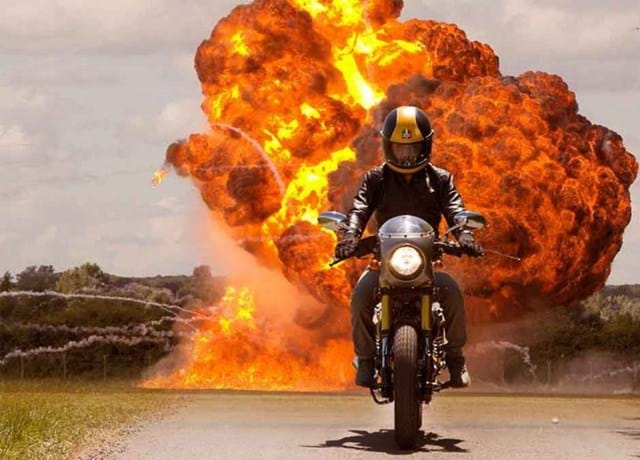 The Ride
Bear in mind I'm a new rider. But then that's who the Bomber is aimed at.
It starts every time and all the controls and the dial are logically positioned. My booted feet are flat on the floor with my 29" inside leg, and the Bomber is light at 125 kg (dry) making it easy to manoeuvre whether you're on or off it.
The clip-ons are not so low down that you need the flexibility of a teenage Russian gymnast, but you are definitely leaning forward. The pegs are placed so that it's not uncomfortable, even for my old back, and the riding position does encourage you to "bomb" down the roads.
For me, it's good for a 40 mile run, but more than that and I'm taking a breather for 5 minutes and stretching my back (and having a fag) before getting back on. I wouldn't fancy doing a 100 mile straight run on it, but that's not what it's for. It's for racing between cafés, bombing from London to Brighton with impromptu meets in lay-bys along the way; it's not designed for cruising down to the French Riviera. Also, the seat seems a bit hard, and that just adds to the feeling that it isn't designed for very long runs.
Gearing is good and the engine is flexible and forgiving. 20 mph in 5th or 35 mph in 3rd are both possible. The relative lightness means steep uphill runs are not a problem for the 11.5 bhp engine. But do remember that it's still merely a 125. Don't expect to overtake anything much other than cyclists and milk floats, and do expect to be overtaken a lot.
I once accidentally strayed onto the A23 near Brighton, a three-lane 70 mph motorway-like road. I survived but my inner monologue spouted many classic four letter Anglo-Saxon words out of pure fear until I could find a way off. But it's a relatively light bike, so expect a fair bit of wind-buffeting in exposed areas on breezy days or when large lorries overtake close-by doing 60.
Up to 50 mph it's very well-behaved. Beyond that it starts to buzz, rattle and vibe. 62 mph is the fastest I've had it – others claim 70 mph. They either have far better nerves than I do, their speedometers are faulty, or they're liars, especially as Sinnis themselves only claim a top speed of 65 mph. Perhaps it's my lack of experience, I'll keep pushing it and maybe get to 70 mph going downhill. But more likely I'll just look at the major dial on the speedometer, and revel when it reaches the magical "ton" (in km/h).
The linked single-disc front and rear brakes are effective at stopping it. The only problem I've had with the Bomber is that the rear pads got stuck in the "on" position on the disc and I ground to a halt in the middle of nowhere. It was returned under warranty and the slave cylinder replaced. There have been no problems since.
As for steering, I can't tell if it's me being new or something about the Bomber but I'm not yet confident around fast corners. Maybe to do with the fact that I came off a bike last year while (not) negotiating a roundabout. Perhaps it's my 15 stone weight raising the centre of gravity that's the issue. But I get faster and more confident with every trip.
Who Is The Bomber For?
If you want a first motorcycle with a café racer look for peanuts, the Bomber is for you. Leave it stock or modify as you wish. Expect people to come up to you saying how great it looks, and then they notice the L-plates, and realise it's a mere 125, but they still agree it's beautiful.
The fact a topbox would totally ruin the look perhaps doesn't make it suitable as a commuter, and as I said, it's not a machine for runs over 100 straight miles. But for something to learn on and to "bomb" around the countryside at weekends, it's a great machine.
What To Pay?
Beware of price comparisons with similar motorcycles in this category. The book price is £2,395 – but I doubt anyone pays this. I've seen deals for £2099, £1,899 and £1,799.
I nabbed mine, a pre-registered bike with 1 mile on the clock at the start of the Covid-19 lockdown for a ridiculous £1,599 with warranty and breakdown service. Dealers clearly have a fair bit of margin to work with.
(Very) Minor Niggles
It didn't come with a manual or a service book. Nothing at all. It would have been nice, but to be fair, I'd not have had cause to open it yet as the Bomber is so simple. I'll take it back to the dealer at the specified intervals to maintain the warranty.
The dealer had omitted to put the "Bomber" logo on the sides. This was fine with me as I've added a GRRC sticker. Incidentally, the Bomber used to be branded as the Sinnis Revival, but apparently the people at Goodwood had a few words and Sinnis decided to re-brand the bike as the Bomber rather than engage in a legal battle.
The dealer may not have fully tested it as they hadn't identified the rear brake issue that meant I had to return it for a fix.
The spokes are beginning to oxidise after only 500 miles of dry riding and it's never been left out in the rain without its cover.
There are slight gaps between the side panels and the chassis – maybe it's a minor design flaw, maybe it's not been diligently assembled.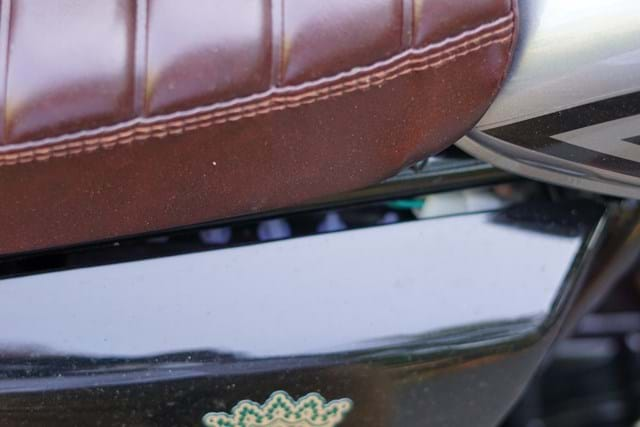 The Elephant In The Room
It's a Sinnis! To many, that means that like other Chinese-manufactured "value" 125s, you get cheap quality that won't last a year. "You get what you pay for" is what they say.
They may be partly right – the engine is an old design, albeit a reliable one. The chassis is tubular steel rather than some fancier more-expensive construction. They say it will rust. I say that any motorcycle will rust if you let it. Keep it clean, keep it polished, tighten your nuts, and keep it covered.
I've read that perhaps the reason that cheap Chinese motorcycles tend to rust is that their owners don't care for them as well as they would a £4,000 Yamaha 125. Treat it like a £4,000 Yamaha 125 and it's going to last a lot longer than if you neglect it. As I keep saying, you're only going to want to own it for a year to 18 months max anyway.
Who knows what the residual value will be when I come to sell it? Perhaps £1,000 when it's a year old. In percentage terms that might seem a lot, particularly if you paid book value for it, but in cash terms it's about the same loss as you'd make after a year on that £4,000 Yamaha.
But if the Sinnis name offends you, a strategically placed sticker will hide the most prominent logo on the fuel tank – if you really must.
To Sum Up
Buy one and enjoy it. You'll only have it for maybe 12-18 months. It's not a Yamaha or Honda, but then it's half the price or less when buying new.
You could get a 7 year old Yamaha 125 for the same money, it will serve you very well, and you'll be able to sell it for roughly what you paid for it. But believe me, you won't look nearly as good.
- James R, 2020
Price Guide
Year
Dealer
Private
Part Ex
Mileage
2020
£1,900
£1,550
£1,350
3,700
2019
£1,850
£1,500
£1,300
5,100
2018
£1,850
£1,450
£1,300
4,900
2017
£1,750
£1,400
£1,250
6,700
How to use the price guide
Add Your Review
Do you own this bike? We would love to hear anything good, bad, unexpected or that you have changed plus anything that a prospective new owner might find interesting or useful.