Lexmoto Adrenaline Review
✓Great value, suspension, loads of kit
×Tall seat for a learner model, tyres
What Is It?
The 2015 Lexmoto Adrenaline is a learner friendly supermoto bike which was updated to Euro 4 spec in 2017 with combined brakes and fuel injection.
Engine: 125 cc Single Cylinder, 11 bhp
Economy: 80 mpg
Range: 190 miles
Seat Height: 890 mm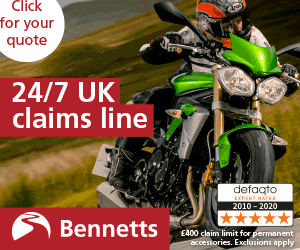 What Is It Like?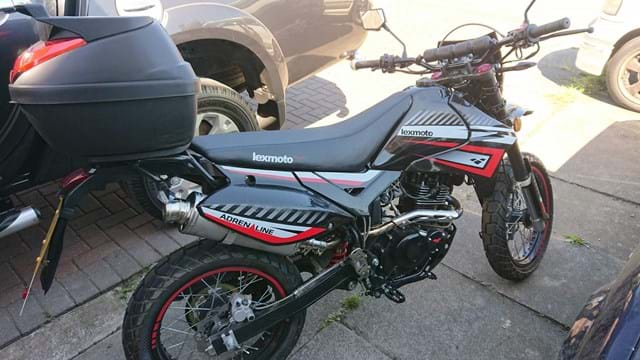 The Good
I have covered 880 miles since new and it has been a solid and dependable bike to get me to and from work with the occasional ride out with other 125 owners. It's got the ability to hit 70mph while being cheap to run and fun to ride even at lower speeds. With the right additions it can make a practical daily commuter.
The Bad
The only real quibbles I have is that it comes fitted with Chinese nylon tyres, Timsun 130/70 and 110/70 to be precise for the rear and front respectively. They're fine in the dry and the wet as long as you don't drive the bike like your Valentino Rossi but they're okay for a daily commute. Also the adjustable upside down forks are tricky to get to without removing the handlebars.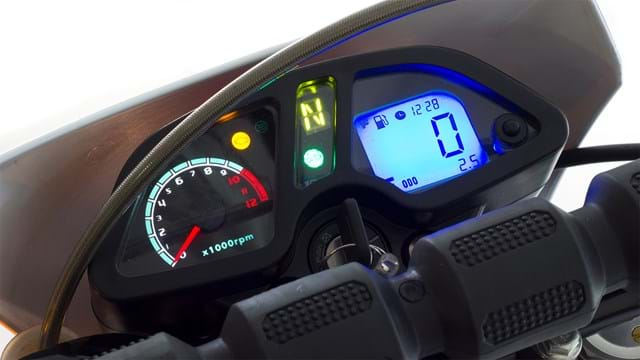 Vibes
I've covered 880 miles so far a mix of town and dual carriageway and its quite happy doing 70mph though bare in mind you will be hitting 9,000 on the rev counter and there will be vibration through the handlebars which can lead to your hands going numb on a long ride. Personally I don't mind this myself but to each their own. It's had it's break in service which cost £50 and due for its second service which costs £75.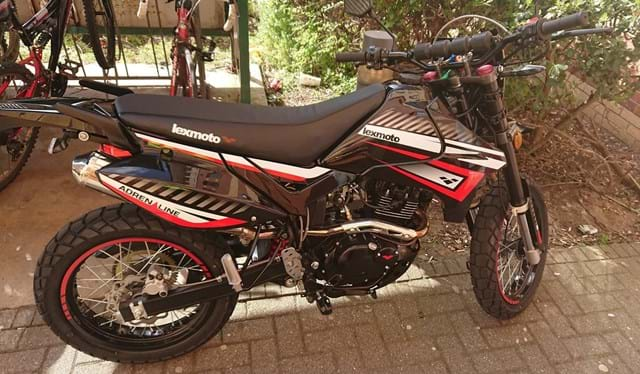 Mods
I've installed a Lextek luggage rack made for the Adrenaline and a Lextek 42 litre top box which has made it very practical. You'll be surprised what you can fit in there. I've also bough the Lextek OP1 exhaust kit for £107; the standard exhaust is perfectly serviceable just not to my taste as it's quite heavy and makes the bike too quiet for my liking.
I've also recently purchased a KK Moon Waterproof tailbag to use for the ride outs instead of the top box and I've taken off the pillion footpegs to reduce weight. I'd like to get some of the Lextek billet brake clutch lever and pedals they're always out of stock.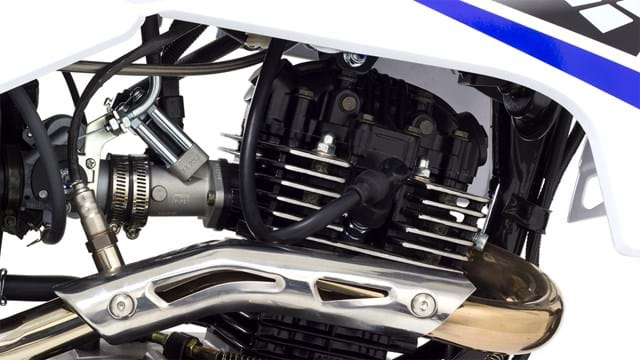 To Sum Up
Sure it's not the fastest or most powerful 125 around however you'll pay nearly double the price elsewhere for a extra 10mph top speed and a bit faster acceleration. In short you'll be hard pressed to find a bike this well spec'd for anything short of £3,000 from any of the big manufacturers.
If you decide to buy one I'd suggest signing up to the Lexmoto owners groups on Facebook including Project 125. You'll find a lot of helpful advice and groups looking for people to come on ride outs. If you get any issues they are a great source of information and help.
- James B, 2018
Price Guide
Year
Dealer
Private
Part Ex
Mileage
2015
£1,350
£1,050
£950
7,100
2016
£1,350
£1,100
£950
4,900
2017
£1,550
£1,250
£1,100
5,100
2018
£1,750
£1,400
£1,250
3,700
2019
£2,050
£1,650
£1,450
2,100
The Second Opinion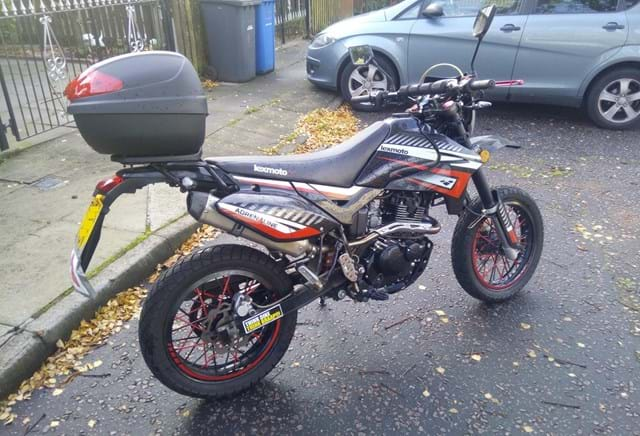 What's Good?
I've had my Lexmoto Adrenaline two years now and at first I was worried. People can be very hasty to judge a Chinese 125 but I thought hey ho let's give it a try. Coming in at £1,990 I thought it was worth a shot and I got it from superbike factory.
Well let me tell you boy am I impressed! It's never let me down and it's the most fun I've ever had on a 125! I think it's like anything if you look after it, it will look after you. The thing that impresses me about these bikes is how much fun it is to change things on them and how easy it is to do bits yourself. Mines is self maintained and I've done all the mods myself.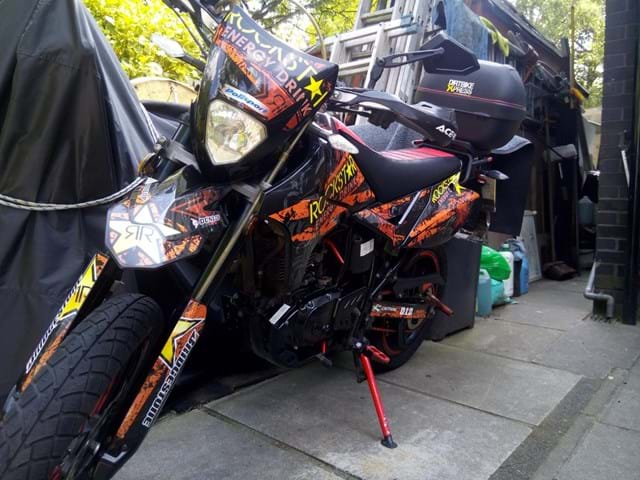 Mods
I've added a Lextek hexagonal exhaust, Renthal handle bars, red DID chain and sprockets, Acerbis hand guards, red footpegs, different mirrors, Rockstar decal vinyl wrap, red fuel piping and general red tape.
To Sum Up
So for me it's been the best motorbike I've owned. For new owners what I'd say is don't listen to the stereo types of people who hate Chinese bikes, take a chance and get one you'll have fun. I promise that and at the price who can complain, it's only a 125 why spend 4-5 grand when you can have just as much if not more fun customising these good-looking machines.
- Sam R, 2018
More Info
Check out this video from Lexmoto.
For more reviews and launches check out BikeSocial.