Kawasaki Z900 Review (2017)
"
You feel hunkered down and inside the bike like it's an extension of your body, which is very confidence inspiring for any rider that may dislike the feeling of sitting on top of their machine.
"
What Is It?
The Kawasaki Z900 is an A2 licence friendly mid-range naked bike and is powered by a Euro 4 compliant liquid cooled 948 cc inline four cylinder engine, producing 123.6 bhp at 8,500 rpm and maximum torque at 6,500 rpm.
Specs
Seat Height: Low (

795

 

mm / 31.3 inches)
Weight: Heavy (210 kg / 463 lbs)
Economy: Average (45 mpg / 6.3 l/100km / 15.9 km/l)
Range: High (170 miles / 274 km)
Power to Weight: High (0.590 bhp/kg / 0.440 kW/kg)
Top Speed: Very high (155 mph / 249 km/h)
Pros
Looks pretty tasty
Smooth power
Suspension
Trick dash
Comfort
Cons
Limited electronics package
Stock tyres
Brakes
What Is It Like?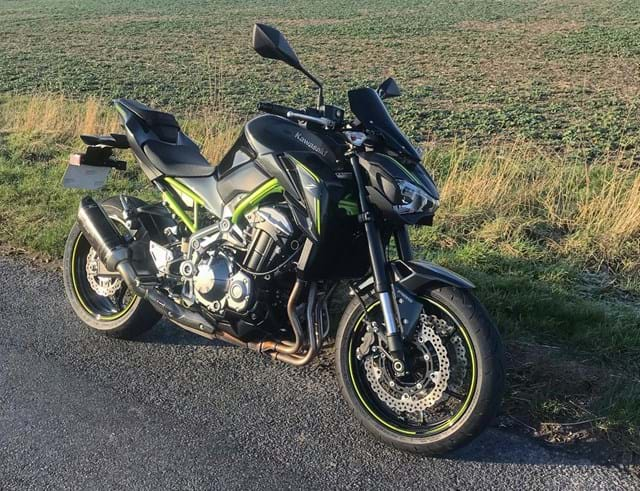 Comfort
I have had the Kawasaki Z900e performance for 5 months now and put 600 miles on the clock. But what an exhilarating 600 miles that has been.
Coming from a 125cc Supermoto style bike I am somewhat used to the upright seating position and ergonomics. Although it's a more aggressive leaning forward position I have had no cramps or back adjustment problems.
Power
Even though the A2 licence ECU restrictions on the engine hold back the full power, the engine delivers high torque and smooth power that will easily carry anyone into the triple figures quicker than anything I have experienced before.
As for someone who is new to bikes with proper power I'd almost say that this bike is oddly underwhelming. It has heaps of power and never fails to put a smile on my face under heavy acceleration.
The inline-4's power delivery doesn't really fully pull hard until higher in the rev range. So you have time to collect yourself and prepare for the power.
So for a beginner bike it's perfect. However that's not so say you can't scare yourself with it. Many butt puckering moments occur and hair raising moments are to be had.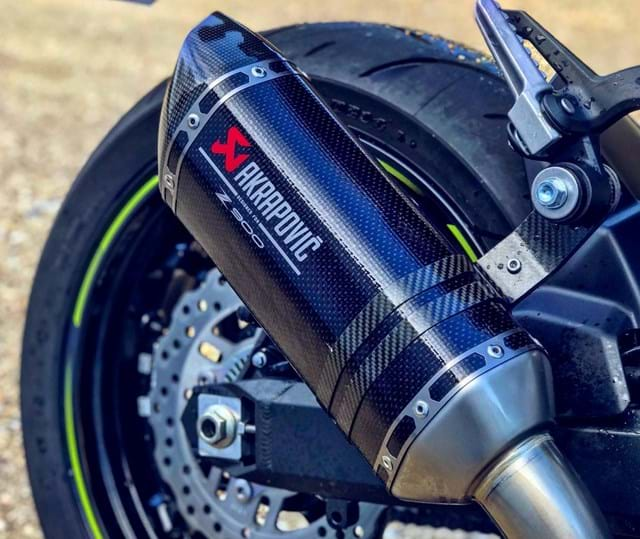 Handling
The super light clutch is an easier pull than my 125 ever was and this allows for great slow control of the bike. On that note I've spent a bit of time sat in traffic and splitting lanes.
The bike is really flickable and easy to get out of those tight situations. The Akrapovic exhaust alerts drivers to my position with a blip of the throttle yet somehow manages to remain quiet enough to maintain a conversation while it's running. Which I think is good because it's a real attention seeker and I constantly have people walking over to ask questions about my beautiful new toy.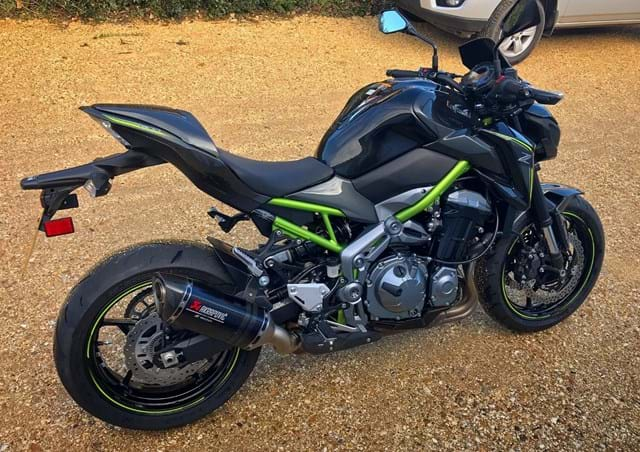 To Sum Up
I can see the ownership of this bike becoming very expensive because every time I open my garage door to reveal its mean face it screams at me demanding that I take it to Europe on long road trips with friends or it begs me to get my knee dragging around Silverstone's circuit.
I look forward to the many miles I've yet to tame with this bike and finding our limits together. My eyes have been opened to Kawasaki's bike building abilities and I have a new found love for the colour green!
- Rowan D, 2019, an avid motorcycle enthusiast and A2 licence holder with over 50,000 miles behind bars
Price Guide
Year
Dealer
Private
Part Ex
Mileage
2019
£7,850
£6,300
£5,500
5,100
2018
£7,250
£5,800
£5,100
4,900
2017
£6,650
£5,300
£4,650
6,700
How to use the price guide
Related Bikes
Z900RS - Neo-retro version.
Z900RS Cafe - Cafe racerised version of the Z900RS.
The Second Opinion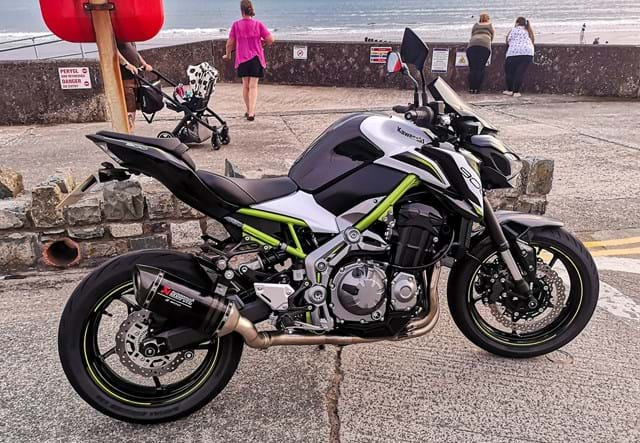 Choosing The Z900
I have to say the purchase of my 2019 Z900 was a bit of an impulse buy. I had not watched the usual array of YouTube videos or sat reading Google reviews for a week.
I just got up, decided it was going to be new bike day and when I laid eyes on the Z900 it was the H2 inspired green frame that drew my eye.
Over the last four years I have bought, ridden and said goodbye to a ZX-6R, MT-09, MT-10 and Aprilia Dorsoduro 900 so this was a bit different.
First Impressions
The 948cc inline four puts out 123 bhp, weighs 210 kg and has aggressive styling. I did a test ride, negotiated a deal and picked it up one week later.
I have to confess I have not ridden a bog standard one as my test bike had a full Akrapovic system, as did my bike when I picked it up. Apparently it shaves off 9kg in weight and adds 11bhp with no re-tune necessary.
I also had to have the optional one inch higher seat. I am only 5 ft 7 with a 30 inch inseam but the 795mm standard seat was too hard and too low. On a long ride it would have been too cramped on the legs and resulted in a num bum after a hour.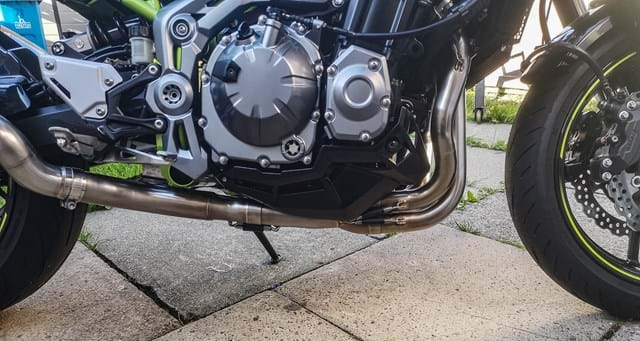 Engine
The engine has more power and torque than you will ever need on the road and it pulls hard from 4,000rpm all the way to the 11,000 red line.
Yes it's typical smooth, linear, inline power and sort of boring compared to the CP engines of the MT-09 / MT-10 but it's still rapid and it will pull from 30 mph in 6th gear up to top in what feels like seconds.
Suspension
It's good. I spent a fortune trying to get the MT-09 to go around corners but the Z900 handles really well. The suspension is set way too soft and makes a big difference when adjusted although it's not the most adjustable suspension out there.
I believe the Z900 is crying out for the front end of the Z900RS with the fully adjustable forks.
Brakes
The front brakes are a week point. The non-radial 4 pots bite hard but at speed they soon show their weakness. Yes the bike is built to a price but for a 123 bhp bike they aren't quite up to the job and the radial calipers of the Z1000 would be an improvement.
Tyres and Rider Aids
The Dunlop D14 stock tyres also perform slightly below the required level, especially as the Z900 comes with none of the rider aids I like.
It has a simple throttle cable with no restrictions like the MT-09 and just gives you all it has but the tyres only work when warm so rain and cold damp weather need extra care.
To Sum Up
All in all it took me a few thousand miles to really like this bike. It handles really well and does 165 miles until the fuel light turns on, which is about £17 worth.
The clocks are basic but have all the information you need and it's easy to read. There's not much vibration and the mirrors are excellent.
Don't forget it's the most powerful engine in its class and is well recommended at £8,500 although if you shop around you will find them for £7,900. Go and test ride one, you won't be disappointed.
- Stephen C, 2019
A Few More Thoughts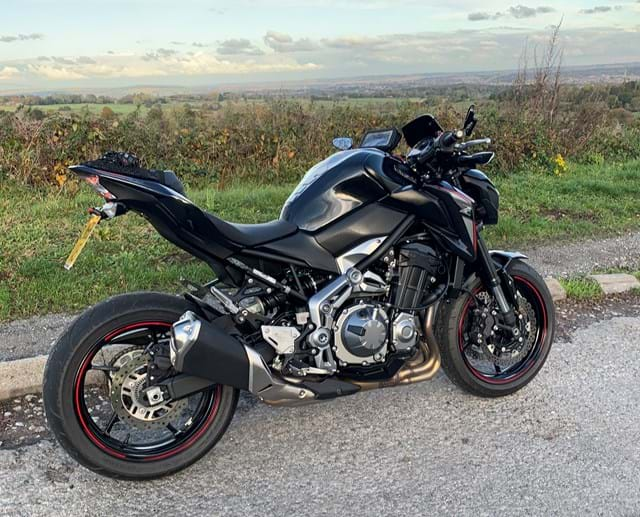 Choosing The Z900
I passed my test several years ago and without a bike for several years decided to get back on board. After a short stint with a Yamaha R6 it was time to upgrade.
I actually went to test ride a Honda 650 but wasn't 100% sure I would like it. On visiting the bike showroom I saw the Kawasaki Z900 and fell in love with the look.
The Test Ride
I took it out for my test ride and only being 5 ft 6 I felt very comfortable sitting on the bike. After about 10 minutes I decided I had to have it.
Living With The Z900
I find the clutch very easy and changing gear superb, enhanced by the digital gear indicator lacking on the R6. It is smooth and pulls well in all gears, even round town in a low gear it pulls like a train.
I also find it very easy to handle and I felt confident very early on. It is very stable in corners and even in the wet it fills me with confidence. The instruments are clear with a temperature gauge, fuel gauge, fuel range etc.
I wanted a bike with a more upright riding position this bike is perfect for that. Being a naked bike there is a certain amount of wind resistance on main roads but it's not too bad.
I seem to be getting around 165 miles to a tank full. I have owned the bike for about a month and intend to keep it for many years.
- Kevin W, 2019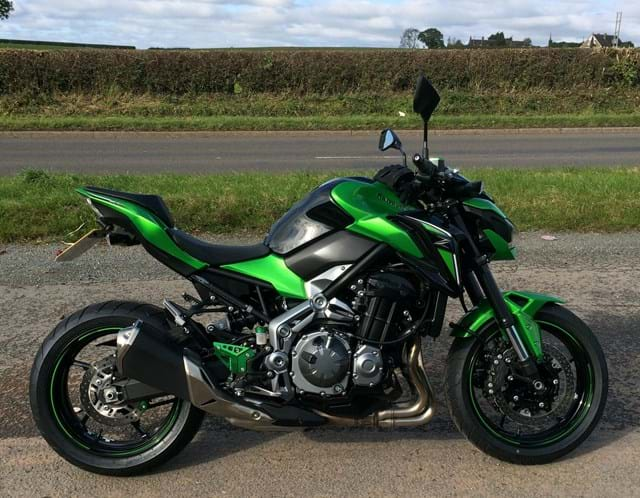 It's the best fun you can have on two wheels, light weight, agile and very fast for sure. You sit in the bike not on it so you feel as one
I would recommend one to anyone, it always puts a big smile on your face and it looks amazing.
- Chris G, 2019