Honda SH300i Review
| | | |
| --- | --- | --- |
| Overall | | ★★★★☆ |
| | |
| --- | --- |
| ✓ | Nippy engine, easy to filter, big wheels |
| | |
| × | Comfort, storage space |
What Is It?
The 2007 Honda SH300i is an A2 licence friendly premium scooter which was updated in 2011 and 2015.
Engine: 280 cc Single Cylinder, 27 bhp
Economy: 65 mpg, 130 miles
Top Speed: 95 mph
Seat Height: 785 mm
Wet Weight: 169 kg
Price: £4,100
What Is It Like?
Why did I buy my used Honda SH300i?
I have been riding bikes since the mid 1970s, from Honda C100 step throughs to BMW R90s and Suzuki RE5 Wankel, and although I loved my last bike, CB500F, my wife hates the raised pillion seating, so she suggested I look at a scooter again. I have had large capacity scooters before, the last was a Yamaha YP400 Majesty, but that used more fuel than my car so I looked at the SH300i. Previously owned an SH125 for commuting, and that was great.
The 300 exceeds my expectations. It handles well (for a scooter) with no problems on corners even well cranked over. The brakes are fantastic with the hydraulic linked system. Three pistons on the front caliper, with two operated by the front brake lever and one by the rear brake lever.
Fuel economy is good if you are riding normally, but a bit more thirsty if you use the throttle more firmly, if you know what I mean. Top speed is well over 70mph and it is more than capable of motorway speeds, with great acceleration for its class. There is a small non lockable glove box behind the front leg shield with a 12v socket. It's a bit difficult to get my phone in, but with bit of jiggling it goes in. A bag hook is also included behind the leg shield, just below the ignition/steering lock switch.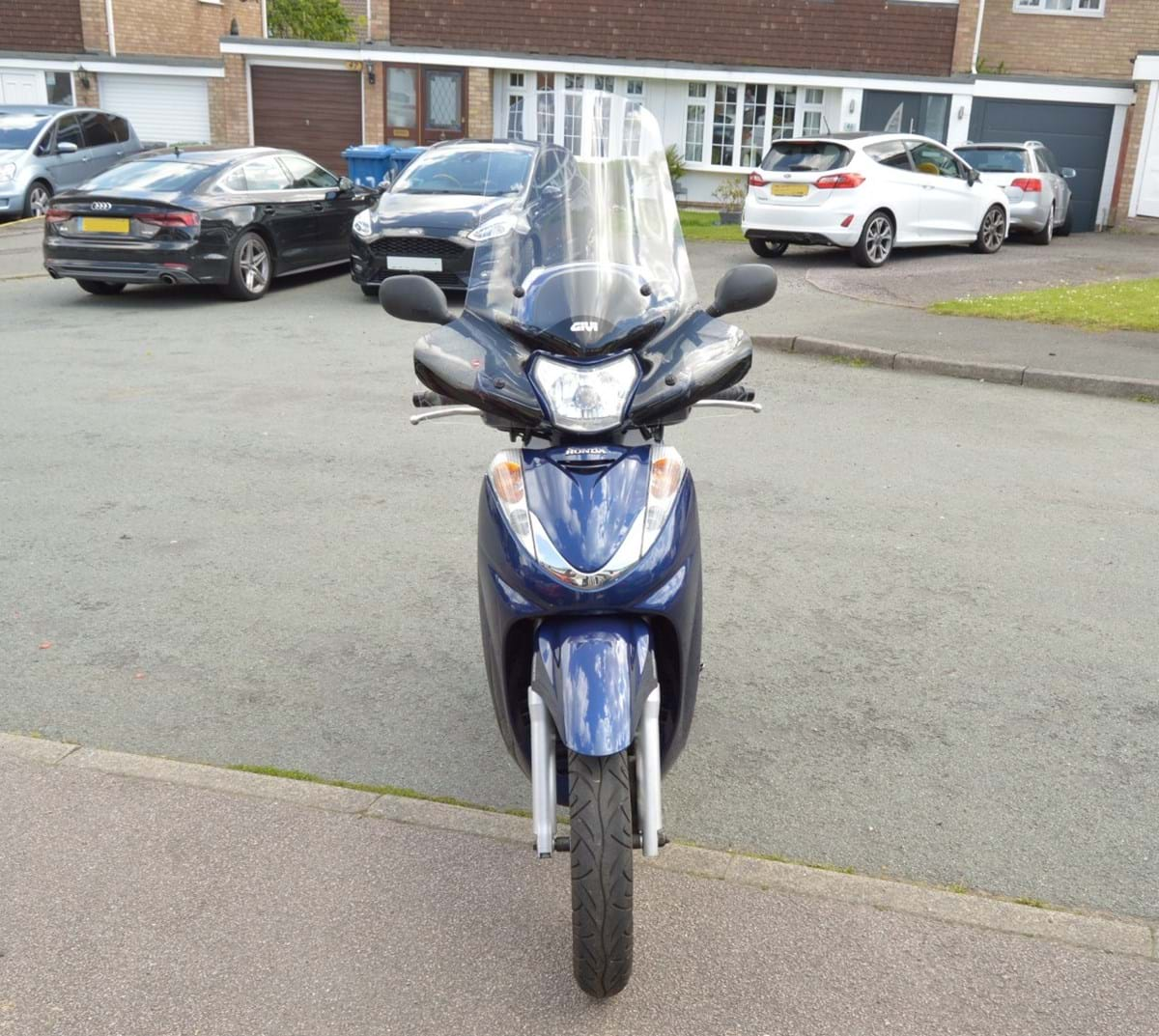 So what are the downsides?
Suspension is a bit hard at the rear, over damped I would say. Even with the suspension set on the lowest preload, you can really feel the pot holes but this is preferable to worse handling. The underseat storage is not enough for a full face helmet, but I can fit in my disc lock, D lock, torch, a rag and still have a bit of space for a little more. Fitting a top box solves the helmet problem.
The space on the foot board for your feet is very limited. With size 9 feet and wearing boots, my feet only just fit in the space. If you have size 11s then bits will stick out, which isn't ideal.
At high speeds the lack of a windscreen means you really are a bit wind blown and it could do with a more sophisticated computer / display, to give MPG, average speed etc.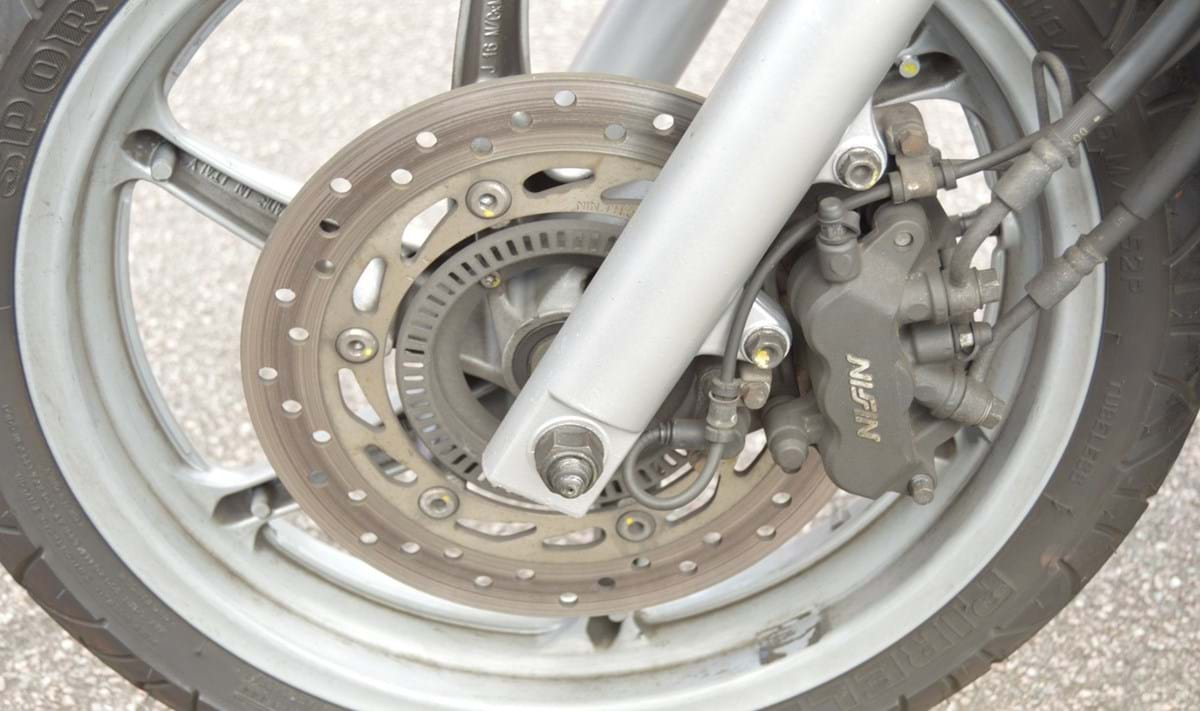 So what extras have I fitted?
Apart from the top box, which came with the bike when I bought it, I have fitted a Garmin GPS holder onto the left wing mirror stem, wiring into the headlight circuit for charge power. Works well.
But the best thing I have just fitted is a tall Givi windscreen. It only takes 10 minutes to fit, as the mounting bolts screw into provided sockets under the handlebars. The difference is so noticeable - Less wind pressure at high speeds, less wind noise and helmet buffeting, I can even smoke a ciggy if using my open face helmet! And to be honest, at a cruise speed of 60 / 70 mph I seem to be using less throttle to maintain speed.
Would I buy it again?
Yes. It does more than just be a commuter bike. I would go long distance on it, with a top box and a pair of throw over pannier bags. It is fun to ride, and for those of you with problems getting your leg over, the step through design just makes it so easy to get on. Okay, it looks like an overgrown C50 Cub, but it's practical, economic, easy to self maintain and fun.
- Keith B, 2019
Price Guide
| Year | Dealer | Private | Part Ex | Mileage |
| --- | --- | --- | --- | --- |
| 2007 | £2,150 | £1,700 | £1,500 | 10,900 |
| 2008 | £2,150 | £1,700 | £1,500 | 10,200 |
| 2009 | £2,250 | £1,800 | £1,550 | 9,500 |
| 2010 | £2,350 | £1,900 | £1,650 | 8,700 |
How Does It Compare?
Vespa GTS300

(2008 On)

Engine

278

cc

Power

21

bhp

Seat

790

mm

Insurance

3 / 10

Cost

10% more
The Second Opinion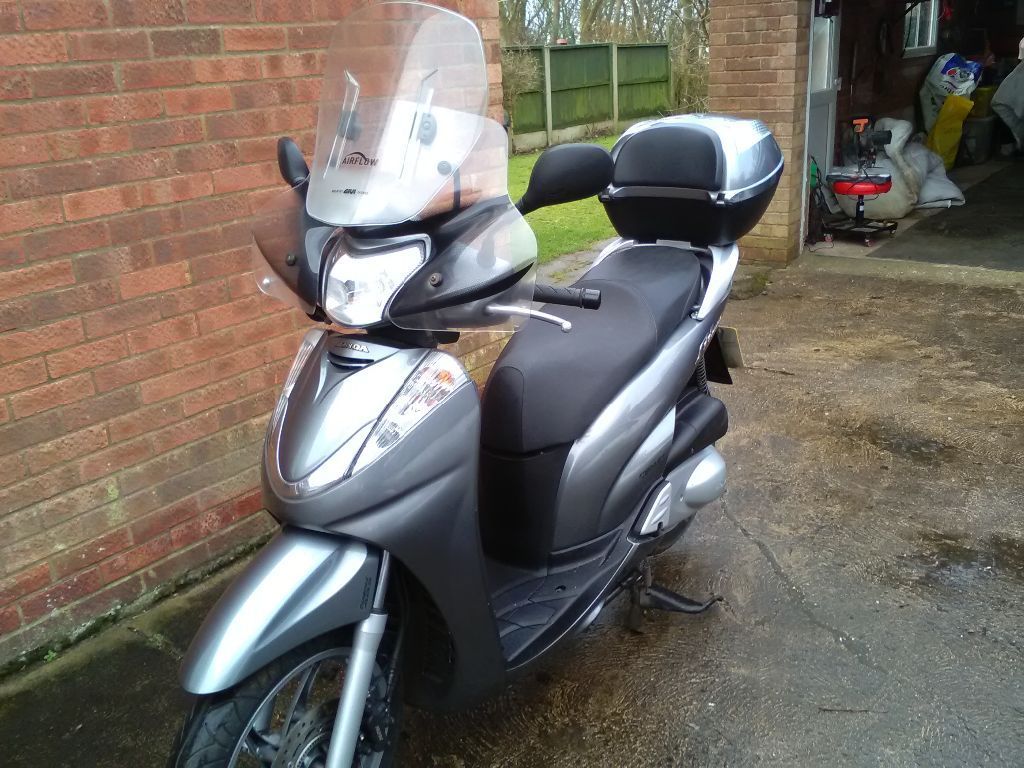 SH300i 10 Plate
I love the SH model and have also had the SH125 that got me back into biking 14 years ago but I've got to take it easy now. Health has made me hang up my boots on the big bikes.
What can I say it's old school in looks (which I'm fine with), not great for room under the seat but I have the Honda top box as well and the foot well for the odd case of dog food lol so room for me is okay
I have the windscreen which I like a lot. At my age (56) it's not about looks, it's about what it does. I don`t mind looking like the old boy I am lol.
Speed
Well it keeps up to all in the same class and more so nothing wrong there. They use the same engine in the Forza my friend has, who just got the 2018 model and that also is a great bike. It brakes well, has ABS and does it very well so nothing to fear from this bike.
Wheels
I really like the size of them at 16" and they give you a nice safe feel on the road.
Overall
I picked my 2010 up for £1800 with 5500 miles on it and it was like new. You can get some good deals on them and myself I feel the SH model gets overlooked to quickly for the other models out there but it does it all very well and being a Honda it's very easy to do a oil change yourself etc.
The style of the SH is great. In fact previously I owned a PCX but sold that and got a PES125 as I missed the footwell that much, then this came up and I had to have it.
If you're looking for a 300cc scooter you can't go wrong with this bike, it simply does it all. The speed is easy to keep on the motorway all day long and it's small to nip in and out of traffic. To me that's a must as it's no good having a big 300cc that is hard to thread between cars. The only downside is the seat which could have a bit more comfort in it but that's only a small thing. Out of ten I would give the bike a nine.
- Ricky C, 2018
More Honda SH300i Reviews
I originally bought my 2008 Honda SH300 as a commuter scoot – whilst my commute at the time wasn't long, it did include some very fast dual carriageways where decent performance was needed. In essence the SH300 is a bonkers (very Italian) idea – take a little pizza delivery scooter and squeeze a big grunty Motocross engine in! The Engine is the best bit of the scoot – whilst it betrays its Motocross origins by not being the smoothest sweetest engine out there, boy does it go well! It was great fun doing somewhat illegal speeds in the outside lane of the dual carriageway on a little tiny scoot overtaking riders of big bikes! Economy was good as well – I got around 70mpg, though riding it in strong crosswinds wasn't pleasant.
However, there were downsides -  basically I found it very uncomfortable. I'm only average size but I found it terribly cramped and when I got it only had a tiny screen which made winter riding a severely freezing experience! I got a Honda accessory screen, which was itself too tall, and needing cutting down, but it made life more bearable. The riding sensation is odd, as you are very upright and the scoot is very small, so you can't see anything in front of you and you have to look sharply down to see the instruments seemingly underneath you. The odd riding position made fitting handlebar muffs difficult as your hands have to reach rather more down towards the bars rather than forward as on most scoots.
The lack of storage on my version of the SH300 was a real pain – only a useless tiny space under the seat (I believe that newer versions are far far better in this respect) and the Honda accessory topbox wasn't that big. Ride quality was only OK – it was quite firmly setup, which probably made the handling quite decent, but didn't help comfort.
So for me, the SH300 had its qualities, but the lack of comfort eventually eroded my feelings for it. When it was taken from me by a car driver who decided that the rules of priority at roundabouts didn't apply to them, I wasn't that bothered about it being written off.
- Tim B, 2016