Honda CBR1000F Review
" Power delivery is very smooth and once over 6,000 rpm they really pull hard and can embarrass many smaller capacity bikes. "
✓Comfort, suspension, handling, reliability, power, well engineered, finish
×Heavy steel frame, economy, seat, not ideal for new riders
What Is It?
The Honda CBR1000F is a sports tourer style bike and is also known as the CBR Hurricane.
Engine: 998 cc Inline Four, 130 bhp
Economy: 35 mpg
Range: 160 miles
Seat Height: 780 mm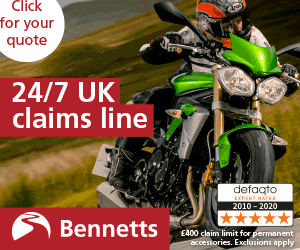 What Is It Like?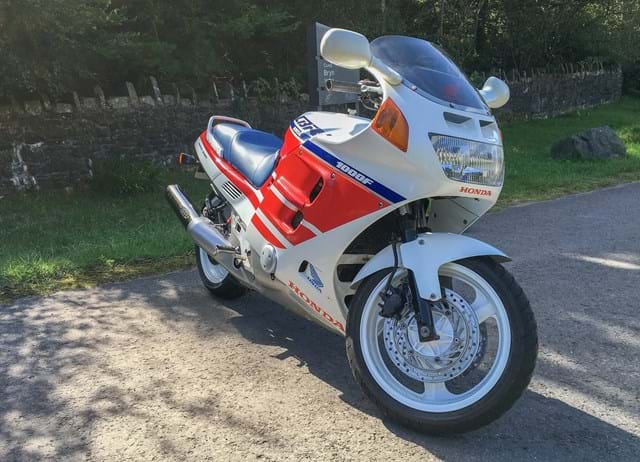 Handling
To ride the CBR is a different prospect to today's litre sports bikes. They are a heavy bike to manoeuvre around but once on the move they are really quite capable and handle reasonably well if you ride around the suspension deficiencies.
They are now around 20-30 years old so you can guarantee that the fork oils will need a fresh overhaul. Even after 60,000 on my bike the rear shock is still in reasonable form with some adjustment for preload should you want to go two up.
Engine
Power delivery is very smooth and once over 6,000 rpm they really pull hard and can embarrass many smaller capacity bikes. It can stay with many of the modern litre class bikes although with the likes of the BMW S1000RR, new Fireblades and GSXR's it is unlikely to live with them.
The bike responds well to counter steering input to help it around tight corners but on the open winding roads it really is a comfortable beast. The pegs are quite highly set which means not much touches down during a spirited ride.
The bikes have crash protection built in, with added bumpers and engine case protectors in the middle fairing, although these are no longer available from Honda, so the bike can take a spill and survive, providing the drop isn't too hard.
Any Issues To Look Out For?
The Achilles heel of the CBR1000F is the cam chain tensioner which usually fails at around 20,000 miles although they have gone sooner and later. When it fails it gives a very pronounced rattle from the top end although if there is a rumble from the bottom end it could be a little backlash in the balancer arrangement, which can be dialled out with around half an hours work with basic hand tools.
There are various fixes available for the cam chain tensioner and they can be modified if you are handy with tools but a simple replacement with a new item is straight forward, although the job can be a little daunting as the cams need to come out to access the tensioner.
Valve clearances are a simple affair which only need an allen key and spanner (although there is an official tool to allow you to hold the nut when adjusting the allen screw). The biggest part of the job is removing the tank and rocker cover but once inside it is relatively straight forward taking around an hour or two to accomplish.
- Lyn D, 2017
Price Guide
Year
Dealer
Private
Part Ex
Mileage
1987
£2,100
£1,700
£1,450
25,200
1988
£2,100
£1,700
£1,500
25,600
£2,100
£1,700
£1,500
26,100
1990
£2,150
£1,700
£1,500
26,400
£2,150
£1,750
£1,500
26,800
1992
£2,150
£1,750
£1,550
27,000
1993
£2,200
£1,750
£1,550
27,200
£2,200
£1,750
£1,550
27,400
£2,200
£1,800
£1,550
27,400
£2,250
£1,800
£1,600
27,400
1997
£2,250
£1,800
£1,600
27,300
1998
£2,250
£1,800
£1,600
27,100
1999
£2,300
£1,850
£1,600
26,900
↑Year shows signs of appreciation