Aprilia Caponord 1200 Review (2013)
"
Each time I ride it to test ride something else, I enjoy the ride quality, the agility and think 'I'm going to miss this.'
"
What Is It?
The Aprilia Caponord 1200 is premium adventure style bike and is powered by a liquid cooled 1,197 cc 90° V-Twin engine, producing 123.4 bhp at 8,250 rpm and maximum torque at 6,800 rpm. RRP is £10,800 or £12,300 for the Travel Pack edition.
Specs
Seat Height: Average (

840

 

mm / 33.1 inches)
Dry Weight: Heavy (214 kg / 472 lbs)
Economy: Average (40 mpg / 7.1 l/100km / 14.2 km/l)
Range: High (210 miles / 338 km)
Top Speed: High (134 mph / 216 km/h)
Pros
Active suspension system
Low down torque
Handling
Comfort
Cons
Engine below 2,500 rpm
Headlight
Economy
Screen
Seat
What Is It Like?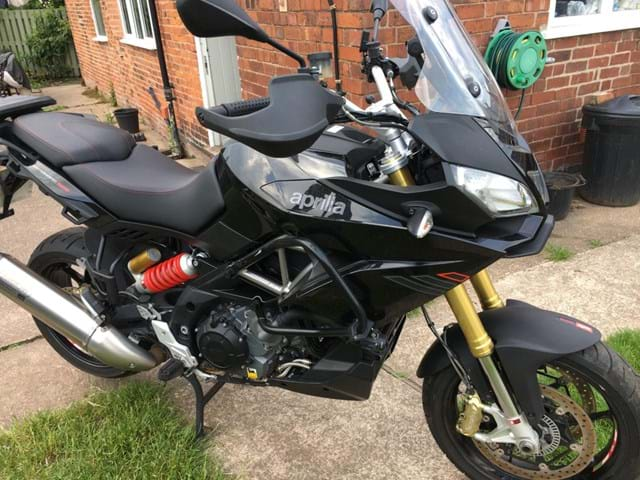 Why did you choose it?
I bought my Aprilia Caponord 1200 Travel Pack new in May 2017 because, surprisingly, I couldn't find a comfortable suspension setting on my previous 2014 BMW R1200RT LC. I had the BMW for a year from 2016 to 2017.
I saw that the Caponord was at the end of its model life, as Aprilia were not doing an update for the next set of emissions regs, so there were good deals to be had. I visited Wheels Motorcycles in Peterborough for a test ride on the Caponord and loved the ride quality of the Aprilia Dynamic Damping (ADD) fully active suspension front and rear.
I also really liked the quality look and feel of the bike, the way the V-twin delivers its power and Wheels offered me a good trade-in on my BMW and an amazing sales deal on the Aprilia - £3,000 discount off MRP!
I looked at other bikes in the adv-tourer class, but given the deal offered by Wheels, nothing else could come close.
What's good about it?
To begin with, I was doing a lot of daily commuting on the bike, 55 miles each way on various types of roads, plus general rideouts at weekends. I've also done a few National Road Rallies, Welsh National Rallies and a Scottish National Rally on it, plus a couple of camping trips. I rarely carry a pillion, but on the few occasions that I have, it has performed admirably.
From social media comments, I know that not all riders like to leave the ADD suspension in fully automatic mode, but I do. It auto adjusts for load such as luggage and / or pillion, plus adjusts according to the way you ride the bike. So, steady bimbling on bumpy country roads are very comfortable, faster rides on A-roads and you can feel that the bike is tauter.
The ADD is my favourite feature on the bike and the riding position is also great.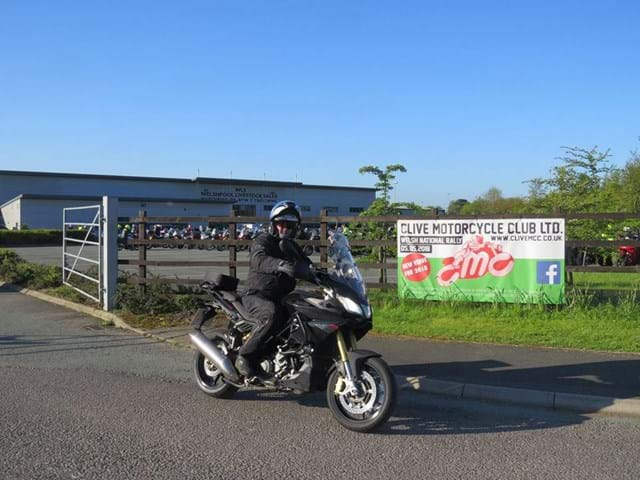 What could be improved?
There are a few things that are less likeable. The headlights are poor and are also prone to heat discolouration.
The engine doesn't like being ridden at less that 2,500 rpm. The cruise control is just one button, and that button is not very user friendly.
The standard screen didn't suit me, it seemed to funnel air (and rain!) up under the chinbar of my helmet. I fitted the Aprilia Touring screen. This was better, but noisy, so I added a Vari-screen clip-on and now it's perfect for me.
The seat proved to be a little soft for long rides, so I bought the Aprilia comfort seat and now it's all-day comfortable.
I also had some accessories fitted from new:
Arrow exhaust can
Heated grips
Engine bars
LED aux lights
Scottoiler
Top box
I have also fitted a 12-volt socket into the fairing.
When the chain and sprockets wore out at around 18,000 miles, I replaced them with the slightly lower-geared set that are fitted as standard to the Rally version of the bike. This has greatly assisted low speed riding and not introduced any buzziness at motorway speeds. It's also better now on the increasingly common 50 mph roads, it cruises happily now at 50 mph in 6th gear, whereas before I had to be in 5th gear on those roads.
I have had three warranty claims, all dealt with smoothly. The fuel level gauge failed, a common fault. The ignition switch seized suddenly, a freak occurrence. There was a period of the coolant expansion bottle "boiling over", this was traced to the cap not sealing properly and was replaced. The aforementioned headlamp cluster was replaced "as a gesture of goodwill".
If there is one thing I would have different on the bike, it would be to have shaft drive instead of chain drive. Just to have one less thing to attend to.
I have heard of centre stand bolts and rear sprocket retaining bolts working loose, and exhaust valves seizing, but those things haven't happened on mine.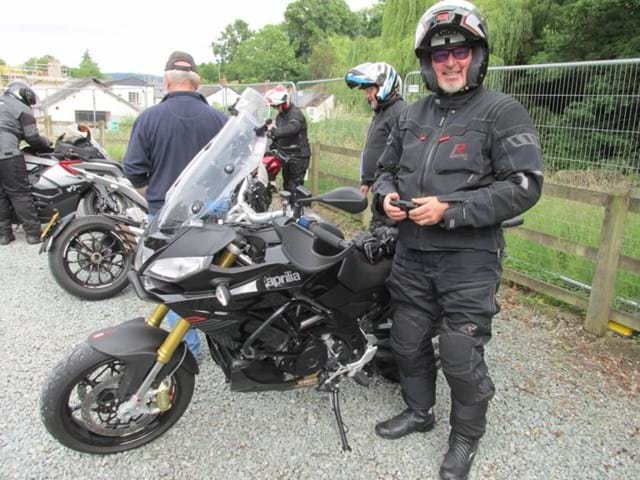 To sum up
A few friends have ridden it, one owns a nearly new Triumph Bonneville, one a fairly new BMW R1200GS and the other a late model Yamaha FJR1300. They all liked the Aprilia.
Would I recommend one? Bearing in mind the model is no longer available, I would still say "Yes", but check that the fuel gauge has had the later mod done and check the headlamp reflectors are not discolouring.
During lockdown this year, I started to get a hankering for a new bike. Even after 3 years I was still enjoying my Aprilia though, and each time I rode it to test ride something else, I was enjoying the ride quality and the agility and was thinking "I'm going to miss this."
In the end, thanks to my wonderfully understanding wife, I bought a new bike and kept my Aprilia. So, she's definitely a keeper (the bike). The wife too, I suppose 😉
- Steve L, 2020
Price Guide
Year
Dealer
Private
Part Ex
Mileage
2017
£7,800
£6,250
£5,500
6,700
2016
£7,250
£5,800
£5,100
8,500
2015
£6,750
£5,400
£4,750
10,300
2014
£6,350
£5,100
£4,450
12,100
2013
£6,100
£4,850
£4,250
13,900
How to use the price guide
Add Your Review
Do you own this bike? We would love to hear anything good, bad, unexpected or that you have changed plus anything that a prospective new owner might find interesting or useful.