Yamaha MT-01 For Sale
The Yamaha MT-01 is a naked bike designed specifically for loads of low end torque. It's powered by a huge 1,670cc V-Twin engine which puts out 90bhp.
Traffic lights are your friends, ultimate rare posing tool, powerful brakes
Budget for better tyres, large and heavy, tank range
What Is It?
The flagship MT-01 kick started the Masters of Torque line in 2005 with a 1670cc, high torque, air-cooled V-Twin. The engine was re-purposed from the XV1600 Wild Star, with the wheels, swingarm, forks and brakes from the 2004-2006 Yamaha YZF-R1.
Features include:
Upside down adjustable 43mm fork with 120mm travel
Rear adjustable monoshock with 117mm travel
Dual 310mm discs up front with three piston calipers
267mm disc at rear with 2 piston caliper
Aluminium die-cast, double cradle frame
Bespoke Akrapovic Titanium under seat exhausts
12 hole fuel injectors
Hydraulic clutch operation
5-speed gearbox
The standard bike realises 90bhp however there were three tuning kits available, each of which built on the kit below and boosted the power further:
Solo seat, dual Akrapovic mufflers and heat shields
Full Akrapovic exhaust system and high performance ECU
Velocity stack kit, valve springs, stronger diaphragm clutch spring, gasket kit, high compression piston kit and high performance cam shaft
In terms of sales the additional tuning kits turned out to be too expensive new, which Yamaha addressed by throwing in the complete £1000 Akrapovic system. The 4-spoke 17" wheels take a 120/70 tyre at the front and 190/50 at the rear.
In 2009 Yamaha released an SP version with upgraded Ohlins suspension, Pirelli Diablo Rosso tyres and a red/white colour scheme with black/red seat.
Available colours: white, black, sliver, blue and silver/orange.
Did You Know?
The MT-01 was unveiled at the 1999 Tokyo Motor Show and remained largely unchanged throughout its life
Sell Your Bike
Sell your bike with WeWantYourMotorbike today. Just pop in your reg number, get a same day valuation and they'll buy your bike within 24 hours - easy peasy.
Price Guide
| Year | Dealer | Private | Part Ex | Mileage |
| --- | --- | --- | --- | --- |
| 2005 | £6,700 | £5,350 | £4,700 | 20,500 |
| 2006 | £6,950 | £5,550 | £4,850 | 18,900 |
| 2007 | £6,900 | £5,550 | £4,850 | 17,400 |
| 2008 | £7,050 | £5,650 | £4,950 | 15,800 |
| 2009 | £7,300 | £5,850 | £5,100 | 14,200 |
| 2010 | £7,700 | £6,150 | £5,400 | 12,600 |
| 2011 | £8,200 | £6,600 | £5,750 | 10,900 |
| 2012 | £8,900 | £7,100 | £6,250 | 9,200 |
Year shows signs of appreciation
Reviews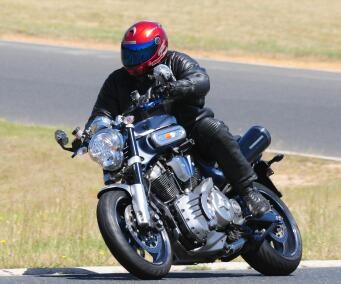 My friends call me bigdave, I'm 6"3 110kgs, and the Mt01 fits me perfectly. I have owned a 2005 model for 4 years now and fell in love with them on site in one of our Yamaha dealers in Melbourne, Australia.
What a bike. Don't get one to ride around if you're shy, everyone asks what is that machine, such a easy bike to ride, clutch is light, and the brakes are amazing. The suspension can be a little harsh on some bumps but considering it has track style suspension it's okay.
The bike tracks so nice at all speeds, not one hint of headshake in the time I've owned it, nothing beats this thing of the lights, it just moves so rapidly. Handling in the corners is excellent, with plenty of rubber under you too. Bullet proof engine in these bikes, fairly easy to service if you have mechanical aptitude. For some people the tank range could have been better, but remember this is basically a track bike, I still get 150 miles out of a tank, however it takes a bit to get the last bit of fuel in, only if your chasing extra distance.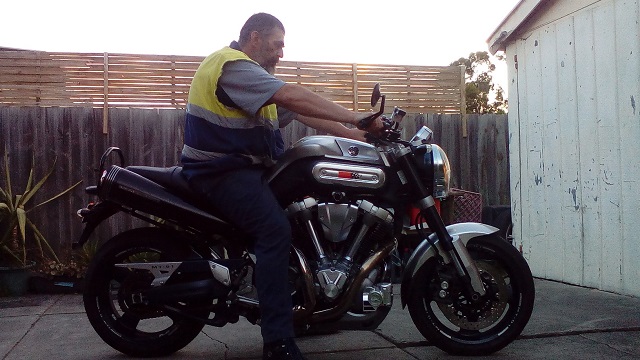 This bike will be passed on to my son as I will never sell it. Would recommend a test ride for anyone, remember sports bike people it redlines at 5,500rpm so don't try over revving just bang up another gear. Thank you Yamaha for producing my dream machine!
- Dave, 2016
---
When I first saw the MT-01 I didn't know what to think. A friend of mine bought one of the first ones sold back in 2005 and he spent 1000's on it prior to delivery. Once I had a good look at his bike it started to grow on me, I test rode one and fell in love with it straight away. I sold 3 bikes to fund my 01 but I didn't want a silver one, it had to be purple, and it took nearly a year to decide, sell the bikes and take the plunge.
After I bought it I had it 10 days and got rear ended. The insurance company fixed it as the damage was minimal, basically got knocked over and that was it, so when I got it back I stripped it apart and had it all colour coded deep armour - no blue frame wheels etc.
I have owned it 9 years now and have no intention of parting with it. I can't find any faults with the 01 as it ticks all the boxes I require within a motorcycle. The only problem I have had with it is the battery as for some reason they don't last long, which is be expected with the size of the engine.
My bike now has 14,400 miles on it, original chain sprockets, disc pads and discs. Fitted a new clutch due to Yamaha dealer using the wrong oil, so as you can gather it gets looked after.
- Alex, 2015
---
I am an owner of an 2009 MK2 MT-01 and had been looking specifically for a second generation MT-01 for several years. Having finally found my now pride and joy I wish I'd bought years before; it's a real hoot to ride and always draws a crowd.
It's very well made and engineered and never fails to put a big grin on my face. If anybody is thinking the MT-01 is for them don't put off getting one now as they are quite scarce which is reflected in there increasing value. I am in fact looking for another at present!
- Chris H, 2016
Videos
Check out this review from 80:8 Photography & Design:
Availability
How many bikes like this are around, by year of production, including those licensed for use on the road and those off the road with a Statutory Off Road Notification (SORN).
| Year | On The Road | Off The Road | Total Around | We Monitor |
| --- | --- | --- | --- | --- |
| 2005 | 91 | 50 | 141 | Rarely for sale |
| 2006 | 66 | 37 | 103 | Rarely for sale |
| 2007 | 106 | 45 | 151 | Rarely for sale |
| 2008 | 36 | 9 | 45 | Rarely for sale |
| 2009 | 19 | 12 | 31 | Rarely for sale |
| 2010 | 13 | 7 | 20 | Rarely for sale |
| 2011 | 14 | 3 | 17 | Rarely for sale |
| 2012 | 2 | 0 | 2 | Rarely for sale |
Recalls
RM/2006/038, issued 18/10/2006, affected 14,384 bikes
The idle speed of the engine may become intermittently unstable. In rare cases this may result in the engine stalling when the machine is stationery or at low speed
Build dates: 01/01/2005 to 31/12/2005 
RM/2007/034, issued 10/08/2007, affected 816 bikes
Rear suspension relay arm bearing housing may weaken by ingress of water and particularly when exposed to road salt in the Winter months. If not rectified this concern could lead to the failure of the rear suspension.
Vehicle Ids: RP121000000000301 to RP1210000011175
RM/2008/039, issued 30/09/2008, affected 303 bikes
Under certain circumstances, due to vibration, a crack may develop at the rear view mirror pivot point and in extreme cases, the mirror head(s) may become detached, causing a safety issue primarily to other road users or bystanders.