Harley Davidson V-Rod For Sale
The original 2002 Harley Davidson V-Rod is a premium cruiser style bike and is powered by a 1,130cc V-Twin engine which puts out 115bhp. It was later joined by the Street Rod and Night Rod.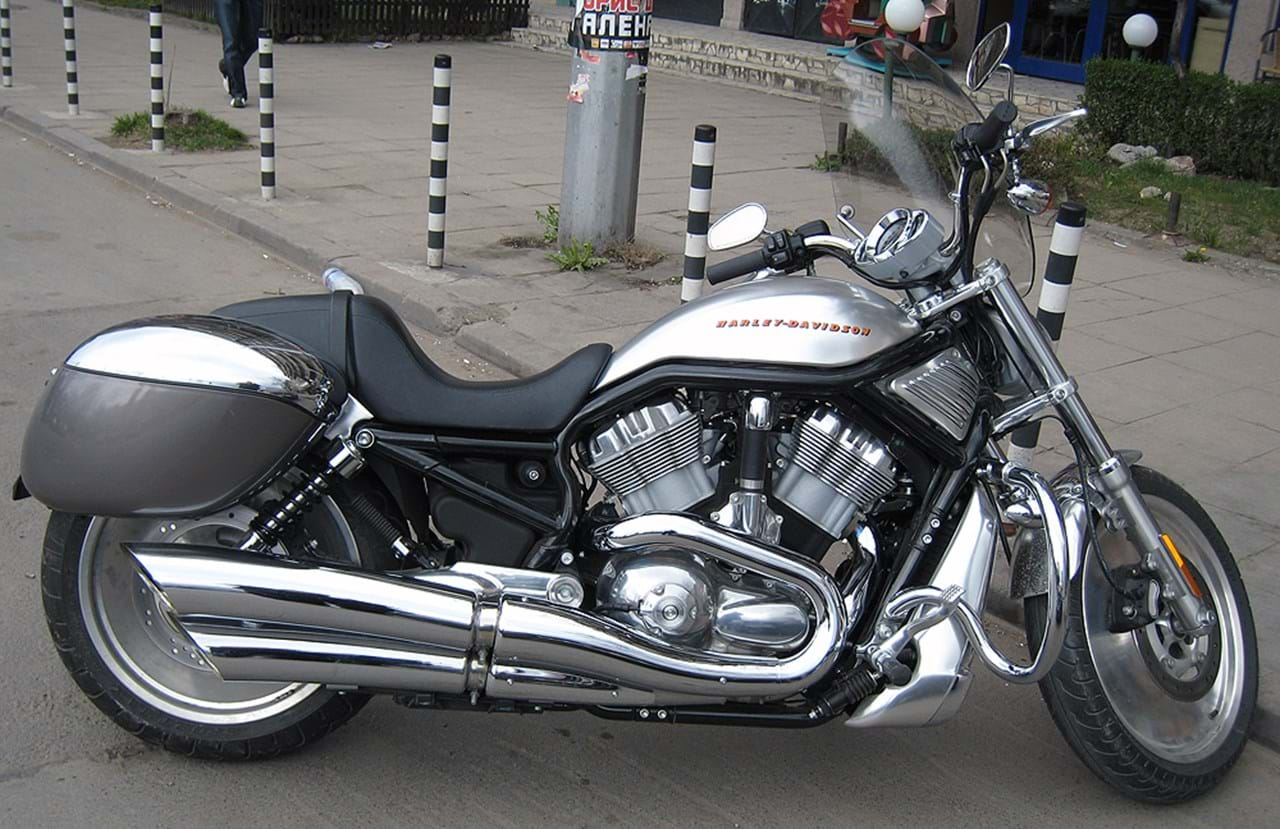 What Is It?
Stylish, fast off the line, low centre of gravity, holds its value
Handling in the corners and at low speed, range, large turning circle
The 2002 V-Rod is powered by a V-Twin Revolution engine and features lashings of Aluminium, which at the time was a big step forward for Harley.
The new 60° Revolution engine was jointly developed with Porsche. It was Harley's first non 45° V-Twin, utilising both liquid cooling and overhead cams.  In 2006 the VRSC gained Brembo brakes.
Features include:
49mm front fork
180mm rear tyre
Dual 300mm discs at the front with 2 piston calipers
300mm disc at the rear with 2 piston caliper
Forward only controls
Under seat fuel tank
The VRSCAW was produced 2007-2010 and was essentially a VRSC with a wider 240mm rear tyre and new frame to accommodate it. Other differences include a larger 23 litre fuel tank and 17kg increase in weight, making it the slowest VRSC ever produced.
In 2008 the engine was increased from 1130cc to 1250cc, taking the power output up to 123bhp. At the same time Harley added a slipper clutch and optional ABS brakes.
Did You Know?
It's also known as the VRSC
Sell Your Bike
Sell your bike with WeWantYourMotorbike today. Just pop in your reg number, get a same day valuation and they'll buy your bike within 24 hours - easy peasy.
Price Guide
| Year | Dealer | Private | Part Ex | Mileage |
| --- | --- | --- | --- | --- |
| 2002 | £7,400 | £5,900 | £5,200 | 25,300 |
| 2003 | £7,150 | £5,700 | £5,000 | 24,400 |
| 2004 | £7,050 | £5,650 | £4,950 | 23,400 |
| 2005 | £7,100 | £5,700 | £4,950 | 22,300 |
| 2006 | £7,300 | £5,850 | £5,100 | 21,200 |
| 2007 | £7,650 | £6,150 | £5,350 | 19,900 |
| 2008 | £8,150 | £6,550 | £5,700 | 18,600 |
| 2009 | £8,850 | £7,050 | £6,200 | 17,200 |
| 2010 | £9,650 | £7,700 | £6,750 | 15,700 |
Cleaning & Detailing
We thoroughly recommend Petrolhead Detailing for all your cleaning, detailing and paint correction needs. They really know their stuff!
Reviews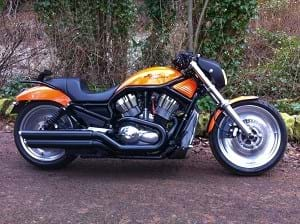 I bought my V-Rod in 2005. I did not have a test ride prior to purchase, I just fell in love with the look of the bike and just had to have one! It has a unique look and is quite unlike any other motorcycle available from Harley or any other manufacturer. Looking like something from a Manga film, it is nothing more than moving sculpture.
Shortly after I bought it, I rode down to the South of France on a round trip of about 3,000 miles and really got to know the bike in the process. Super stable at all speeds and all day comfortable, the V-Rod handled well, with or without luggage and could sit all day at motorway speeds. Fabulous acceleration allows effortless overtaking and stress free motorway miles. Riding out with other Harley owners, does require patience, due to the amount of hanging around waiting for them to catch up. In fact, most of my mates are on sports bikes and the V-Rod can easily keep up with them as well.
Not only is the performance outstanding, everyone seems to like the look of the bike. When I park up, I always have a few folk admiring the bike and the pride of ownership is quite tangible! Easy to maintain, the Porsche designed engine thrives on hard riding and seems utterly bullet proof. Just keep your oil changes regular and check coolant levels at specified intervals and you will have zero problems. A battery trickle charger is also a good investment for two reasons. The battery is very small and is hidden, deep within the bike and is also mounted at an angle. Make sure the battery is kept in good condition and charged when the bike is not being used, or a replacement will need to be fitted and trust me, that is a drag. V-Rods hold their looks and it is very rare to see a shabby one. The solid wheels require some care and do require careful cleaning to maintain the look. My bike is 11 years old and still looks great.
The body work is modular and the entire look of the bike can be transformed in around an hour, with the airbox cover, radiator shrouds and mudguards being swapped out for something different. My bike started out in black gloss but is now totally Carbon Fibre! Like all Harleys, these bikes are a blank canvas and the owners' imagination is the only limiting factor. Companies like Rizoma make amazing billet accessories for the V-Rod and totally transform some of the more agricultural fittings that Harley fitted for some reason. See the Rizoma V-Rod footpegs!! Wow!!
Easy to ride, the V-Rod handles best with the rider's body leaning forward and with the shoulders angled into the corner. This promotes a bit of hanging off the bike, which helps stop the foot pegs scraping the ground during enthusiastic cornering. Your boot heels act as a guide to how much clearance you have left and does make the pegs last longer. Make no mistake, this is a fast bike and can out accelerate a FireBlade of a similar age. Like a Turbine, the V-Rod has seamless power that is easy to use to the max. The bike is long and low like a drag bike, so you can really wring it's neck!
The only quirk the bike has is due to the solid wheels. These can catch a side wind and blow the bike across the road a few feet. Overtaking large vehicles has a similar effect, with the bike moving around due to the air blast from the front of the vehicle. This is something that you just get used too. The standard brakes are not great, but swapping them for Zodiac components is the way to go. Just night and day! The standard exhausts are also fine, but fitting Vance and Hines SureShots is very cool. The sound as the revs rise is totally addictive. For touring, fit a small screen, it just takes away some of the air blast and makes for a more relaxed ride at higher speeds. I also fitted a larger fuel tank imported from the U.S., which gives around 185 miles on a full tank compared to the 120 miles of the standard one.
To sum up, great performance, good handling, fabulous looks and total reliability.
- Steven, Dunedin Chapter, 2016
Videos
Check out a review by August Banks: