Suzuki Intruder C800 Review
" It's my pride and joy, gives me great pleasure and I find the shaft drive superb. "
✓Comfy, low seat, easy to park, Harley looks for half the price, low centre of gravity
×Low down grunt, licence friendly, long and wide, no rev counter, fuel gauge accuracy
What Is It?
The Suzuki Intruder C800 is a mid-range cruiser style bike with a shaft drive.
Engine: 805 cc V-Twin, 52 bhp
Economy: 40 mpg
Range: 140 miles
Seat Height: 700 mm
What Is It Like?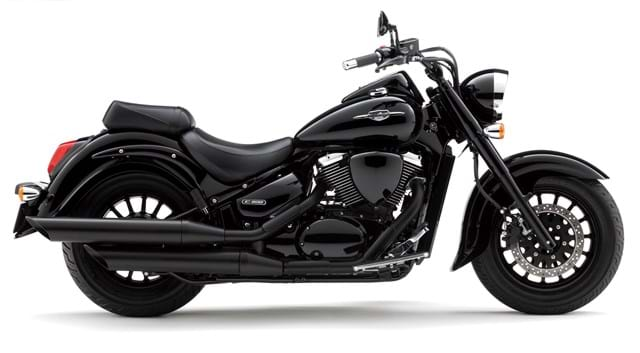 Choosing The C800
I bought my C800 Intruder new in September 2013 after nearly 40 years away from motorbikes. I liked the retro styling and looked at numerous bikes with similar styling for months before buying and choosing the Suzuki.
My first choice was a Harley Davidson Soft Tail but I couldn't afford the extra £7,000 that it would cost. I have since had a test ride on a HD and found the vibration on tick over awful and the bike very heavy but what a joy to ride, the torque and power compared to my bike is awesome, mind you it was nearly 1,000cc bigger.
Engine
On tick over the bike is very smooth with no vibration, driving off and changing gears there is always a small clunk each time I change.
The Intruder rides vibration free throughout the rev range and has reasonable torque / power when needed.
Brakes
The front brake is great and although there is only a drum on the rear and I was a bit worried that it would not be up to scratch but I have had no problems with it. Mind you I am more of a Sunday rider than all out racer.
Protection
It cruises well at 60 mph with little wind hitting me but at 70mph you can feel the wind buffeting you about. Without the screen it is a lot worse, but I do have a very long back and short legs. Mind you, if I wanted to race about I suppose I would of bought something more suitable.
Comfort
For me it has a very comfortable riding position with feet forward and straight back.
Finish
Paint work on the bike is holding out well but the chrome is not so good. The chrome on the side stand is pretty poor and is showing signs of age with bits of rust on it, this was evident before 12 months so I should have taken it back to dealer I bought the bike from but didn't.
The chrome on the wheels needs constant cleaning to keep the rust at bay. It is used purely for pleasure so is only on the road when it is dry and not too cold.
Running Costs
One of the main reasons I opted for the C800 was the shaft drive and I find it superb. I have done 4,800 miles on it with two services done at a small independent bike garage, the first service was £75 (Suzuki dealer £220) second service £95.
It is now due another service which will be about the same price as the second service. The bike always starts first time even after periods of 3 or 4 weeks of no use.
Insurance is £130 with breakdown cover, helmet and leathers replacement included.
Mods
I have added a full screen to it which helps keep the wind of me and a set of hard panniers to help with carrying a small amount around with me if needed.
To Sum Up
Would I have another one?  Well I have been looking and was offered a very good deal at the dealer I bought my Suzuki from replacing it with a Kawasaki VN900 Special but in the end did not do the deal simply because I think my Suzuki looks better.
I am still looking and like the 1,500cc bigger brother in the Suzuki Intruder family. Watch this space...
- John, Suzuki Intruder Owners Club UK
Price Guide
Year
Dealer
Private
Part Ex
Mileage
2016
£6,050
£4,850
£4,250
6,600
2015
£5,850
£4,700
£4,100
8,400
2014
£5,700
£4,550
£4,000
10,200
2013
£5,550
£4,450
£3,900
11,800
2012
£5,350
£4,300
£3,750
13,400
2011
£5,200
£4,150
£3,650
14,900
2010
£5,050
£4,050
£3,550
16,300
2009
£4,850
£3,900
£3,400
17,600
2008
£4,700
£3,750
£3,300
18,800
£4,550
£3,650
£3,200
20,000
£4,400
£3,500
£3,050
21,000
£4,200
£3,400
£2,950
22,000
2004
£4,050
£3,250
£2,850
22,900
2003
£3,900
£3,150
£2,750
23,700
2002
£3,750
£3,000
£2,650
24,500
£3,700
£2,950
£2,600
25,200
↑Year shows signs of appreciation
Add Your Review
Do you own this bike? We are after anything good, bad, unexpected or that you have changed plus anything that a prospective new owner might find interesting or useful.