Suzuki Burgman 650 Review
What Is It?
The Suzuki Burgman 650 is a premium maxi scooter which was originally launched in 2002 and updated for 2013.
Engine: 638 cc Parallel Twin, 54 bhp
Economy: 55 mpg, 180 miles
Seat Height: 760 mm
Wet Weight: 277 kg
Top Speed: 110 mph
RRP: £9,000
| | | |
| --- | --- | --- |
| What Is It Like? | | ★★★★☆ |
| | |
| --- | --- |
| ✓ | Folding mirrors, e-screen, heated bits, practicality, comfort, visibility |
| | |
| × | Looks less sharp than the competition, heavy, not that fuel efficient |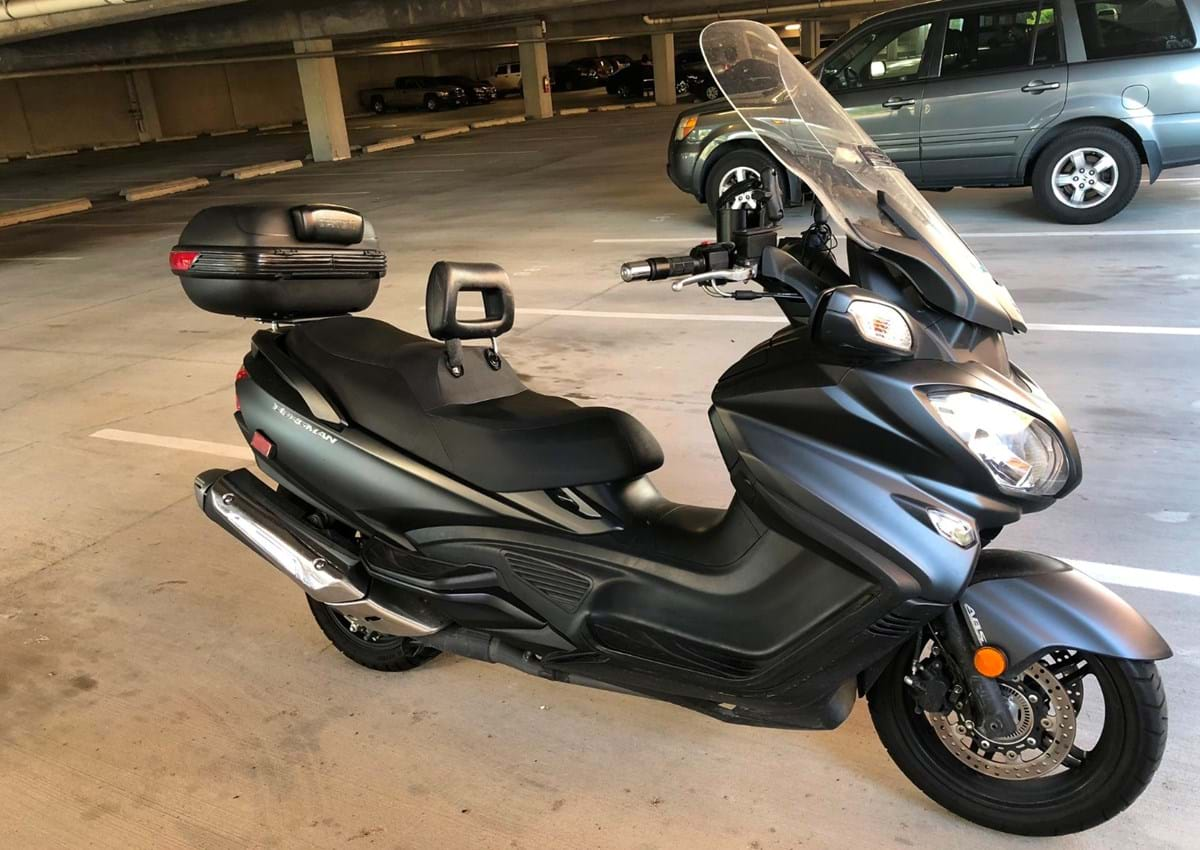 I started my scooter journey in July 2009 with a cheap 250cc Chinese scooter to see if this was a passing fancy or something more. Fast Forward to 2018 and scootering is my primary transportation.
After 4 months, the wife wanted to ride, so she took the Chinese scooter and I bought a used '07 Burgman 400. Talk about a major upgrade. This is when I knew two-wheeling was for me and Suzuki was the brand I was going to stick with. The 400 has been gifted along and I bought a used '07 650 that the wife now rides…so I began looking for my new scooter. I mean brand new…only me...and with a warranty for as long as I can get. The question was…400 or 650? Since I've had both, it was easy and difficult to determine what to land on. I started digging into forums (BurgmanUSA, Facebook groups, etc) to see what issues were out there, what was new in certain years, and to see how fellow riders were getting long-term service.
I ended up seating on a matte black 2016 Suzuki Burgman 650. Scored the last one in Dallas while getting a great deal and the 7 Year Suzuki Warranty. Now, onto the scooter!
Dallas traffic is stop and go at times, so the 650cc engine is more than enough for getting out of tight spots, boosting around cars, and getting up to speed quickly. For the open road, this engine deserves an open throttle ever so often. Great torque and quite a comfortable ride for me. Some may opt for a seat cushion, I opted to remove the butt rest and install a BearCat back rest for the long ride or tired after-work support. The dashboard is a mix of analogue Speedometer/RPM and digital fuel tank, temp, MPG, and clock. Simple layout but effective for those quick glances when riding.
Fuel efficiency averages about 45 mpg with primarily city miles. When I go back to road and highway, it leaps up to about 55 mpg. I use regular 87 octane and it's been fine. Since I bought new, I'm letting the dealership do my services. I usually do them, but an oil change requires removing most of the bottom covers and I don't want to break anything since this is my primary ride. On long trips, I can get close to 200 miles per tank if I stay around 65 mph. Not too shabby.
Space for storage is more than ample. Under seat room for two helmets, glove box, and two dashboard side boxes. Added a Bestem trunk and I have done weekend camping trips out of town with everything I needed and a little room to add what comes home. Suzuki really designed the storage space well. No other Maxi-Scoot matches available OEM space.
The ride: This is a motorcycle neatly sleeved into a scooter's body. It is a comfortable ride with smooth acceleration. It grooves well on the twisty road and is solid on highway riding. No issues with passing 18 Wheelers and dealing with the wind. This scooter is heavy enough to withstand a lot of air drag. I'm sticking with the OEM Bridgestone Hoops because they grip the road well and get good mileage between changes. Riding in the rain hasn't been an issue with road traction and keeping raingear under the seat helps. I like switching from Auto to Manual shifting at times to either get more torque or to get better MPG.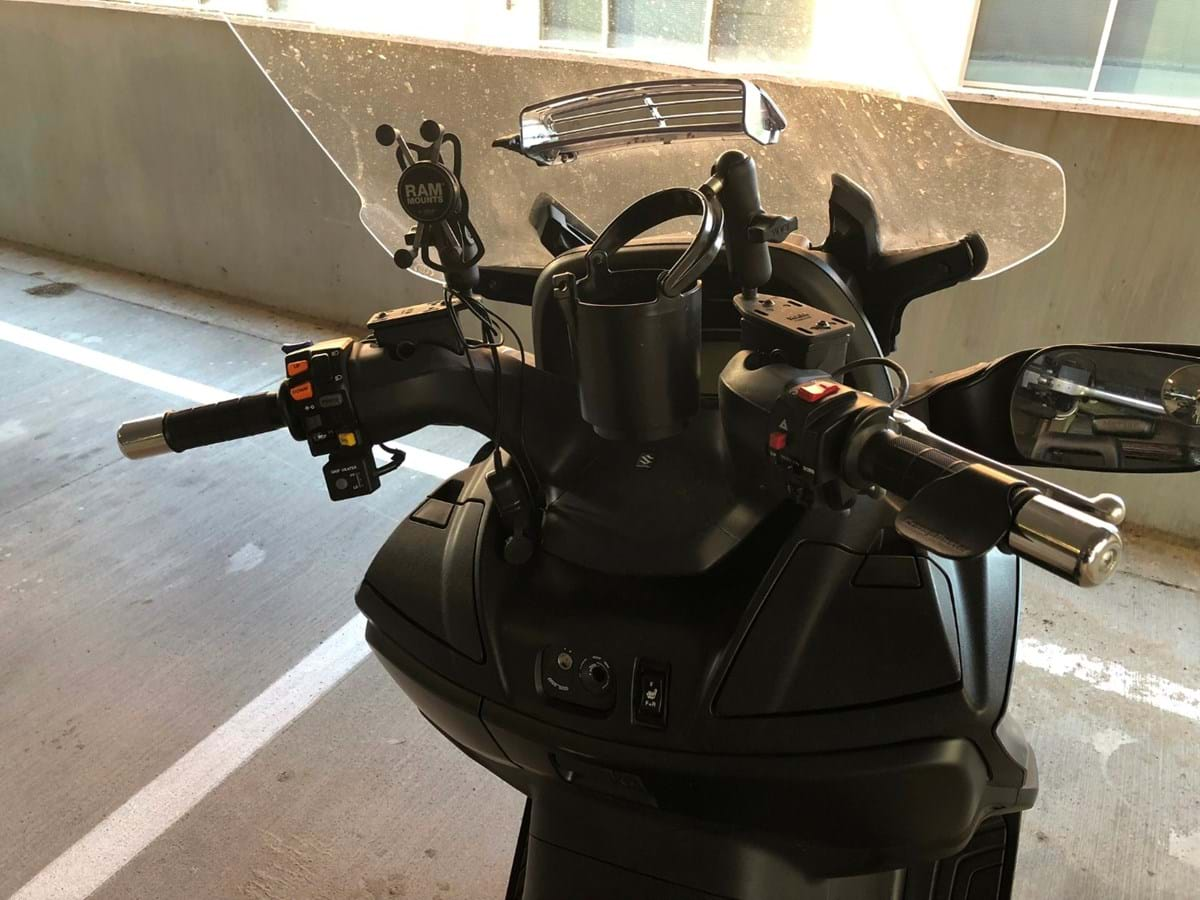 Add-ons are another bright spot for the Burgman as they add to the comfort and experience of the ride:
Phone RAM Mount. Holds the phone for GPS navigation. I do recommend using an app that doesn't require always on internet as some remote areas won't have coverage.
DC Port. I ran a direct connection to the battery so it is always on. Chose a Fast Charger adaptor so the phone can be on and still charge the battery vs just maintaining it.
Cup Ram Mount. Holds a cold drink for the long rides.
ClearView windshield. The stock windshield is too short for me. The ClearView adds a closeable middle vent to thrust air at me which helps in the Texas heat…or close it in the winter.
BearCat back rest. THIS is a must. This 49 year old rider need solid back support for long rides and it's like sitting in a comfy chair. Removing the butt rest also gives me more leg room.
Bestem Trunk. Get the Big One. It will fit two med helmets or one big one with a jacket and gloves…or about 3 full Walmart bags.
Handlebar Paddle. This $10 add-on has made my commute and long rides so much easier. Paddle rests against your right hand so you can use your palm for throttle when your fingers need a break.
Extended Warranty. Worth it. Dealerships may match online prices. I got my 7 year warranty for $300 instead of $1000 and have peace of mind.
Fuel bottle. After having 2 run out of gas scenarios and pushing my scooter to the gas station, this investment comes in handy.
BOSE SoundSport Bluetooth ear buds. These are comfy, fit in the helmet, and still allow for hearing traffic. I only use these for the long rides.
Fuelly.com I use this free website/app to track my mileage. It will alert me when maintenances are due based on Mileage and keeps ongoing history of MPG. When I fill up, I enter mileage, gallons, and price. It does the rest.
What I Like
Acceleration
Economical MPG 45 city, 55 highway. Fill up every 2 weeks for about $9
Low insurance Cost
Smiles of kids in cars passing by
Connecting with other riders and people at the gas station…answering questions, etc.
Heated seat and grips for cold weather riding
My local dealership (Plano Kawasaki/Suzuki) takes great care and is good to offer tips as well as lets me bring in the parts and just pay labour.
What I Don't Like
MPG dips in the colder months
Self maintenance is difficult due to change in panel design
Summary
Would I recommend the Burgman 650? Absolutely. If you are looking for primary transportation and/or a solid weekender ride, the 650 has you covered with storage space, a longer ride span and comfort.
- Glenn B, 2018
Price Guide
| Year | Dealer | Private | Part Ex | Mileage |
| --- | --- | --- | --- | --- |
| 2013 | £5,000 | £4,000 | £3,500 | 8,200 |
| 2014 | £5,500 | £4,400 | £3,850 | 6,800 |
| 2015 | £6,000 | £4,800 | £4,200 | 5,400 |
| 2016 | £6,550 | £5,250 | £4,600 | 3,900 |
| 2017 | £7,150 | £5,700 | £5,000 | 2,800 |
| 2018 | £7,750 | £6,200 | £5,450 | 1,600 |
The Second Opinion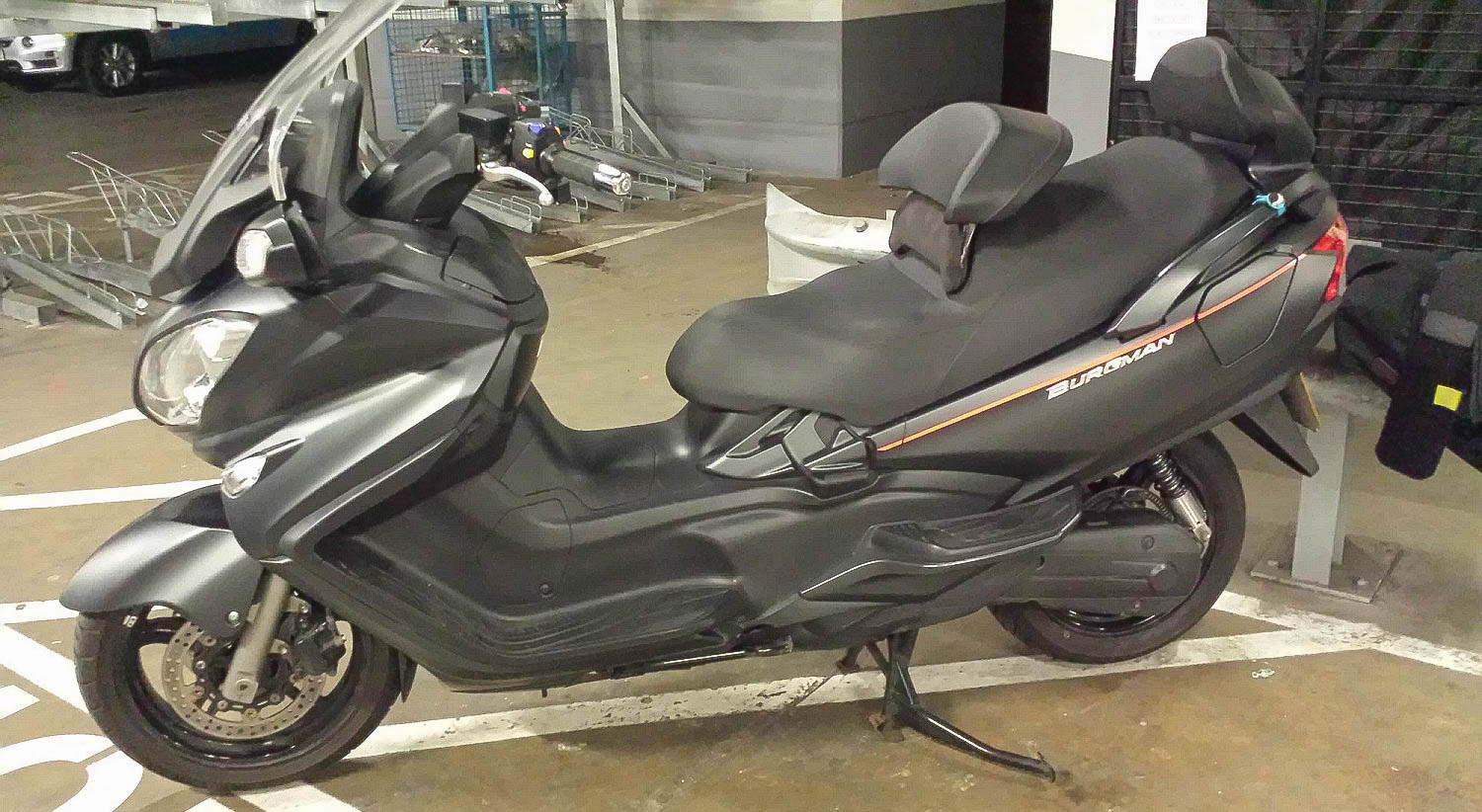 I've owned my Suzuki Burgman 650 since Jan 2017, I brought it from Johns of Romford as there ex demo bike with about 400 miles on it. It was first registered in March 2016, so when I got it, it was just under a year old.
I needed a daily commuter bike capable of doing a 167 miles round trip every day in all weather and the Burgman seemed to fit the bill, as it had decent weather protection, adjustable screen, heated seat & grips, good fuel economy and most of all no chain to adjust every week.
In the 18 months I have owned it, I have fitted a Givi touring screen, I have found this invaluable in the winter months, it for one kicks the air over your head and two gives some wind protection for your hands.
I have also fitted some handguards, not for looks, but again to shield the weather from your hands, I have found these work well and prefer them to the handlebar muff type.
I am now onto to my fifth rear tyre, third front, this time I have changed from the OEM Bridgestone's to Michelin Road Pilot 4's, these I feel have improved both the ride and handling, as for wear…time will tell as they have only been on a fortnight.
Other than routine servicing, so far the only problems encountered are the rear wheel bearing collapsing at 18,000 miles, followed last week by the front one at 30,000 miles and the cooling fan not coming on…this will hopefully be remedied on Tuesday.
Performance wise - At the end of the day it is a very heavy scooter, but will happily sit at motorway speeds for long periods, in London traffic it is good, the weight/centre of gravity is very low which aids low speed filtering. A section of my daily ride takes in about 20 miles of country lanes, again this is no problem and can be quite fun.
The vast storage space under the saddle is very handy - big enough to take 2 x full face helmets.
In all I think Suzuki have made a good all-round commuter bike. Current mileage is about 31,000..going up daily.
What Have I Changed
Givi touring screen
Cheap as chips Ebay handguards
Front fenda extenda
Good Points
Good fuel economy
Good performance for a scooter
Handling
Weather protection
Heated seat/grips as standard
Bad Points
Transmission can drag a little when very cold
As with all Suzukis..it's service schedule is every 3500 miles
- Richard W, 2018