Suzuki Burgman 400 Review
✓Great weather protection, brakes, road presence, handling
×Better at lower speeds, lights, quite heavy, range
What Is It?
The 2007 Suzuki Burgman 400 is an A2 licence friendly premium maxi scooter which was first launched in 1999 and thoroughly updated in 2017.
Engine: 399 cc Single Cylinder, 33 bhp
Economy: 60 mpg
Range: 180 miles
Seat Height: 710 mm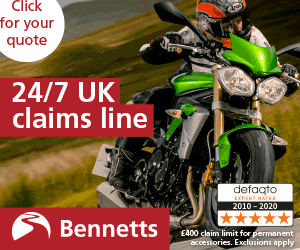 What Is It Like?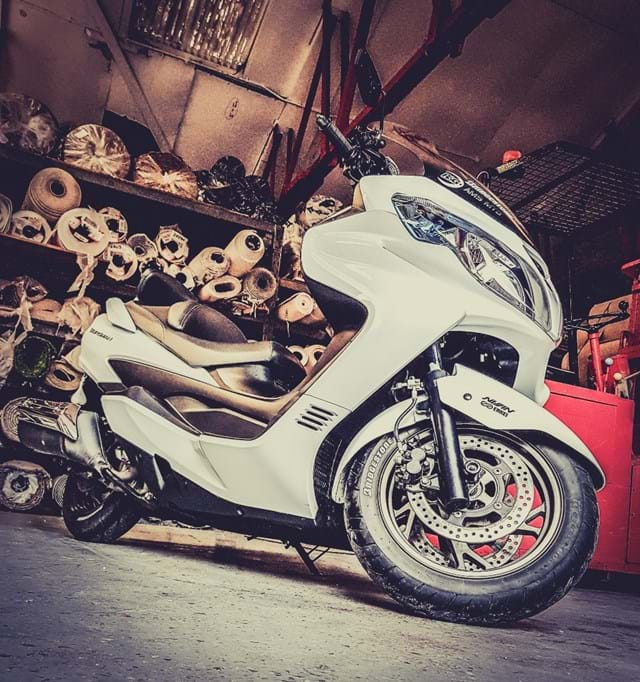 My Experience
It all started way back in 2007. I passed my bike test and was looking to upgrade my little Piaggio X7 125. I popped along to my local dealer and there I met the Suzuki Burgman 400 for the first time, and I was hooked.
I'm no stranger to the Burgman, I've had three now and the latest is my 2014 ZA model. It was love at first sight, the perfect colour and fitted with the right accessories from the factory. The ZA is the flagship 400 model which has the factory fitted heated grips, handguards and a pillion back rest; slightly more than the standard but well worth it.
What's Good?
The handling is okay. I find it holds well in the twisties although it's far from sporty, but it still brings the occasional smile too your face.
Braking on this model is handled the Nissin ABS system with twin discs up front and a single on the rear. They work well and it stops you with the minimal amount of fuss and drama.
The seat is big and comfortable with an adjustable back support for the rider and plenty of foot space on the running boards give you multiple options for foot placement.
The ride is stable and confidence inspiring mostly down to the low centre of gravity and the low stand over height.
Any Downsides?
She is heavy at over 200kg but that helps keep her planted when the wind is up and she's big enough to give you some proper road presence, helping you to own your little bit of road.
Power comes from a fuel injected highly efficient 399cc single cylinder engine developing around 33 bhp. It's great around town with ample punch to get you off the lights but always feels like it's struggling at higher speeds.
An indicated speed of 70 mph will have the revs up at around 7,500 rpm and with a red line of 9,000 rpm this is a little high for my tastes but at around 60mph it will happily cruise all day returning around 65mpg.
Range is another of my issues. The tank is tiny, even on a long run it will only give you 160 miles between fuel stops and this limits its ability to do any serious touring.
Another area the Burgman looses points is with the woeful headlights. I've added a set of spot lamps the front fender to give more light on the road on bad weather nights.
To Sum Up
Fast forward 12 months and 20,000 miles she's still a cracking little ride and has proven herself throughout the crappy British Winter with only two days that snow and ice kept us grounded. She handles the weather superbly with plenty of front end too keep the worst of the wind and general filth off of you.
In conclusion the Burgman 400 is one of the finest B road bashers in its class, the original maxi scooter and still one of the best. It's like sitting in your favourite armchair watching the world go by but it's by no means sporty and it doesn't try to be.
- Alex A, 2018
Price Guide
Year
Dealer
Private
Part Ex
Mileage
2007
£2,100
£1,700
£1,500
20,500
2008
£2,250
£1,800
£1,600
19,300
2009
£2,400
£1,950
£1,700
17,900
2010
£2,600
£2,100
£1,850
16,400
2011
£2,800
£2,250
£2,000
14,800
2012
£3,050
£2,450
£2,150
13,100
2013
£3,300
£2,650
£2,350
11,200
2014
£3,600
£2,900
£2,550
9,300
2015
£3,950
£3,150
£2,750
7,100
2016
£4,250
£3,400
£3,000
4,900
Get The Gear To Go With It
Related Bikes
Suzuki Burgman 650 - Closely related version with a larger engine and more power.