Piaggio MP3 500 Review
What Is It?
The Piaggio MP3 500 is a premium three wheeled maxi scooter which is A2 licence friendly.
Engine: 492 cc Single Cylinder, 40 bhp
Economy: 55 mpg, 150 miles
Top Speed: 90 mph
Seat Height: 790 mm
Dry Weight: 244 kg
RRP: £7,500
| | | |
| --- | --- | --- |
| What Is It Like? | | ★★★★☆ |
| | |
| --- | --- |
| ✓ | Low speed stability and grip, practicality, comfort |
| | |
| × | Heavy, limited range, storage, pricey when new, top speed |
MP3 500 LT Review
Let's start with the facts. It's 1pm on an absolutely beautiful Friday afternoon, perhaps the only day of sunshine we'd had all month and I'm sat on a brand new Piaggio MP3 500LT, the latest from a reputable list of MP3's, this one being the most powerful Piaggio have released as yet. With its Matt black finish, chrome detailing, chequer plate footplates and car like dash, with 2 wheels at the front, 40bhp to play with, and a seat big enough for anyone's Mum I started the engine and began my 30 mile trip.
What do you notice at first? Nothing different really, well nothing you wouldn't expect - my previous Scooter CV shouts about pokey 2 strokes, from a Vespa PX with T5 Malossi engine, to an Italjet Dragster with enough acceleration to upset a few sports cars in the past, so as far as speed was concerned, I wasn't worried about riding this beast. But what I wasn't ready for, was the weight of the beast!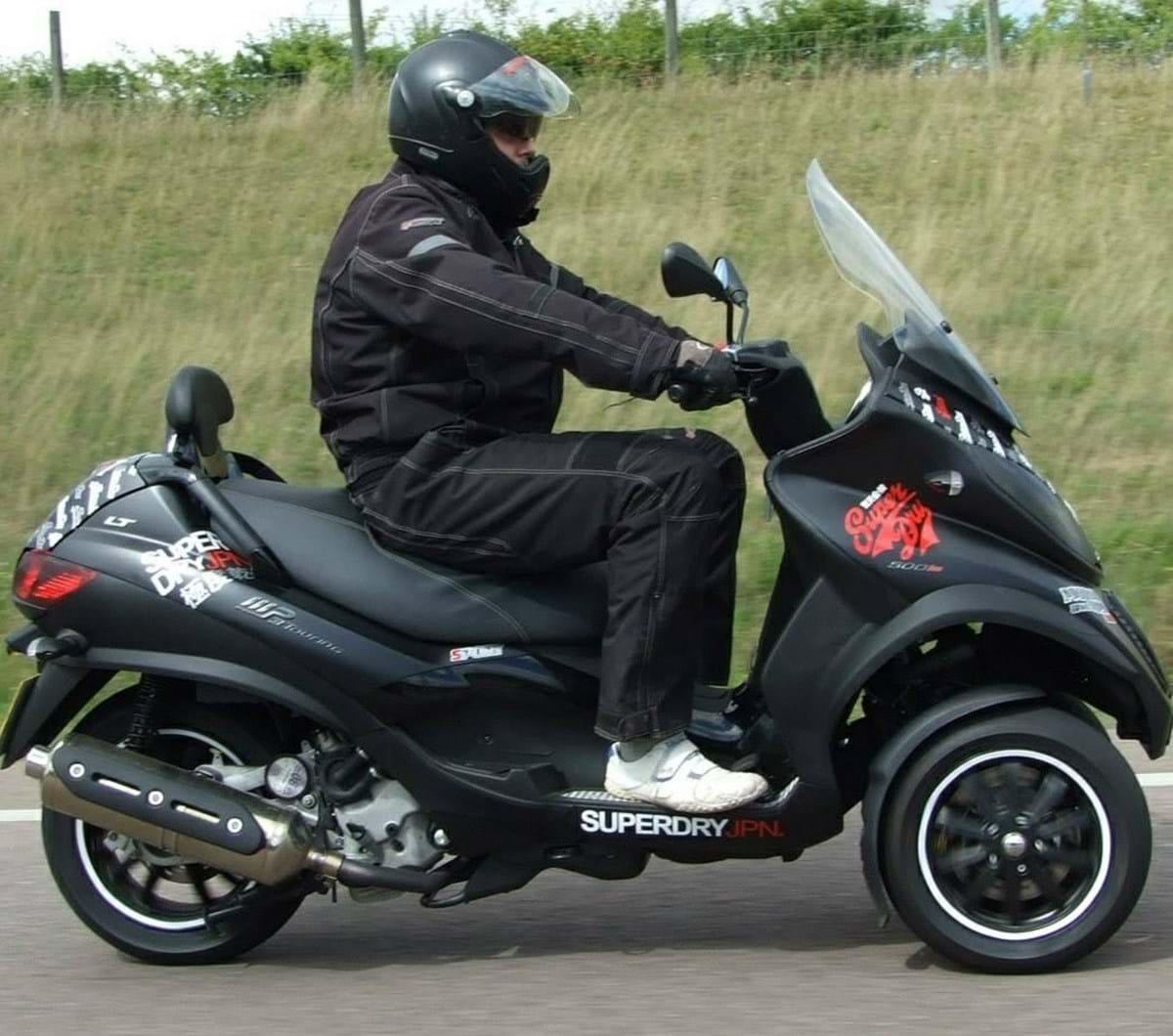 Riding round the small cobbly roads of Hitchin town centre I made myself comfortable and the engine note reminded me I was definitely on a 4 stroke, the sound fairly similar to my old Gilera Runner VX.
On to the busier Hitchin roads, I quickly found out what my initial problems would be, with a very special front wheel locking system, the ability to lock the front wheels when slowing down (>5mph) is something Piaggio are putting a lot of attention on, I now understand and appreciate why, but to start with, this whole concept is far too much when you're used to small scooters with only TWO wheels. I gave it a try at a roundabout, only to panic and plant both feet firmly on the ground, next - a set of traffic lights! This time I locked the wheels at a slight angle and found myself slowly rolling sideways towards the curb! Unlock the steering, feet down - Phew!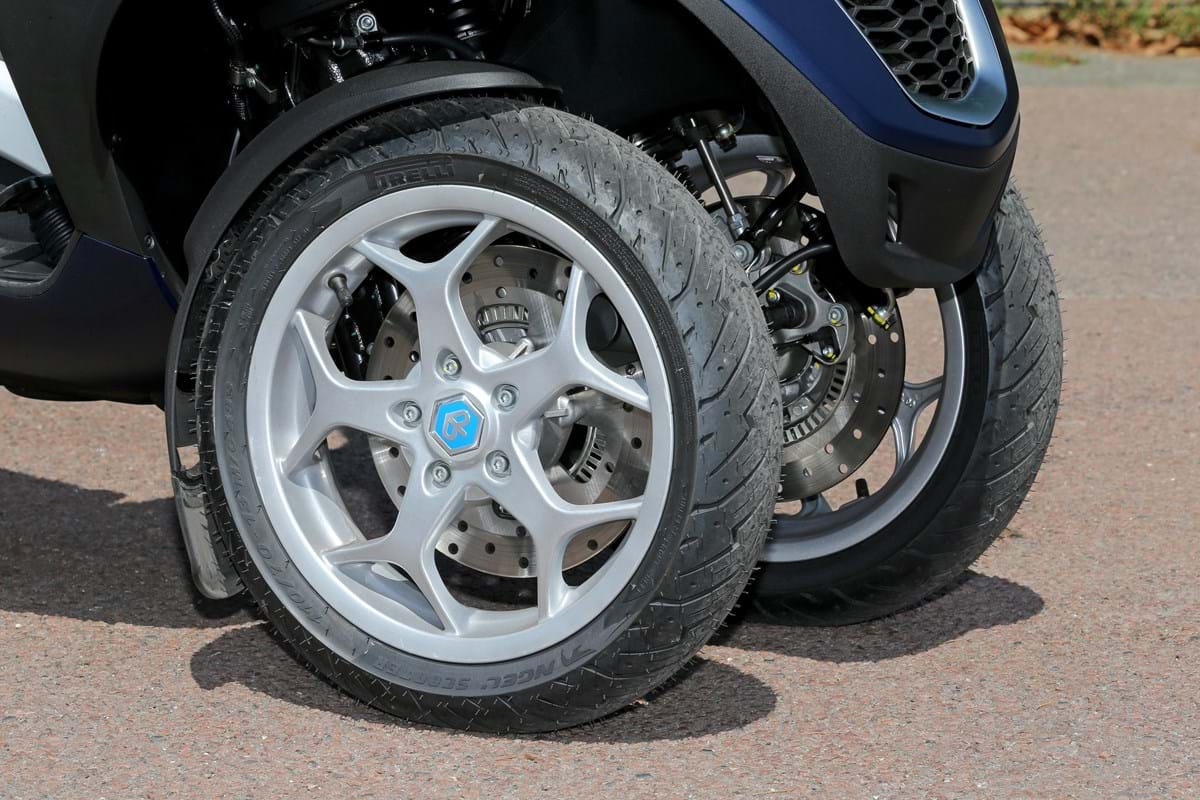 So I gave the whole locking system a miss for a while, heading onto the A6 towards Bedford was a great opportunity to see how it felt at better speeds - not being used to the weight of this thing meant riding a bit quicker might just take the weight off my mind - literally.
I happily reached 60mph and tried to calm my excitement, adjust my mirrors, and try to take in exactly what I was riding and how the hell it all worked! You naturally start wondering what noises you hear, if anything sounds weird, but I soon reminded myself I'm on a brand new machine and not on something which has been poked more than Tom Morgan.
As I settled myself I gave it a quick blast, the power from around the 50/60mph mark to 90mph is nothing short of astounding for something quite so heavy, and with a twist n go engine to boot! Before you know it your nearing a ton! Calm down Gaz! I then took a turn onto a few country roads, a mix of nice winding turns through woods and farmland, and small villages and hamlets with tight corners.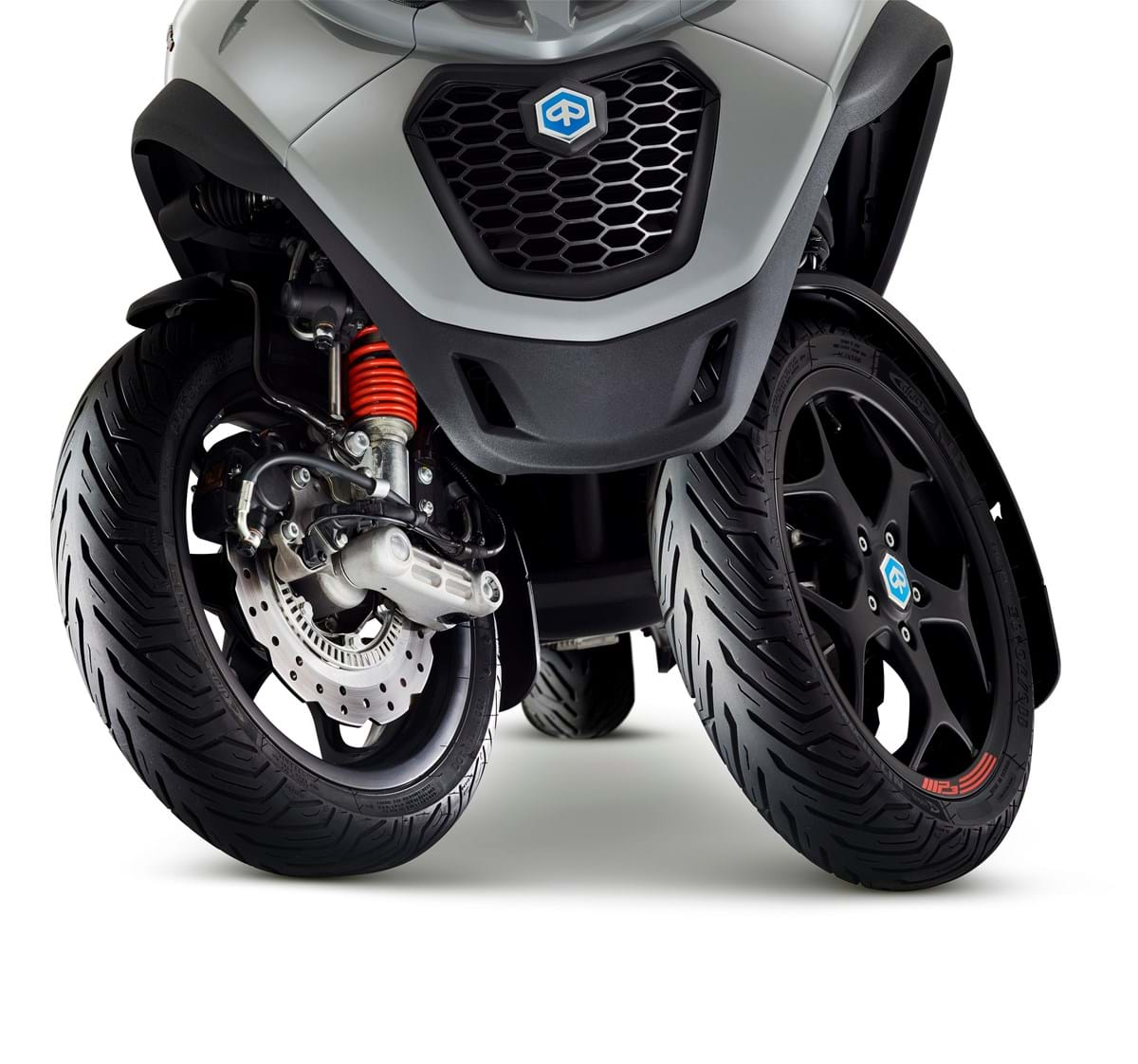 I have to admit I wasn't confident in the leaning ability of this scooter for most of the ride home, the extra weight of the third wheel at the front does give you the feeling that it won't lean into corners, I found myself slowly edging into corners, but powering out of them as I gained the confidence to lean the scooter down further. This scoot can definitely corner well, and fast, but it does take time to adjust - not to mention the fact my previous 11 years of riding has been mostly on scooters with 12inch wheels and poor handling setup (excluding the Runner).
Back on to main roads, and into Milton Keynes, the whole 50-90mph bracket got a nice tryout again as I weaved past cars and vans edging closer to home. Time to try the front wheel lock again....
Roundabout, slowed down, flicked the locking switch and prayed I wouldn't fall over in a big fat expensive pile! You really have to put your faith in it! I sat there, foot floating on brake (yes it has a foot brake, waiting for a gap in the traffic before I could twist the throttle, steering unlocked, and power away! Amazing! Just remember not to rev the scoot when sat there! Once the engine hits 2,000 rpm it disengages the steering lock! Ooops!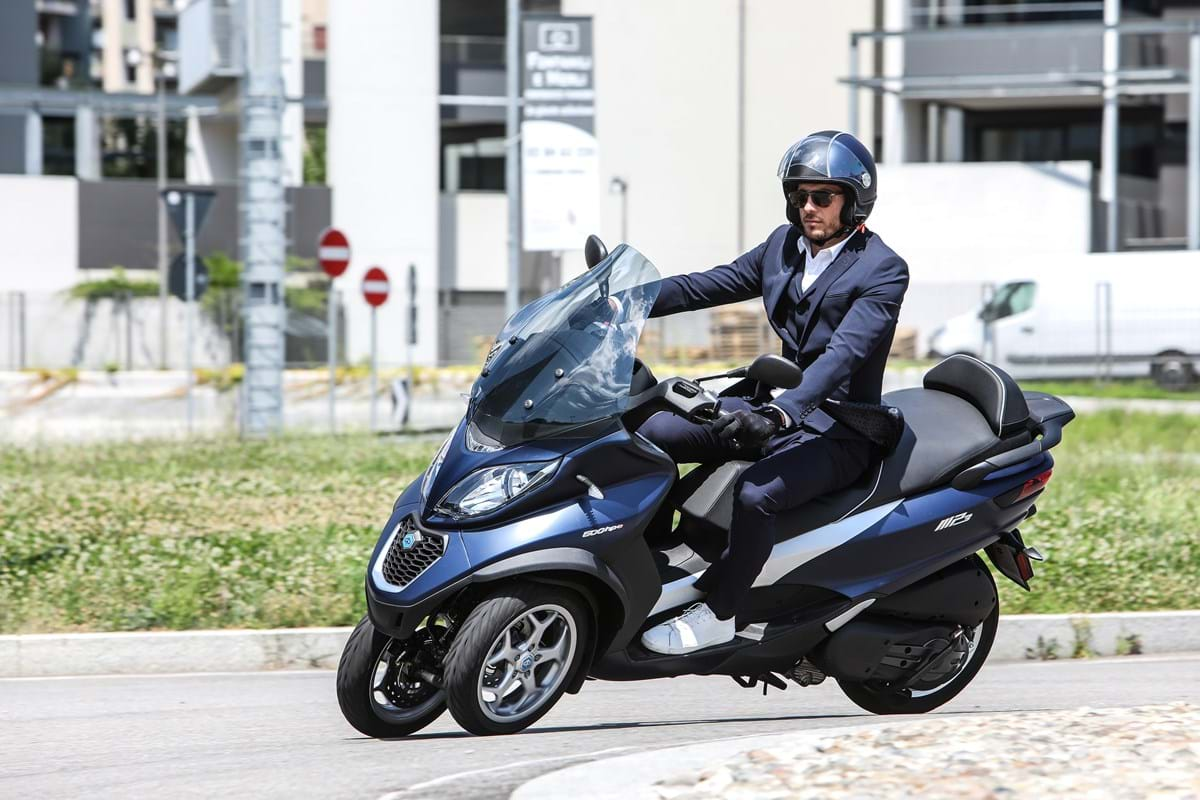 The foot brake, (which is actually pretty cool and works really well) those of the Vespa generation will probably find this quite handy! Not to mention less strain on your arms when heavy breaking. There's nothing quite like braking with your feet! It's just cool.
I had got home safely! Testing the lock mechanism again at my destination, I pulled up the hand brake, got off the scoot/trike, and listened to it grumble as it ticked over. Walking around the scoot you notice the main features, obviously the 2 front wheels and the stunning engineering that has gone into it, the fact that from the front, it actually doesn't look that big! But as you walk round it, you see it's size! From the back it looks like a big motorcycle, and from the side it looks like any other Maxi Scooter on the market.
I've put another 200miles on the clock since I wrote this review, and now I've fully worked out the front wheel lock thingy - especially useful when your parked in a space at a slight slope, reversing this beast is easy when rolling downhill with steering lock on, just turn the handle bar and you find yourself turning round! Genius!
Top speed? Still unknown, but an indicated 95mph on the speedo, and a thumbs up from a Police Biker on the M1 while doing 85mph makes me feel like I'm on something I'm going to enjoy!
Fuel economy? It only has a 12L tank, which for me is a bit of a negative, but saying that, you can easily travel 120-150 miles to one tank, which for a 500cc scooter, is respectable.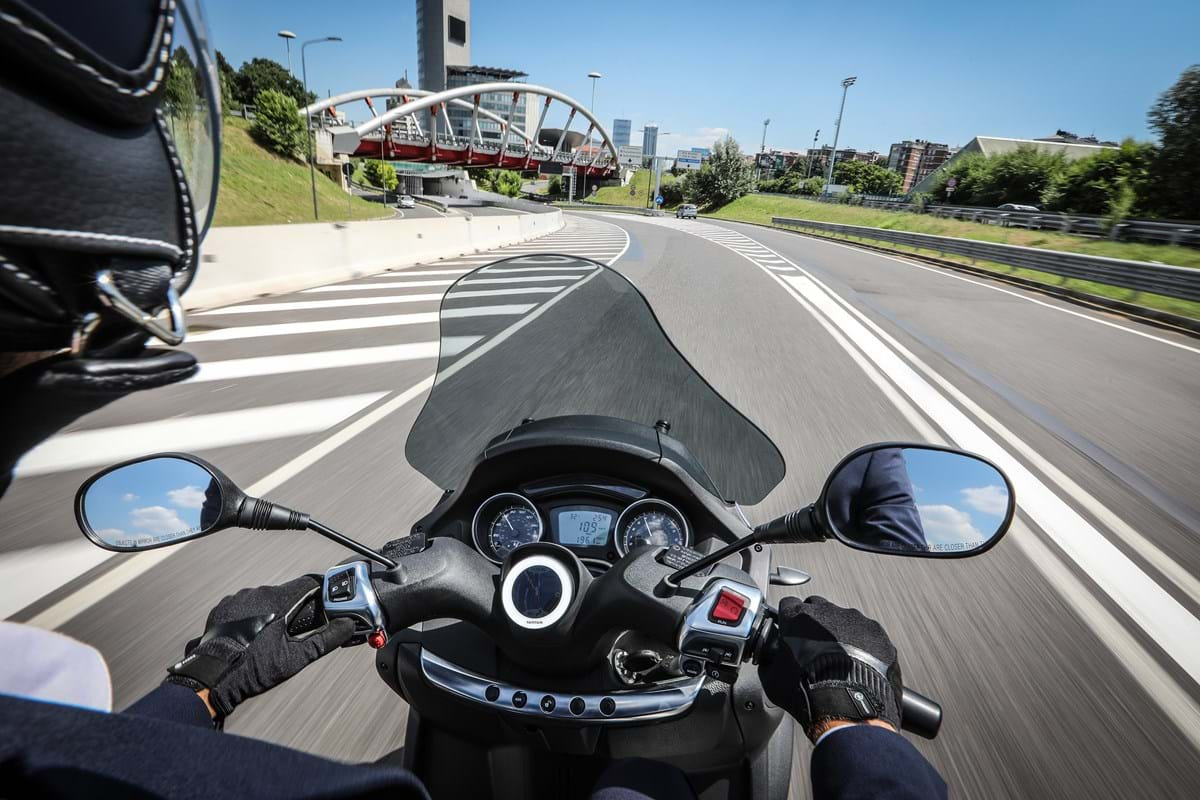 Ride Comfort? The big seat is like your favourite armchair, it's wide and not too firm, and the seat for the a pillion isn't bad either, the riding position isn't the best for the taller rider, being 6ft 4 I would like a bit more room, but I always want more room. The screen offers decent protection too, there are 3 screen height settings and I found I'm best protected at the top setting as the wind did bounce off the screen straight into my eyes before I adjusted it!
Distance riding? It's a 500cc trike all in all, so travelling a distance shouldn't be a problem, the only downside being the tank size. Riding two up might be a different story, if you and your pillion are over 6ft and 16 stone, you may not enjoy the ride, but if not - you'll be comfortable the whole time, not to mention you'll be able to cruise at 70-90mph the whole time no matter what your size!
Next review @ 1000 miles ;-)
- Gareth G, 2012
Price Guide
| Year | Dealer | Private | Part Ex | Mileage |
| --- | --- | --- | --- | --- |
| 2010 | £5,850 | £4,650 | £4,100 | 15,600 |
| 2011 | £5,000 | £4,000 | £3,500 | 14,100 |
| 2012 | £4,500 | £3,600 | £3,150 | 12,500 |
| 2013 | £4,300 | £3,450 | £3,050 | 10,800 |
| 2014 | £4,450 | £3,550 | £3,150 | 9,000 |
| 2015 | £4,900 | £3,950 | £3,450 | 7,100 |
| 2016 | £5,700 | £4,550 | £4,000 | 5,100 |
| 2017 | £6,800 | £5,450 | £4,750 | 3,700 |
| 2018 | £8,250 | £6,600 | £5,750 | 2,100 |
| 2019 | £8,800 | £7,050 | £6,200 | 800 |