Peugeot Metropolis Review (2014)
"
I ride to work every day, even in the ice and snow. It is more stable than a motorbike on gravel filled corners, I can lean up to 37 degrees, filter and accelerate like any normal 300-500cc single cylinder motorbike.
"
What Is It?
The Peugeot Metropolis is an A2 licence friendly 3-wheeled maxi scooter and is powered by a liquid cooled 400 cc single cylinder four stroke engine, producing 36.7 bhp at 7,250 rpm and maximum torque at 5,500 rpm.
Specs
Seat Height: Low (

780

 

mm / 30.7 inches)
Weight: Very heavy (256 kg / 564 lbs)
Economy: Average (50 mpg / 5.6 l/100km / 17.7 km/l)
Range: Average (150 miles / 241 km)
Power to Weight: Low (0.145 bhp/kg / 0.108 kW/kg)
Top Speed: Average (95 mph / 153 km/h)
Pros
Can be ridden on a car licence
Equipment
Security
Stability
Storage
Cons
Speedo is primarily in km/h
Centre stand hard to use
Under powered
Heavy
Pricey
Range
What Is It Like?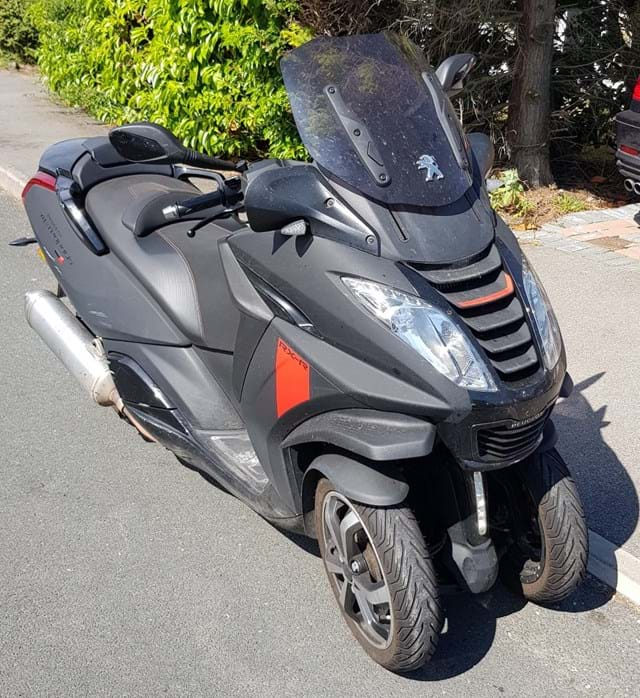 Choosing The Metropolis RX-R
I had ridden Blackbirds, Fireblades and a few 600s in the late 90's and then a disc in my neck decided to burst so I was advised by my doctor to surrender my licence. Basically I couldn't do a life saver so rather than risk an accident I moved to four wheels and gave up ridding.
Well the bug never goes away so after a decade recovering I thought I'd have a mid life crisis and try again. I did my CBT, theory and bought a beautiful Yamaha YZF-R125.
Sorted I thought, 15bhp, a full sized frame (I'm 5'11") and I can go for my MOD 1 in six months once I have a bit of practice under my belt. Unfortunately whilst the YZF is a great bike my mid life spread made the power to weight ratio a bit awkward. Hills slowed me down to 50mph. When you are on a 70mph road and lorries overtake it's bloody scary!
So I went for my MOD1 and failed. I can't do the cones and I can't do a proper life saver. Both are down to my neck so it looked like a no win situation. Then my son-in-law spotted a Piaggio MP3 and Metropolis, both could be ridden on my existing car licence. No MOD1. Not even a CBT! Sorted.
So why the Metro? Simple answer is I think it's better looking. Both cost about the same new (£8,000) and the Metro has a simpler steering system so less to go wrong.
Handling
I ride to work every day, even in the ice and snow. It is more stable than a motorbike on gravel filled corners and I can lean up to 37 degrees, filter and accelerate like any normal 300-500cc single pot moped / motorbike.
Lighting
It has two 55w headlights which add to the safety. The rear end is designed like a Peugeot car so more lights help other road users see you on those early Winter mornings.
Equipment
You get the keyless start, USB point and adjustable screen with the package but at £8,000 I'd liked to have seen a built in sat nav.
Economy
I get roughly 55mpg urban which is great and the tax is only £70 for the year with insurance £235 fully comp.
Motorways
As to top speed and weight, it will sit at 70mph on a motorway all day long and even on hills at 7,000rpm with 1,000rpm to spare. The weight helps with stability at higher speeds so overtaking lorries is not a problem.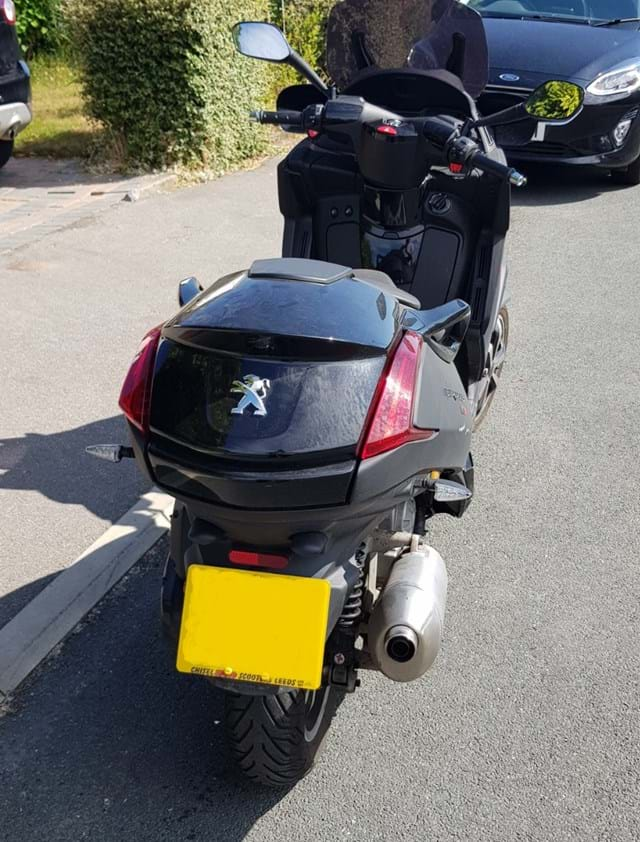 Mods
Side deflectors - keeps me dry even in driving rain
Handlebar deflectors - better than heated grips in Winter
Good Points
Fuel economy
Easy to ride at speed
Easy to filter with practice
Loads of storage
Keyless start
Electronic parking brake
Electronic upright brake
Switchable ABS
Traction Control
Step through frame
Low seat at 780mm
Bad Points
Price tag when new
Heavy at low speeds
Tiny 13.5 litre fuel tank
Another 15bhp wouldn't go amiss!
Just a final warning to car drivers thinking they can just hop on and go. It is still a bike at heart. Once you unlock the front wheels (automatically over 6mph) you need to balance or it will fall over and at 258kgs it won't be easy to pick up on your own.
Do a CBT and get a bit of practice before venturing out. Dropping your shinny new £8,000 Metropolis will hurt the pocket as well as your pride!
- Jon M, 2018
Price Guide
Year
Dealer
Private
Part Ex
Mileage
2021
£8,800
£7,050
£6,150
2,100
2020
£7,150
£5,750
£5,000
3,700
2019
£5,900
£4,700
£4,100
5,100
2018
£4,950
£3,950
£3,450
4,900
2017
£4,350
£3,500
£3,050
6,700
2016
£4,150
£3,300
£2,900
8,500
2015
£4,250
£3,400
£2,950
10,300
2014
£4,600
£3,700
£3,200
12,100
How to use the price guide
The Second Opinion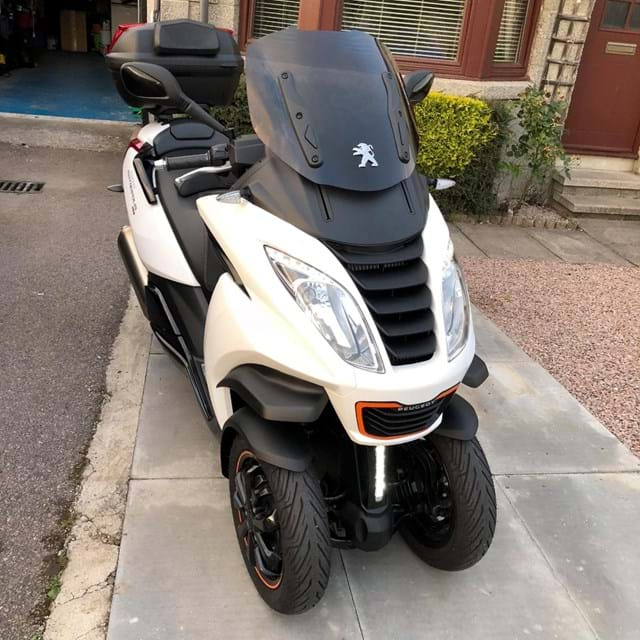 My Experience
Okay I have to confess I'm not really a biker. Never had anything on two wheels that had more than 125cc. I did run about town on scooters on a CBT before deciding it would be nice to be able to actually go a bit further now and again at the same speed as the rest of the traffic.
The Criteria
So I looked at going and doing my direct access and getting a bigger scooter. Having had a Honda H100S about 1000 years ago I knew I didn't want to be bothered faffing about with gears so looked at what maxi scooters were out there and found both the Piaggio MP3 and the Peugeot Metropolis. The beauty of these were that having passed my car test back in 1982 I was able to drive these on my car license without the need to go and do a bike test.
The MP3 400
When I was looking there were no dealers where I live for either scooter, so at first I went for an MP3 400 which was an older bike as it was in the showroom of a local dealer who helped me get it converted to a trike and off I went. I loved it and enjoyed it for a couple of years until it's age and mileage was getting close to needing to get the front suspension serviced. Time to move on as it was going to cost a four figure sum for that service.
Upgrading To The Metropolis RS
In the meantime one of the local dealers had started selling Peugeot scooters so it wasn't a big hassle to go and have a look. Needless to say I liked the look of the scooter so seriously considered buying it. Unfortunately they didn't want the MP3, so I had to sell it privately. As luck would have it I found one about 180 miles from home, so off I went and picked it up and rode it home.
My Metropolis only had 60 miles on the clock when I got it, so it was a bit slower than the well run in engine of my MP3. I had to ride it about 5 miles through town traffic, but it appeared to handle quite nicely.
I did however find leaning into slower turns didn't move it as much as the MP3, but soon got into the swing of counter steering it and found it really responsive and sure footed as the MP3 before. After 5 miles of town traffic I found myself on the M8 Motorway heading for Glasgow, and found it winding itself up to 70 mph with ease. The seat is nice and comfortable!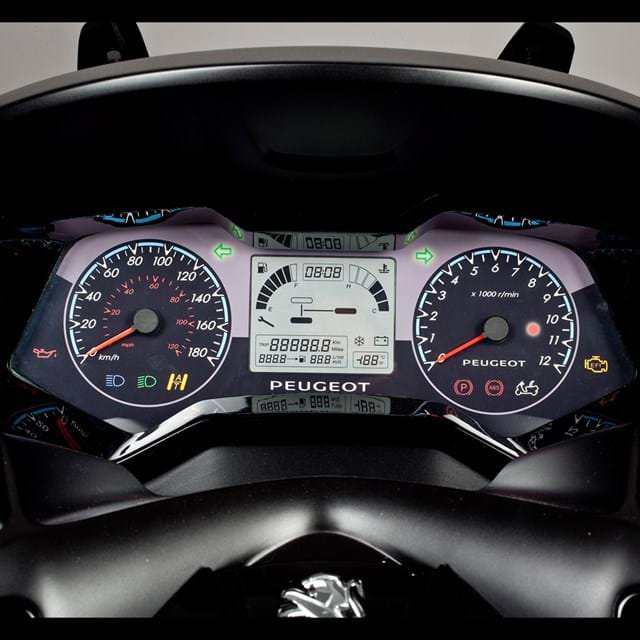 Dash And Economy
I do find it a bit awkward to read the speedo as the MPH scale is definitely the second scale on it, so for the rest of the journey I downloaded a speedo app for my phone and used the digital output to see my speed for the rest of the journey. At speed on Motorways and A roads it runs beautifully.
On these sort of roads the economy was sitting at about 57 mpg but in town expect about 50 mpg.
Running Costs
The first service was £95 from the local dealer, and the next one isn't due until 6,200 miles which will likely be a couple of years away for me with my annual mileage.
Engine
Performance wise it accelerates nicely, keeps up with the traffic and has plenty to spare when overtaking cars in the middle lane.
It might not be a sports bike, but it's fine for a long run. I had to stop at about 120 miles in and top up as it was down to the last three blocks on the fuel gauge.
Width
Most of my riding is commuting as it's free to park at work, so I'm quite happy filtering past queues of traffic and plopping myself at the head of the queues waiting on light changes. It's a large scooter, but it's not an unwieldy one and filters with ease. Parking it next to the Triumph Tigers at work it certainly looks narrower so don't be deceived into thinking it's not a good town trike.
Practicality
Parking security is great. When you put on the parking brake the bike is effectively impossible to move without a crane. Chain it down if you want of course. When you walk away with the key the seat and rear boot are locked and secure until you come back with it.
Any Downsides?
Firstly the speedometer. As I said before reading the MPH scale is a bit difficult. I have got used it, but it is easy enough to mark it up and make 30 MPH a bit more visible. The Metropolis wants to go faster, trust me.
Parking brake, well it's an electronic one you can only operate when the ignition is on. From a security point of view it's great. You need to be within 1.5 metres of the bike with the key to be able to turn it on with the rotary switch.
But this means when you want to manhandle the bike into a parking space you need to turn it back on to engage the parking brake. A minor inconvenience, but it's not an issue the MP3 suffers from.
Centre Stand. If you are used to a motorbike, then you are likely to want to use the centre stand. It's a tad on the heavy side, so to use it it's easier to use some momentum and be pushing the bike backwards at the same time as pushing down the stand, watch this video at about 5:27 and you'll see what I mean. Me, I hardly use it. The parking brake works a treat.
To Sum Up
So should you buy one? Well yeah I would buy another one. It's great around town and once you learn to counter steer it filters well.
It would be fine for touring, or a mixed commute on fast and town roads. If you don't have a bike licence and want a good trike this should be on your list, but at least pass a CBT if you have no bike experience.
- John W, 2018
Add Your Review
Do you own this bike? We would love to hear anything good, bad, unexpected or that you have changed plus anything that a prospective new owner might find interesting or useful.
More Info
Check out this long term video review from Three Wheel Diaries.