Moto Guzzi V7II Review
| | | |
| --- | --- | --- |
| Overall | | ★★★★☆ |
| | |
| --- | --- |
| ✓ | Unique style, easy maintenance, beginner friendly |
| | |
| × | Stock seat is better for shorter trips, limited electronics package |
What Is It?
The second iteration of the retro Moto Guzzi V7 launched in 2015 and is powered by a transversely mounted V-Twin. It has a shaft drive and is available in a number of flavours.
Engine: 744 cc V-Twin, 48 bhp
Economy: 45 mpg, 210 miles
Top Speed: 100 mph
Seat Height: 790 mm
Dry Weight: 186 kg
RRP: £7,135
What Is It Like?
I remember liking the new Moto Guzzi V7 when I first saw it at the Sydney Motorcycle Show, just after it had been released. It was white: white was the in-colour for bikes that year! On many bikes I thought white just didn't work; but the V7 looked great in its white livery. I liked the retro look of the bike; and it was comfortable to sit on.
I subsequently tried to get a ride on one, but no demo bikes were available. Fast-forward a few years, to 2015, and a new bike shop opened up in my area that dealt in Moto Guzzi; and they had a demo of the latest Mk 2 version available for me to ride. It was the first Moto Guzzi I'd ridden.
The model I rode was the Stone, which had a lot of matt-black in its finish. There was an option of the tank coming in the same matt-black colour, but I always think that matt-black looks like an undercoat, so I much preferred the orangey-red colour of the test bike.
At the time of writing this for The Bike Market, in 2019, there are six models available; varying mostly, it seems, in paint schemes and different mudguards; nothing too major. Most come with cast wheels, except the Special and the Racer, which have spoked wheels. Moto Guzzi say that the Racer represents the successful sports heritage of Moto Guzzi, a winner of 15 world titles and 11 Tourist Trophies. With its drilled side-covers and racing-number on the back (the current one doesn't have a number, just the place to put one), it looks sporty, but with less than 40kW to play with, it's never going to live up to the sporty looks. Moto Guzzi say that the Special is the closest of the V7 II range to its V7 ancestors.
In 2017 it received a significant upgrade; to celebrate the 50th anniversary of the original V7 first being released. The styling was tweaked a bit, and the suspension was modified too, with different steering geometry. The engine got a few tweaks, increasing the maximum power to 38kW (an increase of only 1kW by my figures), with maximum torque remaining at 60Nm. So performance wouldn't have changed from the one I rode, but the ride and handling might have. My comments below relate to the earlier Mk2 (2015) version.
On The Driveway
The Moto Guzzi V7 is first and foremost a retro bike, inspired by the V7 Sport of the early 1970s: so it's got that old-style look about it. Moto Guzzi say that the mechanicals are new-tech; but there's really nothing very technologically advanced about the engine. With just 37kW on tap, output from the Mk2 V7 is about what you'd expect from a moderately tuned 600, not a 750. It's developed at comparatively low revs though, which makes the power more easily accessible. There's a fair bit of weight for that to pull around too, so you get the immediate impression that it isn't going to be fast. But then it is a retro, remember.
Showing that it actually does have a few new-tech bits, the bike comes standard with ABS and traction-control. ABS is good to have, but with its limited amount of power I don't reckon you'd need the traction-control – unless you were being particularly heavy-handed on a wet road.
The longitudinal placement of the engine means that when viewed from the front of the bike you're looking at the end of the engine, not the side as is more usually the case. I don't think the end-view of engines is particularly attractive, so that spoils it a bit for me. (Same comment applies to boxer BMWs). From any other angle than front-on, the two big cylinders poking out to the side become a prominent feature of its appearance. It gives the bike character, and a purposeful look. I think it looks good! Remember I said I liked this when I first saw it, and I still do.
The seat looks like something out of the 1970s or 80s – you know, back when seats were softly padded with pleated coverings. I like that! And the looks don't deceive: this seat is comfortable – yep, just like those old seats of the 1970s.
The bars are wide, which suits the style and also gives good control. The foot-pegs are a bit less old-school though, being positioned fairly high, which results in a knees-up seating position, for a lanky old bloke like me anyway.
The instruments are very retro / traditional, with two round analogue dials telling you speed and revs. The revs one is numbered in double digits, which I found a bit confusing at lower speeds – I wasn't sure if I was looking at the tacho or the speedo. You'd get used to that though (and it ceases being a problem when the speed gets into triple digits).There are also a couple of small LCD displays.
Controls are easy to find and easy to use. Particularly pleasing were the brake-lever and gear-lever, which were both where you expect them to be and easy to use. I mention this because I often find bikes today tend to tuck these levers in, making them harder to get at. The only thing I did find a bit awkward was the side-stand.
I mentioned weight above, and at nearly 200kg ready to ride there is a fair bit of weight there – but it doesn't feel like it. The bike carries its weight down low, so it feels much lighter than it is. And that makes it easy to control, not only out on the road but also when stationary and wheeling it around the driveway.
Out On The Road
Start up the big twin and you're greeted with a lumpy, uneven idle. There's a nice throaty sound from the twin pipes. Blip the throttle and there's a bit of that side-to-side rocking motion inherent in longitudinally-mounted engines, but not much.
The clutch takes up very quickly: there's little movement at the lever between it being disengaged and engaged. But you soon get used to it. The gear-change is delightfully easy to use. Clutchless up-changes aren't quite as smooth as you'd expect, even with the appropriate roll-off of the throttle, but use the clutch and it's hot-knife-through-butter stuff.
Final-drive is by shaft, but you'd never know that from riding it: there's no slack or snatch at all. Well, okay, maybe just a bit at low speed, but at higher speeds it's smooth and snatch-free everywhere.
That lumpiness at idle continues as the revs build, with quite a bit of vibration under 3,000rpm. It's not shake-your-teeth-out vibration, but it's certainly there. Some people would call it "character", but to me it was just a bit unpleasant. Above 3,000rpm it starts to smooth out, and by 4,000rpm the engine is smooth, the exhaust goes quiet, and all is peaceful and relaxed. That's a good way to be really: when you're working it through the gears – like blasting around the suburbs or tighter open-road sections – it has all that character and the lovely throaty exhaust sound, but when you're cruising on the motorway it goes quiet and smooth; which makes cruising a lot more relaxing and enjoyable.
The engine revs very freely. There's no red-line on the tacho, so I don't know when you're supposed to stop. I had it to a bit over 6,000rpm and it was still going strong. It performs much better than you'd expect, given its modest power output. You might not win any drag-races against your mates, but once underway a decent twist of the throttle sends it surging ahead, gaining speed quite rapidly. There's enough power here for what you need: it never feels under-powered (which I expected it would), and that throaty exhaust note gives it great character as you do blast around.
Top gear runs at 16mph per 1,000rpm, which I reckon is perfect for this bike. Cruising at 60-70mph the tacho is just nudging over 4,000rpm: smooth and relaxed!
As I mentioned, the wide bars gives you great control; making it easy to steer into corners. There is a noticeable amount of gyroscopic effect from the 18" front wheel (compared to a more typical 17"), but it still handles well.
The ride is a bit Jeckyl-and-Hyde. At lower speed, and especially over choppy surfaces, the ride feels a bit harsh and the bike jiggles around a bit. But as speed rises it changes character and smoothes out the bumps really well. At those higher speeds it's quite good. The ride comfort is helped, no doubt, by that comfy seat.
I don't know why – perhaps it was the way the speedo was graduated, and its scale; perhaps it was the exhaust sound – but I often found myself going slower than I thought I was. The good thing with that is that you can enjoy the bike without necessarily breaking the speed-limits. So it's enjoyable blasting around at slower speeds, and smooth and relaxed on the highway – a true all-rounder in enjoyment!
Summary
The Moto Guzzi V7 is a retro-styled bike with loads of European character. The engine looks big (which adds to the character), but isn't really: and there's not a lot of power there. But it goes better than you'd expect. It's a bit jerky and jiggly at low speeds, but very smooth and pleasant at higher speeds. It's a worthy up-dated recreation of an iconic Moto Guzzi model from the past.
- Elwyn Jordan (AKA The Old Bloke), 2015
Price Guide
| Year | Dealer | Private | Part Ex | Mileage |
| --- | --- | --- | --- | --- |
| 2015 | £5,550 | £4,450 | £3,900 | 6,800 |
| 2016 | £6,050 | £4,850 | £4,250 | 5,100 |
The Second Opinion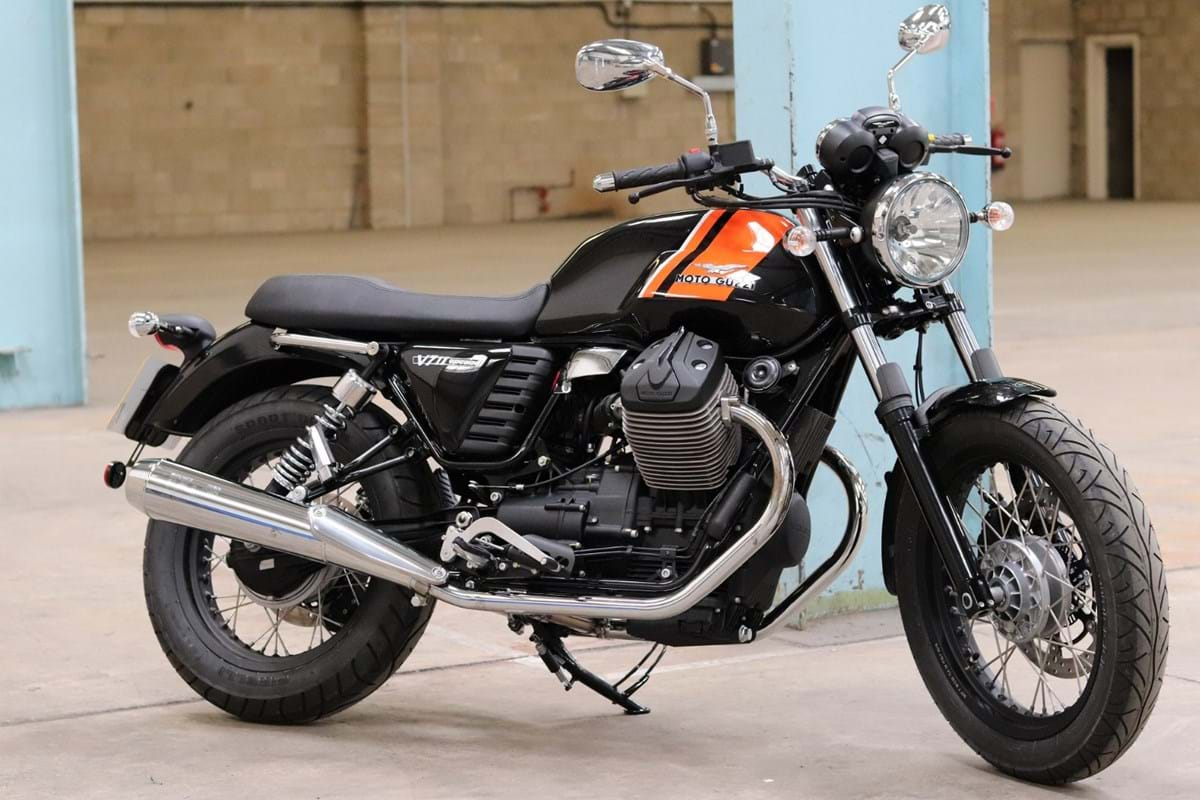 Moto Guzzi V7II Special
I first noticed the Moto Guzzi V7's on a ride out to the Newt café at moto Corsa in Gillingham, well I should say my wife noticed them and then arranged a test ride for the following week. Four weeks later we had a V7ii Special sitting in the garage next to our Suzuki's.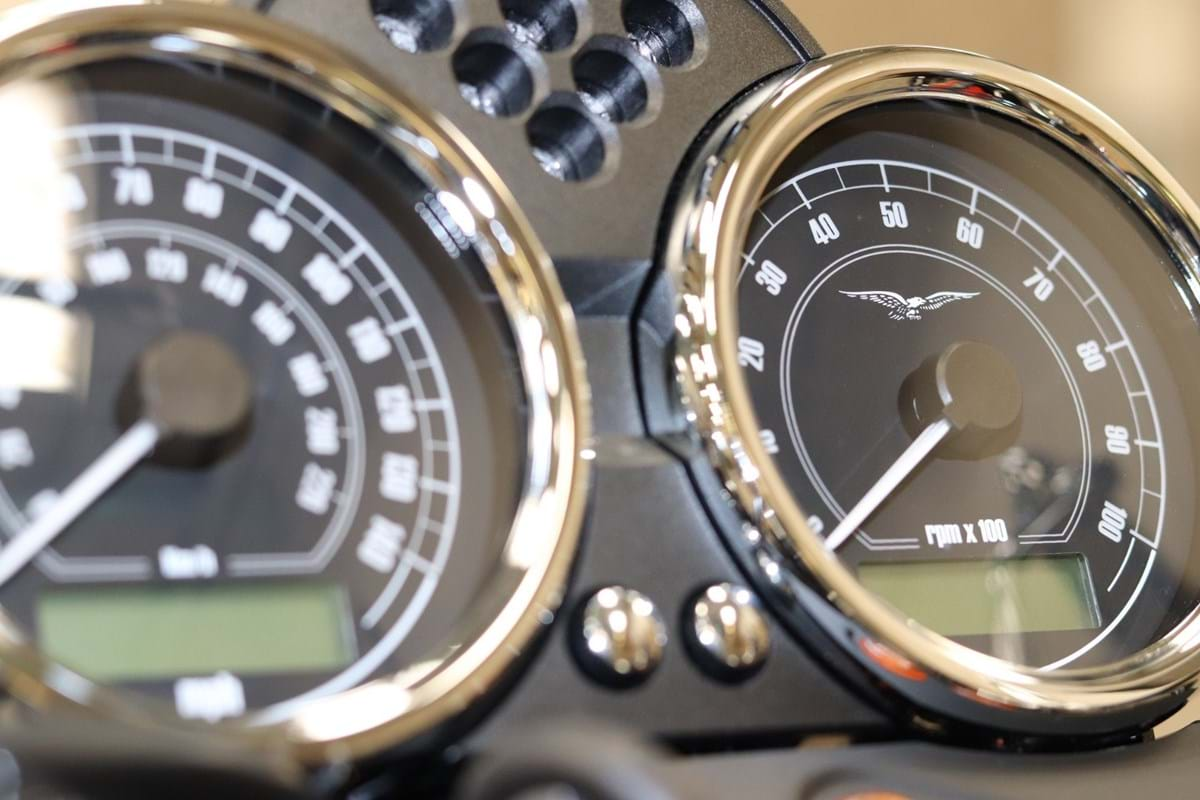 We have put just under 2000 miles on the V7 in eight month's and this machine has so much character, from the way it looks to the way it sounds and rides. This bike makes you feel good when you ride, people turn and look when they hear it rumbling up the road or outside a café. It's not without its faults or quirks, finding neutral was the first thing we had to master as this seemed to be very illusive and required a fine touch to find but eventually you learn how to find this illusive green light on the dash.
The suspension is the other issue on the bike as its very basic and quickly gets uncomfortable on our roads. I will be replacing the rear shocks and fork internals later this year to give a smoother more comfortable ride. The other quirk was the throttle response or trying to hold a constant low speed around 30 mph to 40 mph it all was a bit jerky and slightly annoying, you get used to it but it was always there so I went for a remap of the fuelling with a Beetle Map from Griso. This improved the smoothness of the bike throughout the rev range from idle to constant (no longer jerky) throttle through to the red line.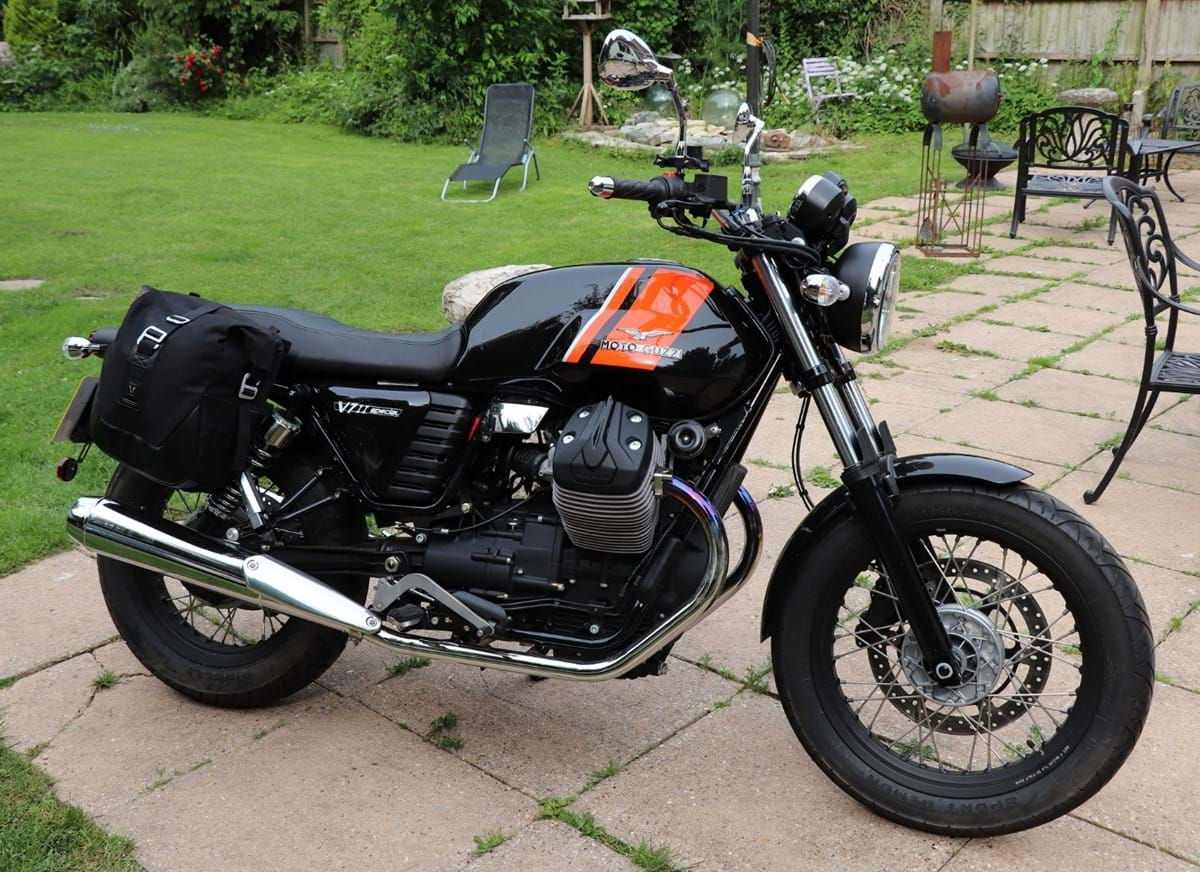 Having all the faults or quirks above I still absolutely love our V7ii and have plans to upgrade and modify into a scrambler theme over the winter, she is currently sitting in our garage awaiting a host of goodies to arrive and be fitted from a new Baak leather seat to Mistral short silencers and a pair of Heidenau K60 semi knobbly tyres and short mudguards. I would like to say that's it for the mods (especially if the wife is reading this) but I cannot lie as I already have my eye on suspension upgrades and a polished alloy fuel tank. If you are thinking of buying a V7 I can highly recommend it, there is also a great community of owners out there on social media with advice and good information on owning a Moto Guzzi V7.
- Kevin E, 2019
More Moto Guzzi V7II Reviews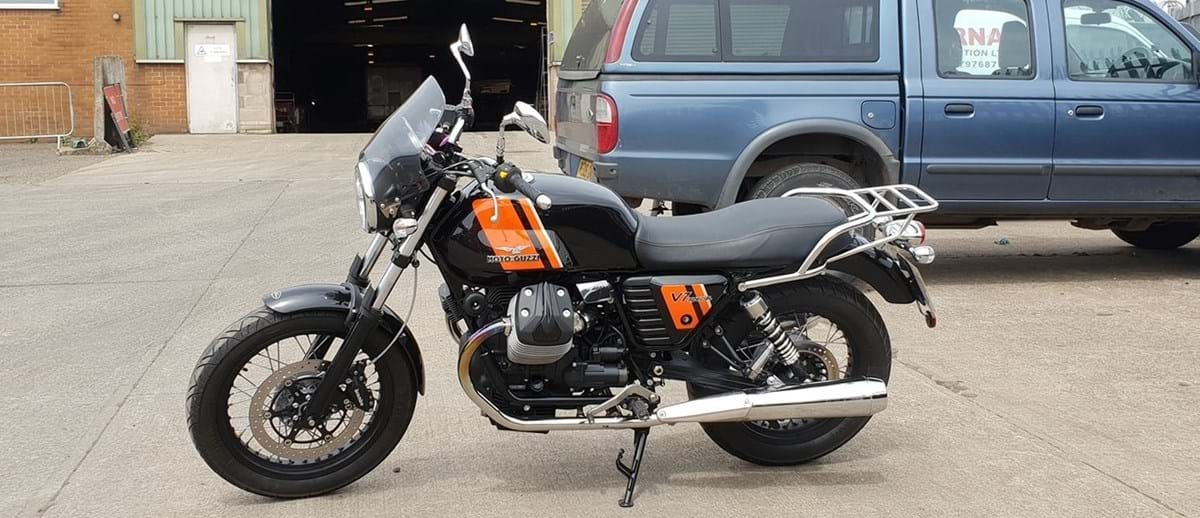 Moto Guzzi V7 II Special
I have always admired Moto Guzzi's, even well before I was able to ride a bike. They are individual, unique and reliable. Finally the day arrived when I went to purchase the V7 Special II without test riding it; I have just fallen in love with the whole V7 series because of the retro look and fuel economy. And well, because its a Guzzi!
Once it had arrived home and I started the engine the familiar and oh so Guzzi tock tock started. The V-Twin engine is lightweight and characterful; this is one of the best looking motorcycles in any class, combining neat detailing with a beautifully balanced overall look that's contemporary yet strongly linked to Seventies Guzzis. When you start it up or stop at the traffic lights you will notice it leans to the right slightly with every tock; this is a trademark of the V-Twin Guzzi and does not hinder you in any way, shape or form.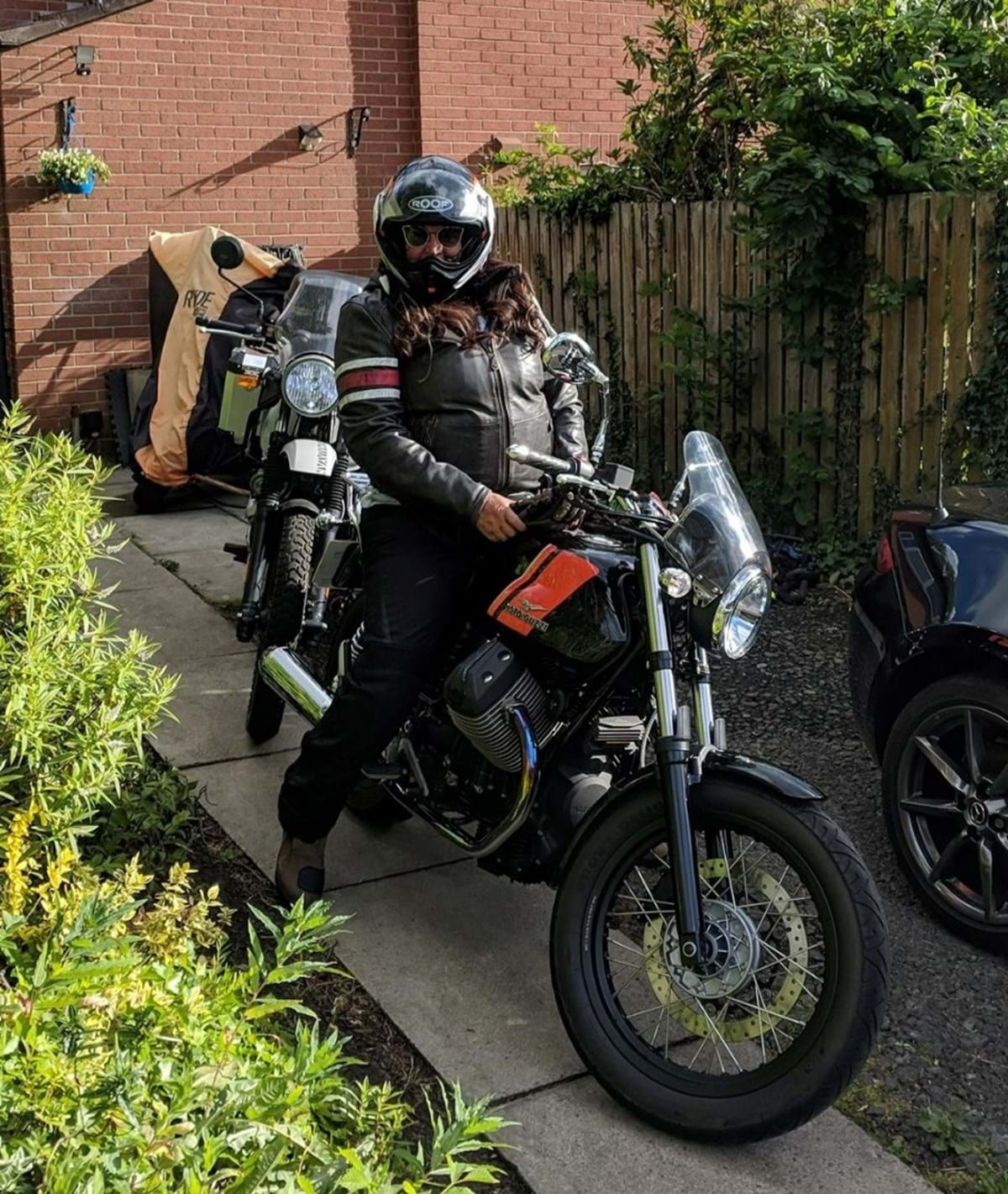 It's easy to get on and off, the seat is comfortable, although maybe not quite made for long haul trips. It is nimble, takes the corners with enthusiasm and is just a joy to ride. I cannot agree with other reviews of this bike which say that it is a bit wobbly and the suspension soft and basic. It's not a racing bike - but that's not what you want if you have your eye on a V7. It's far from wobbly and such a pleasure to go into corners with this bike.
If you would like to add panniers/saddlebags; there are easy options from Frank Thomas for which you don't need additional brackets to fasten them if you have a luggage rack on the Guzzi. Original Moto Guzzi saddlebags are very nice but also very dear.
The only downside is the location of the pegs. I am 5'11 which means that my knees are almost in my belly which can be a tad painful when riding a little longer. However, there are plenty of adjustable footpegs out there for little money. I have ordered a set and once they are on it will be one of the bestest rides I have ever had. Italy here we come!
- Jane J, 2018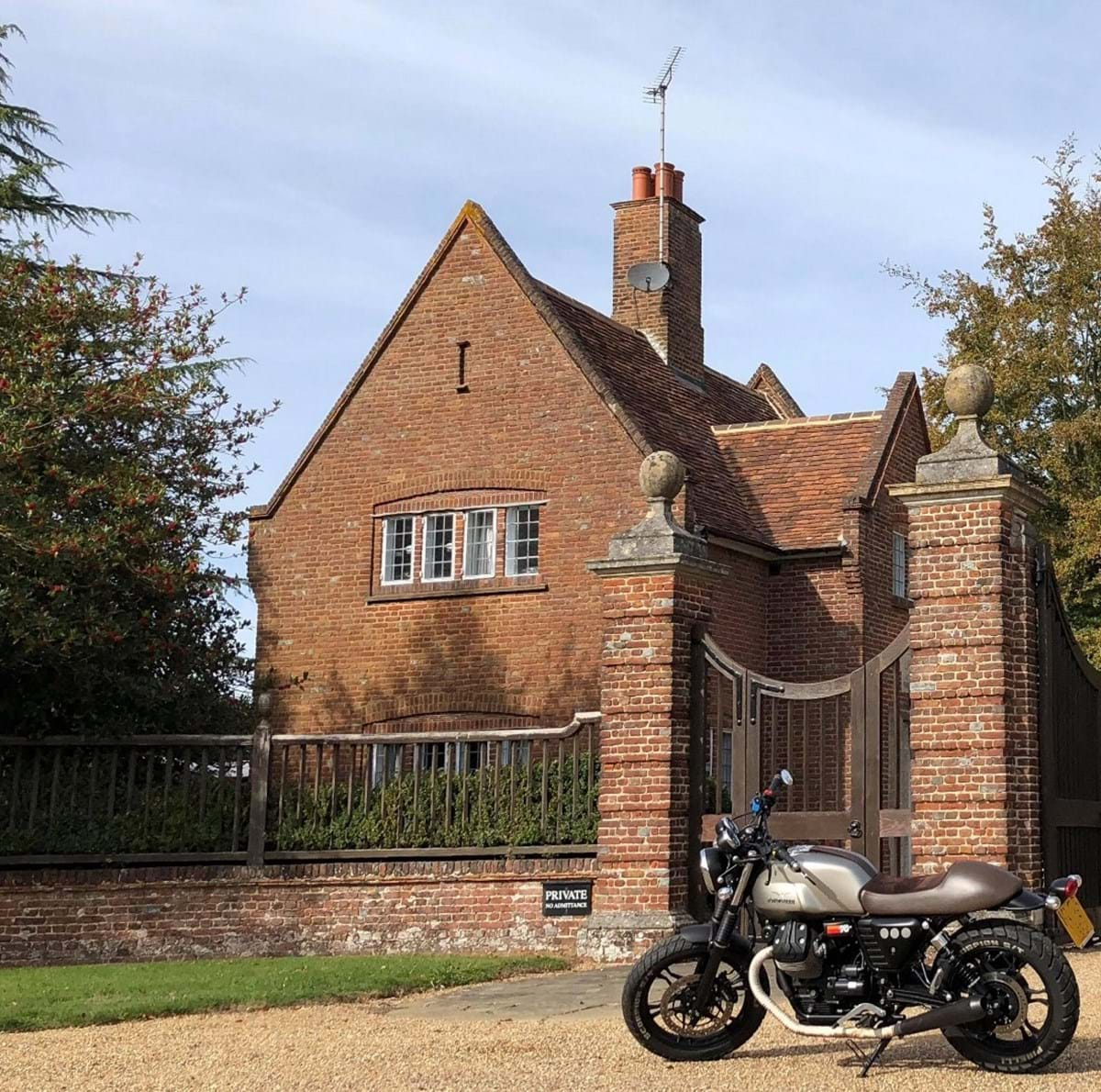 I bought my Guzzi second hand with 8,000 miles on it and a few mods; cafe racer seat (makes the seat slightly higher), tail tidy, shorter/louder pipes (I may go back to stock) and bar end mirrors (which I think improve styling a lot). It's a versatile bike that can be moulded to what the rider wants, cafe style, adventure/off road, really whatever in my opinion, and it pulls off all the looks well in different ways. I've put about 1,000 miles on it since I bought and haven't had any issues.
I added a Dart flyscreen to take a bit of wind off for longer rides with motorways but will leave that off as most of my riding will be away from motorways. Plenty of power for that but obviously less fun. Light enough for city riding although I'm sure there are better bikes due to it's torquieness and heavy engine braking even at 3,000 rpm, but it looks a lot cooler than most at the price point.
Suspension is stiff and I plan/hope to upgrade to Hagon or similar with the hope that this mellows the ride a bit since London has plenty of potholes as do the country lanes.
The standard seat is wide so I think decent pillion comfort and seat height is doable even for my 26-27cm inseam without any mods. I have to hitch a little at lights but it's not too bad.
Also the previous owner upgraded the tyres to scorpions which I think improves the aesthetics but I'm not experienced enough to comment properly on any performance improvement. The bottom line for me is I love the look and the bike feels like a bigger bike without being intimidating to a beginner.
- Zander C, 2019