Lexmoto LXR 125 Review (2018)
"
If I could go back in time and buy the R125 brand new instead would I? The answer is no.
"
What Is It?
The Lexmoto LXR 125 is a budget learner friendly full size sports bike and is powered by a liquid cooled 125 cc single cylinder fuel injected engine, producing 12.1 bhp / 9 kW at 9,500 rpm and maximum torque at 6,500 rpm.
Specs
Seat Height: Average (

800

 

mm / 31.5 inches)
Weight: Average (167 kg / 368 lbs)
Economy: Very good (80 mpg / 3.5 l/100km / 28.3 km/l)
Range: High (240 miles / 386 km)
Power to Weight: Low (0.072 bhp/kg / 0.054 kW/kg)
Top Speed: Average (70 mph / 113 km/h)
Pros
Cheap parts
Economy
Comfort
Brakes
Lights
Looks
Value
Cons
More powerful 125cc models are available
Hates rain
Weight
Mirrors
Stand
What Is It Like?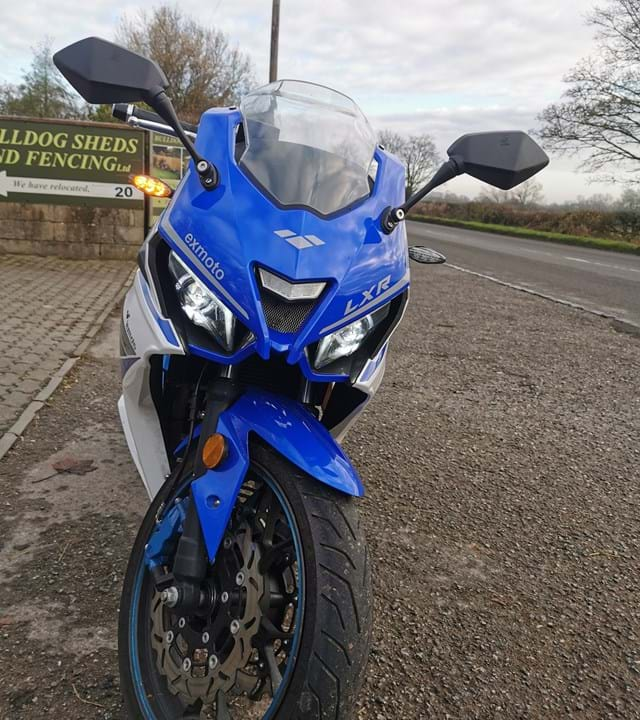 Looks
The LXR in real life is so much better than any of the pictures. The black and red LXR has a matte black finish, which is smooth and compliments the red lines and stickers BEAUTIFULLY but I chose the white and blue which it is truly amazing.
What's Good?
They are beautiful bikes and I would say the best looking 125cc available with the Yamaha R125 trailing just behind. It has a thick back wheel to keep you anchored to the road, a gear indicator and full LED lighting.
It's pretty and for such a low amount of money you're laughing all the way to the bank. The highest mileage I have seen is 10,000 but bear in mind that these are pretty new bikes.
Weight
The bike is very heavy. I see this as a positive but some may find it a negative and I have heard of a few people who have dropped their bikes forgetting how heavy they are.
The bike weighs just 20 kg less then a Honda CBR500R and this bike is the size of a 300cc. People have often asked me why I have L plates on a 300cc and have been shocked to find out its only a 125cc.
The weight has no negative impact on the fuel used or the speed. I can achieve 70mph and my full tank costs an amazingly low £8, even with expensive Shell V-Power.
Is It Cheap To Fix?
Parts for these bikes are pretty cheap and I managed to replace the whole left hand side for just short of £90. Parts are normally ordered from CMPO, a website that sells Chinese bike parts and they tend to stock things pretty often but sometimes you can be left waiting a few months for the part to be back in stock.
If you're well experienced on a bike the LXR should not be a problem. For you newbies who are worrying about falling off or dropping the bike you can rest assured parts are not going to make you weep.
Any Downsides?
So I have been part of an LXR owners Facebook group for a good 6 months now, where we share details of what's going wrong with our bikes, pictures, modification as we progress with them and this is what I've learned.
The LXR does not seem to take to well to being left outside in the rain. I have had mine outside since I brought it but I have always used a motorcycle cover to keep it dry. I have had zero problems but those that have not are having problems with their electrics.
Nothing too major, just the bike's electrics repeatedly cutting out and starting back up when riding. We all found the problem, which was that the ignition barrel is very vulnerable to corrosion but once replaced she is as sweet as ever.
The second is the stand. It seems to loosen the bolt that attaches at the back of the stand, almost under the engine. After a while if you're careful your stand will still work, you just have to not smash it down on its stand.
The stand switch on some LXRs had to be replace as it does have a safety feature that if the bike is in gear and you try to pull off with the stand still open the engine stalls. Again an easy replacement and not to much hassle.
Other than that the only other negatives I remember from the group of 390 owners would be some people are reporting the fuel gauge not recording properly and the headlight range being too low but the headlights were adjusted and people are saying its now amazing and working brilliantly.
To Sum Up
If I could go back in time and buy the YZF-R125 brand new instead would I? The answer is no, I would 100% still pick the LXR.
This bike, like every other bike, will always have flaws but you just have to hope they are not major ones and in this case they are not.
Clearly the bikes are decent and as long as you look after them you will be fine, as will the bike. I would recommend buying one for sure and I look forward to seeing more people out on their LXR's.
- Aaron H, 2020
Price Guide
Year
Dealer
Private
Part Ex
Mileage
2020
£2,050
£1,650
£1,450
3,700
2019
£1,800
£1,450
£1,250
5,100
2018
£1,800
£1,450
£1,250
4,900
How to use the price guide
Related Bikes
Lexmoto LXR SE 125 - Premium version with an upside down fork and weight saving Aluminium swingarm / yokes.
The Second Opinion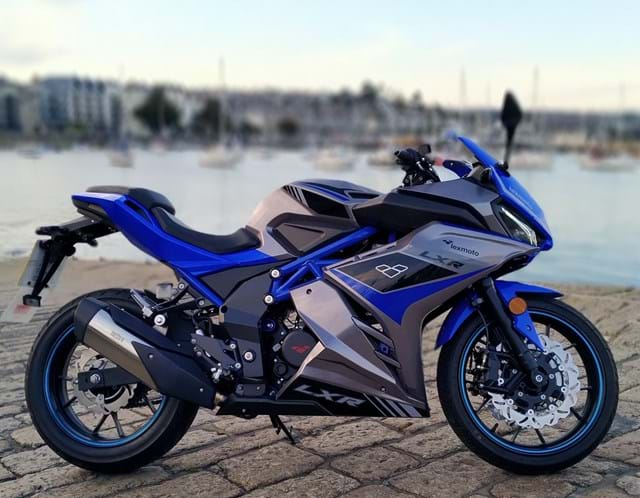 Lexmoto LXR 125 Euro 4 2020
Tell Us A Bit About You
I'm a 27 year old male, 5ft 11". I've been riding motorcycles for 11 years and owned 5 (3 second hand, 2 brand new).
My first brand new motorcycle was a cheap Chinese import and the LXR was by far the most costly motorcycle I've brought, but well worth it.
Why did you choose it?
It was a beautiful looking motorcycle. I loved the lights and digital screen. Reliability was very good and I read about the 2 year warranty that was offered. Also the price was very good at £2,199.
What is good about it?
The digital screen for the speedo and the fuel also lights up nicely. The overall shape and fairings really sold it to me, the sports bike look.
What could be improved?
A stronger stand, a better designed ignition barrel and 1,000% the mirrors. The design at the moment means you can't use them to see anything apart from your arm.
Any mods or upgrades?
Barrel plastic cap to help the rain from damaging the barrel
Stock exhaust to a Lextek YP4
Handle bar mirrors
15 teeth sprocket
Stand extender
Chain
How is the engine?
Brilliant and no issues what so ever. It has plenty of power for the Cornish roads and steep hills.
How does it handle?
Brilliantly. Such a smooth light turning motorcycle and comfortable to ride.
What are the brakes like?
Super duper. The brakes are amazing, honestly the best brakes I've had on any motorcycle.
Is it comfortable?
Yes, very comfortable seat which is nice and soft. The tank is in an excellent position and at the right height.
How reliable have you found it?
110% - I've had no issues with the motorcycle and it's very easy to maintain.
What's the servicing frequency and cost like?
The first service was £100 however I have heard of other people being charged £50. The second service was £40 and the third was £30.
To Sum Up
The Lexmoto LXR is the motorcycle to buy and I can not complain. Seeing the LXR getting delivered out of the van blew me away. How big and what a monster it looked and sounded. I was so over the moon as I didn't view it before buying but I was 100x blown away when I did.
- Thomas G, 2021
A Few More Thoughts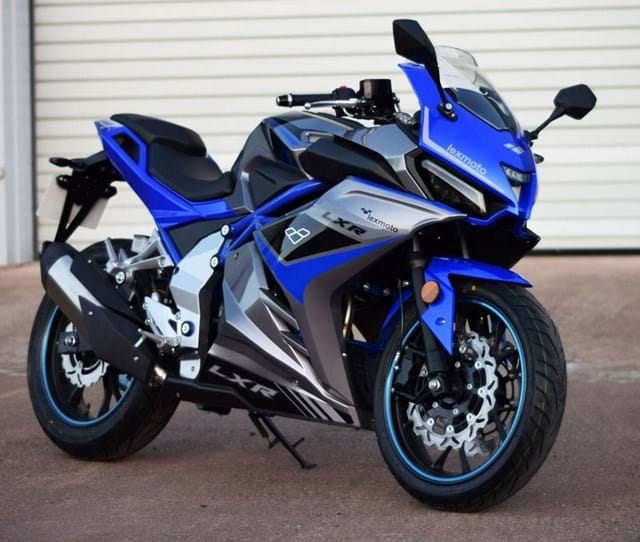 I have never been the sports bike type of person but after riding this bike I have found it very comfy to ride. It is certainly a bigger bike than it looks and also sounds louder which I really like in a bike.
It really looks lovely especially the front end, it's light as well compared to some 125's. If I wanted to change anything it would only be the option of having more colours except for just the three in the standard bike, but overall I am very impressed as people tend to put cheap foreign bikes down.
- Michael B, 2019