Ducati Panigale V2 Review (2019)
"
I get no end of compliments wherever I go. Getting there is theatre and handling perfection. I simply can't leave it alone!
"
What Is It?
The Ducati Panigale V2 is a premium sports bike and is powered by a Euro 5 compliant liquid cooled 955 cc V-Twin engine, producing 152.9 bhp at 10,750 rpm and maximum torque at 9,000 rpm.
Specs
Seat Height: Average (

840

 

mm / 33.1 inches)
Weight: Average (200 kg / 441 lbs)
Economy: Average (40 mpg / 7.1 l/100km / 14.2 km/l)
Range: Average (150 miles / 241 km)
Power to Weight: Very high (0.765 bhp/kg / 0.570 kW/kg)
Top Speed: Very high (160 mph / 257 km/h)
Pros
Electronics package
Loads of power
Build quality
Soundtrack
Handling
Brakes
Looks
Cons
Fairly aggressive riding position
Can get hot at slow speeds
What Is It Like?
About me
I'm a 40 year old gent, 6ft 1" and 12 stone.
I have ridden road bikes since I was 16 years old, had my full bike license for 17 years and always had bikes in my life in one shape or form (8 bikes so far).
My heart is with spirited road riding all over the country and if it's less than 150 miles it ain't a ride out. I also enjoy track days when I get chance and even pitted myself against the Nurburgring 2 years running and lived to tell the tail.
I consider myself a biker that drives a car and pride myself on having learnt my craft and built up my skill and experience over the years.
Why did you choose it?
Having ridden and owned two Triumph Dayton 675's for the last 12 years, brilliant bikes but they had both been gen one machines so in essence both very analogue save for a quick shifter.
I decided due to age and experience it was time to go up a peg for the following reasons. More power, modern technology, the dream of the Ducati ownership experience with a hope of the renowned soul and character.
I never thought I would find a replacement worthy of taking the 675's place. Then last year at the NEC show I saw the V2. Love at first sight and then a test ride in the May had me hook line and sinker.
What is good about it?
Where to start. Just look at it! Even none bikers love it, it sits in my 'man cave' waiting to be uncaged and looks like its going 100 mph sat still!
It has evolved from some fantastic previous models, being honed and perfected, in not only aesthetics but technology and geometry. The 955 cc Desmodromic V twin engine is absolutely breath-taking in power and oh that noise. It pulls like a bullet train!
The chassis, handling and mechanical grip is so confidence inspiring it has you wondering why they bothered with the electronic wizardry.
That said I'm glad they did and grafting it straight off the V4 shows that they weren't going to cheap out on the little brother! It's brilliantly intuitive and easy to use and adjust.
Knowing you have lean angle sensitive ABS and traction control means you relax and let the confidence build. Oh and the quick shifter is slick and EVERYONE should have a Ducati auto blipper in their life. Going quick should not be this easy!
The build quality is mega. I have been used to a couple of clips and 5 screws and a side fairing is off. Not here. You can start to appreciate Ducati servicing cost when just getting panels off is a major undertaking. This is good because the bike just feels solid and able to handle our questionable roads.
Two years Ducati warranty, a year of free Biketrac and road side assistance is standard.
I get no end of compliments wherever I go. Getting there is theatre and handling perfection. I simply can't leave it alone!
What could be improved?
It's kind of pointless complaining about comfort on a sports bike. Personally even at 40 years old with various aches and pains I can still manage 200+ miles and not be a cripple the next day. That said by far the biggest complaint that makes it sometimes uncomfortable is the same on all Panigales. The HEAT!
If you're doing less than 40 mph for any length of time your bum is going to cook. You're quit literally sat on one of the 500 cc cylinders and its 2" exhaust pipe. After 5 minutes in static or slow moving traffic you will see 105 degrees on the dash and you know it.
Honestly though that's it and because it's so good it all the other areas, I for one can live with its warm heart.
What's the economy like?
Not really sure as when the light comes on I fill it up and crack on. It has a 17 litre tank and the light generally comes on at around 120 miles.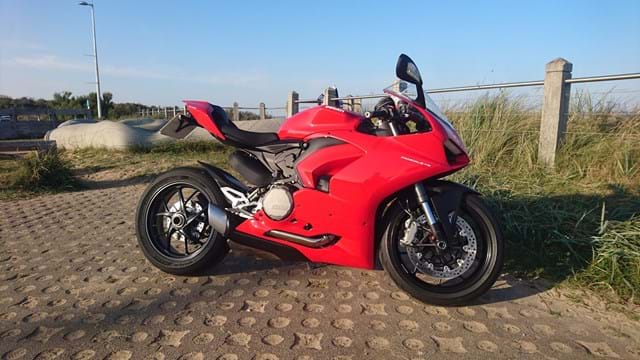 Any mods or upgrades?
Evotec tail tidy and radiator guards
Ducati single seat replacement fairing
Venture shield paint protection
Ducati throttle spacers
How is the engine?
One word, Thunderous.
It is not far of the same torque as a BMW S1000RR and loves to rev even for a V-twin. The low speed thump was fixed with throttle spacers on the fly by wire throttle, an easy fix.
How does it handle?
Like I said I've owned the Triumph Daytona 675 for 12 years, mainly because they were such good handling bikes with a front end that would let you get away with blue murder.
I'm just trying to give you an idea because after 30 minutes on the V2 I was instantly quicker through corners, feeling stable planted and safe.
The mechanical stability, even before the electronics starts to help out, is predictable and gives brilliant feedback. Braking hard and tipping in are spot on and it hooks up out of corners like a rat up a drain pipe.
What are the brakes like?
Awesome! It has 6 axis IMU lean sensitive ABS, Brembo 4 pots and braided lines. What's more to say.
Is it comfortable?
I'm 6ft 1" and it's a race bike. The seat is plush but the pegs are quite high and it's a little wristy. That said I did a three day 650 mile Welsh road trip, did 300 miles in one day and I was still smiling at the end.
How reliable have you found it?
I'm 2,500 miles in and have nothing to report. Now owned by Audi, Ducati electrics are sorted with Bosch and such like.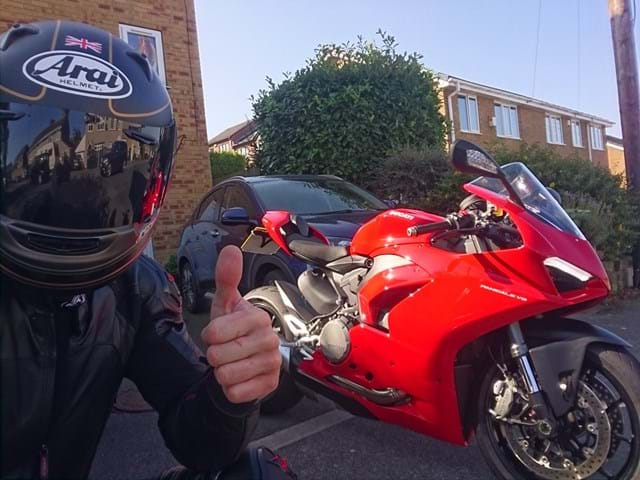 To sum up
People say they are pricy. I reckon bang for buck it's about right. Back in the day I payed £10,000 for a 675 with a cable throttle and standard brakes, like I said 'analogue '.
With the V2 you get:
6 axis IMU
Lean sensitive ABS and traction control
Slipper clutch
3 mode engine mapping
Quick shifter
Auto blipper
Adjustable engine braking
Anti wheelie control
Brembo brakes
Showa forks
Sachs shock
Lets not forget that noise and that soul that comes as standard on a Ducati. For a sports bike that has manageable power for us mere humans, but still makes you grin like a Cheshire cat every time you open the throttle I think it's a clear favourite.
I bought mine in June and have done 2,500 miles including a three day road trip with a 20 litre tail pack and the love affair is going strong. Much to my wife's disappointment!
- Matthew P, 2020
Price Guide
Year
Dealer
Private
Part Ex
Mileage
2022
£17,250
£13,850
£12,100
1,200
2021
£14,650
£11,750
£10,250
2,100
2020
£14,550
£11,650
£10,200
3,700
2019
£14,400
£11,550
£10,100
5,100
How to use the price guide
Add Your Review
Do you own this bike? We would love to hear anything good, bad, unexpected or that you have changed plus anything that a prospective new owner might find interesting or useful.