Ducati 999 S Review (2003)
"
The looks and sound are awesome, the acceleration and handling supreme, it's easily fast enough on our roads and a great bike to live with.
"
What Is It?
The Ducati 999 S is a premium sports bike and is powered by a liquid cooled 998 cc V-Twin Testastretta engine, producing 136 bhp at 9,750 rpm and maximum torque at 8,000 rpm.
Specs
Seat Height: Low (

780

 

mm / 30.7 inches)
Dry Weight: Average (186 kg / 410 lbs)
Economy: Poor (30 mpg / 9.4 l/100km / 10.6 km/l)
Range: Average (100 miles / 161 km)
Top Speed: Very high (170 mph / 274 km/h)
Pros
Performance
Handling
Sound
Looks
Cons
Styling splits opinion
High maintenance
What Is It Like?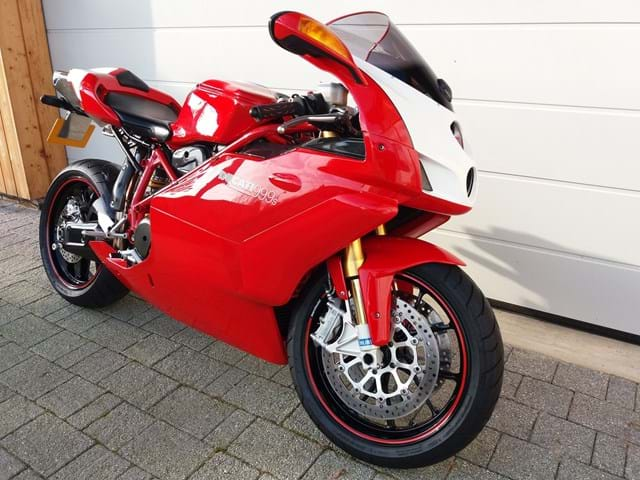 My 999 S
I bought my 2005 Ducati 999 S new and I still own it. I have travelled 22,000 miles on it and it still gives me great pleasure in both ownership and riding. The bike always draws a crowd when I pull up and I keep it in top condition.
History
The often maligned Pierre Terblanche makeover for the very successful 916 through to 918 series was a bit of a departure for Ducati. The nine series was getting very samey and Ducati felt the time had come for a complete restyling of their exotic flagship masterpiece. Terblanche was given the job of taking Ducati to the next level.
The 999 certainly did that. They kept the same engine as the 998, being a class beater, albeit lightly tweaked in the new model but the styling was not well received by the faithful followers of Ducati.
Gone was the single sided swing-arm much loved by the Ducati followers replaced by the much firmer double sided unit the bike required to keep the bike under control and in shape for the huge torque output of the V-Twin.
The stacked headlights, keeping the bike as narrow as possible led to the Ducatisii holding their hands up in horror! It wasn't until you rode it that it all made sense.
Terblanche was required to deliver the same level of performance and indeed enhance it somewhat while at the same time making the bike a more pleasant riding experience and easier to live with. The 999 delivered the performance and ride without doubt, going on to be their most successful bike in terms of delivering racing success.
However no amount of silverware could satisfy the dedicated bum-in-the-air would be Sunday racing riders. Consequently it did not sell well. The 999 was a much more roomier bike than its predecessors and big miles were reported by many owners.
The Best Years
The 2005-2006 models are the best of the 999s being upgraded in the valve department with Titanium parts with an increase in power from the original 2003 bike, a stronger and longer swing-arm to aid stability, redesigned sump for better oil pickup, radial brakes, removal of the front fairing air vents, slight variation for the front fairing and screen making it a bit taller with more wind protection.
Handling
Owners have found the road going performance of the 999 S very comfortable to live with. The Ohlins suspension with the upgraded radial brakes performance is way beyond the capabilities of most riders, to limit them out on the road and on the track took superbike racing super stars!
Hodgson and Bayliss had great success, in fact at the time Bayliss remarked that the 999 was one of the best bikes he had ever raced.
Running Costs
Owning the 999 S is a full commitment, I can testify that only the original equipment parts will suit the bike. The belts must be changed regularly although I tend to change mine every 6,000 miles or three years. The material for the belts changed, making them much more serviceable.
Brake pads should be only Ducati replacements. The bike will only start properly if a Yuasa or Varta YT12BBS battery is fitted. It's no good spending less than £75 on a battery for the big twin because it simply will not turn the engine over right to get it firing.
I have not tried a Lithium battery, it needs too much modification in the electrics to sustain reliability. The spark plug holes make it difficult to fit anything other than Champion plugs, owners complaining that some socket spanners will not engage on the plug fully screwed in!
Mods
I've fitted a Ventura ready made luggage rack for my Mono Posto model with an Oxford tail pack and I can go anywhere, even shopping! But if anyone can tell me where or how to fit a Sat Nav I would be grateful.
To Sum Up
I have ridden the 999 S many times through France and Spain and of course our own fair Isle and it has never let me down. It's been 22,000 of pure bliss.
The looks and sound are awesome, the acceleration and handling supreme plus it's easily fast enough on our roads. A great bike to live with.
If the 999 S is PROPERLY looked after it's a very pleasing and reliable bike.
- Bruce H, 2018
Price Guide
Year
Dealer
Private
Part Ex
Mileage
2006
£8,950
£7,150
£6,250
25,200
£8,500
£6,800
£5,950
26,400
£8,050
£6,450
£5,650
27,600
£7,600
£6,100
£5,350
28,700
↑Year shows signs of appreciation
How to use the price guide
Related Bikes
Ducati 999 - Base model with 12 bhp less and no steering damper or Ohlins suspension.
Add Your Review
Do you own this bike? We would love to hear anything good, bad, unexpected or that you have changed plus anything that a prospective new owner might find interesting or useful.