BMW K1200S Review
What Is It?
The 2004 BMW K1200S is a premium sports touring bike with a shaft drive and was replaced by the K1300S in 2009.
Engine: 1,157 cc Inline Four, 165 bhp
Economy: 40 mpg, 170 miles
Seat Height: 820 mm
Dry Weight: 227 kg
RRP: £9,800
| | | |
| --- | --- | --- |
| What Is It Like? | | ★★★☆☆ |
| | |
| --- | --- |
| ✓ | Brakes, handling, power, shaft drive |
| | |
| × | Power delivery, really heavy, seat |
I bought my 2007 K1200S a little over a year ago as I'd always liked the look and was curious what they'd be like to live with. So despite reading many mixed reviews about reliability and build quality I bought one.
Well the reviews are largely right but if you get a well sorted one they are phenomenal bikes. If buying one make sure all the recalls are done and the updated cam chain tensioner is fitted also the later air box and air control valve as the early ones warped causing rough running, poor tickover and stalling. Also problems with ABS pumps which is very expensive to sort. Thankfully I found one without ABS.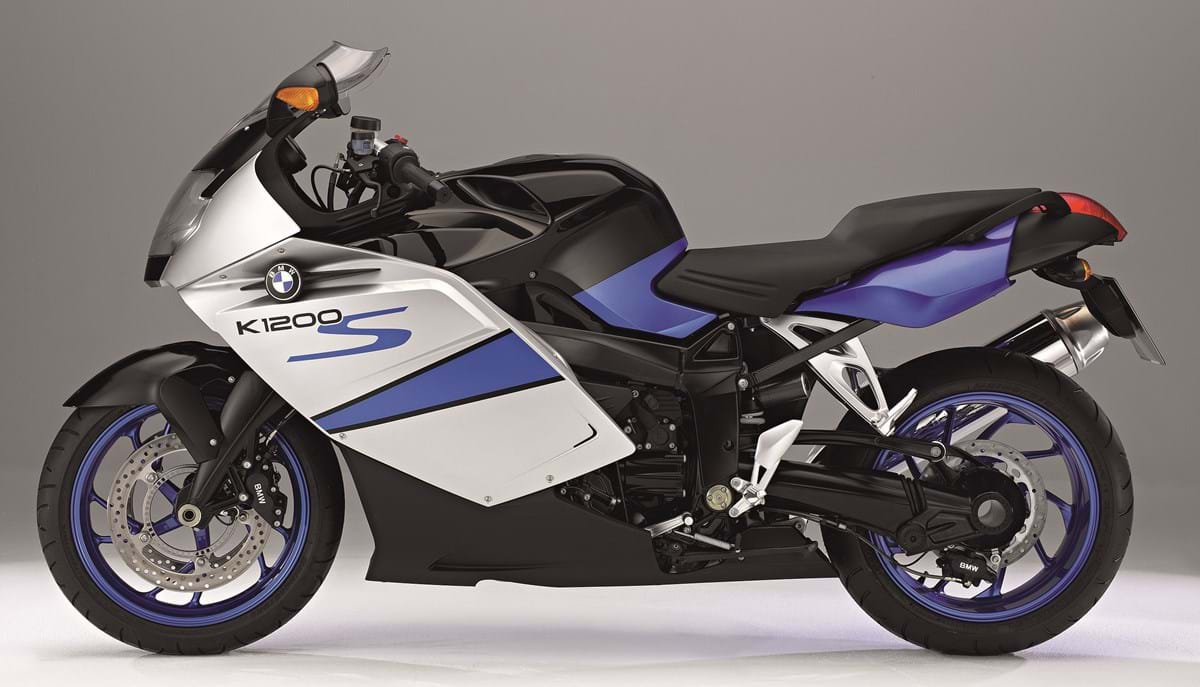 So grab yourself a good 'un and what a fabulous bike you get. About 150 bhp at the rear wheel, a great engine with a real raspy, sporty exhaust note (mine has a Remus can). Pulls hard from low revs which I do like.
Handling is supreme. I was really surprised by this but it really is very good and with the electronic suspension adjustment just press a button to alter from comfort, normal or sport and solo, with luggage or with pillion. I've been impressed with this and the ride comfort too for quite a sporty bike. So a really lovely bike to ride and very quick and surprisingly to me seems to attract quite a lot of attention at bike meets etc.
Equipment wise I would prefer a digital speedo to the rather hard to read analogue one but the computer is good giving you everything you need, even ambient temperature. Also there is a power socket and mine came with BMW's expandable panniers.
Servicing... well maybe not as simple as Japanese bikes of the era. Oil is dry sump so you have a separate tank making things a little more complicated. The rear hub only has a hole at the top for filling as it was meant to be oil for life. Not the best idea. Spark plugs, with the canted forward engine are right behind the radiator so that has to come off to change them. All well and good but the radiator refill has to be done using a vacuum pump to stop air locks in the system. But hey it's a BMW. Many do big miles and I'm keeping mine for now.
- Steve C, 2018
Price Guide
| Year | Dealer | Private | Part Ex | Mileage |
| --- | --- | --- | --- | --- |
| 2004 | £3,350 | £2,700 | £2,350 | 23,200 |
| 2005 | £3,350 | £2,700 | £2,350 | 22,100 |
| 2006 | £3,450 | £2,750 | £2,400 | 21,000 |
| 2007 | £3,500 | £2,800 | £2,450 | 19,700 |
| 2008 | £3,650 | £2,950 | £2,550 | 18,400 |
The Second Opinion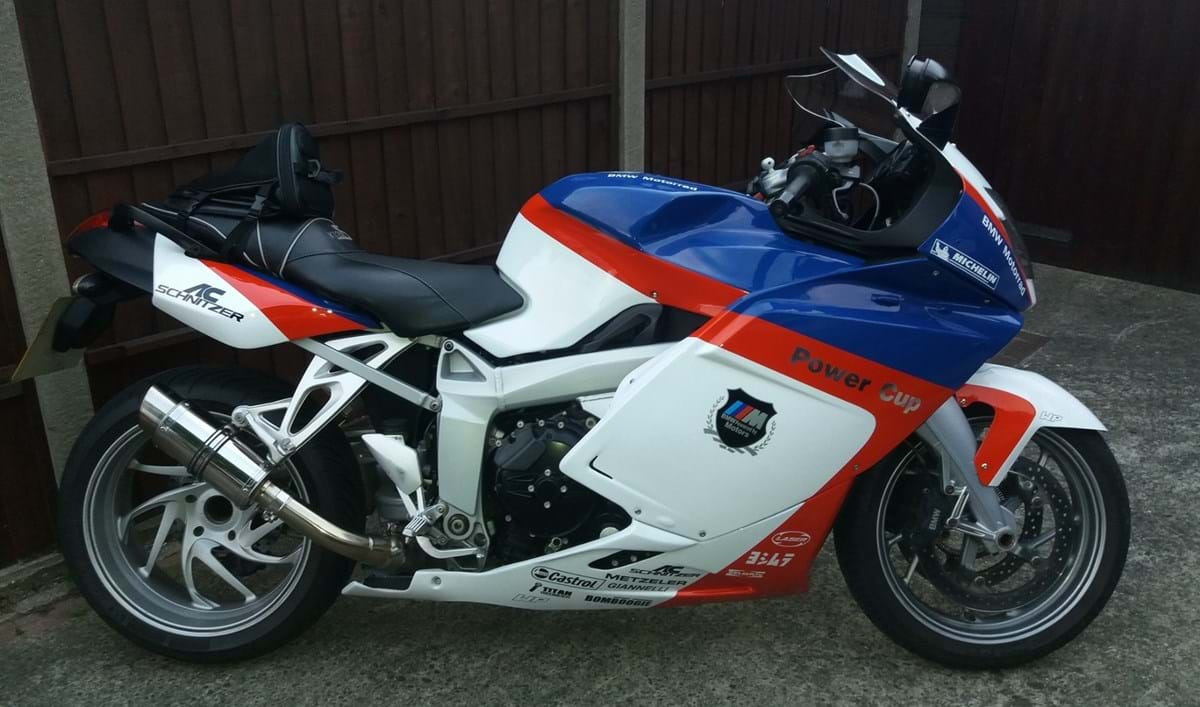 I bought my K1200S as a stop gap bike due to my Harley Davidson road glide special going in for warranty work and only had the K1200S a few months while doing not many miles on it. Fairly comfy bike but heavy, very quick for an old bike too, brakes worked brilliant and the ESA was brilliant for such a big heavy bike.
Handling was again good but due to its size it was a heavy bike to go from one side to the other i.e. left to right on tight corners. Power delivery was smooth and none aggressive and I also added a Delkavik stubby exhaust which I don't know if it gave it any more power but did deliver a great sound.
My 2005 was bought originally in the stock silver metallic paint but that was also changed to the Chinese plastics from eBay with the motorrad power cup paint scheme on it which was a great looking body kit but took hours to fit right. Tyre wear wasn't brilliant and the rear didn't last that long and was the Michelin 2ct gt.
Comfort was not as bad due to it being a longer bike and the bars being higher than the likes of a sports bike but gave a great feel and control but the grips are far too small. Heated two stage grips work great but number 1 is too cold and 2 is generally too hot in most conditions as normal for a BMW.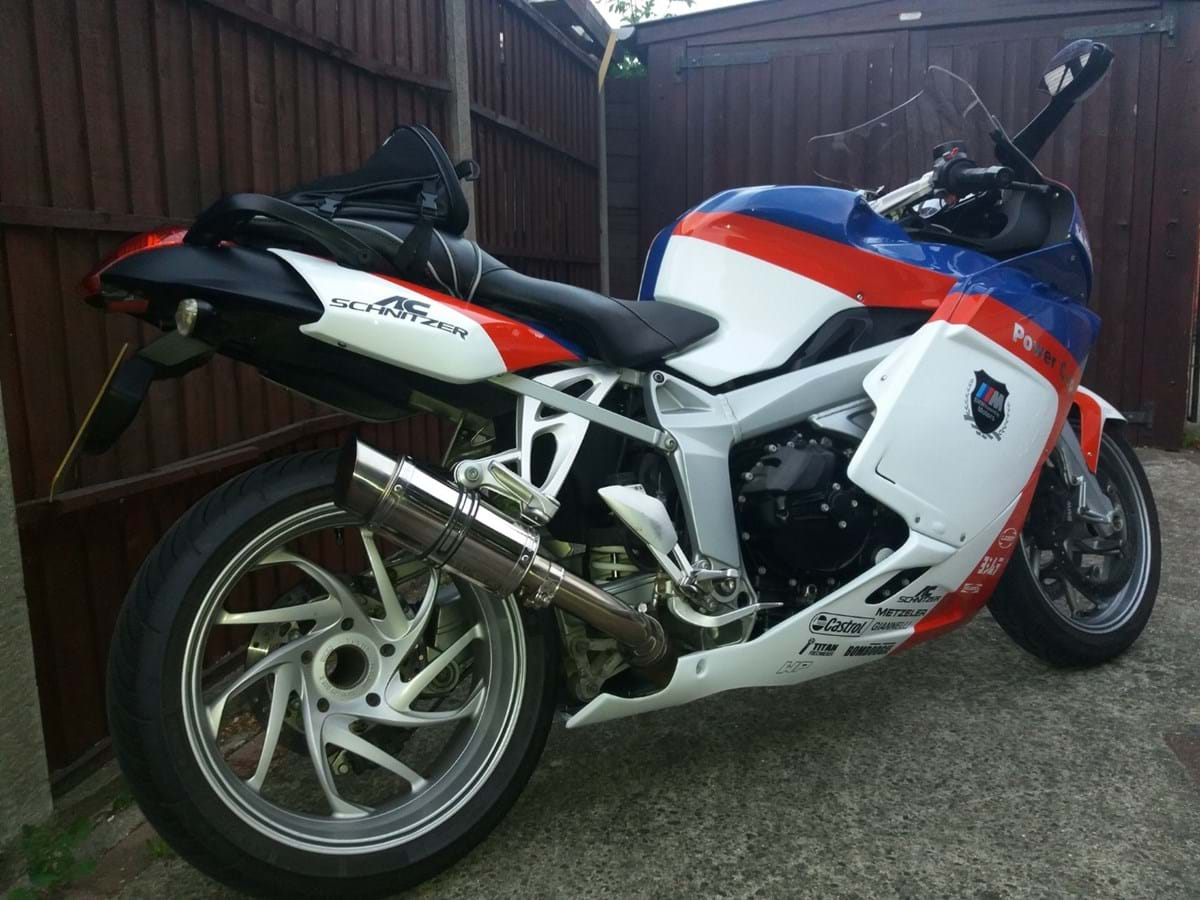 Pros
Cheap high performance bike with overall great power / handling / brakes and are very underestimated.
Cons
Slow handling on tight flips from one side to the other and heavy when manoeuvring about.
What to Watch For
Clutch will cost a fortune so make sure it's had the K1300S upgrade done including basket etc plus the corrosion is a problem on some also.
- Matthew W, 2018