Triumph Bobber Black Review (2018)
"
Just opening your garage door and seeing it sitting there is worth the purchase price.
"
What Is It?
The Triumph Bobber Black is a bobber version of the retro Bonneville T120 and is powered by a Euro 4 compliant liquid cooled 1,200 cc parallel twin engine, producing 76 bhp at 6,100 rpm and maximum torque at just 4,000 rpm.
Specs
Seat Height: Low (

690

 

mm / 27.2 inches)
Dry Weight: Heavy (238 kg / 525 lbs)
Economy: Good (60 mpg / 4.7 l/100km / 21.2 km/l)
Range: Average (120 miles / 193 km)
Top Speed: High (115 mph / 185 km/h)
Pros
Loads of low down torque
Customisation potential
It's a work of art
Handling
Comfort
Brakes
Cons
Really quite heavy
Ground clearance
Limited range
Gearbox
What Is It Like?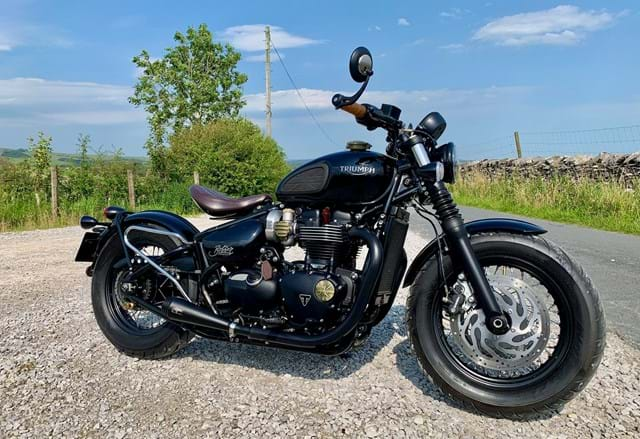 Triumph Bonneville Bobber Black 2019
About me
I'm a 56 year old bloke, 5'10", with 42 years riding over 30 bikes owned.
Why did you choose it?
I bought my Bobber because I thought it looked fantastic, but if you buy one prepare for significant and ongoing cost! Now that's not as bad as it might sound, and the cost certainly isn't because of any reliability or quality issues with the bike, it's more of a style / lifestyle thing.
No sooner than it landed in my garage, I discovered Motone Customs, Trip Machine, British Legends and the like, and all of a sudden you NEED to start replacing bits. The standard bike is a blank canvas, and making it 'your own' is all part of the fun.
A Bobber isn't 'just a bike' in the way that a Kawasaki Versys is just a bike. It's a way of life, a blank canvas. When you buy one you quickly realise that your leather jacket that looked great on your 'blade just looks daft on your Bobber. Likewise the adventure jacket you wear on your GS. Same applies to helmet, boots and gloves - a whole new biking wardrobe is needed!
It simply oozes cool!
How does it handle?
It handles better than it looks like it should however you expect it to be louder. Start to ride and you're immediately introduced to the powerful engine - smooth and responsive with loads of torque from down low.
Open it up and it shifts. Properly shifts! This thing accelerates like a sports bike and will keep pulling way beyond the point where your neck muscles can't take it anymore. And it handles too.
Ground clearance is limited and the pegs touch down quite early, but it will hold a line in a corner and handles twisties way better than it looks like it will.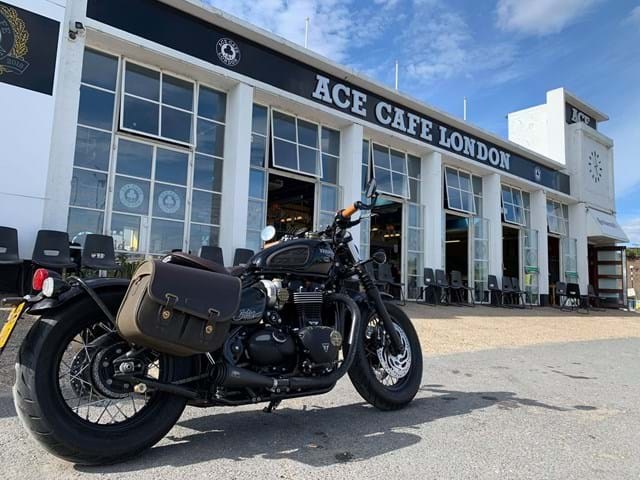 Is it comfortable?
It's no Goldwing, but I'm pretty happy with it. Throwing your leg over it for the first time is a bit odd. You notice the very low seat height, the strange semi-forward foot position and the way it feels like it has zero ground clearance. Hit the start button, after finding the side-mounted key slot, and it rumbles to life with a slightly muted rumble.
And you can tour on it. It's no continent crusher like a GS, but I bought the Triumph panniers (there are better options available now) and I've done a few 2 or 3-nighter's.
A lot of owners change the seat and rear shock and install bar risers to improve comfort, but I found 250-mile days could be dispatched in comfort and without inducing aches and pains.
You can cruise at 70 on the motorway but dial it down to 65 and it improves comfort and extends fuel range.
Some owners report sub-100-miles between fill-ups, but I'm getting 120 miles to 130 miles comfortably, with some spirited riding thrown in. The low fuel light comes on early (circa 85 miles after refill), but you still have 40 - 50 miles in the tank, so don't panic.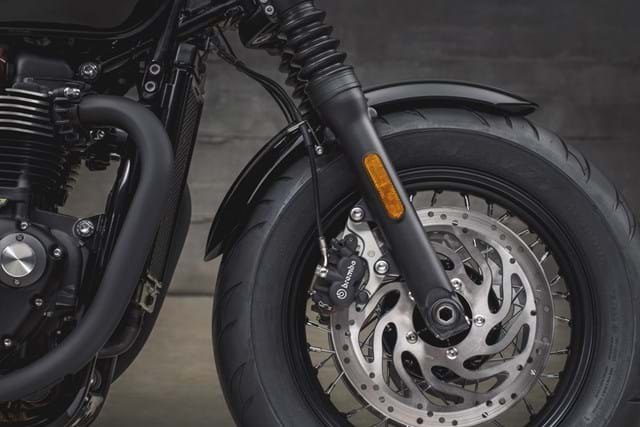 What are the brakes like?
Many reviews will have you believe that the brakes are poor (especially the single disk standard model), and while I acknowledge that they're not in the same league as my GS, they are perfectly adequate for the bike. Let's face it, they don't need to slow you down from 120 mph fully loaded with luggage and a pillion!
What could be improved?
The gearbox is a bit slow - there's no S1000RR quick shifting here - but it's positive and long geared so, combined with the low down power, you're not constantly clicking up and down the box.
The rear suspension is a little harsh.
What is the economy like?
Approximately 65 mpg with a 130 mile range.
How reliable have you found it?
100%.
What's the servicing frequency and cost like?
Very reasonable.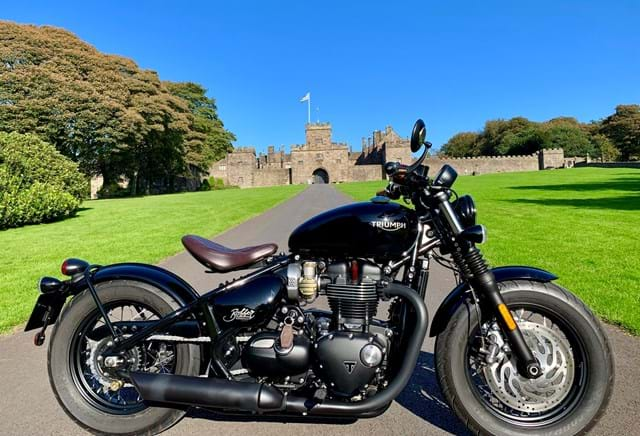 To sum up
Riding the Bobber makes you feel good. It's a no-frills, back-to-basics motorcycle and it makes you grin.
Yes, potholes might send a shockwave up your spine, punish your kidneys and cause your teeth to clack together, it has a tank range of 'only' 130 miles (which is fine by me) and cruising at anything over 70 mph nearly rips your head off, but that really doesn't detract from the ownership experience.
Just opening your garage door and seeing it sitting there is worth the purchase price. Likewise, looking at your reflection in shop windows, or chatting to the old bloke who appears from nowhere every time you stop ("I used to have a Triumph…" Happens EVERY time).
You bond with it very quickly. You can sit and look at it for ages, just soaking up all the little design details and appreciating the clever design work and engineering excellence.
If you're thinking of buying a Bobber, read the reviews, join the Facebook Triumph Bonneville Bobber group (friendliest group on Facebook) and get to know what it's all about. If this aligns with what you want from a bike, then put your deposit down - you won't be disappointed!
- Allan J, 2020
Price Guide
Year
Dealer
Private
Part Ex
Mileage
2020
£10,700
£8,550
£7,500
3,700
2019
£10,300
£8,250
£7,200
5,100
2018
£9,900
£7,950
£6,950
4,900
How to use the price guide
Related Bikes
Triumph Bobber - The original and now base version of the Bobber with a single front disc, non-Brembo brakes, less beefy suspension, a larger 19" front wheel and no cruise control or LED headlight.
The Second Opinion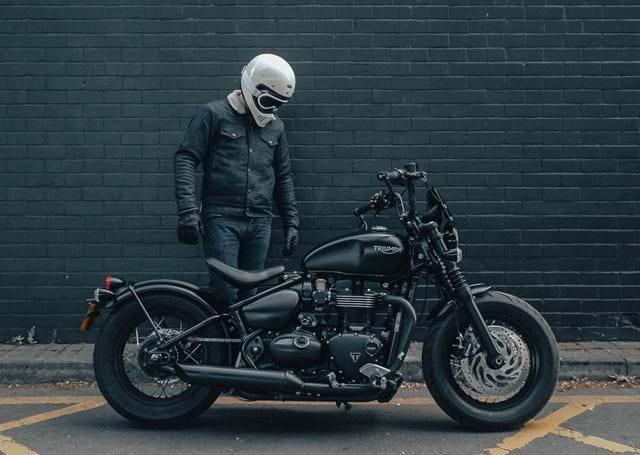 Images by Lorna Daggers
About me
I'm a 44 year old male, 5'8 and I now five years biking experience, having started out on a 125 Suzuki marauder.
I really wanted to get into the Harley scene, so after six months learning the ropes, I went onto my Chrome laden 2001 sportster XLH. Although carbed, it sadly spent a lot of time off the road, so I opted to sell it on and moved to the HD Iron 883 which was a great bike to explore Scotland on. During this time I started to see more on the Triumph modern classics range, in particular the bobber models.
Fast forward to September 2019 when I took the plunge and got my present Bobber Black 1200, which I am more than happy with having approximately 9,000 miles on it and I can honestly say I've no longer got that longing for another ride elsewhere!
Why did you choose it?
The bike draws you in with those classic looks at first, but having the chance to see and feel what it offers as well as looks, that was where the decision was made for me.
The 1200 high torque engine is a joy to behold, I genuinely find myself just looking at this bike whenever I walk away from it as a result of several factors, plus it has several "toys" I hadn't had the luxury of before like different riding modes and it handles superbly. It even goes around corners and very well at that.
What is good about it?
Despite the larger front tyre size compared to the standard bobber, this motorcycle has been set up and designed so well to handle. It is still easy to flick into turns, backed up by the majestic 1200 torque motor and there is an expansive after market catalogue to make the bike truly yours (which I have delved into).
The braking on the bobber black with its dual front discs and Brembo callipers works very well. A modern classic bike with power and functionality
What could be improved?
The only aspect I would have liked in 2019 would have been the larger 12 litre fuel tank which is now available on the newer model I believe, other than that I would really searching for something to find.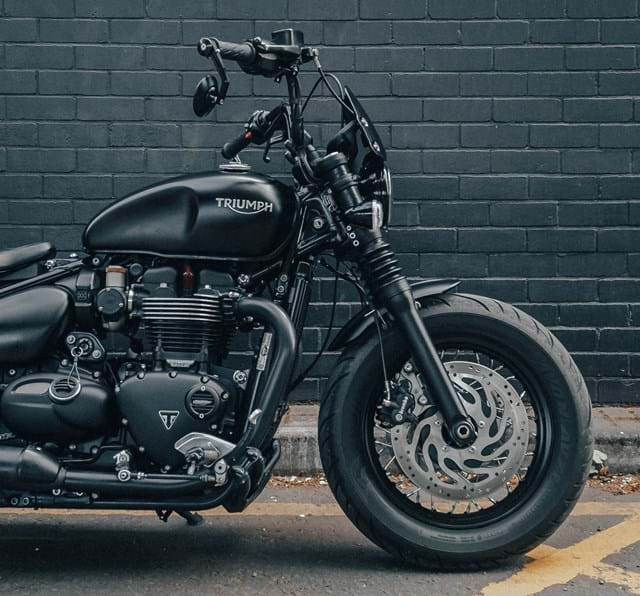 Any mods or upgrades?
From purchase I had the dealer fit my bike with an upgraded Fox mono shock, an X pipe (de-cat), a short front mudguard, forward controls and a cross stitch seat which I believe has a tad more padding than the stock sea. It looks lovely and adds to the classic look.
I've added some black badges to replace the ones on the motor and clutch, higher handle bars, a Dart fly screen and some bar end mirrors from TEC.
What is the economy like?
If riding conservatively around 100 miles a tank, if not it can be 80-90 miles.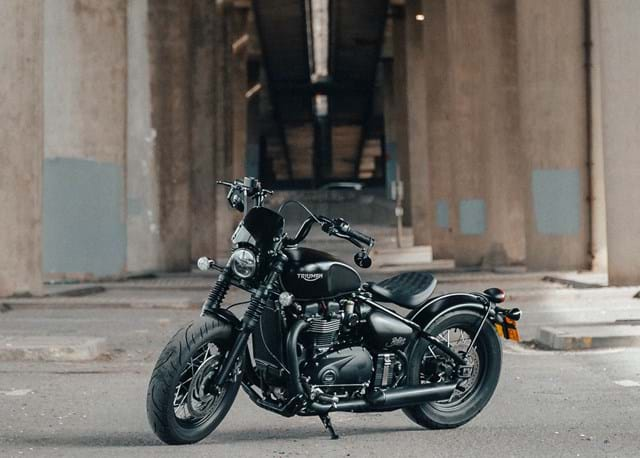 How is the engine?
Very smooth. It has been developed well and when you need more push, the high torque 1200 punches in and delivers a manageable smooth delivery of power. It's very stable.
How does it handle?
I have no complaints on handling. I find it corners exceptionally well and will poke its nose into corners easy enough. At around 240 kg dry it's still a fair wee weight to handle but I find the weight distributes well.
What are the brakes like?
The front twin disc four piston Brembo set up is more than enough and this is a major pick up on the standard Bobber which has a single disc set up. The rear braking is adequate.
Is it comfortable?
Very much so, no tales of sore backsides here or being uncomfortable on longer rides as its really not that kind of bike. I do find my saddle and the benefit of having the forwards helps my wee legs stretch out and enjoy the slightly higher bars.
How reliable have you found it?
Very, considering it has lived its life with me to date in a powerless garage over two Scottish winters. Although I've kept an eye on it most days its always started and never let me down, like any bike it isn't infallible but so far so good.
What's the servicing frequency and cost like?
I had it in for the 500 mile oil change and that was around £70. The next documented service isn't due until the 10,000 mile mark which is a big gap and I believe that is around the £200 mark. Obviously it varies depending on the work that needs carrying out.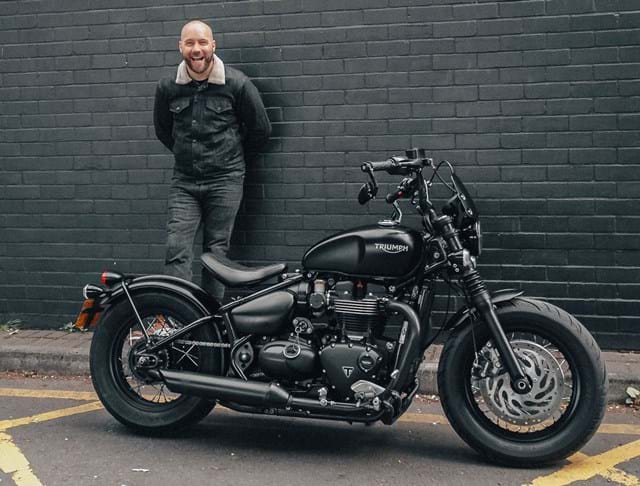 How would you sum up the model?
A true cult looking modern classic with a modern twist that delivers a smile EVERY single ride.
I love getting out on it whether a short blast or into the Scottish hills to film a video for my "Bearded Bobber" YouTube channel. Pure joy.
- Paul D, 2021
Add Your Review
Do you own this bike? We would love to hear anything good, bad, unexpected or that you have changed plus anything that a prospective new owner might find interesting or useful.