Moto Guzzi Griso 1100 Review (2005)
"
As a bike to stand out from the crowd but not shout too much about it, the Griso is perfect.
"
What Is It?
The Moto Guzzi Griso 1100 is a high end naked bike and is powered by a Euro 3 compliant air-cooled 1,064 cc 4V transversely mounted V-Twin engine, putting out 86.9 bhp at 7,600 rpm and maximum torque at 6,400 rpm.
Specs
Seat Height: Average (

800

 

mm / 31.5 inches)
Dry Weight: Heavy (227 kg / 501 lbs)
Economy: Average (50 mpg / 5.6 l/100km / 17.7 km/l)
Range: High (190 miles / 306 km)
Top Speed: High (140 mph / 225 km/h)
Pros
Reliable shaft drive
Loads of character
Unique style
Brakes
Cons
Electronics package
No fuel gauge
Really heavy
What Is It Like?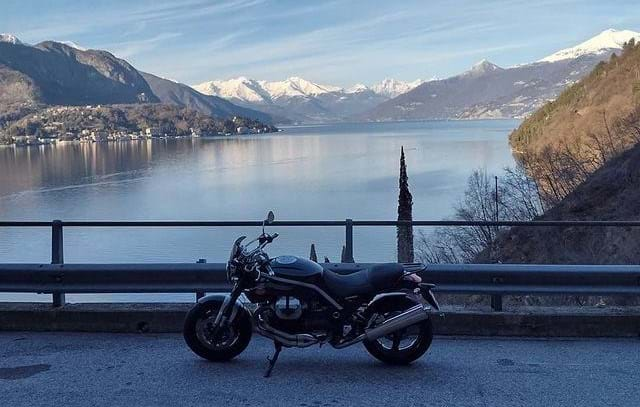 Moto Guzzi Griso 2006
Tell us a bit about you
I'm a 34 year old male, 6'6" / 197 cm, with 5 years riding over 2 bikes.
Why did you choose it?
There's a history of Moto Guzzi ownership in my family, and seeing a Griso parked on my street was enough to convince me to enter the world of motorcycling. Fast forward a few years and I was able to pick up a lightly used example for a very reasonable price.
The styling of the bike is really what drew me in; it's effectively a 'standard' motorcycle (naked, round headlight, twin cylinder engine, etc.) but the various quirks and extra muscle really set it apart from the crowd. The transverse V-twin bulges out to such an extent that it's always in view, no matter what angle you view the bike from. The CARC shaft drive / single sided swingarm looks gloriously over-engineered, and the header pipes are also massive.
The earlier 1100 uses a developed version of the venerable Guzzi pushrod air cooled V-twin. The later 1200 included a complete redesign of the engine, resulting in a fair bit more power and some reliability issues with the tappets. These are well-documented online, so do your homework on the 1200 but also know that the 1100 does not suffer the same issues and is thought to be pretty solid.
The 1200 also featured a few styling changes, and the option of spoked wheels. All Grisos are beautiful in my eyes, but the original 1100 in black somehow looks the purest.
What is good about it?
There are many good points about the Griso. As already mentioned, it looks fantastic and quite unlike any other bike on the road. Aside from other Moto Guzzi models, the closest thing to it is arguably a BMW RnineT, but for my money the Griso executes the look more effectively. They are also quite rare (in the UK at least) so expect some interest and comments from other riders. I consider this a perk of ownership.
It's quite simple to understand; almost everything is on display; there's no chain maintenance or coolant changes to worry about, and the overall impression is that this is not a particularly complicated machine.
It also feels very solidly built. Although the mini fairings either side of the tank are plastic, there are no rattles or other unwanted noises when you ride over speedbumps or rougher roads.
What could be improved?
The bike does not feel especially modern; which in some respects is part of its charm. The lack of a fuel gauge will be annoying for those used to having one, but I find it quite easy to ride to the trip. There's also no ABS, traction control, riding modes, or really any safety features which come standard on newer bikes.
One thing to get used to is the drivetrain 'lash' which can be felt coming on and off the power. This is particularly noticeable in slower corners where you need to balance the bike on a light throttle. It's not a game-changer, but something that takes some attention and practise.
All the over-engineering does mean the bike is also quite heavy, but carries it's weight low so is still relatively easy to manage at slower speeds. More relevant perhaps is the long wheelbase, which can make the bike feel a bit ponderous when manoeuvring.
Any mods or upgrades?
My Griso came with a small Moto Guzzi screen, a luggage rack, and a Staintune slip-on. Although the luggage rack is only rated for small loads (3 kg if memory serves correctly) it does add a fair bit of practicality to the bike without ruining the looks. There are also several strapping attachment points underneath the seat / subframe.
Having not tried a Griso without a screen I can't really comment on the effectiveness of reducing wind blast, but it does at least keep the dash well-protected from the worst of the weather while riding.
An aftermarket pipe is basically an essential purchase with this bike. While not totally awful, the stock item is quite bulky and really does suppress the bike's inherent personality and that spectacular V-twin bellow. By most accounts the 1100 is not especially sensitive to exhaust modifications; the 1200 however is likely to need a map to get the best from a different pipe. Again, there's tonnes of information about this on the various Guzzi / Griso forums.
What is the economy like?
The economy feels pretty average for a large capacity bike; 150-160 miles is the reported range, but I tend to fill at around 120.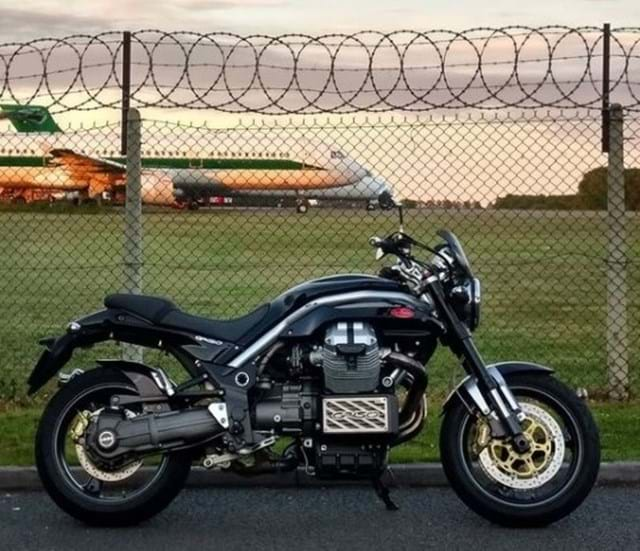 How is the engine?
The engine is exactly what you would expect. The bike shimmies at idle and wants to lurch to the right when you blip the throttle at standstill, but this is not alarming and isn't noticeable while actually riding. There's strong torque from low down and some encouragement to use all the revs, but generally you'll end up riding the Griso in the midrange.
It makes a distinctive and wonderful racket when opened up, and gurgles and pops moodily on the overrun. The noise is arguably worth the cost of admission on its own. While it couldn't really be described as a fast bike (circa 90 hp) there is plenty of usable power for the road. Cruising at motorways speeds is no issue, nor is carrying a pillion. Just don't expect the wild top-end rush of a 4 cylinder, or to be spending all your time on the back wheel.
How does it handle?
At slow speeds, you can tell the bike is long and not especially light. However, with the wide handlebar and the weight being carried quite low down, the weight never feels like it's going to get away from you. Once up to speed, the Griso is a joy to ride and surprisingly nimble. Granted it's no sportsbike or super naked, but it's not lazy or lumbering. To call it a cruiser would be very wrong. Tip into a corner and it'll hold a line nicely, inviting you to roll back onto the power whenever you're ready.
The suspension feels well-judged; communicative but never harsh. It's worth pointing out that some riders consider the rear to be under-sprung, especially when riding two up. With no remote preload adjustment, it may be worth considering a shock change or going up in spring rate if you'll mostly be riding with a passenger.
What are the brakes like?
As mentioned previously, there's no ABS but I've no complaints about the feel and power of the brakes. The rear in particular is quite effective, compared to other bikes.
Is it comfortable?
In terms of comfort, the Griso is fine. I was warned that tall riders would hit their knees on the cylinder heads jutting out underneath the tank, but that's not the case. The saddle is nicely shaped and padded, and I've done 10 hour days riding through Europe without issue.
How reliable have you found it?
In two years and approx. 5,000 miles, I've had no reliability issues.
What's the servicing frequency and cost like?
Servicing is every 6,000 miles including valve clearances, but thankfully these are easily accessible.
To Sum Up
As a bike to stand out from the crowd but not shout too much about it, the Griso is perfect. Great to look at, quirky, surprisingly good to ride and with real personality, I can't imagine ever selling mine.
- Ben P, 2021
Price Guide
Year
Dealer
Private
Part Ex
Mileage
2009
£3,450
£2,750
£2,400
20,700
2008
£4,000
£3,200
£2,800
22,300
£4,600
£3,700
£3,250
23,800
£5,200
£4,150
£3,650
25,200
2005
£5,800
£4,650
£4,050
26,400
↑Year shows signs of appreciation
How to use the price guide
Add Your Review
Do you own this bike? We would love to hear anything good, bad, unexpected or that you have changed plus anything that a prospective new owner might find interesting or useful.