Lexmoto Venom Review (2015)
"
The Venom is an incredibly reliable day-to-day commuter at an affordable price. It's not hard to see why it's Lexmoto's best selling bike.
"
What Is It?
The Lexmoto Venom is a budget learner friendly naked bike and is powered by a Euro 3 compliant air-cooled 124 cc single cylinder four stroke engine, producing 11.4 bhp at 9,000 rpm and maximum torque at 7,000 rpm.
Specs
Seat Height: Low (

770

 

mm / 30.3 inches)
Weight: Light (144 kg / 318 lbs)
Economy: Very good (80 mpg / 3.5 l/100km / 28.3 km/l)
Range: High (250 miles / 402 km)
Power to Weight: Low (0.076 bhp/kg / 0.057 kW/kg)
Top Speed: Average (65 mph / 105 km/h)
Pros
Value for money
Audio package
Handling
Looks
What Is It Like?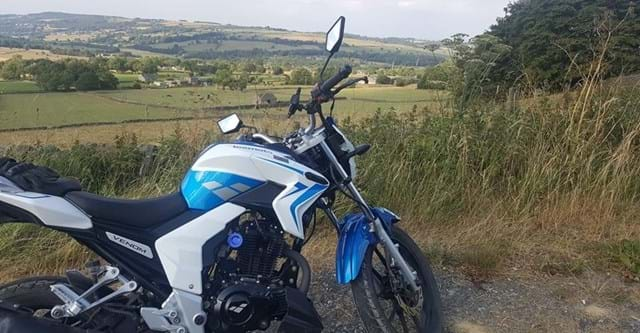 The Venom
I'll be straight with this, the Lexmoto Venom is not going to blow you away. That is not easy for me to say, but for the purpose of this review I'm going to be as unbiased as possible.
Now, before you jump to conclusions, you may think that I'm saying this is a bad bike, far from it, the bike is an incredibly reliable day-to-day commuter at an affordable price. It's not hard to see why the Venom was and, to an extent, still is Lexmoto's best selling bike.
The main pros of the bike are: Looks, Price, and Reliability.
Looks
I'll start with the first point, the Venom is a looker and, dare I say, a sexy bike? Many a time at work, I've been eating lunch by my trusty Lexy, and a kid will come across to me and drop something along the lines of "Oi mate, your bike is peng innit".
I'm not gonna lie, this statement concerned me at first, but apparently it's a compliment and if you own one of these, you will more than likely get similar comments thrown your way, hopefully in English.
Finish
SENKE, the company that originally made the bike before Lexmoto gets them over here, have done a nice job on the vinyls and decals. Little details, like the embossed "Lexmoto" on the fuel tank and the decal work on the headlight, help to give the bike a more premium feel, despite its low price point.
The Venom also has a decent street presence to it, resembling a much larger bike than its cc would make out, and this was a selling point for me personally. The bike looks like it totes a 250-300cc engine, as apposed to the 125 it actually comes with, so if you want something with a bit of meat on its bones, then give the Venom a look.
Cost
Now the price of the bike is a popular talking point. At the time of writing a brand new EFI model will cost you about £1,800 which in the grand scheme of things is dirt cheap. If that is still a bit steep for you then an older Euro 3 model will set you back about £800-£1,500 if you're willing to search around the second hand markets.
My particular Venom cost me £1,000 all in with 935 miles on the clock and I was able to ride it for my CBT almost the next day with no problems.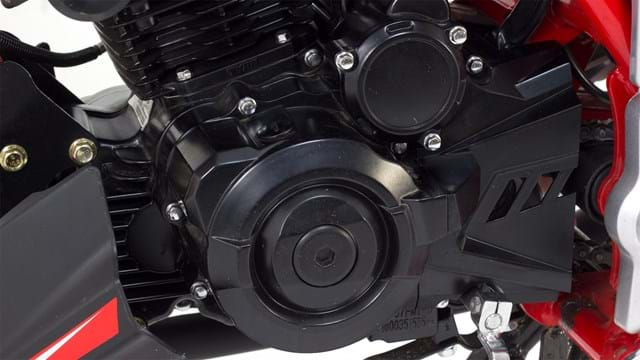 Economy
The Venom packs a 124cc engine, made by SENKE, based on the Honda CG125 platform, which delivers a fairly torquey experience. Many a time I've set off in 2nd gear by accident and not noticed because this little motor can pull its weight, and with it being a 125, it's incredibly frugal, clocking in about 90mpg if you ride it nicely, which is nice with our ever rising fuel prices.
Maintenance
The engine is also very basic and easy to work on, probably owing to its over 40 year old architecture. This leaves the platform open for tinkering and tuning, even more so on the Euro 3, or Mark 1 as I like to call it, models.
All in all the engine of the Venom is an incredible reliable motor and will take good care of you, in exchange for proper maintenance, of course.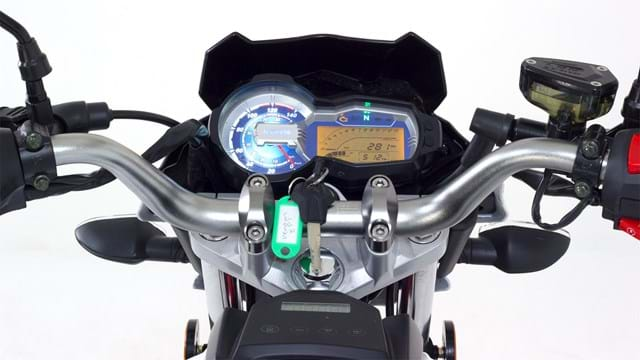 Performance
Gutless is probably the best way to describe performance on the Venom. Whilst the 125 motor is torquey in the low rev range, and redlines at 11,000 RPM, the bike loses all of it's pull after about 7,000 RPM and, without a downhill to push the revs up, will sit there screaming and going nowhere.
With a top speed of about 50mph it's not the best image when you're trying to pull away from the stop lights to impress the lass from work who probably / definitely likes you.
This isn't wholly the engine's fault, however, as the airbox and EGR valve chokes the poor thing half to death in an attempt to make the bike comply with Euro 3/4 regs. Removing these and replacing the airbox with a decent foam filter will however, bring the performance out.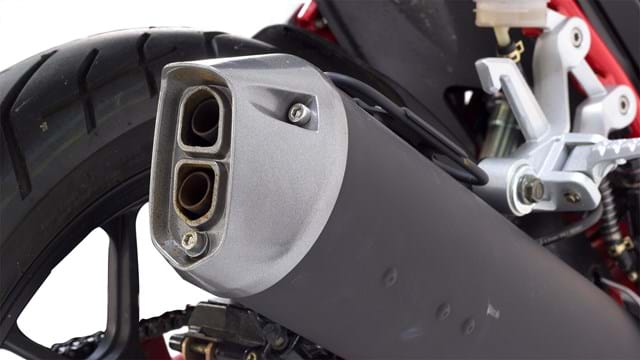 Any Downsides?
Another downside comes from the cheaper construction of the Venom. The stock exhaust is terrible. It sounds naff and will turn to rust in months, leading to you either rubbing down and respraying the pipe in some actually heat resistant paint, or dropping £150 on a new exhaust system. It's such a shame when you spend hours making your bike look immaculate, only to have the look ruined by a rusty pipe of cheapness clinging to the engine.
The speakers are terrible, too. Oh yeah, this bike has a radio! Although the Mark 1 users will have to settle for an MP3 player. It works well enough for annoying your neighbours at the family BBQ but aside from that you'll never use it.
Tinny speakers and a USB charger that, I kid you not, had my phones battery draining faster than it could charge it, will keep you away from the radio feature.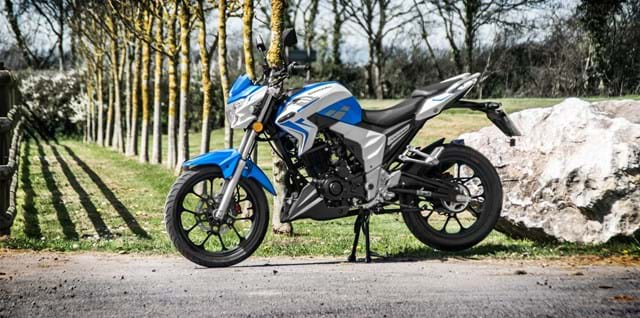 To Sum Up
The Venom, as I said at the start, will not blow you away. As a commuter to get you from A to B, it's great. And if you're up for tinkering, the bike offers plenty of opportunities for you.
But if you're expecting performance to match the looks, then look elsewhere because the Venom, at least my particular bike, is a bog standard commuter at heart and does not provide the hair raising experience of some of the other bikes in Lexmoto's range. That wasn't easy for me to say, but it's my honest, heavily biased opinion.
Over the near 2,500 miles I've done on the bike, after changing nearly every component of the bikes internals, after every scary near miss and every moment I pushed her a little bit harder and got just that little bit more power from her, every time she *just* scrapes 70mph and every adventure she's taken me on, I've grown to love this little 125 problem child from China.
I can honestly say, hand on heart, that I'll miss her when she's gone. My Venom is my best mate, my worst enemy and my reliable little commuter. And if you're anything like me, you'll love this bike.
- William M, 2018
Price Guide
Year
Dealer
Private
Part Ex
Mileage
2020
£1,800
£1,450
£1,250
3,700
2019
£1,700
£1,350
£1,200
5,100
2018
£1,600
£1,300
£1,100
4,900
2017
£1,450
£1,150
£1,000
6,700
2016
£1,250
£1,000
£900
8,500
2015
£1,050
£850
£750
10,300
How to use the price guide
Related Bikes
Lexmoto Viper - Basically the same bike but with a cheaper standard fork, smaller brakes and no front beak.
The Second Opinion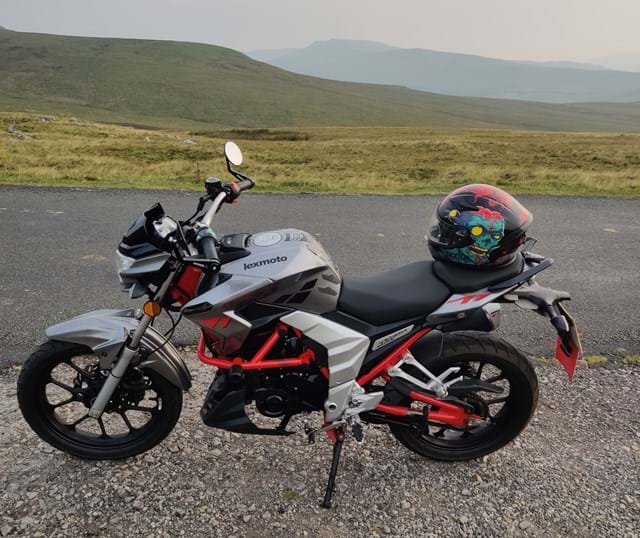 Lexmoto Venom 2019
Tell us a bit about you
I'm a 30 year old male with one year of riding experience on the Venom.
Why did you choose it?
For commuting to work.
What is good about it?
The price on the road compared to most other bikes of this size.
What could be improved?
Better quality control during manufacturing and the gearing ratio.
Any mods or upgrades?
Full Lextek exhaust system and tail tidy.
What is the economy like?
I'm seeing 70-80 mpg.
How is the engine?
Not the smoothest 125 cc engine but it is a good workhorse.
How does it handle?
Very well. It's nice and agile for filtering traffic in towns and city's.
What are the brakes like?
They could be better but they get the job done.
Is it comfortable?
Yes.
How reliable have you found it?
No mechanical issues and all only user errors, so I'd say very reliable.
What's the servicing frequency and cost like?
Every 3,000-4,000 miles at roughly £140 for a full service.
To Sum Up
From what I know from other owners Venoms do have their issues, mainly gearbox and clutch related.
I've had since new and now done just over 8,000 miles on my clock. Other than my own errors the bike has been flawless for a budget 125 cc bike you can't go wrong with a venom.
- Dave D, 2021
A Few More Thoughts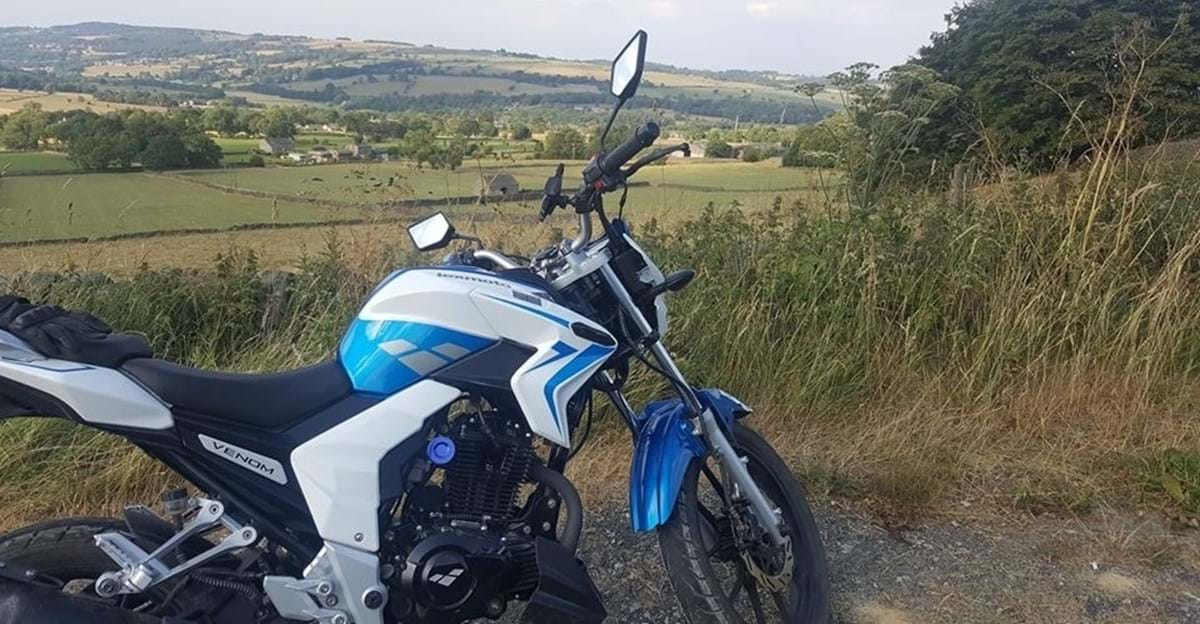 My first impression of the Venom is that it looks good, it's an easy first bike for learning on, it looks bigger than a 125, is very comfortable to ride and easy to corner.
I changed the MP3 player to the Viper one as it has Bluetooth and I would recommend changing the exhaust to a stainless steel version as factory one rusts badly. There are a few other things you can change like the front sprocket for higher top end speed or faster accelerating. Just keep it maintained and it will serve you well.
- Jim M, 2019