Lexmoto Riviera Review
✓Powerful motor, great brakes
×No room for a full face helmet
What Is It?
The 2017 Lexmoto Riviera 125 is a budget learner friendly scooter with a dash of retro styling.
Engine: 125 cc Single Cylinder, 9 bhp
Economy: 80 mpg
Range: 120 miles
Seat Height: 790 mm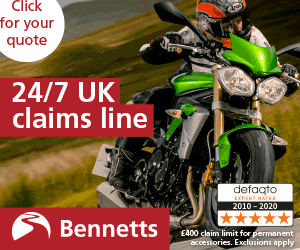 What Is It Like?
My Experience
I have returned to motorcycling after an absence of many years and the reason I quit was because I had my bike stolen. I should have bought a new bike immediately however I didn't and lost many years enjoyment from motorcycling!
Engine
I really like the Scooter and it's got plenty of power with 9bhp. In fact I live in the South Wales valleys and Caerphilly Mountain is pretty steep so there wouldn't be any point owning a bike that couldn't handle the mountain.
Gearbox
The Riviera flies up it no problem at all and the Constant Velocity Transmission (CVT) is absolutely fantastic. Being the owner of a bike with this sort of transmission I would never go back to manual gears ever again as it's perfect and I can't believe it's so good.
Brakes
The braking system is excellent. I like the combined braking system where using the left hand brake lever causes braking on both front and rear wheels simultaneously. Obviously an improvement when braking on wet roads. The right hand lever operates the front brake only.
Any Downsides?
The only regret I have is the fact the Riviera doesn't have a Kick Starter. I'm old fashioned and I would prefer to have a kick starter as well as an electric starter just in case the battery becomes flat and the scooter simply will not start.
I can't report on the Lexmoto Dealer's Servicing as I haven't yet reached the 311 mile mark when the bike receives it's first service. It's very close but not there yet.
To Sum Up
I really can't stop singing the praises of the CVT transmission and I'm looking forward to many enjoyable years with the Riviera Scooter.
- Paul H, 2019
Get The Gear To Go With It
More Info
Check out this video from Lexmoto.
For more reviews and launches check out BikeSocial.