Lexmoto Diablo Review (2015)
"
If you want a nice looking scooter, which is reliable and which won't break the bank, the Diablo is a great choice.
"
What Is It?
The Lexmoto Diablo 125 is a budget learner friendly maxi scooter with distinct Italian styling. It's powered by a Euro 3 compliant air-cooled 125 cc single cylinder four stroke engine, producing 8.6 bhp / 7 kW at 8,000 rpm.
Specs
Seat Height: Average (

810

 

mm / 31.9 inches)
Weight: Light (110 kg / 243 lbs)
Economy: Very good (100 mpg / 2.8 l/100km / 35.4 km/l)
Range: Average (130 miles / 209 km)
Power to Weight: Low (0.082 bhp/kg / 0.061 kW/kg)
Top Speed: Low (60 mph / 97 km/h)
Pros
Value for money
Good brakes
Build quality
LED lights
Nippy
Looks
Cons
Exhaust prone to rust
Won't fit a helmet
No glove box
Rear shock
High seat
What Is It Like?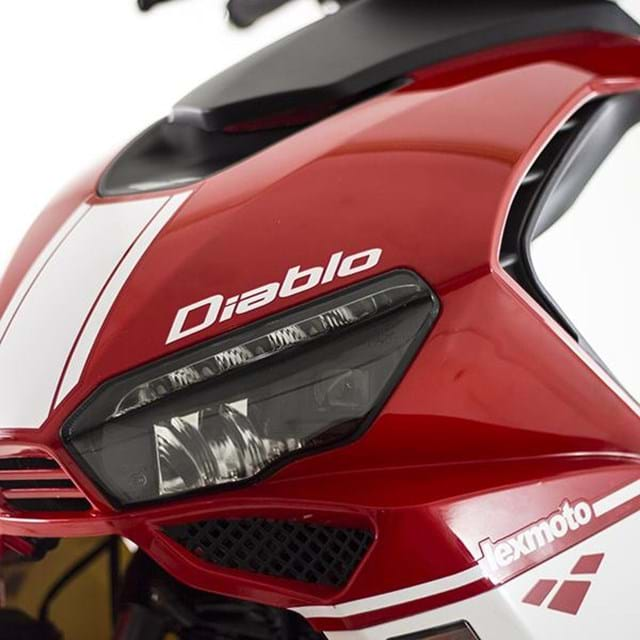 Lexmoto Diablo 125 Efi (2018)
After first seeing the Diablo in 2015, I finally decided it was time to spend some of my hard earned cash on a new scooter. I've had a number of different types of scooters over the years, from 50cc's, highly tuned 125cc 2-strokes all the way up to 500cc Maxi-Scooters.
What I was looking for this time round was a good looking sporty scooter, which won't require a great amount of maintenance, isn't too small (as I'm 6ft 4) and which won't break the bank. And after A LOT of research, I decided in September 2018 to go for the Diablo. On 1st September I picked up my new purchase, in black (they come in red or black only which is a downside for me).
Running It In
The first ride was a short 10 mile cruise back home, thankfully the dealer gave me enough information to get me started, informing me to stick to half throttle for the first 311 miles, which would take me up to my first service. I haven't had this advice before, when I collected my new MP3 500, they said to just ride it however! So for a 4-stroke scooter, I was a little confused.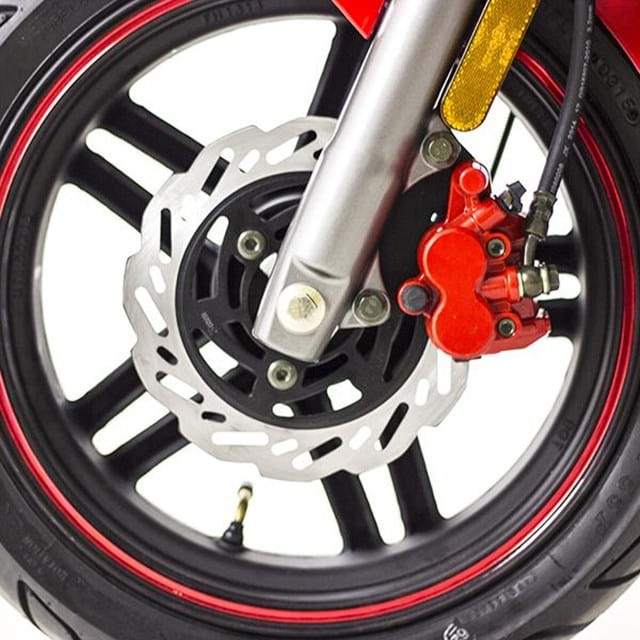 First Impressions
Nonetheless I stuck to the advice. My first impression was that the scooter felt like it just wanted to corner, as if it was more comfortable around corners than it was in a straight line.
It felt extremely light and nimble, and also felt quite pokey for a cheap 4-stroke 125. Even for half throttle. However after around 200 miles, I did start to stretch its legs a little. The power delivery is smooth and constant, even if it does feel a little under powered, for nipping around town and the odd blast down a dual carriageway it's more than capable.
As I clocked the miles up, the engine definitely felt more capable when I opened her up. There aren't any flat spots, it accelerates at an excellent rate from 0-50 comfortably, with a top speed so far of 65mph (on the speedo).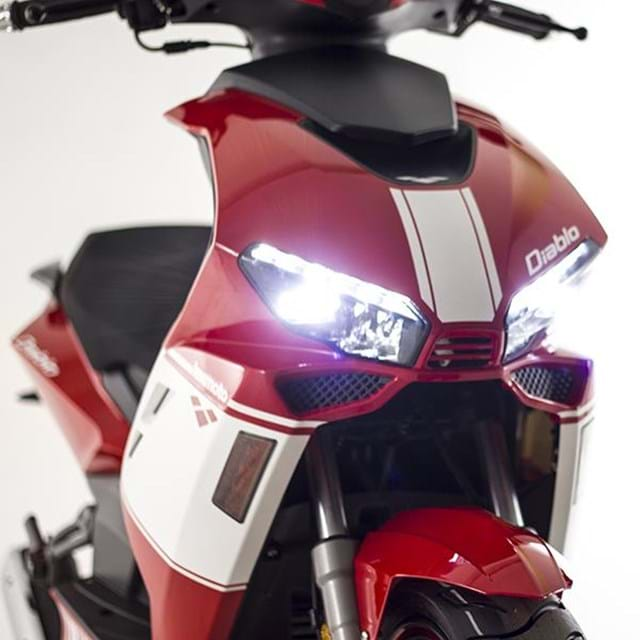 The Spec
For a cheap 125cc sports scooter, it has a decent resume; linked disc brakes front and back, fuel injection, telescopic front forks and LED lights all round. There's also some decent safety features which cut off the engine if you put the side stand down.
The front headlights have a nice cluster of LED's along the top which give it a modern look and the front styling is similar to Ducati sports bikes.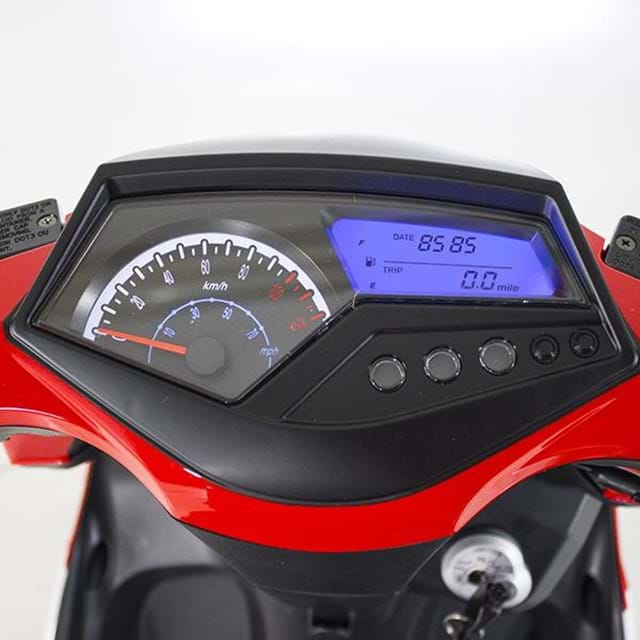 Practicality
The speedo and other relevant gauges are simple and easy to read. It's easy to change time / date etc it lights up nicely at night.
Storage wise, there is a helmet bay under the seat, which unfortunately won't take my large crash helmet, however smaller helmets may fit.
It only has a small fuel tank, but it'll take around £7 of fuel, which will do around 100 miles and perhaps 150 miles if you ride gently.
Build Quality
At the end of the day, this is a £1,600 125 Euro 4 scooter. So as much as I am pleased with it, some of the components just aren't going to be as high quality as a £4,000 Honda 125. The exhaust is extremely prone to rusting, which is why I immediately purchased a Stainless steel full system from Lextek. I also covered all parts of the scooter with ACF50 which should limit rusting and corrosion.
Speaking of parts, everything for this scooter are readily available from chinesemotorcyclepartsonline.com and parts are amazingly cheap! You could replace all the panels on this scooter for less than £200. So for maintenance it's an excellent option.
Summary
If you want a nice looking scooter, which is reliable and won't break the bank, the Diablo is a great choice. Yes it doesn't have the extremely high build quality of the Yamahas or Hondas. However it does have a two year warranty which I've already had to make use of as the high beam on one side headlight didn't work, but the dealer got the replacement immediately and replaced it without any quibble.
Build quality - 6/10
Reliability and durability - 7/10
Price - 9/10
Storage - 5/10
Costs to repair - 8/10
Styling - 9/10
Fuel economy - 7/10
Handling - 8/10
Top speed - 6/10
Comfort - 6.5/10
- Gareth G, 2018
Price Guide
Year
Dealer
Private
Part Ex
Mileage
2022
£2,300
£1,850
£1,650
1,200
2021
£1,800
£1,450
£1,250
2,100
2020
£1,750
£1,400
£1,250
3,700
2019
£1,700
£1,350
£1,200
5,100
2018
£1,550
£1,250
£1,100
4,900
2017
£1,400
£1,150
£1,000
6,700
2016
£1,200
£950
£850
8,500
2015
£950
£750
£650
10,300
How to use the price guide
Related Bikes
Lexmoto Urban - Closely related scooter with less edgy styling.
The Second Opinion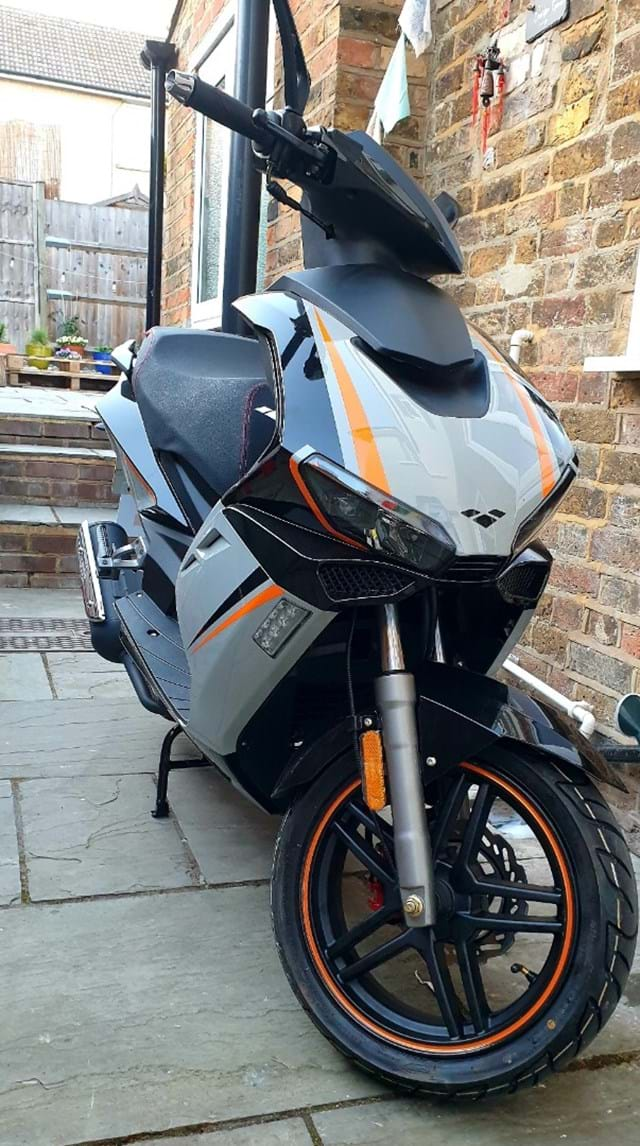 I now have a few hundred miles on my Diablo. First of all I would like to say that I have purchased my Diablo mainly based on The Bike Market reviews, as there weren't many proper reviews out there. The quote above sums it up perfectly:
"If you are looking for a nice looking scooter, which is reliable and wont break the bank, the Diablo is a great choice."
It's the 2019 EFI model in the new colours (grey/orange/black) and it looks much much better in real life than in the pictures. I am more than happy with my Diablo so far, having purchased it about 6 weeks ago and now have 500 miles on the clock. The first service is done and so far I've had absolutely no issues whatsoever.
Looks
In my personal opinion it's one of the, if not the best, looking 125cc scooters out there! The LED lights are perfect and the whole scooter just looks and also feels like it should be worth a lot more money! Well, apart from the exhaust which is, as many people mentioned before, a bit prone to rust.
Build Quality
The build quality in general is, in my eyes, of a really high standard. It is worth mentioning but I've had no major issues and parts seem to be dirt cheap, even the exhaust systems (compared to other brands).
I can already see the first signs of rust on the exhaust after only 500 miles, even though I have covered the whole scooter with ACF-50, however I will soon purchase a LEXTEK stainless steel system and for the first Winter season the standard exhaust will do.
Handling
The scooter feels nippy and has great handling. I use it for a 20 mile commute every day and I couldn't be happier. It's perfect for London city and suburb town traffic / commuting, plus the odd dual carriageway blast is fun as well.
With a bit of downhill my Diablo is getting up to 60-65 mph and averaging between 50-60 mph. I'm 82kg and 190cm tall. Being that tall I was a bit worried at first that the scooter would be too small, but it really is fine even for me. I had to get used to it for a couple of days but I haven't been riding for several years.
The Exhaust Upgrade
I went for the Lextek and doesn't it look good: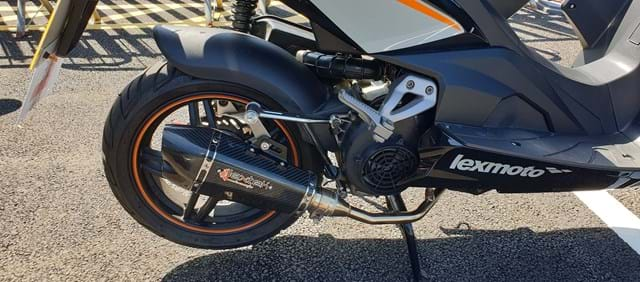 Side by side with the stock exhaust: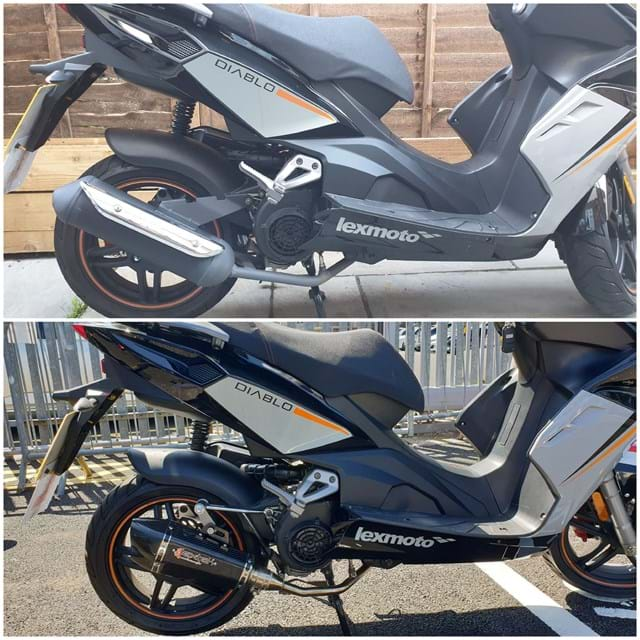 Summary
The Lexmoto Diablo feels and rides like it should cost double the money... to be continued...
- Ron S, 2019
A Few More Thoughts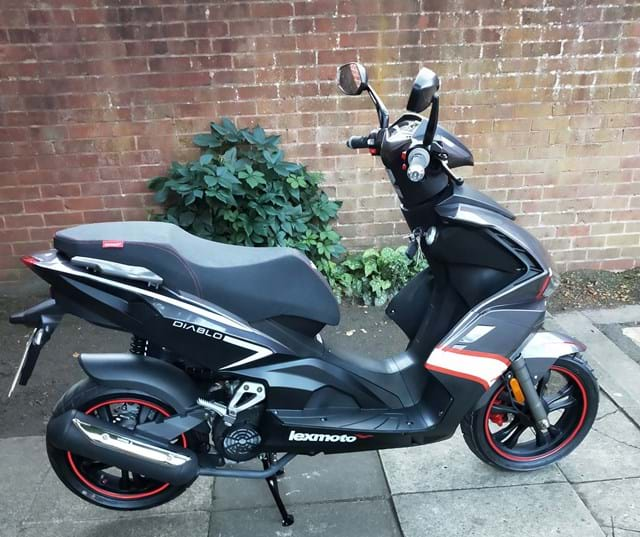 Lexmoto Diablo 125 Euro 5
Why did you choose it?
The looks, style and colour of the scooter.
What is good about it?
Looks.
What could be improved?
I have had the scooter since August but find that the rear shock makes the bike jump all over the road at the smallest pot hole. I have only done 140 miles however I'm hoping it will feel better with some more mileage on the bike. If not I will sell it.
The side panel has already cracked on its own and I cannot get a Stainless Steel exhaust due to Euro emissions. I would think about testing one before you buy.
What is the economy like?
Good.
How is the engine?
Very good so far.
How does it handle?
Very bouncy on rough roads.
What are the brakes like?
Very good.
Is it comfortable?
The seat is comfortable but very high.
How reliable have you found it?
Ok so far.
To Sum Up
The Diablo is okay for the money. If I was looking to buy again I would buy a Lexmoto naked.
How would you rate it?
6/10
- Michael M, 2022