Lexmoto Aura Review (2020)
"
The Aura is fantastic value for money and will last if looked after well.
"
What Is It?
The Lexmoto Aura 125 is a budget learner friendly maxi scooter and is powered by a Euro 4 compliant air-cooled 124.6 cc single cylinder engine, producing 10.3 bhp / 7 kW at 7,000 rpm and maximum torque at 6,000 rpm.
Specs
Seat Height: Average (

810

 

mm / 31.9 inches)
Weight: Light (134 kg / 295 lbs)
Economy: Very good (90 mpg / 3.1 l/100km / 31.9 km/l)
Range: High (190 miles / 306 km)
Power to Weight: Low (0.075 bhp/kg / 0.056 kW/kg)
Top Speed: Low (60 mph / 97 km/h)
Pros
Value for money
Looks awesome
Keyless start
Handling
Comfort
Mirrors
Brakes
Cons
Small underseat storage area
Slightly under powered
Fuel gauge
Battery
What Is It Like?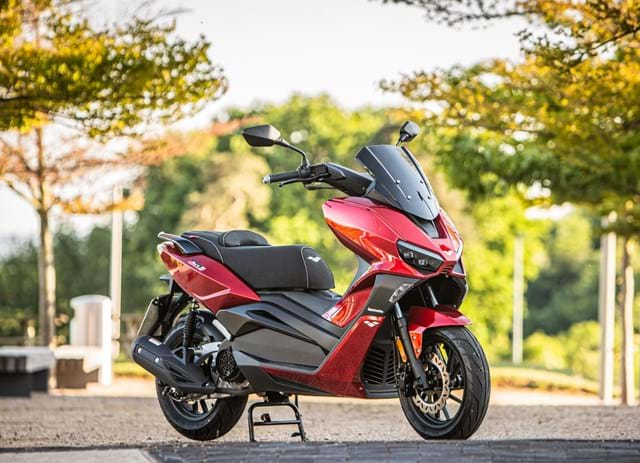 Why did you choose it?
I was recently made redundant from the Aerospace industry, luckily my job was pretty much on my doorstep so I've never needed or wanted the extra cost of transport. Suddenly I found myself in a dilemma, I needed a quick fix to get myself on the road fast as skilled jobs are hard to come by at the moment and I needed to extend my search range.
I was really torn between the LXR and the Aura. I honestly didn't want to feel daft at nearly 40 years old riding around on a scooter and I live in the suburbs of Manchester and could see the LXR being a faff for a new rider commuting in stop start traffic.
I settled with the Aura and ordered one in red with a load of extra security added on, alarm, tracker, better locks etc.
Any issues?
The week it arrived happened to be in a week long storm. Five days had passed until I finally had a gap in the weather to take it out for a shake down and I really didn't want to do it in the rain with greasy new tyres. Me being a responsible rider, with all the gear and no idea, I got dressed in all my new safety wear. I waddled out into the back yard with family in tow ready to wave me off on my inaugural journey.
One click on the key fob and ....... nothing, the bike was not responding. I had to use a booster pack and connect it to the two cables behind the dash panel to get access under the seat. I took out the battery and stuck it on a trickle charge with a high quality charger, but after 20 hours I gave up, battery was completely dead.
In the meantime I did some research and the Lextek battery it seems is appalling hence the Amazon price of £16 for a new one. I gave it a swerve and bought an expensive Yuasa replacement. My new battery arrived the next day, I fitted it and took a deep breath as I jabbed the key fob. Nothing, zilch.
At my wits end I phoned the dealer, I was ready to set fire to it and have done with it. They seemed confused and then suggested I check the fuses, fair enough a 15 amp fuse had blown. Amazon came to my rescue and delivered a bag of 60 for around £7 the day after.
The time had come, in goes the new fuse, key fob in one hand and a molotov cocktail in the other. I gingerly pressed the fob and happy days, she's alive.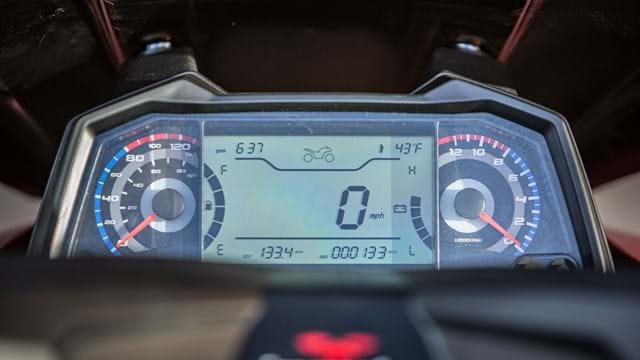 What's good about it?
Now feeling like I'm the greatest mechanic that ever lived I was ready for new horizons, no stopping me now. Family all assembled on the drive for the inaugural mission, no pressure as I'm channelling my inner Carl Fogarty. Off I toddled into the rainy Manchester sunset.
Within 5 minutes I was completely at ease. I found the throttle really responsive and the scooter is really comfortable between 30 mph and 40 mph. I will take up as far as I can once its been serviced.
The handling is fantastic, even with new tyres in the wet I felt I had grip. The dash really nice and clear to see as well.
There's a nice comfy seat and relaxed riding position. The wing mirrors are really good on this bike too, a clever design which gives you a wider field of view.
It's a decent size, has a decent road presence and pulls me out of danger as it's surprisingly nippy. The brakes feel good and it stops really well.
I've since found a new job and use it as my daily commute which is a round trip of 8 miles. I've gone from wanting to go full on Basil Faulty on it to loving it.
What could be improved?
The only thing that's currently annoying is the fuel gauge doesn't read well. It's telling me I have half a tank when it's actually full.
To anyone else buying one I'd suggest a battery upgrade straight away. I'll probably service the bike myself and learn along the way as the Lexmoto service pack seems like a money grab. They want to service it every few hundred miles or every few months, basically whichever comes first.
To sum up
Eventually as bits and bobs succumb to wear and tear I'll probably replace worn parts with better quality. My verdict is that it's fantastic value for money and will last if looked after well. Happy safe riding folks.
- Wayne F, 2020
Price Guide
Year
Dealer
Private
Part Ex
Mileage
2022
£2,500
£2,050
£1,800
1,200
2021
£1,800
£1,450
£1,300
2,100
2020
£1,800
£1,450
£1,250
3,700
How to use the price guide
The Second Opinion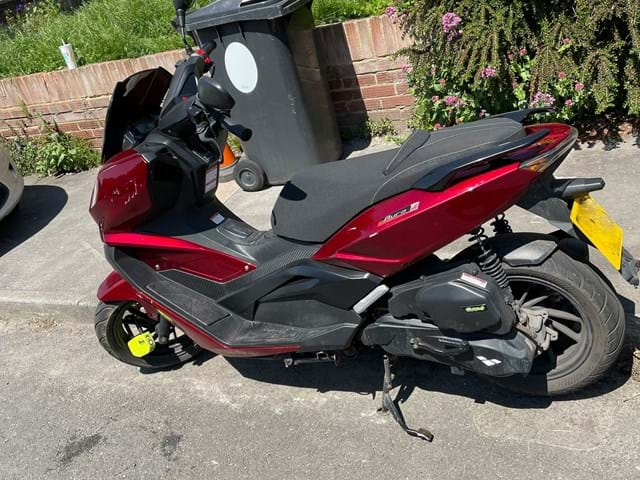 Tell us a bit about you
I'm a 20 year old male, 6'1 and I've been riding since 2019.
Why did you choose it?
Because I wanted a reliable and fast maxi scooter.
What is good about it?
Everything. I can't fault the Aura at all.
What could be improved?
Nothing, it is as amazing as can be.
Any mods or upgrades?
None yet.
What is the economy like?
Great.
How is the engine?
The engine is great and it starts first time. Even when it's really cold it never cuts out.
How does it handle?
Amazing.
What are the brakes like?
Brilliant.
Is it comfortable?
The seat is really comfortable. I've driven it for 60+ miles and my back was fine.
How reliable have you found it?
Very. I can go anywhere when I want.
What's the servicing frequency and cost like?
The service is every few thousand miles and is about 60 quid.
To Sum Up
It's very similar to a Yamaha NMAX.
- Lee C, 2021
Add Your Review
Do you own this bike? We would love to hear anything good, bad, unexpected or that you have changed plus anything that a prospective new owner might find interesting or useful.