Honda Super Cub Review (2018)
"
I can honestly say that in all my years of riding and owning motorcycles I have never been so inspired.
"
What Is It?
The Honda Super Cub is a premium retro bike with a hint of scooter styling and is powered by an air-cooled 125 cc single cylinder four stroke engine, producing 9.5 bhp at 7,500 rpm and maximum torque at 5,000 rpm. It's actually closely related to the fuel injected Grom engine.
Specs
Seat Height: Low (

780

 

mm / 30.7 inches)
Weight: Light (109 kg / 240 lbs)
Economy: Very good (160 mpg / 1.8 l/100km / 56.6 km/l)
Range: Average (130 miles / 209 km)
Power to Weight: Low (0.092 bhp/kg / 0.068 kW/kg)
Top Speed: Low (60 mph / 97 km/h)
Pros
Cool luggage rack
Very economical
Comfy seat
Retro cool
Handling
Gearbox
Light
Cons
A bit under powered
No pillions
What Is It Like?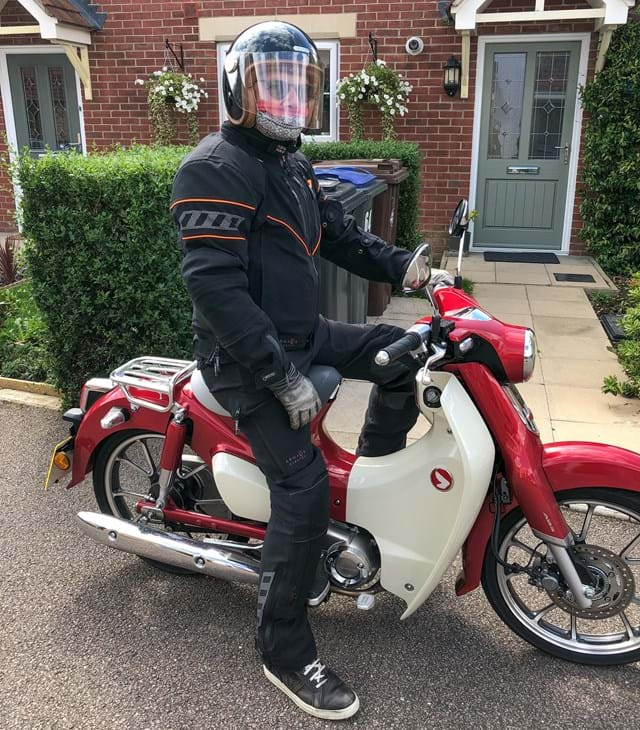 My Experience
I'm 67 years old and had my first motorcycle in 1968, that's 51 years ago at the time of writing. The only time I've been without a motorcycle was for about 7 years in the 70s when I just couldn't afford it.
With the above in mind I've owned around 40 of varying sizes including several MZs, a couple of Jawa two strokes and one four stroke, BMWs, Guzzi's, Triumphs (2 Meriden, 4 Hinckley including a Rocket 3 and Thunderbird Commander). There are more but enough is enough and no Japanese you may note.
I first rode a Honda Super Cub in the late 70s when a kind soul lent me a C70 for a couple of weeks to go to work on because my Ducati 350 MkIII was off the road.
It scared me half to death with its rising up of the front end under braking and the way one is disregarded by other road users. Fortunately I survived this terrifying experience.
Choosing The Super Cub
The new C125 Super Cub is a different story. I got to thinking that, when I'm older and even more frail I could see myself on one of those. Very rapidly I came round to the idea that, actually I'd like one now.
I found a dealer who was prepared to give me a test ride and as soon as I moved off it made me smile. It's a couple of months later and I'm still smiling.
Engine
The engine is wonderful for such a small power unit and is the best I have ever experienced in any-thing up to 250cc. The nature of it is such that I found it easy to accept its limitations as regards to speed and power.
I really enjoy the semi-automatic gearbox, which surprised me. It takes a little getting used to, but get used to it, one does.
Unlike the earlier versions it has modern features such as: front disk brake with ABS, LED lighting, keyless ignition, which is criticised, but I find it very convenient. Other features are fuel injection of course and it even has a simple and easy to use alarm.
Handling
It's just so much fun to be sitting on it riding along. These things are known for the amazing journeys and reliability.
Handling is good, and seems sure footed. I found the braking extremely effective, even the rear drum works well. Obviously in heavy traffic it has the advantages of a small light machine and in all conditions I do find it a positive joy.
I have never felt the urge to go off piste, so to speak, do any green laning or riding through challenging fords, but this little machine really makes me feel such activities may indeed be great fun.
Economy
Petrol consumption is quoted by Honda to be 188 MPG but manufacturers are always optimistic and figures are set in ideal conditions not in the real world.
Nevertheless, on testing I found that I achieved 159MPG. Quite acceptable don't you think?
My only disappointment has been the range. As the tank is only 3.7 litres (not even a gallon) the range seems to be in the high 70s to 80s before the fuel gauge reaches its last bar.
I am however still getting used to the fuel gauge reliability and did achieve 92 miles until reserve and 130 miles on a tank full when testing before it actually conked out, so not so bad on that occasion.
This was in a variety of conditions including country lanes, dual carriageway and a couple of hours in busy central London traffic.
Storage
Practical everyday luggage is a bit of a problem due to its diminutive proportions but I'm working on it. It's partly due to the fact that I have an aversion to top boxes.
Still, people do long trips, holidays, and even go round the world on these great little machines.
Reactions
People really seem to like it and often want to talk about it. On the first occasion that I filled up with petrol, before I'd got the nozzle to the tank, a guy jumped out of a van, ran over and engaged me in enthusiastic conversation.
When I went to pay, the chap at the till wanted to know about it. Then, on returning to this gorgeous little machine, another van driver wanted to tell me about the one his Dad had amongst further enthusing.
To Sum Up
I can honestly say that in all my years of riding and owning motorcycles I have never been so inspired, and have already fitted a basket, centre rack, sat-nav cable and Ram mount to take my Tom Tom.
I like utilitarian machines and have a Ural combination and a 400cc Jawa four stroke single, which will cruise at 70MPH and still have a little for overtaking on a flat motorway, but it's the Super Cub I always want to go out on.
It gives me joy, so I do it.
- Stephen W. (Baldybiker), 2019
Price Guide
Year
Dealer
Private
Part Ex
Mileage
2021
£3,450
£2,750
£2,400
2,100
2020
£3,350
£2,700
£2,350
3,700
2019
£3,050
£2,450
£2,150
5,100
2018
£2,500
£2,000
£1,750
4,900
How to use the price guide
The Second Opinion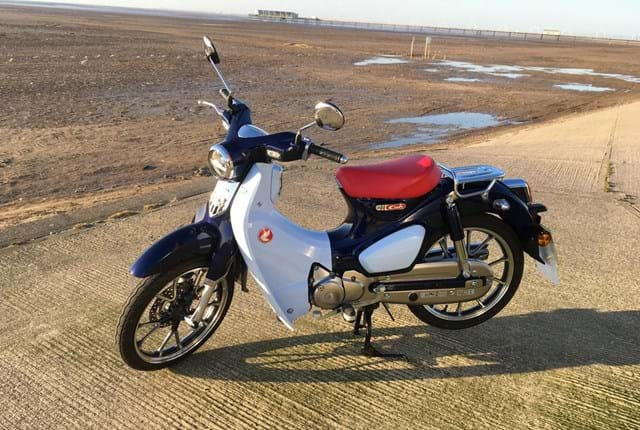 My Experience
I'm a new rider with no knowledge of how the Super Cub works at all but here are some thoughts on living with it. I started riding a year ago on a twist and go Chinese plastic scooter. I loved it, for a little while.
My hubby then showed me a picture of the new Super Cub and I fell in love with its retro look. Now remember, I'm a new rider but not only that, I'm a new road user, I even used to ride my push iron on the pavement so I was a bit nervous about getting a 125 that had a bit more than just 'twist and go' to it.
So What's The Super Cub Like?
I needn't have worried though as I love my cub and have never looked back. I did get a top box to start with as it is my transport to and from work but I couldn't stand that the ugly box was covering the gorgeous looking rack, with the Honda 'H' on it.
An added extra I would recommend for looks alone! So the top box came off and I don't miss it at all.
Practicality
The ride is so comfy, with a large seat to hold even the wider load quite comfortably 😉 Keyless start as well, now that's a bonus!
I love the fact it shows me what gear I'm in too as, being a new rider and a bit forgetful I do still struggle to remember that.
Gears
I did worry about the gears, even though the gearbox is semi automatic and the gear change super easy, mainly because I have little coordination and thought I'd struggle.
To start with I struggled with changing down, too soon most of the time and the engine braking would cause me to jolt, however I've got used to that now and I change up and down with ease.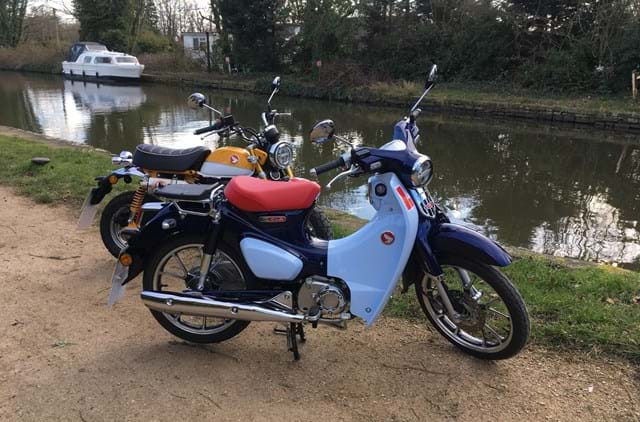 Handling
It's pretty fast too for a little bike, on the straight I can take my hubby on his Monkey, not that this pleases him 😂
It may have something to do with the big wheels! Thing is I don't only use it for commuting, I go out for rideouts as it is so easy and so much fun.
How Does It Go Down?
I take it to motorbike meets and it really does gather a crowd, all the 'big bike' riders absolutely love it. The older generation too, nostalgia!
I have seen an elderly lady pretending to get on it whilst her hubby takes a photo, she remembered having one in 1958 as a housewife.
What's Next?
I have thought about moving on to a 'proper' motorbike but always change my mind. She is my pride and joy, I love her so much and really have no intention of swapping her.
- Vickie H, 2019
A Few More Thoughts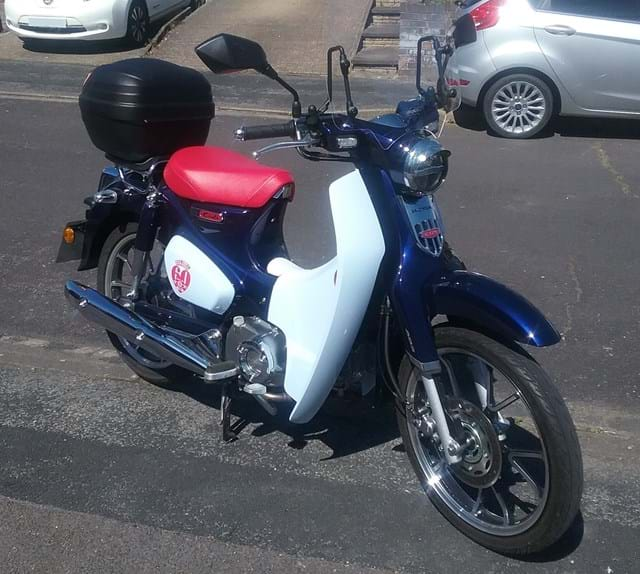 Honda Super Cub 125 2020
Tell us a bit about you
I'm a 70 year old male with 50 years riding experience over 20 bikes.
Why did you choose it?
Suits me sir!
What is good about it?
It ticks a lot of boxes:
Fast enough for me
Lightweight to park
Easy to ride
Economical
What could be improved?
I changed the gearshift for a single lever as it's what I'm used to.
Any mods or upgrades?
Gearshift change, screen and top box fitted.
What is the economy like?
Really very good.
How is the engine?
Good.
How does it handle?
Good.
What are the brakes like?
Good.
Is it comfortable?
Yes, very comfortable.
How reliable have you found it?
Utterly.
How would you sum up the model?
The Super Cub is a very good lightweight town and country bike.
- Mike P, 2021
More Info
Check out this video review from The chronicles of mr fish.