Honda Pan-European ST1100 Review (1990)
"
It's a great bike for moped money. Avoid ABS models, go post 1996 for bigger alternators, join the Facebook page and go ride it.
"
What Is It?
The Honda ST1100 Pan-European is a dedicated touring bike and is powered by a liquid cooled 1,085 cc 90° V4 engine, producing 100 bhp at 7,500 rpm and maximum torque at 6,000 rpm. The final drive is by shaft and the fuel tank is under the seat to lower the centre of gravity.
Specs
Seat Height: Low (

795

 

mm / 31.3 inches)
Weight: Very heavy (327 kg / 721 lbs)
Economy: Average (45 mpg / 6.3 l/100km / 15.9 km/l)
Range: Very high (280 miles / 451 km)
Power to Weight: Average (0.306 bhp/kg / 0.228 kW/kg)
Top Speed: High (132 mph / 212 km/h)
Pros
Smooth low down power
Minimal vibration
Reliability
Handling
Comfort
Cons
Only 5 gears
Rear brake
Heavy
Big
What Is It Like?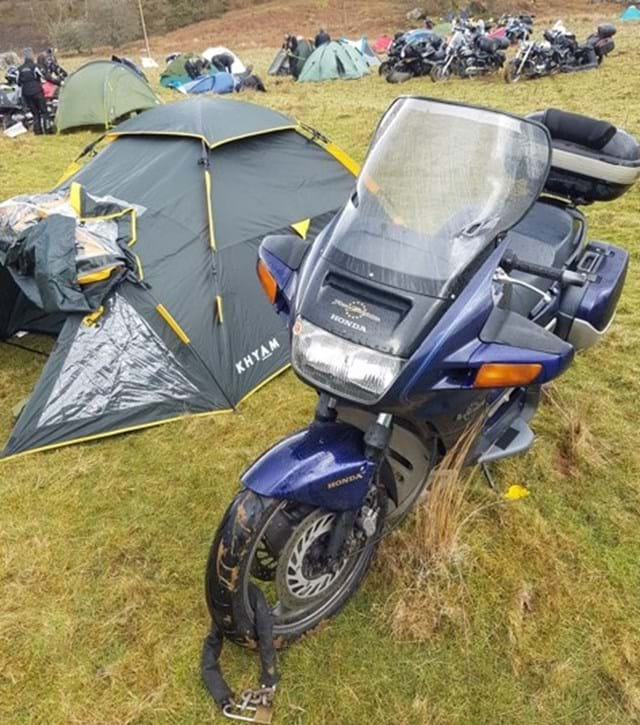 Choosing The ST1100
Having decided at the age of 53 that I'd become a wuss, only riding in the Summer, I set about looking for a winter hack. I've had my eye on the market for a while and the Pan European values are as low as low can be.
So given that it filled all the criteria, big fairing, reliable, comfy two up, and of course cheap I set off to have a look at a few.
What To Look For
The ST1100 Facebook group gave some good pointers which saved me from buying the first two I saw. Both were ABS models with faults. One of them had the ABS warning light removed to disguise the issue so buyer beware.
The engines are no stranger to monster miles so as long as it sounds okay it probably is. The other big areas for concern are rotten swing arms, exhausts and duff alternators.
The next bike I went to look at was up at 1295 in the slightly purply blue, 67,000 miles on it with some history. All the consumables were good and looking at the MOT history revealed it was just not getting used which backed up the sellers story.
On the down side he'd done the pretend plod thing to it with dayglo stripes and hazard flashes all over the panniers and fairings plus it hadn't been serviced for over a year. Some hard haggling later and I had a Pan in the van for 850 with a year of MOT.
First Impressions
I got it home and washed it, took all the yellow stripes off and it started to look a whole lot better. Time for the first spin then.
The ST1100 is BIG but the low centre of gravity means that it's very easy to ride slowly and as I soon found out easy to ride rapidly too.
The first problem I noticed was that the clutch lever engaged too far out for me and is non-adjustable. This was remedied by fitting a VFR item for £10, result!
Engine
Once up to 4,000 revs it turns into a magic carpet with absolutely no vibes cruising along at motorway speeds. It's a super comfy bike and offers loads of wind protection with optional deflectors on the mirrors and lower fairings.
At higher speeds it gets a teeny bit vibey although compared to every other bike it's still an electric smooth motor.
Brakes
Hauling it up showed that the copious weight and old brakes were a bad combination. This was resolved in part by servicing the calipers which were a bit gummy after being standing unused for so long.
Handling
The main surprise with the Pan is how nimble it can be. I've only had one day in the dry since buying it in January, it's now early March, and I pushed on a bit, scraping my toe sliders very easily in the process.
The first 1,000 miles have been just what I wanted, trouble free and comfy, and did I mention cheap? £100 for service items plus the cost of the bike and it makes a lot of sense.
Any Downsides?
The only downside I have seen to date is that other owners seem to wear "Polite" vests (immediate 6 month ban IMHO) or belong to the IAM, therefore whenever you park up at a bike café like Squires you need to walk away quickly before the boring gits strike up a conversation!
To Sum Up
So as this big old bus worms its way into my affections what does the future hold? I'm just going to ride the thing BUT the urge to take it out on a track day to see what I can get past is strong.
In summary it's a great bike for moped money. Avoid ABS models and go post 1996 for bigger alternators, join the Facebook page and go and ride it when you wouldn't want to wreck the pretty bikes that only see the sunshine.
- Chris P, 2019
Price Guide
Year
Dealer
Private
Part Ex
Mileage
2002
£2,400
£1,900
£1,700
29,600
2001
£2,400
£1,900
£1,700
30,400
2000
£2,350
£1,900
£1,650
31,100
1999
£2,350
£1,900
£1,650
31,600
1998
£2,300
£1,850
£1,650
31,900
1997
£2,250
£1,800
£1,600
32,000
1996
£2,200
£1,800
£1,550
32,000
£2,150
£1,750
£1,500
31,700
1994
£2,100
£1,650
£1,450
31,300
1993
£2,000
£1,600
£1,400
30,600
1992
£1,900
£1,550
£1,350
29,700
1991
£1,800
£1,450
£1,300
28,600
1990
£1,650
£1,300
£1,150
27,200
↑Year shows signs of appreciation
How to use the price guide
Related Bikes
Honda ST1300 - More powerful and lighter replacement.
The Second Opinion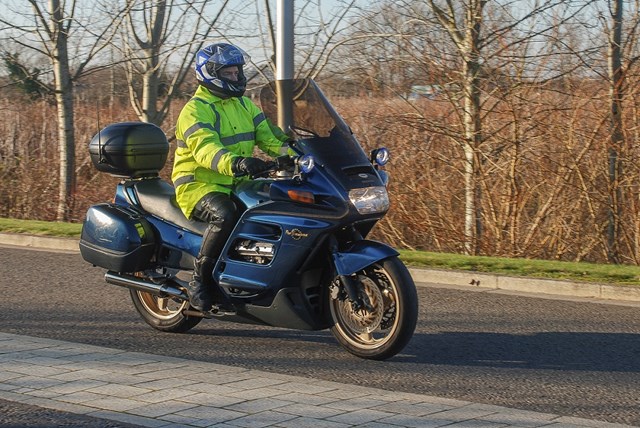 Choosing The Pan
Although I had owned several motorcycles over the years, I had always wanted a big bike. And having seen several police officers riding around on the Pan European, something about this model just looked right.
So I bought one second-hand on Ebay. The previous owner had hurt his back, and was no longer able to ride it.
What's It Like?
That was thirteen years ago and the bike is still going strong and I've been very pleased with it. Yes, it's heavy, but it sheds the weight as soon as you start moving.
It's very stable at motorway speeds and with a taller aftermarket windscreen (I'm 6'2") I don't get any helmet buffeting.
Reliability?
Well, it's Japanese, so no complaints there.
Any Downsides?
The only problem areas - especially in the UK, where the roads are salted - are the swing arm's tendency to rust and the OEM exhaust collector box.
However, I fitted a complete stainless steel exhaust to mine soon after I bought the bike, so that took care of that particular issue. I've also had the swing arm out, and gave it a few coats of zinc-rich paint. This has helped prevent corrosion.
To Sum Up
Would I ever get rid of the Pan? Well, if I could swap it for a Goldwing I may be tempted. Would I upgrade to the ST1300? Definitely not.
- Rob M, 2016, ST-1000.com
A Few More Thoughts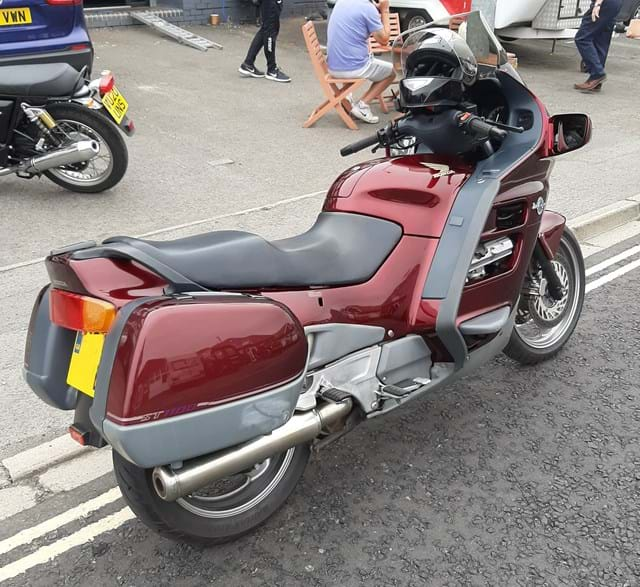 A bit about you
I'm a 56 year old 6' 2" male. I've been riding since 16 on 10+ bikes over 40 years.
Why did you choose it?
Mainly for touring and because it had a full service history.
What is good about it?
Amazing engine
Acceleration
Handling
Comfort
Reliable
What could be improved?
The brakes are great at the front but not so good at the rear
Screen height
What's the economy like?
46 mpg
Any mods or upgrades?
Extension to screen
Top box
To Sum Up
I'm very pleased with it.
- David H, 2020