Honda CBF1000 Review (2006)
"
She's no sports bike and no adventure bike, she's a comfy, fast sport tourer. A very underrated machine.
"
What Is It?
The Honda CBF1000 is a standard naked bike and is powered by a liquid cooled 998 cc inline four engine, producing 96.6 bhp at 8,000 rpm and maximum torque at 6,500 rpm.
Specs
Seat Height: Low (

795

 

mm / 31.3 inches)
Weight: Heavy (242 kg / 534 lbs)
Economy: Average (40 mpg / 7.1 l/100km / 14.2 km/l)
Range: High (170 miles / 274 km)
Power to Weight: Average (0.401 bhp/kg / 0.299 kW/kg)
Top Speed: Very high (150 mph / 241 km/h)
Pros
Flexible engine
Comfortable
Compact
Practical
Cons
Limited weather protection for your feet
Weight
Looks
What Is It Like?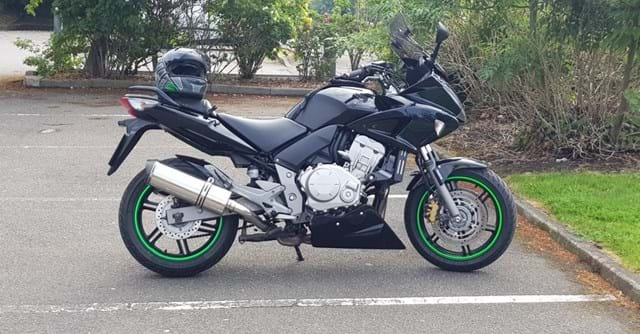 Honda CBF1000A Mk1
I always wanted to own a motorcycle and with the rising costs of fuel and insurance I went for it, passing my test in October 2015. Having been on a 125 for the last year, I soon purchased a CB500F. This bike, at the time, was ideal until one morning when all the advice of my friends came true. That was don't buy a 500, you'll get bored with it and want something else. Buy a 1000cc, you'll never want for another.
So I eventually took the plunge in April 2017, and purchased a CBF1000A, in Nightstar Pearl Black for the grand sum of £4,900 with only 7,900 miles. The bike is on a 2013 plate, which has confused many as the CBF1000A was superseded by the CBF1000F in 2010.
Reliability
I have owned the bike for over a year and so far nothing has gone wrong. Regular maintenance, chain tension checks and oil checks have meant the CBF cost me nothing. I have dropped her once, but the front brake lever was the only casualty, apart from my pride, and that was replaced easily.
Power
The first thing I noticed about the bike is how smooth the throttle response is. My first thought, even on the test ride, was to take it easy as she's going to be a savage beast but that was quickly put to one side.
She's as savage as a fluffy toy and gentle as a loving caress, until you get to 7,000rpm when this docile house pet lets loose its full power and you can be at licence loosing speeds in nanoseconds.
Handling
Straight lines are fun, but for a 249kg lump she's as nimble as a ninja. Filtering is easy and taking on the twisties is a dream. Remember although she looks like a fairing covered courier bike, she's got the heart of a Fireblade, not as powerful but the spirit is definitely there.
The bike can be adjusted via seat height and handlebar position for comfort and ergonomics. I have short legs and it's comfortable enough for me.
Costs
Servicing is every 4,000 miles or yearly, and is about £180 at my local dealer. Insurance for me with 3 years no claims comes to £240 TPF&T, I had a high fully comp quote but looking to shop around when it's next due. Road Tax is £88.
Mods
The standard screen is okay for general commutes and can be adjusted at two different heights. If you're looking for serious touring, get an aftermarket screen that meets your needs. There's plenty of space around the cockpit area for a sat nav, phone etc, but I would recommend getting some USB power sockets and maybe a voltmeter installed.
The one largest expense I have made is on tyres. The Bridgestone T021s didn't feel nice, but I think they were original tyres. I swapped these for Metzeler Roadtec 01's and they give plenty of feel and grip.
To Sum Up
It's a great bike, but it is heavy. Not as heavy as some, but it's heavy enough. Once it's going she glides and soars through the traffic. She's no sports bike, she's no adventure bike, she's a comfy, fast sport tourer. A very underrated machine.
- Peter H, 2018
Price Guide
Year
Dealer
Private
Part Ex
Mileage
2009
£3,500
£2,800
£2,450
20,700
2008
£3,250
£2,600
£2,300
22,300
2007
£3,100
£2,500
£2,150
23,800
2006
£2,900
£2,350
£2,050
25,200
How to use the price guide
The Second Opinion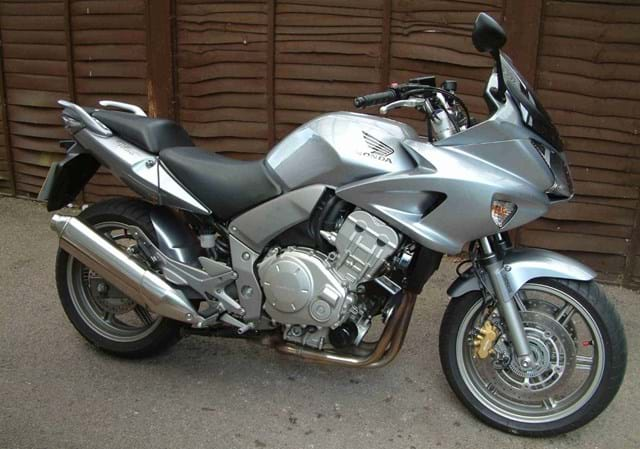 Honda CBF1000 A-8
I have been riding motorcycles since I was 16 so that gives me 48 years of riding and I purchased my CBF1000 A-8 in May of 2009. It's a demo bike from Knotts in Stratford upon Avon with 500 miles on the clock and it now has a shade under 10,000 miles on the clock.
I had sold a VFR a couple of years previously as I was travelling abroad for work a lot and couldn't justify owning a "decent bike", but wouldn't you just know it, as soon as I sold the Vfer the itch that can't be scratched re-appeared so I went and purchased a 600 Hornet.
I didn't keep that long as in my opinion it was too revvy and was a sod to start if laid up for a month or so. So I sold it and purchased a Ducati 800 Monster; a great bike but it has a lousy pillion seat and the clocks misted up when the temperature dropped! So I sold that and went looking for something that would be reliable, quick, comfortable, smooth and good two up. I test rode this CBF and fell in love with it.
Comfort
Being only 5'6" tall and a shade under 10 stone I was a little concerned about the seat height and the weight. The guys at Knotts put the adjustable rider's seat at its lowest setting and as soon as I rode off down the road the weight just disappeared.
That could be down to a spell put on it by some Wizards or just very good engineering and design. Two hours later it was mine, despite the fact that it was not, at that time, for sale!
Despite my stature it's an easy reach to the bars, the pegs are set in a good position and it gives good all day comfort with no real need to stop between re-fuelling on longer runs. With the seat set on its lowest setting I have no issues touching the ground.
Handling
The de-tuned Fireblade motor produces just under 100 bhp, pulling a hefty 236Kg dry, but is tuned for low down torque rather than top end power and that makes it a very flexible motor indeed.
The fuel injection is perfectly programmed, pulling the bike forward in any gear from as low as 2,000 RPM with no glitches or snatching, allowing you to short shift and ride the torque curve.
If you want to hustle at speed it does that as well with very little vibes through the pegs or bars. Low speed stability is excellent despite the weight and filtering is a doddle as it's not that wide despite being an in line four.
Suspension
It works as well as you would expect for such a heavy bike and is adjustable at the rear only. The ride is very stable and comfortable, soaking up most but not the worst that our poorly maintained highways throw at us these days.
If you want to do rapid direction changes at speed through twisties and grind the pegs some effort is required on the bars and it will say no if you are expecting sports bike control.
Tyres
The stock Michelins were okay but after 6,000 miles I changed to Metzeller Road Tech 01's and they were a revelation in both dry and wet.
Brakes
The linked ABS equipped brakes are more than adequate to pull this bike up and although I tested the ABS to see when it kicked in I have never had to use it.
Running Costs
Fuel economy is in the region of 170 to 210 miles per 19 litre tank, around 40 to 50mpg, with no reserve just a warning light and servicing at 4,000 miles is around £190 at my local Honda dealer.
For an old git like me my multi bike policy with Peter James costs me about £180 fully comp including breakdown cover.
Mods
I fitted an Autocom intercom although this is coming to the end of its life as it has been on several bikes and in several helmets over the last 15 or so years.
Secondly I installed a Honda hugger which has kept things much cleaner and more protected "down below". The third mod was to fit some very eye catching red anodised valve caps to the wheels!
Then about two years ago I fitted a Givi Monokey rack making life in general easier as I was now using it as my daily transport.
Any Downsides?
With the exception of getting wet feet in the rain weather protection from the half fairing and adjustable screen is fine for someone of my stature.
It's heavy and manoeuvring it around in the garage can be challenging, but if you're a reasonable sized person it's not an issue. Okay, it's not the prettiest motorcycle out there but it has Honda's build quality, reliability and a finish that has stood the test of time and the elements, turn the key, press the go stud and away we go.
To Sum Up
I don't own a car, have four bikes in my garage and the CBF is my "go to" machine for comfort, fun, practicality and mile munching.
- Robert R, 2018
Add Your Review
Do you own this bike? We would love to hear anything good, bad, unexpected or that you have changed plus anything that a prospective new owner might find interesting or useful.
More Info
Check out this 6,000 mile video review from rimskylee1.