Yamaha YBR125 Custom Review (2008)
"
It looks great, turns heads, is well built and I have that huge smile on my face. It's an ideal choice for daily commuting or distance riding.
"
What Is It?
The Yamaha YBR125 Custom is a learner friendly naked bike with a bit of cruiser styling thrown in and is powered by a Euro 3 compliant air-cooled 124 cc single cylinder four stroke engine, producing 10.1 bhp at 7,800 rpm and maximum torque at 6,000 rpm
Specs
Seat Height: Low (

760

 

mm / 29.9 inches)
Weight: Light (129 kg / 284 lbs)
Economy: Very good (90 mpg / 3.1 l/100km / 31.9 km/l)
Range: High (240 miles / 386 km)
Power to Weight: Low (0.078 bhp/kg / 0.058 kW/kg)
Top Speed: Average (65 mph / 105 km/h)
Pros
A stylish bike to learn on then keep
Excellent in town
Easy to maintain
Cheap to run
Great range
Well built
Cons
A handful at high speeds and when windy
Budget for better tyres and headlight
Can be susceptible to rust
What Is It Like?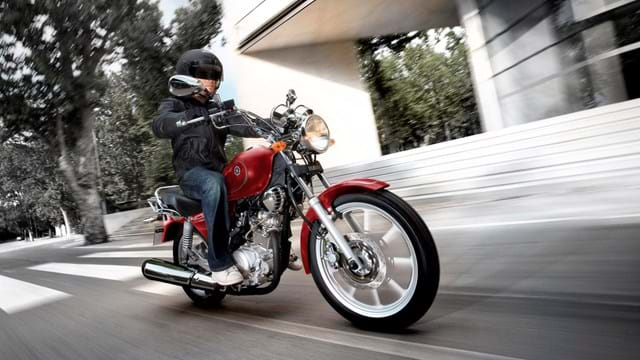 My Experience
I bought my first motorbike way back in the mid 70's. It was a black Yamaha 175cc and it looked a bit like a cut down US style cruiser. It had a two-stroke engine, was fast off the starting blocks and it gave me a consistent smile on my face every time I saddled up.
Time passed and family commitments forced me off my bike and into cars, so I sold my Yamaha and consigned my short motorbike career to fond memory.
After a long career in the military and then in the Third Sector I decided to take early retirement. After moving home to just outside Glasgow, Scotland I drove into town to take a look at some local gyms. As I drove around I noticed a small motorcycle dealership and on the spur of the moment decided to park the car, go in and see what modern motorcycles looked like.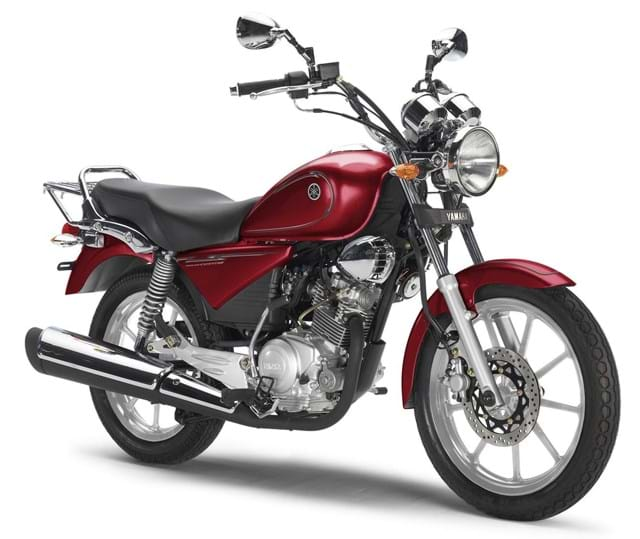 Choosing The YBR
The dealership traded mainly in new wave Chinese bikes, which to my eye looked quite impressive and they were inexpensive. I immediately remembered all the fun I'd had on my Yamaha and the germ of an idea was born.
I was aware that at some point CBT became a requirement, asked about this and where I could take mine if I wanted to. The dealer was friendly, helpful and I left to do some research.
Over a month I asked around, read post after post online and gathered that the general consensus around the online biking community was that Chinese bikes were definitely getting better but quality control could sometimes be 'iffy'.
There might be issues around replacement parts and resale values tanked. Most of the online 'hive mind' agreed that a good secondhand Japanese bike was the way ahead.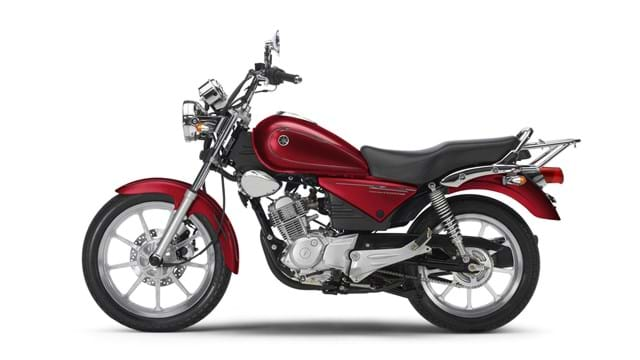 Comfort
I very quickly sat and passed my CBT, enjoying every minute of it and began to look for a suitable secondhand Japanese bike. By chance it turned out that the bike school I did my CBT with was also a Yamaha dealership.
As I looked around their selection of 125s I made up my mind that I didn't want a sports style bike but had no real fixed idea. I knew that I would know it when I saw it. Then I saw it.
Right at the very end of a long line of 125s there was a Yamaha YBR 125 Custom, Candy Red. It was 15' plate in almost 'as new' condition and had under 600 miles on the clock.
I asked to sit on the bike and loved the upright ride position, raised handlebars and Chrome. I'm not a small guy at 6'4" and over 86kg so I needed a bike that would suit my height and weight without looking ridiculous. The Custom ticked every box for me.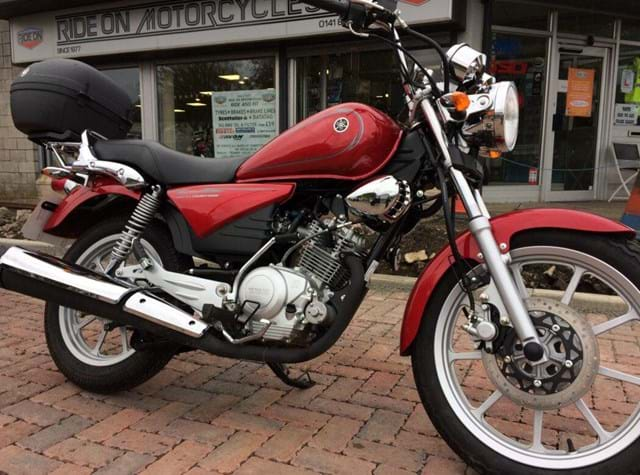 Living With It
My initial plan was to ride it through the Summer only because Scottish Winters can be tough, then sell it on and take my bike test before buying a bigger bike.
Almost one year on I've already decided to keep and ride it for another year. It looks great, turns heads and I have that huge big smile back on my face. It's strong, well-built and feels solid.
The online community is enthusiastic, knowledgeable and as an owner you can pick up some good tips like replacing the headlight bulbs with more powerful LEDs, which is my next update.
Handling
I ride it for fun and have enjoyed long trips right across Scotland. It's not a speedster and completely tops out at 65mph but will clip along all day every day at 55mph with ease.
Economy
Tank range is easily 250 miles plus and is an ideal choice both for daily commuting and distance riding.
Tyres
On one run in the rain I had to stop fairly sharply and the rear tyre fishtailed so my advice would be to immediately swap the delivery tyres out for something more roadworthy and grippy.
To Sum Up
I would recommend the Yamaha YBR125 Custom to anyone.
- Dave D, 2018
Price Guide
Year
Dealer
Private
Part Ex
Mileage
2017
£2,650
£2,150
£1,850
6,700
2016
£2,450
£2,000
£1,750
8,500
2015
£2,300
£1,850
£1,600
10,300
2014
£2,150
£1,750
£1,500
12,100
2013
£2,000
£1,600
£1,400
13,900
2012
£1,900
£1,500
£1,350
15,700
2011
£1,800
£1,450
£1,250
17,400
2010
£1,700
£1,350
£1,200
19,100
2009
£1,600
£1,300
£1,150
20,700
2008
£1,550
£1,250
£1,100
22,300
How to use the price guide
Related Bikes
Yamaha YBR125 - Basically the same bike with modern styling.
The Second Opinion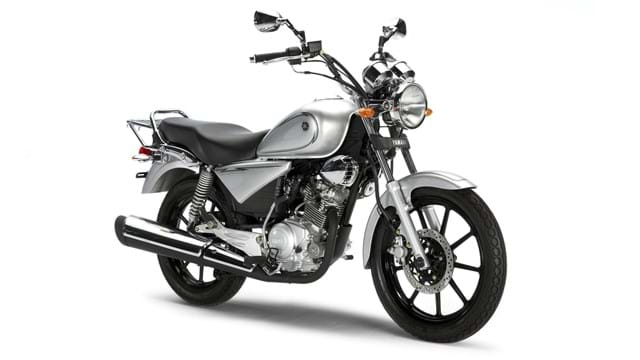 What's Good?
I've had my YBR for two and a half years now and I bought her for £750 with 25,000 miles on the clock. Since then I have covered 29,000 miles to bring the total mileage to 54,500 miles with only minor problems or consumables.
The engine is strong and pulls nicely. In 2010 the camshaft was redesigned to improve economy and top end power, however it sacrificed a lot of bottom to mid range torque.
The bike is strong and can really absorb abuse. I live near the coast and I ride in all weathers along some of the worst maintained roads in the country but the bike has tackled everything that's been thrown at it and has come out on top. The bike can handle just about anything and seems to run forever.
Any Downsides?
The main downside to most people will be the lack of speed however as a commuter bike or a 125 for long journeys it is perfect. The YBR is built strong; it survived my crash, I rode home and then rode to A&E in the morning.
Only once has the bike been un-rideable, and that was due to the timing sprocket snapping off of the camshaft at 53,750 miles. It was back on the road within 6 hours.
Economy
I often cover more than 100 miles in a day, sometimes more than 300 miles a day and with a tank range of around 250+ miles it's fairly effortless too.
To Sum Up
I'd recommend the YBR to anyone. The rear brake is a little weak, but it does the job and the front brake is strong enough to make up for it if you know how to ride.
If you want a cheap, efficient, fun, lightweight and reliable 125 there is nothing better. However regular oil checks and top ups are needed and the standard headlight bulbs are prone to failing on rough roads. It is the ideal 125 for anyone.
- Kieron W, 2018
Add Your Review
Do you own this bike? We would love to hear anything good, bad, unexpected or that you have changed plus anything that a prospective new owner might find interesting or useful.