Yamaha YBR125 Review (2005)
"
I would recommend this bike to any learner / commuter. Although it's not the fastest four stroke 125. It's never missed a beat for me and will sit at 60-65mph comfortably. For price, reliability and fuel economy it is a very good bike.
"
What Is It?
The Yamaha YBR125 is a super popular learner friendly naked bike and is powered by an air-cooled 124 cc single cylinder four stroke engine, producing 10 bhp at 7,800 rpm and maximum torque at 6,000 rpm.
Specs
Seat Height: Low (

780

 

mm / 30.7 inches)
Weight: Light (125 kg / 276 lbs)
Economy: Very good (90 mpg / 3.1 l/100km / 31.9 km/l)
Range: Very high (260 miles / 418 km)
Power to Weight: Low (0.080 bhp/kg / 0.060 kW/kg)
Top Speed: Average (70 mph / 113 km/h)
Pros
Cheap to buy and run
Easy to maintain
Build quality
Reliability
Cons
A handful at speed or in wind
No storage under the seat
Susceptible to rust
Stock tyres
What Is It Like?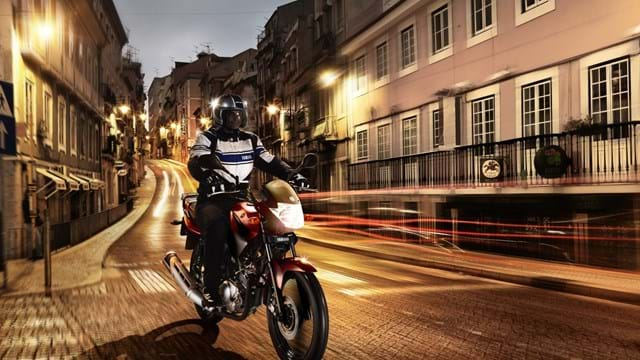 I have had my YBR125 for just over a year and I use it mainly for commuting with the occasional ride out. I chose Yamaha over other cheaper lesser known brands because of the reputation they have for reliability.
When I bought the bike it was "used" from a single lady owner with less than 1,000 miles on the clock. It had been stored for 4 years and was only 6 years old. The bike was almost like brand new. I firstly went about carrying out a service which was very easy to do DIY. Although I'm a mechanic by trade, anyone with general mechanical knowledge would find it easy to maintain this bike.
The tyres were also changed to Michelin Pilot Street tyres as the originals were hard and perished. The bike also comes with a tool kit which was handy.
A few other good things about this bike are the insurance is cheap, the mpg is amazing (around 100mpg), it has a centre and side stand so can use either and the seat is relatively comfortable compared to some other bikes I have owned.
There are a few down sides to this bike. The main one being the headlight is terrible in the dark. This had to be sorted as i didn't feel safe riding at night. My first and best modification I have made to the bike is the upgraded headlight. I fitted an led daymaker projector. Honestly, it's THE best headlight I've had on a bike.
The next thing I found that was a bit of a pain was the fuel gauge is inaccurate. It will show empty yet only take around 8-9 litres till brimmed. Although I can usually tell by how many miles I get to a tank. I have also changed the exhaust system purely for a bit more noise. I fitted the Leo vince system which sounds great.
The only other things I can think to mention are the they are susceptible to rust unless kept clean and dry. The only other trouble I've had was a leaky fork seal but again this was sorted. Parts were cheap enough and it was only down to general wear and tear.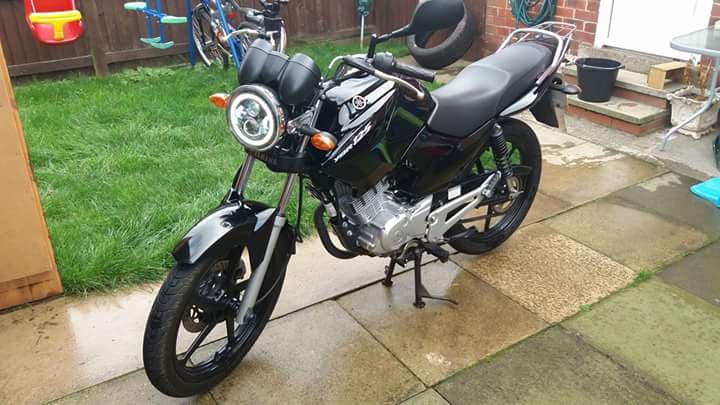 To conclude. I would recommend this bike to any learner/commuter rider. Although it's not the fastest 4 stroke 125. It has never missed a beat for me and will sit at 60-65mph comfortably. For price, reliability and fuel economy it is a very good bike.
- Danny B, 2018
Price Guide
Year
Dealer
Private
Part Ex
Mileage
2017
£2,300
£1,850
£1,600
6,700
2016
£2,200
£1,800
£1,550
8,500
2015
£2,100
£1,700
£1,500
10,300
2014
£2,050
£1,650
£1,450
12,100
2013
£1,950
£1,550
£1,350
13,900
2012
£1,850
£1,450
£1,300
15,700
2011
£1,750
£1,400
£1,200
17,400
2010
£1,650
£1,300
£1,150
19,100
2009
£1,500
£1,200
£1,050
20,700
2008
£1,400
£1,150
£1,000
22,300
2007
£1,300
£1,050
£900
23,800
2006
£1,200
£950
£850
25,200
2005
£1,100
£900
£800
26,400
How to use the price guide
Related Bikes
Yamaha YBR125 Custom - Basically the same bike but with lots of Chrome, a lower seat and high bars.
Add Your Review
Do you own this bike? We would love to hear anything good, bad, unexpected or that you have changed plus anything that a prospective new owner might find interesting or useful.
More Info
Check out this 3 month in video review from West Yorkshire.