Triumph Street Triple R 765 Review (2017)
"
It's agile, light, well balanced, has a decent turning circle, responsive clutch, pace and movement capacities. Just Fun. Capital F.
"
What Is It?
The Triumph Street Triple R 765 is a naked bike and is powered by a Euro 4 compliant liquid cooled 765 cc triple, producing 116 bhp at 12,000 rpm and maximum torque at 9,400 rpm.
Specs
Seat Height: Average (

825

 

mm / 32.5 inches)
Dry Weight: Average (166 kg / 366 lbs)
Economy: Average (45 mpg / 6.3 l/100km / 15.9 km/l)
Range: High (170 miles / 274 km)
Top Speed: High (145 mph / 233 km/h)
Pros
Mid-range power
Comfort
Sound
Finish
Cons
Minimal wind protection
Mirrors
Levers
What Is It Like?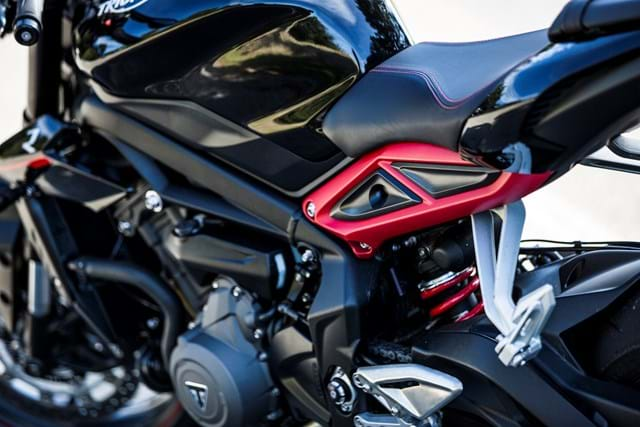 Matt Paint
So. Brand new bike picked up! One of the first thoughts...how am I going to wash the Matt paint?! I mean...not one of my first thoughts really, but definitely a concern as Matt paint is a new concept to me.
The advice was to soak off, rather than rub off, any mini roadkill...which seems to work fine. A little bit more time consuming, but all good. My concern would be getting it wrong and rubbing a shiny patch - but time will tell.
Comfort
The low ride height works well in terms of confidence at standstill and moving around physically - I would definitely recommend it if you're on the verge of not having grown quite enough leg length, having ridden bikes that have been lowered with a kit or are just too high.
Everything feels well balanced and sure footed as standard, and you have peace of mind that everything is as it should be. It doesn't look overly small to the non-trained eye!
Seat
The seat detailing is lovely with the stitching giving the seat a real quality look. At first I thought it felt a little hard, but actually it feels quite comfortable - almost memory foam comfort.
It's narrow enough to get a good knee hug on the tank, which it sits beautifully up to, but wide enough not to give you the dreaded numb bum syndrome on longer distances!
Protection
The tank is just nicely wide enough to hold a soft tank bag. At motorway speed, to avoid cheek flapping, it's just nicely high enough to be a comfy resting position whilst assuming the aero dynamic riding position needed due to no wind protection whatever, or pretending to be #Hutchy!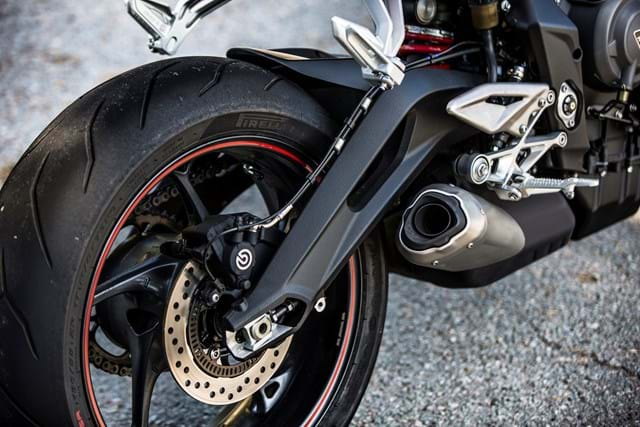 Exhaust
The sound of the standard exhaust doesn't blow me away particularly, and dare I say it, isn't quite loud enough, but the end can looks neater and smaller than some of the other standard cans on current new models. I think an aftermarket exhaust might be the way forward when funds allow and the 'new bike' feeling has diminished!
Power
I wasn't convinced at first that the 765 was much improved on the 675's power, but having relaxed, revved and reflected, mid range is where the difference is all at.
The sound of the engine however, comes into its own on the swift reaction of the ride by wire throttle, when opening up and letting go in the low to mid rev range through the gears.
There is a deeper, roary burble that emanates from below the typical Triumph pitch, that flicks the automatic button to your smile and potential inadvertent guttural noise from your voice box too if you're that way inclined!
Finish
The bike isn't covered under warranty for corrosion, so I think a good lathering of ACF50 or similar might be a worthwhile investment in both time and money to try keep it's good looks for longer, having had bolts corrode on my previous model.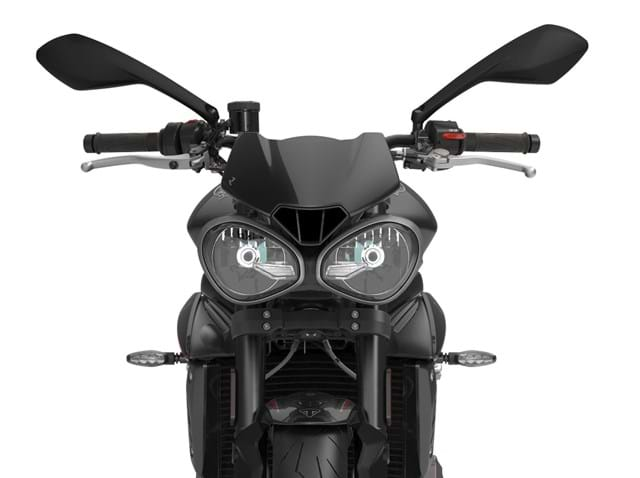 Looks
Speaking of looks...I do think it's a handsome looking beauty. I always think there's an angle that every bike doesn't look particularly good from...but I've yet to find one with this...and I've spent quite a bit of time looking at it believe me!
The front lights look great, just on the right side of mean enough ;-) A negative observation from a friend though, was that she was struggling to see me when I was following, in brighter weather ...i.e. Matt grey paint, daytime lights, black helmet / riding kit = blend into the road = not great.
This is a point to note re the Matt paint as it obviously doesn't 'shine' and therefore catch light / stand out - so consider ways of improving your visibility to others to not risk spoiling the good looks of the bike (or yours!) and another excuse to roll out the stock 'I just didn't see you mate!' patter.
In my opinion the Triumph logo on both side cases give it an extra look of quality, as does the neat looking adjustable suspension (not adjusted as yet) and red detailing to the frame inserts and spring.
I'm not sure I'm completely settled with the retro paint detailing of red and black lines...but there has to be downsides somewhere...and it's all down to personal preference anyway.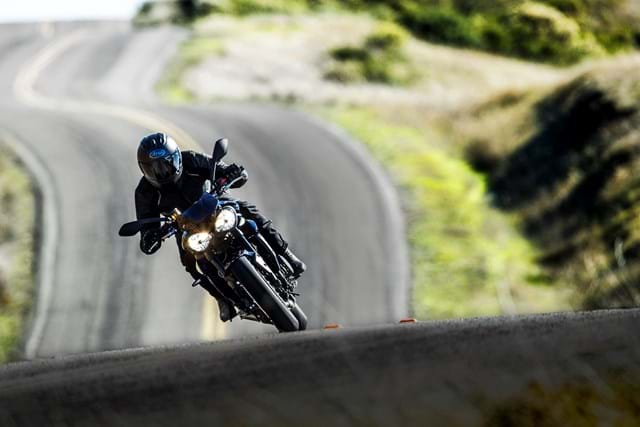 Tyres
I don't pretend to be a connoisseur of tyres, but I've noticed a massive difference from my previous 2009 Triple's Michelin Battlax and the Pirelli Corsa, that come as standard on the 2018 R models.
They immediately feel more grippy once run in, although admittedly not really tested in poor weather thanks to the glorious Summer weather we're having. A definite plus in the confidence building department for a really good riding experience - both physically and mentally!
Mods
Having added the adjustable Triumph brake and clutch levers, I would say these are a benefit to those with a short hand span like mine! Although saying this, I had been riding round with them both set at 6 for a bit of time, not realising that the shortest grip is 1! Cue - aching thumbs!
It makes sense from an aesthetics point of view so that the arrows are equally balanced when looking down at the levers...which is pleasing when you like things to be balanced visually like I do! The red detailing on them really set the look off nicely and seem to be good quality Triumph original parts.
Running In
It took around 300 miles or so I think, with the rear brake seeming to take the longest time to bed in. The parting statement on pick up of, "So....it won't stop and it won't grip!" was a little disconcerting, but makes sense. I've just not had a brand spanking new bike before to consider these facts!
The statement turned out to be very true...thank you honest and open Triumph salesperson...but easily remedied with careful riding and plenty of distance left between other moving and stationary road users and plenty of dabbing the brakes while riding along at different speeds.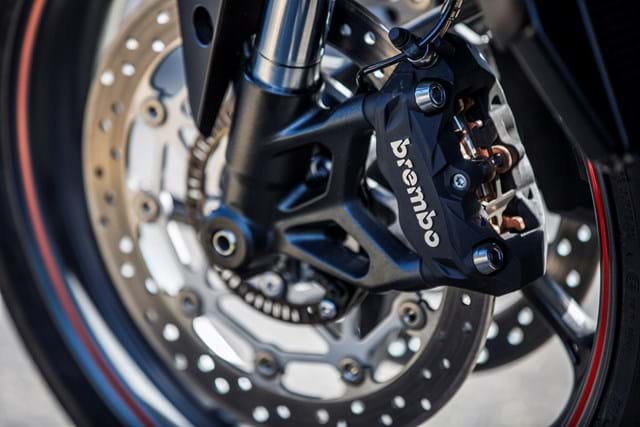 Brakes
The Brembos on this R model really do what they are expected to do, with the added bonus of ABS really working its magic. I've only had the ABS kick in once on a greasy roundabout, and initially thought I had something stuck on the peg as could feel a bounce, but soon realised this was all part and parcel of the brake system doing it's thing.
Mirrors
Having ridden the bike with the 'Hare like ears' for mirrors (truthfully the only bit I couldn't get beyond but knew they were coming off) for most of my s'miles, the RS mirrors are a 100% improvement in my book.
Although there does seem to be a little vibration in them, the viewing angles are much more flexible in terms of tailoring to your needs, with that all important view of the road behind you and who you might need to keep a watchful eye on!
Any Issues?
The 500 mile service was tarnished by a leaky gasket on the alternator...which led me to have a lovely shiny boot as a freebie...but actually, it's a freebie I could do without. This issue has since returned 100 miles later, so may be something to watch out for.
Triumph have been great though, sorting it quickly - which actually is the point. Things go wrong, it's how it's dealt with that matters in my book. Fingers crossed it's now a thing of the past as no-one wants shiny bits where they shouldn't shine!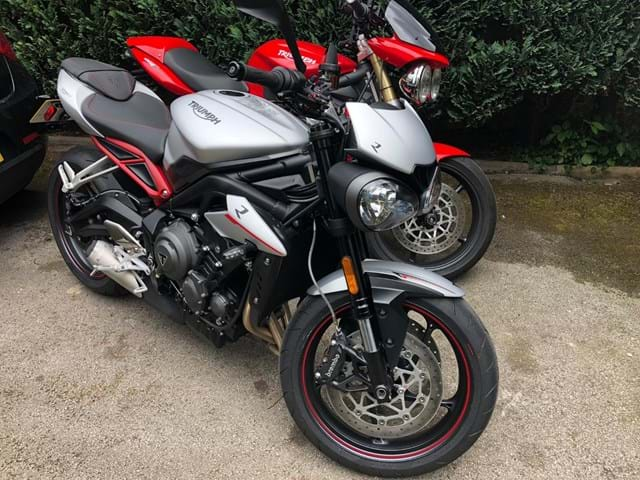 To Sum Up
It's agile, light, well balanced, has a decent turning circle, responsive in clutch, pace and movement capacities....nothing really negative to add at this point!
All in all...and I may be biased as a new bike is always going to have a certain shiny aura about it, I would say you'll love it...no, really really love it, no, Triple R love it :-)
Just Fun. Capital F.
- Sage R, 2018
Price Guide
Year
Dealer
Private
Part Ex
Mileage
2019
£7,600
£6,100
£5,300
5,100
2018
£7,150
£5,700
£5,000
4,900
2017
£6,750
£5,400
£4,700
6,700
How to use the price guide
Related Bikes
Triumph Street Triple RS - Top of the range model with more power, a fancy Ohlins shock, Brembo M50 brakes, a quickshifter and sticky tyres.
Add Your Review
Do you own this bike? We would love to hear anything good, bad, unexpected or that you have changed plus anything that a prospective new owner might find interesting or useful.
More Info
Check out this video review from TheMissendenFlyer.