Lexmoto Isca Review (2019)
"
The Lexmoto Isca is a good, solid, little bike that'll do you for commuting and getting your skills together for a larger bike.
"
What Is It?
The Lexmoto Isca is a budget learner friendly naked bike which effectively replaces the Aspire. It's powered by an air-cooled 124 cc single cylinder engine with a balance shaft, producing 10.7 bhp at 9,000 rpm and maximum torque at 7,500 rpm. The engine can also be found in the Assault.
Specs
Seat Height: Low (

780

 

mm / 30.7 inches)
Weight: Light (130 kg / 287 lbs)
Economy: Very good (80 mpg / 3.5 l/100km / 28.3 km/l)
Range: Very high (280 miles / 451 km)
Power to Weight: Low (0.085 bhp/kg / 0.063 kW/kg)
Top Speed: Average (70 mph / 113 km/h)
Pros
Learner friendly
Looks great
Huge range
Great value
Handling
Comfort
Cons
Headlight isn't LED based
Previous gen engine tech
No luggage rack
Tyres
Seat
What Is It Like?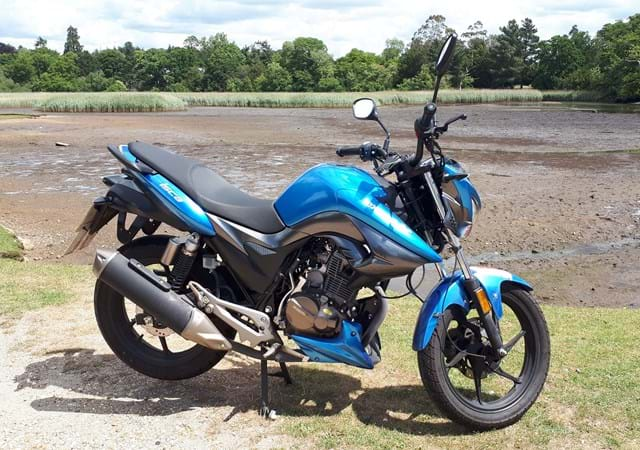 2020 Lexmoto Isca
About me
I am a 6ft tall bloke with a penchant for bacon sandwiches. I am old enough to know better (or so I'm told).
I've been riding small single cylinder bikes on and off for over 10 years. I started on 50 cc scooters, then swiftly moved on to 125 cc scooters, then onto manual bikes. After a brief hiatus and injury I am back on the motorbikes and looking forward to getting something larger for longer journeys.
Why did you choose it?
I chose the Isca for a few reasons. Budget was first. After that, I wasn't interested in the Bluetooth radio that came with the Venom and I didn't want a hunched over sports bike like the LXR.
I wanted something I could commute on with good visibility. Isca is also the old Roman name for my home town.
What is good about it?
The Isca has a huge fuel tank for a 125 cc. When going town speeds you barely use any fuel at all so it lasts forever. I've actually worked out it is cheaper to fuel the Isca than when I used to cycle.
It's more upright than most naked bikes which means its more comfortable when sat in traffic and it's cheap. Not cheap and nasty, not cheap and cheerful, it'll simply get you from A to B consistently, and with low cost, while you do your big bike licence which is exactly what these bikes are for.
What could be improved?
As with any budget bike the improvements list can be very long until you get to your dream bike. More power, better tyres, more cornering speed, faster off the lights, whatever you can think of until it's not the bike you bought any more.
For this bike, the seat could do with being flatter. You have a tendency to slide forward during longer rides.
The headlights are woeful. Running lights are good for town driving with street lighting but get out on the sticks with full beams and you soon realise how much you're missing. For example, that pothole. And that patch of gravel.
What is the economy like?
The economy is ridiculous. Fill it up for about £16 and don't look at it again for a month.
Any mods or upgrades?
I fitted an alarm. Point of note, when arming / disarming the alarm, it lets everyone within a half mile radius your bike has an alarm on it. It'll scare little old ladies and make cats jump.
How is the engine?
The first 300 miles were....interesting....as it bedded in. Constant power issues with hunting on idle, revving and a sticky gearbox that never found neutral, or worse, did when you didn't expect it. After about 1,000 miles it settled down and sorted itself out and its now smooth. For best results, 4th gear at 45 mph or 5th gear at 50 mph has no vibration at all.
It's actually an honest bike. If you do 60 mph on the flat and you look at a slope, you know it'll lose a few miles an hour in comparison. If it's a steep hill it behaves exactly as it should, you know you'll need to knock it down a gear or two. If you think ahead and plan your gear changes it's as expected. Certainly across the hillier bits of Dorset it ran absolutely fine.
It does make a lot of happy revving noises which sounds like it's going a million miles an hour, you look down and you're safely doing 40 mph....but that's what 125 cc's are all about.
It's like a mad toddler running around, screaming at full volume. You know it isn't actually going to hurt anyone but if an adult was doing the same thing, holding scissors, you'd back away and find a different room to be in. Preferably one with good sturdy locks.
How does it handle?
The stock tyres, when new, were very sketchy in the wet. I've got about 2,500 miles on them now and they are a little better. In the dry though they are absolutely fine.
In terms of balance and general handling it has a low centre of gravity, even with me on it. That means for emergency manoeuvres or getting through traffic it's a breeze. Interestingly I've found that if you lean far enough, even at speed, your pegs hit the floor before your wheels lose traction. I won't be playing that game too many times though.
What are the brakes like?
Ah, the brakes. If you're going to ride like a loony, change the pads. If you're going to ride "properly" the brakes are fine.
The Isca has a combined braking system to meet Euro 4 regs. It feels odd when doing slow speed manoeuvres but you soon get used to it.
Is it comfortable?
I've taken this bike on a few 100+ mile rides now and it's reasonably comfortable. You do tend to drift forward on the seat due to the angle so you do find yourself resitting every now and then. It's not horrendous though. There is also enough room to alter your posture around the seat and the tank.
The only thing I would say is that at 6 foot tall I wouldn't mind some more vertical space between the seat and the pegs, but again, saying that, I've spent 2 hours in the saddle in one go and it wasn't overly bad. There's a good amount of padding but it's not a sofa.
It has a pillion seat, but finding a human that'll sit on it for more than 5 minutes and be comfortable will be an interesting challenge.
How reliable have you found it?
I've only done a couple of thousand miles, nothing has gone wrong yet.
What's the servicing frequency and cost like?
After you get the first three services out the way the suggested service for warranty is every 1,000 miles or so at a dealer. I pay £75 for my service just to retain warranty.
To sum up
The Lexmoto Isca is a good, solid, little bike that'll do you for commuting and getting your skills together for a larger bike. It can also do those longer rides you may want to do.
It isn't quick, but then if the speed limits are 20 mph to 50 mph, you don't need to be. It's half the cost of a new Honda, or about the same cost as a second hand Yamaha YBR, but you don't know what those bikes have been through.
It's an amount of fun, wrapped in a 125 cc naked bike package that just wants to get you to work cheaply. It succeeds in doing so.
- Trevor N, 2020
Price Guide
Year
Dealer
Private
Part Ex
Mileage
2020
£1,600
£1,300
£1,150
3,700
2019
£1,450
£1,150
£1,050
5,100
How to use the price guide
The Second Opinion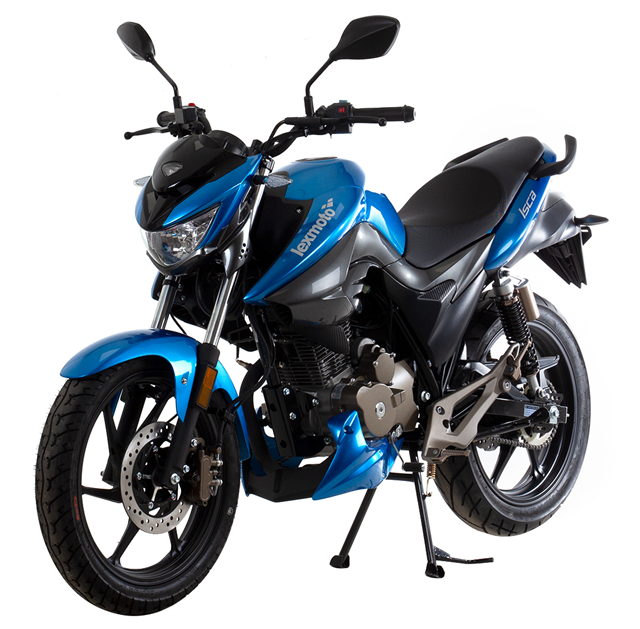 What's Good?
This bike is a great commuter, decent enough performance to let you sit at 50mph on long stretches and have a little fun on the twisty country roads but manoeuvrable enough to filter through traffic with ease when you get to the town.
It's perfect for anyone wanting an excellent value no frills commuter but maybe not for someone wanting massive speeds or more accessories such as the music system found on the Venom. Also taller riders will definitely want to see if the ergonomics suit them as this bike is on the smaller side
Equipment
The display that comes with the Isca is somewhat minimalist but provides just the right amount of info. You get a digital speed indicator, a gear indicator, a trip calculator which can be switched to miles, a clock and a fuel gauge. No frills but all the necessities for a commuter.
The bike also comes with a centre stand as standard making maintenance easier and an impressive 16 litre fuel tank meaning you won't be filling up every night on the way home from work.
Storage
As a dedicated commuter it would be nice to see this come with a luggage rack as standard as opposed to the largely pointless pillion handles to make it easier to fix a top box.
Performance
It's a 125cc motorbike. It's not going to blow you away with performance and inclines will have you tap dancing on the shifter. That said it will make 50mph and sit there pretty happily, which will be fine for anything except dual carriageway commutes.
The rear brake is linked and both brakes very responsive, perfect for those emergency stops but not too grabby for when you're on the open road. One of the its greatest assets is the manoeuvrability which easily allows you to weave between traffic and cut out long queues.
Comfort
The seating position is fairly upright and the pegs aren't cramped for a 5'9" frame although anybody taller may start to feel like a circus performer.
The ground clearance is low enough to be able to easily flat foot at traffic lights and the seat is very comfortable for an hour commute.
I haven't had the opportunity to ride with a pillion but I suspect pillion comfort would be poor given the slim profile of the pillion seat and the plasticy grab handles.
Build Quality
The headlight has been the only issue I have had in the 1,000 miles I have ridden so far, blowing my high beam when I hit a pothole, which suggests the enclosure isn't as sturdy as it could be.
I have regrettably crashed the bike at a slow speed and whilst the bodywork obviously took a bit of a hit the rest of the bike seemed un-phased. I think this is a testament to the build quality, which has been a bit of a spectre hanging over Chinese built bikes for some time.
- Albert B, 2019
A Few More Thoughts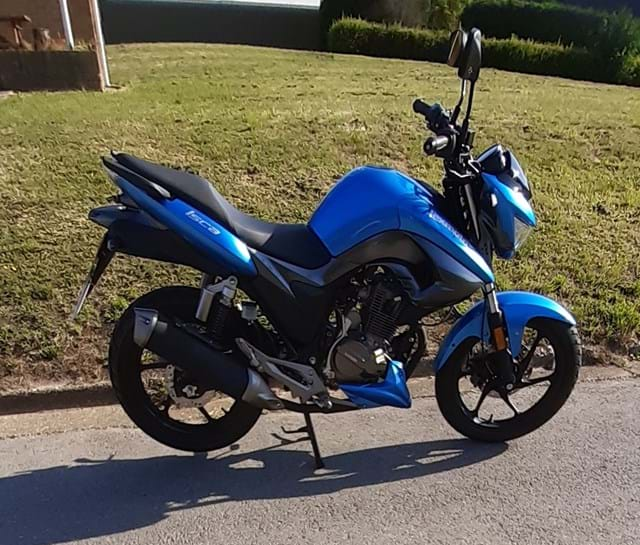 About me
I'm a male in my mid 50s with 6 years riding experience.
Why did you choose it?
Value for money
Looks
Previous experience
What is good about it?
Reasonable priced
Good looking
Value for money
What could be improved?
I've not really found anything I would change.
What is the economy like?
Currently 100 miles to a gallon or over 200 miles to a tank of petrol.
Any mods or upgrades?
I wouldn't change anything.
How is the engine?
Excellent, well made, easy to clean and it sounds nice.
How does it handle?
I've used it in both wet and dry and it handles well. Although I'm driving sensibly and not red lining it in all gears.
What are the brakes like?
Sharp.
Is it comfortable?
I do 200 miles a week and find it very comfortable. Never get off with any aches.
How reliable have you found it?
As it's brand new very reliable.
What's the servicing frequency and cost like?
I'm just had 2,500 mile service and I'm paying £70 a service from the dealer.
To sum up
The Isca is great value for the money, looks great and I highly recommend it anyone.
- Jeremy P, 2020