Honda RVF400R (NC35) Review
What Is It?
The 1994 Honda RVF400R (NC35) is a small premium sports bike which is prized for being light, agile and somewhat rare.
Engine: 399 cc V4, 59 bhp
Economy: 35 mpg, 140 miles
Top Speed: 130 mph
Seat Height: 780 mm
Wet Weight: 183 kg
| | | |
| --- | --- | --- |
| What Is It Like? | | ★★★★★ |
| | |
| --- | --- |
| ✓ | Small, light, agile |
| | |
| × | Not ideal for taller riders |
Reliability
This bike is 22 years old and has 90,000Kms on the clock. I bought it 4 years ago, and it had 35,000Kms on the clock. I don't commute on it – all that mileage has been touring (yes!) and "playing out".
Some things have failed – but nothing serious – especially considering the age. The bearings on the clutch actuator lever failed at 75,000Kms but the local bearing factor made a set for £25. Aside from that all I've done is get it serviced regularly and keep throwing new tyres at it.
Ride
If you are taller than 5'8" then this bike will cripple you – thankfully I am only 5'6" and it fits me perfectly. It is a sports bike – but I've used it for quite a few "thousand mile weekend jaunts" and I can easily cover 500miles in a day without aching. This is the best handling, sharpest bike I've ever owned – and bikes I've owned (or currently own) include an R1 and an MV Augusta F3. The bike is so tiny it turns on a pin. The suspension, once properly set, handles all I can throw at it. Heavier riders might benefit from a new shock – but for me (80Kg in my leathers) it is fine.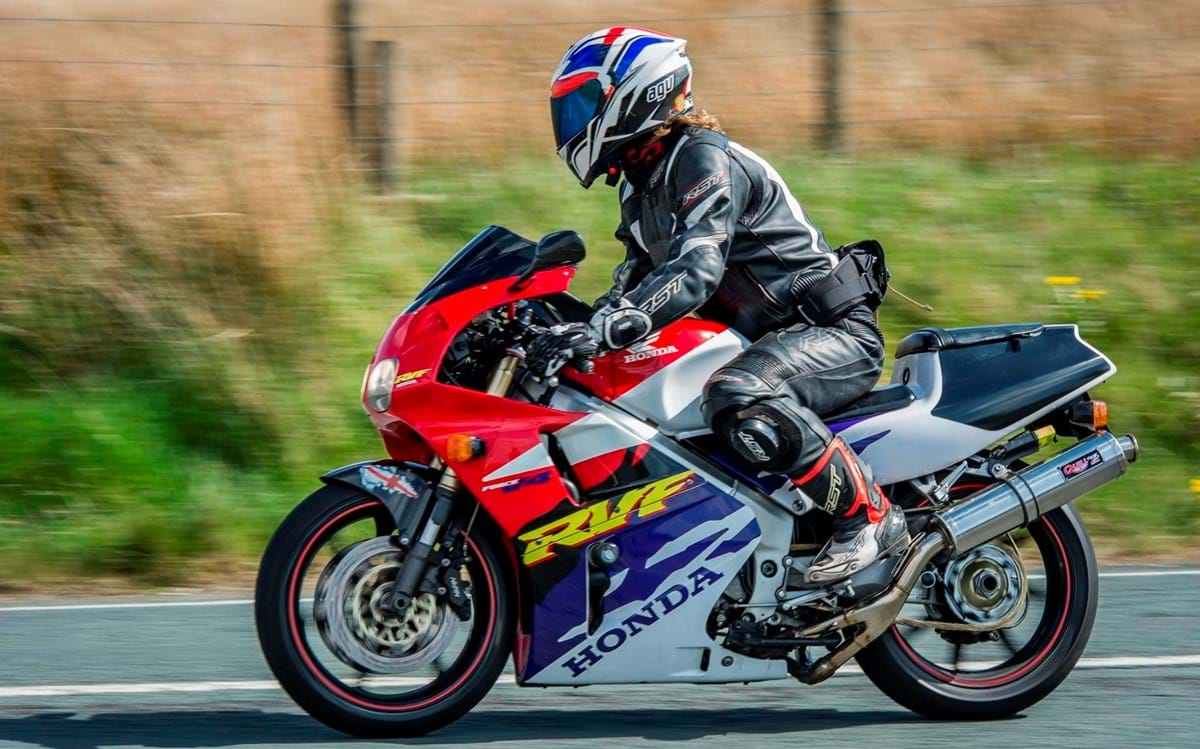 Technology
Non. Well, you might count a choke lever or horn button? But no…no technology at all.
Costs
I paid £5000 4 years ago for her – she was and is in mint condition. Insurance costs me £60 per year. I get 200Km (120miles ish) to reserve (12L) and then another 30 to 40 miles on reserve. If I am being properly enthusiastic I might get 2000miles from a rear tyre – but being so light you can use rubber so sticky that my MV would chew it up in 100miles.
Things I've changed
I've stuck heated handle grips on her, and also wired the reg/rec directly to the battery.
Summary
This bike is a keeper. She might only have 60bhp but I am as fast on this as I am on my MV Agusta or my R1 on the very twisty roads. The power delivery is predictable – open the throttle at any lean angle and there is no fuss, she just goes faster. The Bridgestones stick to the road like chewing gum and the bike is so light and tiny it inspires you to new levels of lunacy. I may well sell my other bikes for newer models but I can't see me ever parting with the RVF400 – because I can't see any company making anything like this again. They are completely over engineered – at the time of manufacture they cost £10k (a brand new R1 a couple of years later cost only £9.5k). Wonderful little bike. I only wish I'd bought one when they were new – but all those years ago I was equating "bigger and faster" with "better".
- Mark F, 2018
Honda RVF400R (NC35) For Sale →
Price Guide
| Year | Dealer | Private | Part Ex | Mileage |
| --- | --- | --- | --- | --- |
| 1994 | £6,300 | £5,050 | £4,400 | 29,500 |
| 1995 | £5,150 | £4,100 | £3,600 | 29,200 |
| 1996 | £4,000 | £3,200 | £2,800 | 28,900 |
Year shows signs of appreciation
How Does It Compare?
Honda CBR400

(1990-1996 NC29 Gull-Arm)

Engine

399

cc

Power

59

bhp

Seat

750

mm

Insurance

6 / 10

Cost

20% less

Suzuki RGV250 VJ21A VJ22A

(1987-1994)

Engine

249

cc

Power

58

bhp

Seat

755

mm

Insurance

6 / 10

Cost

Similar