Honda CBR1000RR Fireblade 2010 Review (2010)
"
Exceptional! I have no interest in newer bikes as my Blade does it all, looks so good and still feels fresh!
"
What Is It?
The Honda CBR1000RR Fireblade is a dedicated premium sports bike and is powered by a liquid cooled 999.8 cc inline four engine, producing 175 bhp at 12,000 rpm and maximum torque at 8,500 rpm.
Specs
Seat Height: Average (

820

 

mm / 32.3 inches)
Weight: Average (200 kg / 441 lbs)
Economy: Average (40 mpg / 7.1 l/100km / 14.2 km/l)
Range: High (160 miles / 257 km)
Power to Weight: Very high (0.875 bhp/kg / 0.652 kW/kg)
Top Speed: Very high (180 mph / 290 km/h)
Pros
Smooth power
Handling
Comfort
Brakes
Looks
Cons
Better suited to shorter riders
No fuel gauge
C-ABS system
What Is It Like?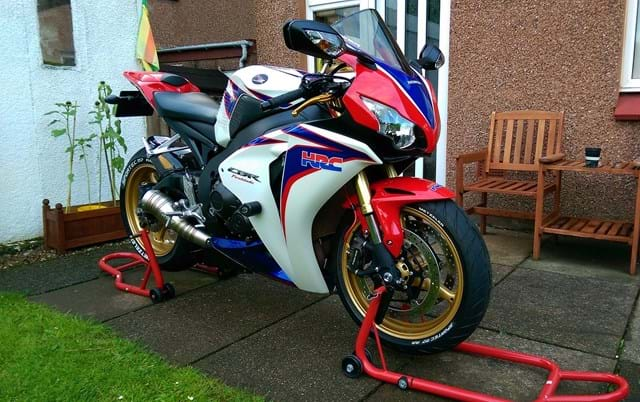 Honda CBR1000RRA Fireblade
About Me
I'm a 54 year old male, 5ft 8'', with 36 years riding experience and I have owned 7 bikes.
Why Did You Choose It?
The Blade was and still is my dream bike!
What's Good?
Where do I start! For me, it's my perfect bike, from my first test ride I was smitten!
It's the only bike I've ridden or owned that feels so special! Just the feel of everything! The way she steers, goes (seriously rapid) and stops. She feels absolutely planted but nimble and light on her feet, she's very forgiving but totally thrilling.
She's also a real looker in her HRC colours, with no shortage of compliments wherever I've stopped.
I've tried other sport bikes from most of the main manufacturers but I've never been swayed and glad to get back on my trusty Blade.
What Could Be Improved?
As a performance bike, nothing really! For some the lack of a fuel gauge can be annoying but I don't really have a problem with that.
The height of the pegs are high and some taller riders may find them a bit extreme.
What's The Economy Like?
I find my Blade surprisingly economical. I normally see no less than 53 mpg while touring and that's with spirited riding
Any Mods or Upgrades?
Protective - All are a must as Honda parts are extortionate
Radiator guard
R&G crash protectors
Stomp grips
3M Ventureshield paint protection - saved me unknown stone damage on Scottish B roads!
Performance
Leo Vince Gp Pro Evo II can (the stock can is way to quiet and heavy)
PCV with map switch and had custom maps baffle in-baffle out
SF Sprint air filter
Translogic Quickshifter
Racetorx Gear Shift support
Lithium Battery
Cosmetic
Lightech chain adjusters
GI pro gear indicator
Various Stainless and Titanium fasteners
Fork preload adjusters.
Engine
The engine is the heart of the Blade, it's turbine smooth with power everywhere and it picks up strong from just below 3,000 rpm all the way to the redline. It has so much grunt you can be lazy with gear changing and the drive out of corners is sublime!
I like the lack electronics, less to go wrong and you get exactly what you ask for, a pure analogue experience with no surprises.
There was talk of Blade's being oil burners but I haven't experienced that, neither has the other owners I know, from what I hear other manufacturers are no better and sometime worse.
Handling
One word Sublime! As a stocker package it ruled the Isle of Man TT for a number of years, beating more powerful bikes!
It's a bike that's easy to ride fast and gives you loads of confidence. The way it hooks up and just goes is a testament to the chassis.
Brakes
I find the stock brakes brilliant. I have fitted braided lines and SBS pads for extra bite but they didn't it. I just enjoy the extra feel and power that they give you!
I have a non ABS model which I'm extremely glad of, as the Fireblade forums are full of problems with the abs system! There are some real horror stories also maintenance and bleeding the system can run into £100's
Comfort
I find the Blade a very comfortable bike for my height and weight! I have a comfort seat which will help but I don't find her wristy at all.
With the Honda's taller screen it's a joy to go touring. I been to Europe and travelled the length of Britain without issue, we've clocked 25,000 miles together and I've loved every minute.
Reliability
I have had absolutely no issues in the 10 years I've owned her!
To Sum Up
Exceptional! I have no interest in newer bikes as my Blade does it all, looks so good and still feels fresh! I feel lucky to be her owner and will keep her as long as circumstances allow!
- Trevor P, 2020
Price Guide
Year
Dealer
Private
Part Ex
Mileage
2011
£6,450
£5,200
£4,550
17,400
2010
£6,100
£4,850
£4,250
19,100
How to use the price guide
Add Your Review
Do you own this bike? We would love to hear anything good, bad, unexpected or that you have changed plus anything that a prospective new owner might find interesting or useful.