Suzuki GSX1400 Review
| | | |
| --- | --- | --- |
| Overall | | ★★★☆☆ |
| | |
| --- | --- |
| ✓ | Loads of low down torque, comfy riding position |
| | |
| × | On the heavy and large end of the scale, runs out of power at the top end |
What Is It?
The 2001 Suzuki GSX1400 is a naked bike famous for providing loads of low down torque.
Engine: 1,402 cc Inline Four, 106 bhp
Economy: 40 mpg, 190 miles
Seat Height: 790 mm
Dry Weight: 226 kg
RRP: £6,500
What Is It Like?
It was January 2016 and I had a WhatsApp message from a friend that I hadn't seen for a good 5 years. It was a picture of a black Suzuki GSX 1400 that he was selling, he asked if I knew of anyone that was interested in the bike it is a K2 model with 11,000 miles on it with 3 previous owners.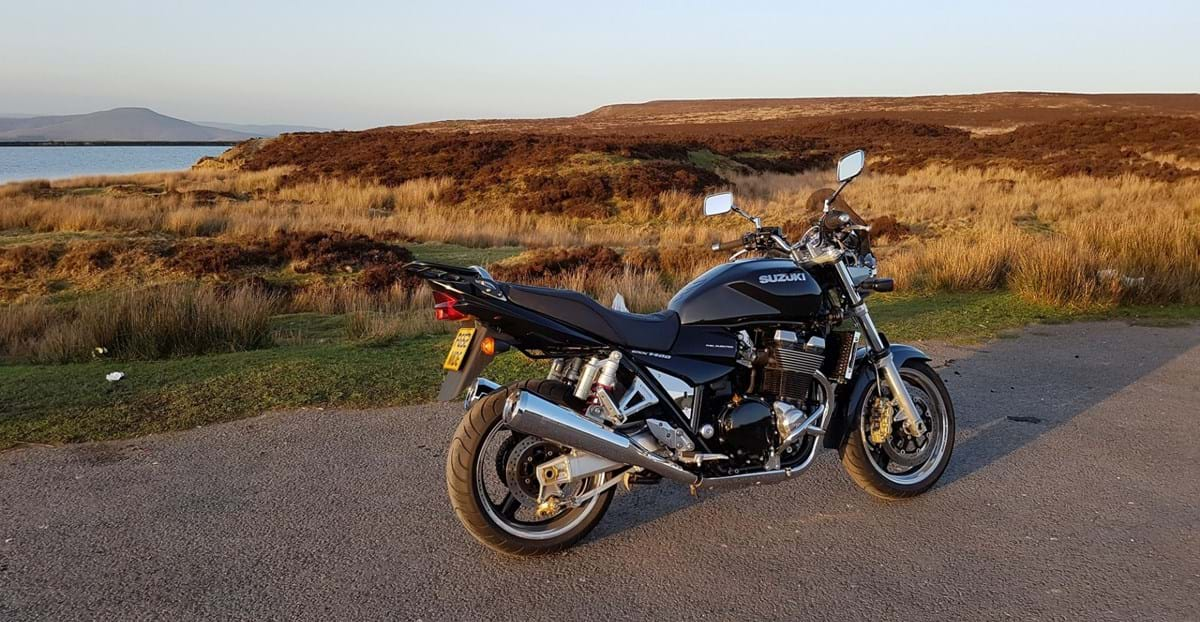 It turned out that he had bought the bike from someone who travelled around Europe on it, then sold it to an older gent, then bought it back a few years later because the older gent hung his leathers up due to old age.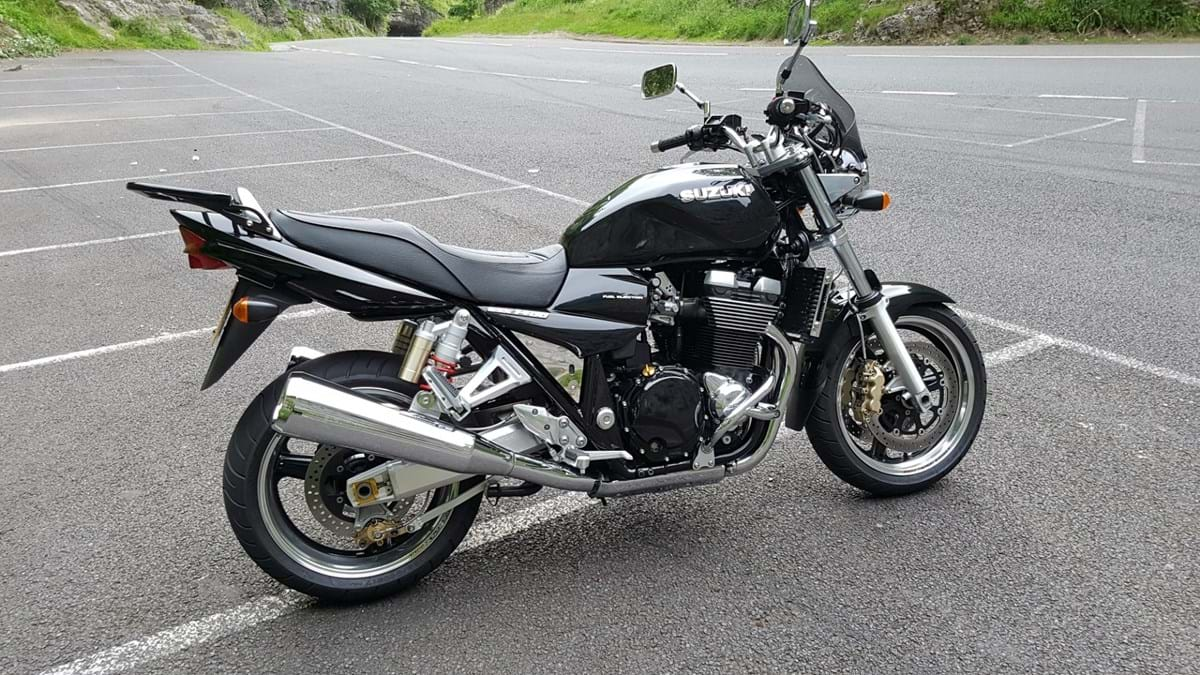 I said I would ask about to see if anyone was interested then the next day I happened to open the WhatsApp picture up on my pc and it was in greater detail and I thought my god that's in good nick so I got back in touch and went to see the bike and bought it there and then. I wasn't expecting too much because I already owned a Suzuki B-King but boy I was wrong. This bike is a dream. It has so much grunt on tap and with its 6 speed gearbox (all the other big retro's have a 5 speed) it's a fabulous mile muncher and comfy with it.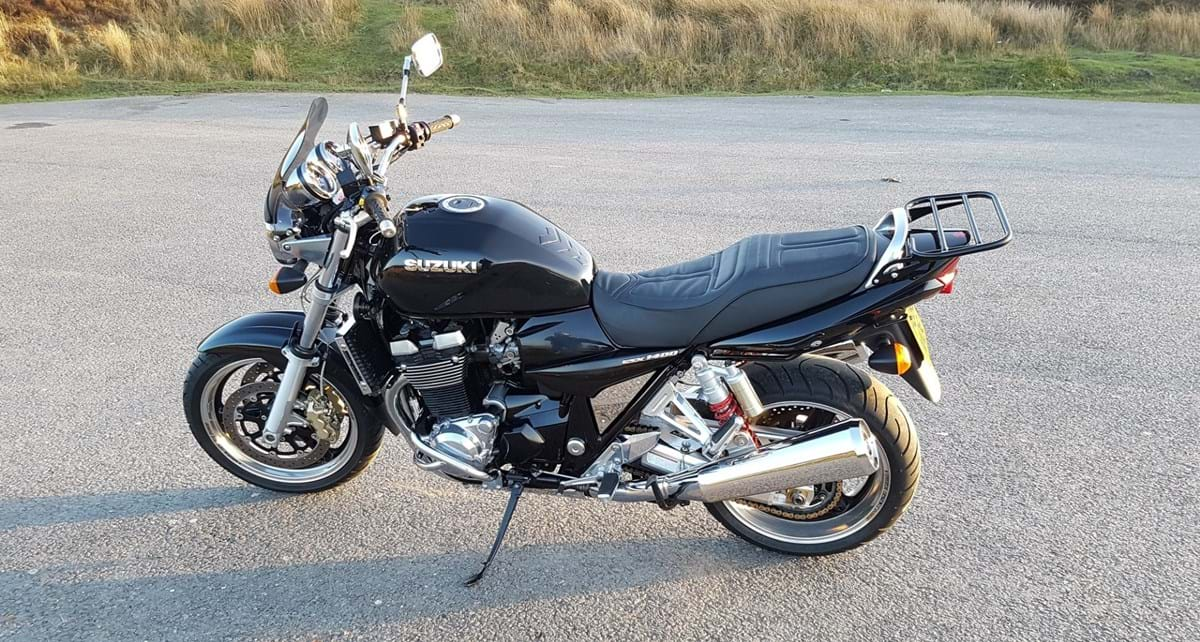 Handling is surefooted but can get a bit loose when really pushing on but hey it's not a race rep and brakes are good but need maintaining being Tokico 6 pots. It's the best bike I've had for carrying a pillion by a country mile due to the upright riding position and the big seat and it's fair to say it's the bike I've used the most since I have bought it, my ZRX 1100 and Zephyr 1100 don't get used as much as they used to and I would recommend one to anyone just go and have a test ride on one if you are looking for a retro bike, mine's a keeper for sure!
- farmersti, 2017
Price Guide
| Year | Dealer | Private | Part Ex | Mileage |
| --- | --- | --- | --- | --- |
| 2001 | £4,150 | £3,300 | £2,900 | 16,200 |
| 2002 | £3,950 | £3,200 | £2,800 | 15,700 |
| 2003 | £3,950 | £3,150 | £2,750 | 15,100 |
| 2004 | £4,050 | £3,250 | £2,850 | 14,500 |
| 2005 | £4,350 | £3,450 | £3,050 | 13,900 |
| 2006 | £4,750 | £3,800 | £3,350 | 13,100 |
| 2007 | £5,350 | £4,300 | £3,750 | 12,400 |
| 2008 | £5,950 | £4,750 | £4,150 | 11,600 |
Year shows signs of appreciation