Suzuki Address 110 Review (2015)
"
If I just want to get on a bike and get to work, or to the shops, or have an afternoon riding, the Address makes it as simple as simple can be. The bike just works, every time.
"
What Is It?
The Suzuki Address 110 is a mid-range maxi scooter and is powered by an air-cooled 113 cc single cylinder four stroke engine, producing 9 bhp / 7 kW at 8,000 rpm and maximum torque at 6,000 rpm.
Specs
Seat Height: Low (

755

 

mm / 29.7 inches)
Weight: Light (97 kg / 214 lbs)
Economy: Very good (110 mpg / 2.6 l/100km / 38.9 km/l)
Range: Average (130 miles / 209 km)
Power to Weight: Low (0.093 bhp/kg / 0.069 kW/kg)
Top Speed: Average (65 mph / 105 km/h)
Pros
Easy to work on
Super light
Economical
Low seat
Handling
Reliable
Capable
Cons
Some large helmets don't fit under the seat
Can suffer a bit on hills
Soft suspension
No USB port
What Is It Like?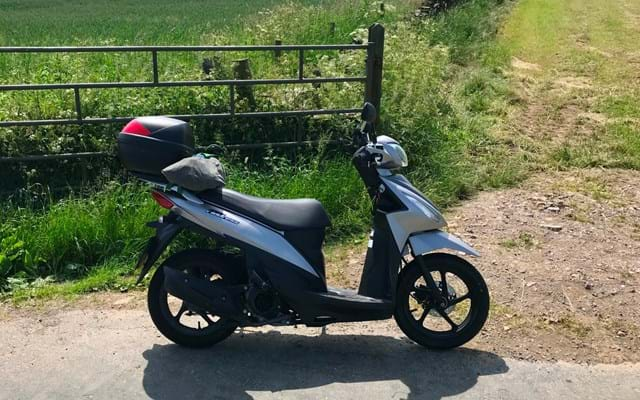 The Package
After owning and riding the Suzuki Address 110 for just over 12 months, I think it's safe to say that I love this little scooter. If you're lacking in time or have a short attention span, let me cut right to the chase. The Suzuki Address 110 is a brilliant bike. It's not perfect, but I would happily recommend it if you're in the market for a smaller capacity (125cc or below) scooter.
On paper the Address looks very much like any other scooter in this category, and for the most part it is. Physically it's a fraction smaller and lighter than most of its competitors. According to the brochure it weighs in at a diminutive 100kg and that makes it ideal for smaller riders or those with limited space. I bought it to load easily in the back of a camper van, and for this it would be perfect.
The Engine
The 113cc, 9bhp air cooled single cylinder engine has been faultless since the day I bought it and will happily pull to 60mph on an average flat road. Throw in some uphill and a headwind and the bike suffers a bit, but it's all part of the charm of riding a smaller CVT driven bike. With no gearbox to stir, you're at the mercy of the terrain somewhat. It's better to relax and enjoy the ride.
The advantage of that CVT transmission is its simplicity and ease of use. The Address is a joy to ride, simply twist and go. I often favour it over its bigger and faster garage mates. If I just want to get on a bike and get to work, or to the shops, or have an afternoon riding, the Address makes it as simple as simple can be. The bike just works, every time.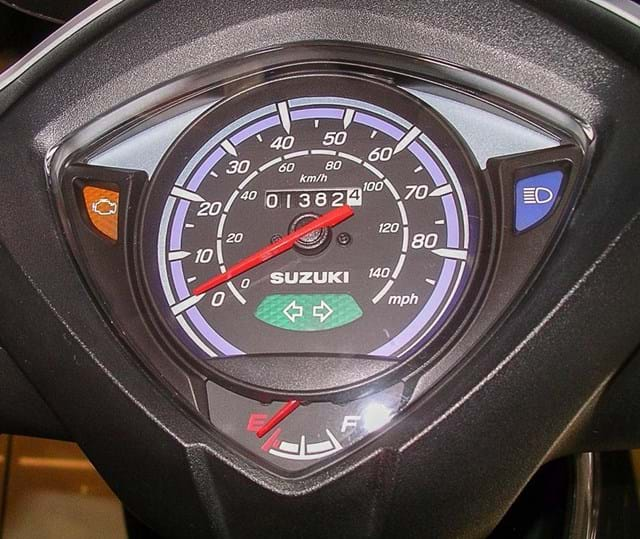 Economy
In normal conditions and around town the Address is pokey enough to make traffic light getaways a doddle, and it's small enough to filter through even the tightest of gaps. I've averaged just short of 120mpg over the last 12 months, and never managed to fit more than a fivers worth of petrol in the 5.2 litre fuel tank. There's even a neat little fuel gauge so there's no worrying about how much is left in the tank.
How Does It Handle?
Braking and handling were a pleasant surprise when I rode the Address for the first time. There's a tiny single piston caliper and disc brake up front, and a drum at the rear. I wasn't really expecting much from them but, though the brakes don't have the greatest amount of feel or feedback, they do pull the scooter up smartly and I've never felt the need for anything more.
The handling was better than I expected having come from a background in geared bikes and heavier machines. The little Address is supremely agile, and doesn't lack for grip. There have been one or two instances of me scraping the centre stand because I was leaning over too much in the corners. It was the physical limitation of the centre stand that stopped me leaning further, rather than a lack of grip or willingness from the bike.
Sure, it's a totally different experience to riding a normal bike, but once you get used to it, it's a hoot. The bike has 14" wheels front and back, which seems a good compromise between the little 10" scooter wheels that drop in to every pot hole in the road, and the bigger wheels you'd find on most geared bikes.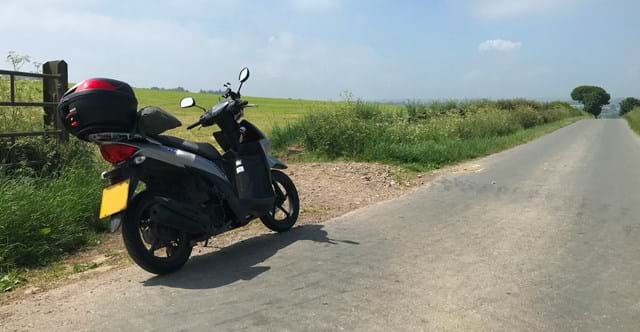 Servicing
Maintenance on the scooter is pretty simple. All the obvious things are where they should be and you won't need a degree in engineering to change the oil or spark plug. Compared to other scooters I've worked on, the Address is actually well set up for the DIY mechanic. Often with these plastic scooters you'd have to remove half the bodywork to get to anything, but not so with the Address.
Suzuki clearly thought about this when they designed it, and it does feel like they expect and encourage owners to work on their bike. The handbook that comes with the bike even has clear and detailed instructions for many of the routine maintenance jobs, which is a neat little touch that I love. There's also a brilliant Facebook group for owners, who have a lot of knowledge between them and seem happy to help.
What's Not So Good?
With all of that good stuff said, let me mention some of the Suzuki's failings. There aren't many and for me they're not a big deal, but it's only fair to point a few things out. Firstly, comfort. The seat is clearly designed for someone shorter than me. At 6ft 2" I'm perhaps not the target market for the Address, so while the seat itself isn't especially comfortable, it's let down further in my case by the hump they always seem put in the middle of the seat so that the pillion rider can sit higher. I end up having to sit further forward than my long legs seem to want me to.
On short journeys and commutes it's not really noticeable, but if I'm out all day then it can get uncomfortable enough to require a leg stretch now and again. I suppose I'm being a little harsh here because I'm using the scooter beyond it's remit. It's not designed for riding hundreds of miles, but in all other respects I think the bike could handle it without a problem. I've been camping on this thing, fully loaded, and it's been absolutely great apart from the seat issue.
Secondly, though the scooter does feel really well built, the exhaust on mine was rusty enough at three years old to require painting in order to make it last. I think again that I'm perhaps being unfair as I ride the bike in all weather conditions and don't spend a great deal of time cleaning it, but it's only fair to mention. Other than the exhaust, the bike is holding up well and mostly everything looks like new.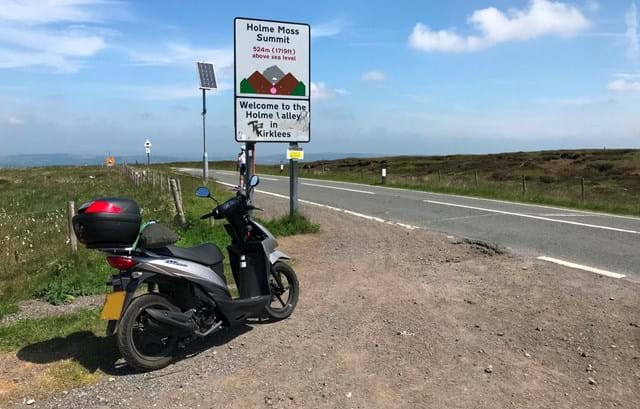 Any Upgrades Planned?
The suspension on the Address is on the softer side. My bike is three years old now and is probably ready for a spruce up. I'll be changing the fork oil soon and I'll probably go for 7.5W rather than the standard issue 5W. I'm also contemplating upgrading the rear shock. As things are at the moment, it can bottom out on particularly nasty pot holes, and it's generally accepted amongst owners that the suspension is a bit too soft as standard.
Additionally, the brake pad retaining pin in the front caliper is known to seize in very quickly, and in some cases I've heard of people having to buy a new caliper when it's been time to change the pads. It's simply a case of regular maintenance though. Every few months I'll spend about five minutes taking the pin out, cleaning it, greasing it, and sticking it back in. It's a super simple job that can save a lot of hassle in the long run.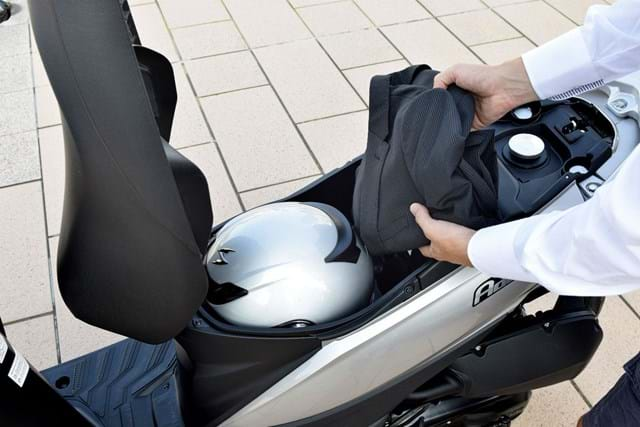 Practicality
Storage on the scooter is generally good, but it must be said that I can't close the seat with my large sized, flip front helmet underneath it, though a jet style helmet fits fine. There's also no clock and no 12v USB socket on the bike. It would have been so simple and cheap for Suzuki to fit these, so it's a bit of a disappointment that they haven't.
To Sum Up
As faults and failings go, I don't think that's bad for any bike. There's nothing there that should put you off buying one and most of the issues are easily fixable. The bike is certainly screwed together well, and has been really reliable throughout my time with it. I've certainly fallen for the charm of this simple little scooter, and I think I'll be keeping it for the foreseeable future.
It might not be as 'cool' looking as some of its competitors, but I'm not 17 any more and I don't care about that. What matters for me is that it's smart, reliable, efficient, simple to work on, fun to ride, and is supported by an established dealer network should I need any parts or any work doing. I'd definitely recommend the Address to anyone, and I'm more than happy with mine.
- John H, 2019
Price Guide
Year
Dealer
Private
Part Ex
Mileage
2020
£2,050
£1,650
£1,450
3,700
2019
£1,950
£1,600
£1,400
5,100
2018
£1,850
£1,500
£1,300
4,900
2017
£1,750
£1,400
£1,250
6,700
2016
£1,650
£1,350
£1,200
8,500
2015
£1,550
£1,250
£1,100
10,300
How to use the price guide
The Second Opinion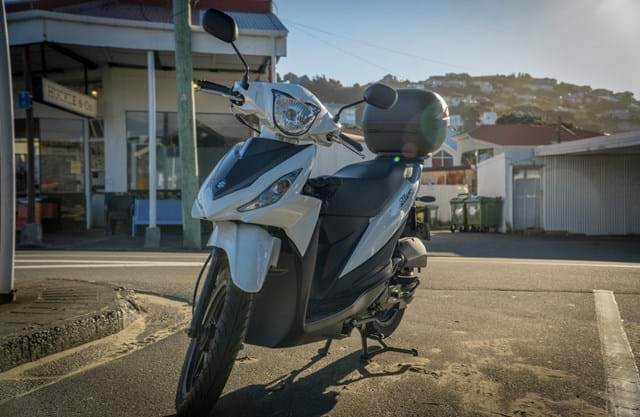 My Experience
I've owned a few scooters, from the zippy and nimble Yamaha Jog, to the plus-sized Vespa LX50. Each have their merits, but all have drawbacks and finding the perfect commuter-scooter is no easy task, but Suzuki seem to have nailed it with the 110 Address!
As a graphic designer of 30 years experience, I often glance my eye over an objects' form and function and the Suzuki Address to my eye is a very nice looking scooter! It's refined, simple in operation and polished, without the "bling" often seen emulating from it's Asian variants, it's simply a very nice looking machine!
How Does It Handle?
The ergonomics are fantastic and very upright in a riding stance. It's light, nimble and not to mention QUICK! The throaty burble of the 113cc 4-stroke takes some getting used to coming from a 2-stroke, but it's a lovely engine, accelerating quickly through the rev range and topping out with my 95kg bulk at around 65mph on the flat and doing so all the while with an astonishingly low decibel level! The 113cc engine capacity, plenty for most situations and the odd highway squirt when required.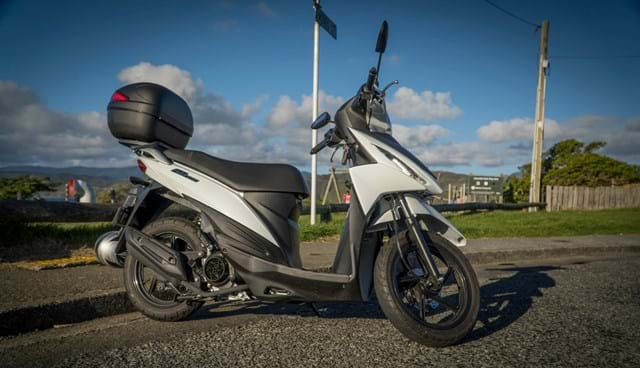 Any Negatives?
There is no fancy digital dash on the address and it doesn't even sport a clock or USB port to feed the demands of the modern social media junkie who needs power on the go, but everything is well laid out. Pillions are a breeze with folding foot pegs and a generous sized seat. I did find Suzuki were a bit optimistic about the underseat storage fitting a full face helmet, it would not in my case, however a half-face fits underneath with ease along with space for a jacket and gloves if need be.
One facet of the address I don't like is the ignition cover, this anti-theft device utilises a specially recessed end of the key with a magnet to move the cover in a bid to ward off a marauding screwdriver entry. Whilst it works, it's clumsy and could have benefited from a more clever design such as utilised on many Yamaha scooters whereby the key itself serves the same purpose.
Living With It
Fuel economy is nothing short of sensational as well and I have no reason to disagree with Suzuki's claimed 140mph … motoring simply does not come any cheaper, coupled with the well-priced nature of the bike in the first place, it's a win-win on so many fronts!
The 14" wheels are fantastic over bumps and humps and whilst the factory tyres appear alarmingly skinny, they provide great grip in anything other than wet, greasy conditions where they struggle slightly.
Self-servicing is a breeze with oil and filter changes done in minutes. I elected to waive my warranty and service myself it's that easy, and let's face it, there is not much to go wrong on a scooter of such basic stance.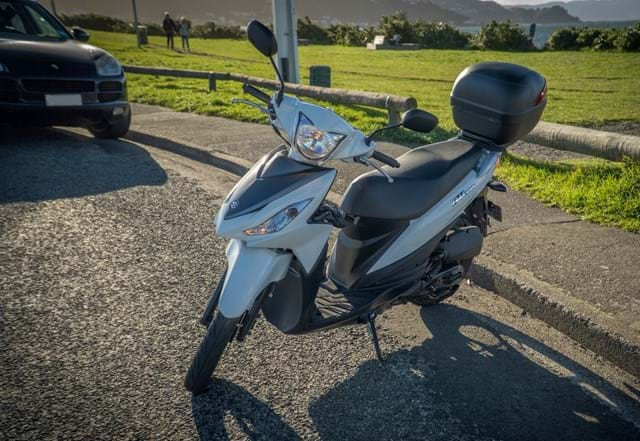 To Sum Up
There may be more refined commuter scooters out there, but bang for buck, nothing even comes remotely close to the Address 110. Honda did do a pretty close knockoff, albeit with a slightly smaller engine at 108cc but in a market where the 100cc to 150cc choice is growing at an astonishing rate, you could do a lot worse than fork out some hard earned cash on this wee gem!
- Andrew H, 2019
A Few More Thoughts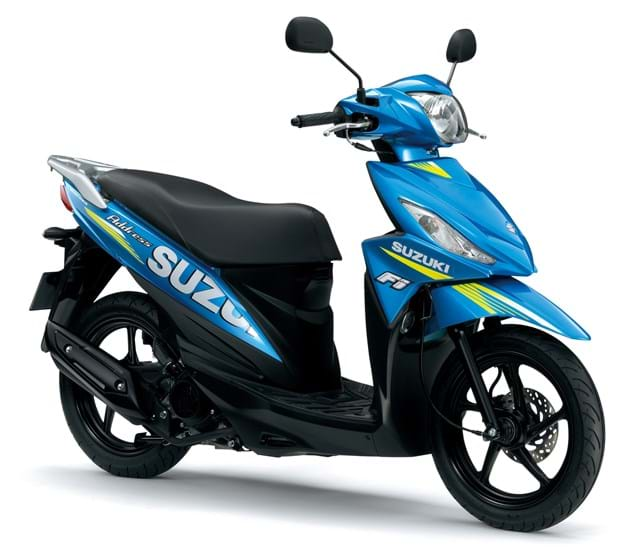 My Address 110 was purchased as a second form of transport to free the car up for my wife. I was looking for a cheap and reliable scooter because I do approximately 125 miles per week on it.
The machine returns about 110 mpg and I am no lightweight but it does 55/60 mph on flat. The storage space under seat is deceptively large and with the a top box I can fit a weeks worth of groceries in. I find the bike light, responsive and a joy to ride.
I've had it for two months from new and have had no warranty issues, but it comes with three years warranty, making it in my opinion superb value for money. Certainly one of my better decisions.
- Andy K, 2019