Honda Grom Review
| | | |
| --- | --- | --- |
| Overall | | ★★★★☆ |
| | |
| --- | --- |
| ✓ | Super compact, learner friendly, economical, easy to customise |
| | |
| × | Best avoid A roads, not that fast, tyres, not hugely pillion friendly |
What Is It?
The 2013 Honda Grom is a mini naked bike which has a massive following, great potential for customisation and which was updated in 2016.
Engine: 125 cc Single Cylinder, 10 bhp
Economy: 110 mpg, 130 miles
Top Speed: 65 mph
Seat Height: 765 mm
Wet Weight: 102 kg
RRP: £2,600
What Is It Like?
Right where do I start. I've owned the bike for 4 years now, after all previous bikes I've owned had just been money pits. The Grom/MSX has by far been the best bike I've ever owned! I'm glad I made that choice back when I got it! They're great on fuel, the most miles I've done were 167 to empty (wish I didn't run it dry though as it can cause problems later on down the line) all sorted now though.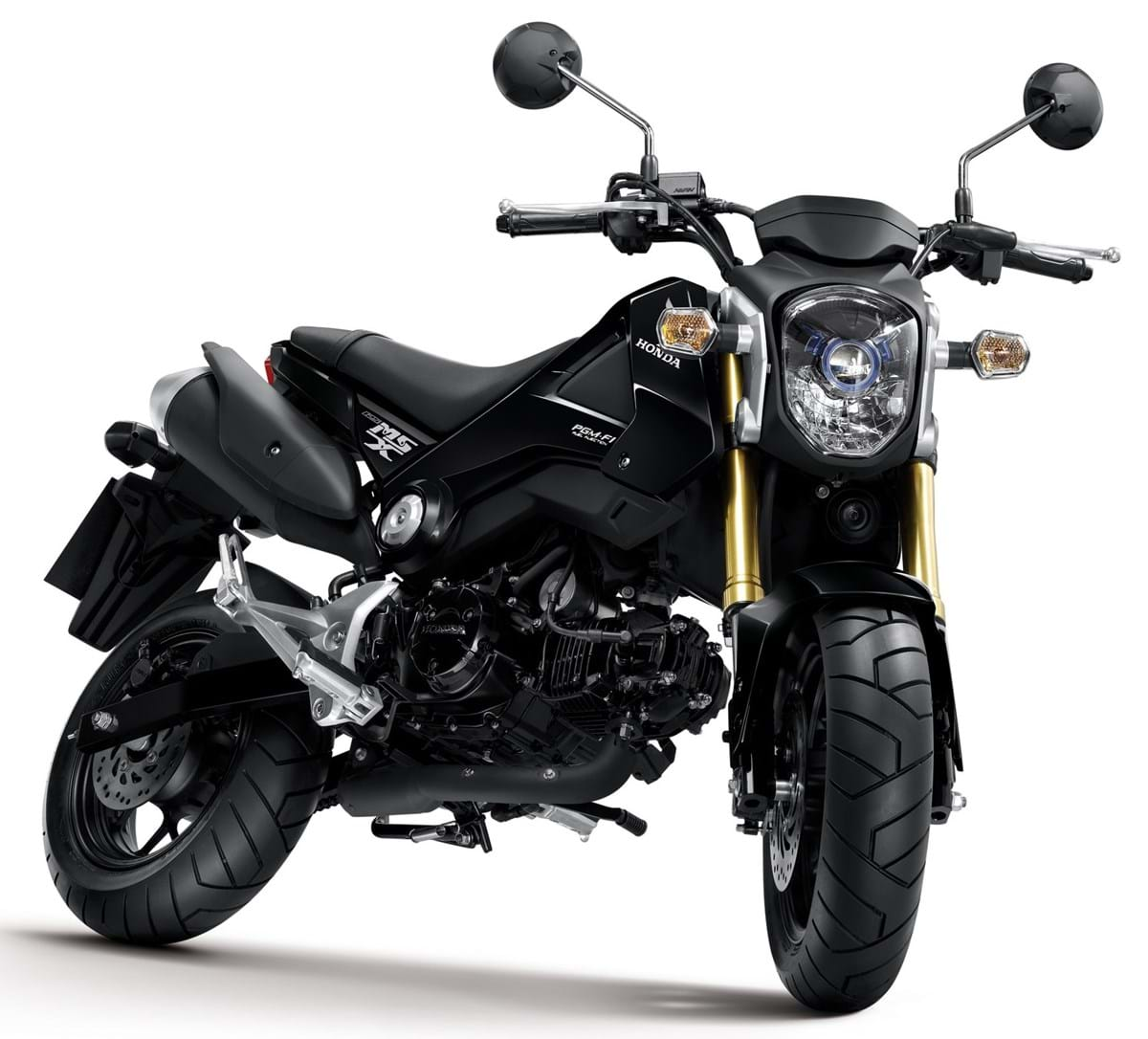 They're a really nimble bike if the traffic is busy and they make filtering look really easy 😂😂 helps with the size! 👌
The speed side of things, well it's not fastest bike to say the least but it's not all about the speed it's about the smiles per mile 👌👌👌👌 Trust me I've had many smiles and I've done many miles, 24 thousand to be precise.. so that's worked out to 6000 per year all year round and all weathers!
The stock tyres that come on the bike are completely rubbish I must admit! Veerubber! I changed them after the first couple hundred miles! Changed to Michelin City Grips, absolutely great tyres I'd recommend them to anyone that's wanting a great set of tyres... a year past and I needed a new tyre on the rear so I then upgraded to Anlas Wintergrip 2's front and rear because it's best to keep the same tread pattern, there also a great tyre. Yes they're winter tyres but I've used mine all year round in all weathers for the past 3 years and they've never let me down! Awesome grip, again I'd recommend them to anyone wanting new tyres for the Grom.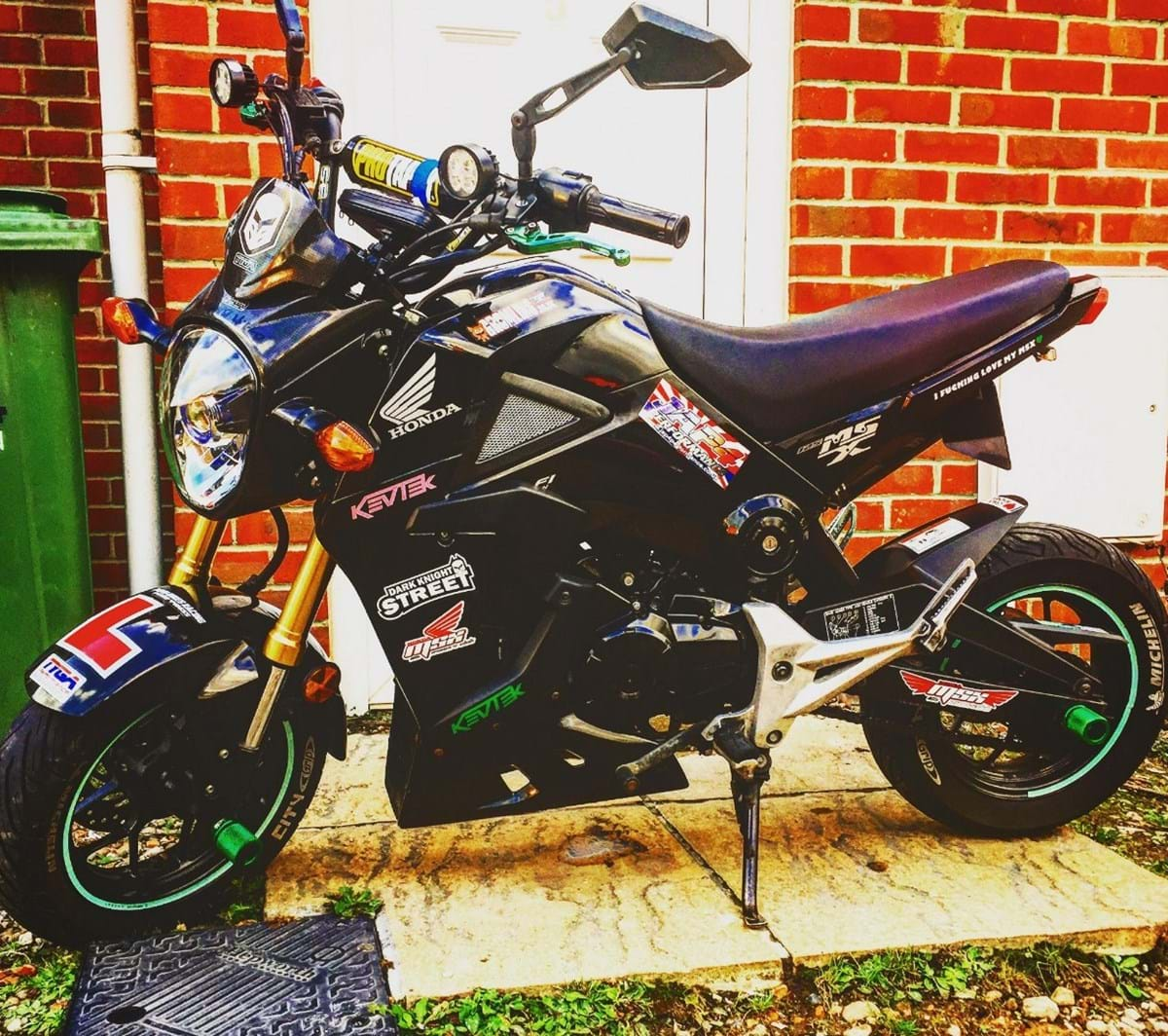 I'm very lucky to still have my Grom if I'm honest.. last year on the 29th of June I had an accident on mine on the way to my induction meeting for my new bike!! Stupid man in a white van slammed on his brakes after pulling out of a junction then straight into reverse without checking his mirrors and ran straight over the top of my bike! Luckily it wasn't written off and I wasn't hurt too much, just bruised and whip lash! The bike suffered £1200 pounds worth of damage!! The third party admitted it was there fault and there insurance payed out! I eventually got the bike back after about 4 months!
Then earlier this year I decided I wanted to go for a whole new look, something different so that's what I did and I'm more than happy with my result!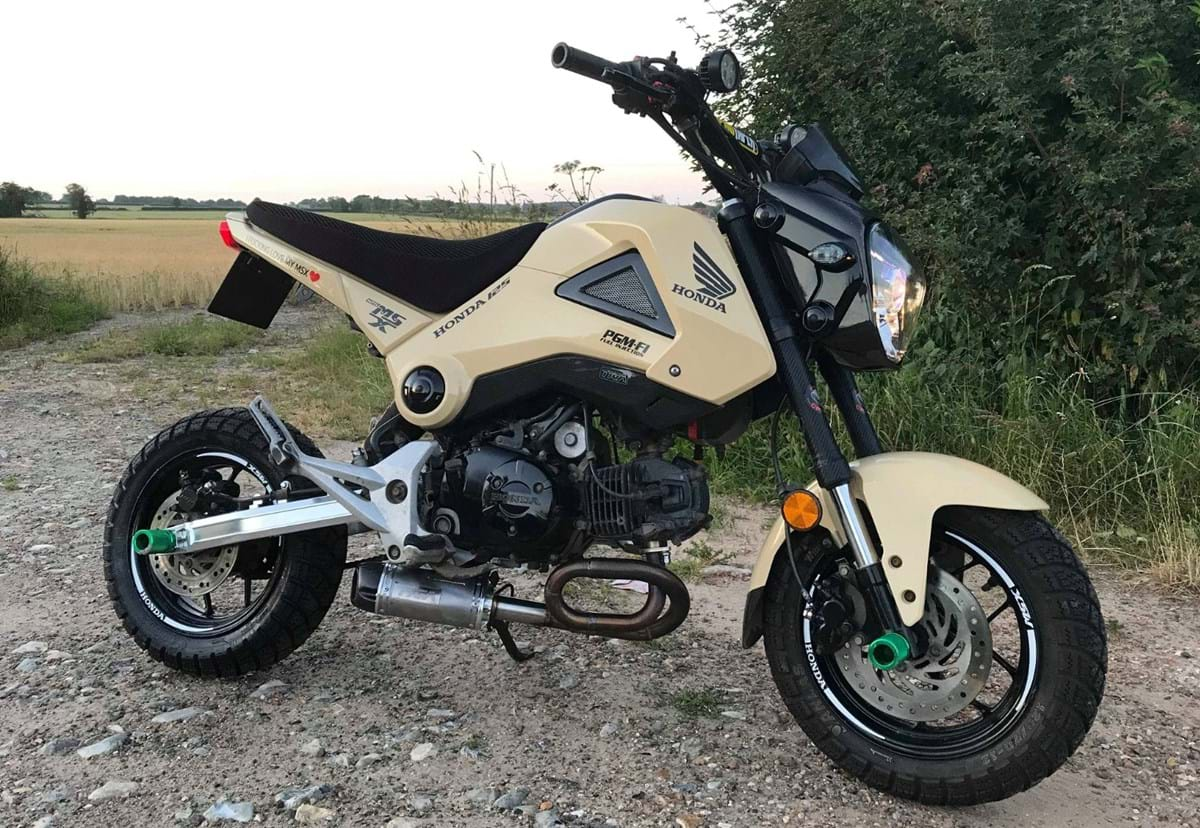 Mods as followed: not as many as others I know 😂
Pro taper xr50 handle bars
Snap back anodised black and red leavers
Tudor special fog lights
Kitaco gear shifter (tons better than stock, straight to the shaft no silly linkage)
Oil temperature and volt meter gauge
Takegawa pod performance filter
Polished velocity stack
Kitaco stiffer clutch springs (60%)
Billet Aluminium clutch plate
Dark knight stree (LoK) axle sliders
Tyga under body performance exhaust (full system
Kepspeed unbraced swing arm
Cobra braided brake lines front and rear (carbon) affect
Tyga carbon headlight surround
Tyga carbon mini fly screen
Tyga carbon air vents
Tyga carbon lower fairing shroud
Tyga carbon tank cover
CBR600 flush mount front indicators
After market carbon fibre tail tidy
Anlas winter grips 2 tyres
Single port USB charger
Lithium light weigh battery
Tudor special fork mod kit: stiffens the forks up and give less travel on the folks less chance of to bottom them out
428 chain and sprockets conversion!
Takegawa seat cover
And I think that's pretty much it! I may have forgotten a few things 😂
I've spent a pretty penny over the 4 years of ownership and as said above it's all worth it! It's all about the smiles per mile 👌
Thanks for reading, ride safe and if you don't have a Grom yet then you best get out and buy one 👌
- Rob C, 2018
Price Guide
| Year | Dealer | Private | Part Ex | Mileage |
| --- | --- | --- | --- | --- |
| 2013 | £2,100 | £1,650 | £1,450 | 10,800 |
| 2014 | £2,200 | £1,750 | £1,550 | 8,900 |
| 2015 | £2,300 | £1,850 | £1,650 | 6,800 |