BMW K100LT Review (1987)
"
The K100LT will take you anywhere in total comfort and keep the weather off you. She is a very capable two up touring bike, well made, reliable and robust motorcycle.
"
What Is It?
The BMW K100LT is a premium touring bike. It's powered by a liquid cooled 987 cc opposed four cylinder engine which puts out 90 bhp at 8,000 rpm and maximum torque at 6,000 rpm.
Specs
Seat Height: Average (810 mm / 31.9 inches)
Weight: Very Heavy (283 kg / 624 lbs)
Fuel Capacity: Very High (22.0 litres / 5.8 US gallons)
Economy: Average (50 mpg / 5.6 l/100km / 17.7 km/l)
Range: High (240 miles / 386 km)
Top Speed: High (135 mph / 217 km/h)
Capacity: High (987 cc)
Power: Average (90 bhp / 67 kW)
Power to Weight: Average (0.318 bhp/kg / 0.237 kW/kg)
Redline: Average (8,500 rpm)
Pros
Weather protection
Reliable
Comfort
Storage
Cons
Can get too hot in Summer
Looks divide opinion
Headlight
Brakes
What Is It Like?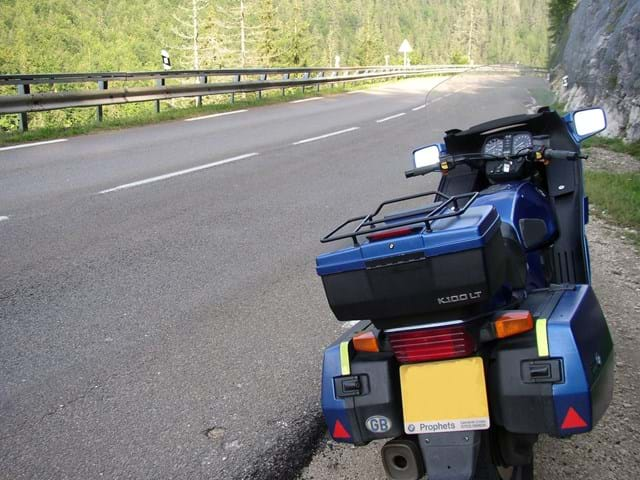 BMW K100LT 1989
Tell us a bit about you
My name is Bob, and I have been riding for over 50 years. My bikes have included:
Yamaha 90
Yamaha XS750
Honda CD175
Honda CB360
Honda CB750
Triumph T140V Bonneville
Triumph T150 Trident
BMW R100/7
BMW R80
BMW R1200RT WC (current bike)
Why did you choose it?
My neighbour was selling a BMW K100LT. I had never seen one before. After test riding it I was hooked. I loved it.
What is good about it?
The ergonomics for me at 5 ft 9 and 29 inch inseam was perfect. It was like sitting on your favourite old chair... The comfy seat was good for all day riding.
The flat 4 engine gives easy access for maintenance. The car type clutch was very hard wearing and would last a very long time.
The gearbox was excellent. Quiet changes with neutral being easy to find. The fuelling was impressive, especially at low speeds. No snatching, none.
The front fairing had pockets which could store lots of gear. The panniers are large and very sturdy.
The electrics are very reliable, though I cleaned and re-greased all the switch gear, and cleaned the earth contacts. The standard twin Fiamm car horns were extremely loud.
I liked the look of the bike, but it was not to everyone taste. The "Flying Brick" did indeed look like a brick, but I loved it.
What could be improved?
Obviously, 1989 braking was good at the time, but by today's standard, are just okay. They can be upgraded using the later K1100 twin pot calipers, but the fork trees need to be swapped too.
The shaft drive suffers from "jacking". There is some movement when the bike is under braking, this allows for wear on the shaft and the final drive input splines. Spline lubing at each tyre change is ideal.
The lights are okay, but not up to today's standard.
Any mods or upgrades?
The instrument cluster lamps were changed to green, I felt it was easier on my eyes at night. Progressive front springs from Motorworks UK.
What is the economy like?
A range of 220 miles at 70mph from the 4.5 gallon tank.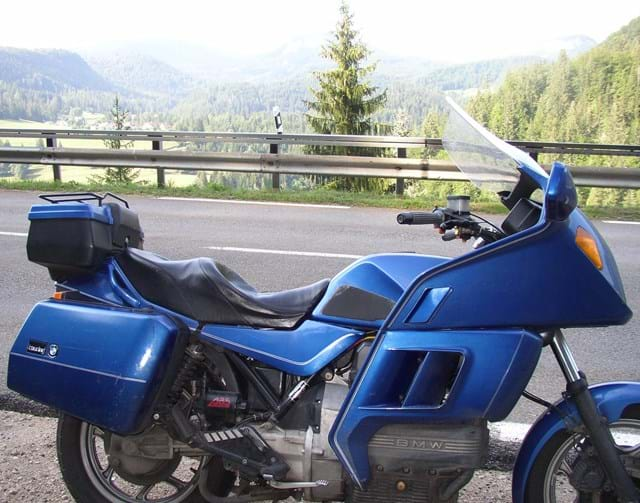 How is the engine?
The 8 valve engine is bullet proof, and will cover massive mileages with normal maintenance. Very popular with the old minis. It is fairly quiet, with only the K bike whine to listen to. Cam chains last a long time, this engine is very under stressed.
Exhaust is easy to remove. The clutch is cable, but if you fit a grease nipple on the actuator arm, put a new cable on, and clean and lube the lever barrel then it is fairly light.
The valve clearances last a long time before shimming. I recommend cleaning the very delicate electrical moving contacts inside the Mass Air Flow Meter. Get the fuel injectors cleaned and flow tested, check the intake rubbers for air leaks. Throttle body synchronisation should be checked.
Add rubber washers under the handlebar mountings to reduce vibration on the bars. My engine throttle bodies are balanced at 4,000 revs, and I have no vibrations on either the bars, or foot pegs.
I recommend this forum for all technical issues, and tips. These guys are great, and they know everything about the bike.
How does it handle?
The K100LT is a top heavy bike, but with stiffer front springs, and a good rear shock and tyres, then she can be hustled around with confidence.
What are the brakes like?
1989 big single pot dual front brakes are okay, but obviously not as good as modern brakes. But as they say, plan ahead Jack, plan ahead...
Is it comfortable?
The most comfortable bike I have ridden, ever. Over 660 miles in one day, even the seat was comfy. The riding position was perfect.
How reliable have you found it?
During my 40,000 miles, up to the mileage when sold of 78,820, one rear ABS pump failed. One rear shaft suffered wear on the splines due to lack of lubrication by the previous owner. Not bad..
What's the servicing frequency and cost like?
I changed the oil and filter every 6k, plugs 20k, air filter 25k and rear drive oil 6k. Tyres were slightly expensive due to odd sizes. But if you do your own work, then costs are not too bad.
To Sum Up
This bike was developed as the answer to the Honda CB750. The K100LT will take you anywhere in total comfort and keep the weather off you. Heated grips to keep you warm and your legs get heat from the engine.
It's great during Winter days, but not on really hot days. She is a very capable two up touring bike, well made, reliable and robust motorcycle.
- Robert K, 2022
Add Your Review
Do you own this bike? We would love to hear anything good, bad, unexpected or that you have changed plus anything that a prospective new owner might find interesting or useful.