Knox Trekker Review
25th July 2018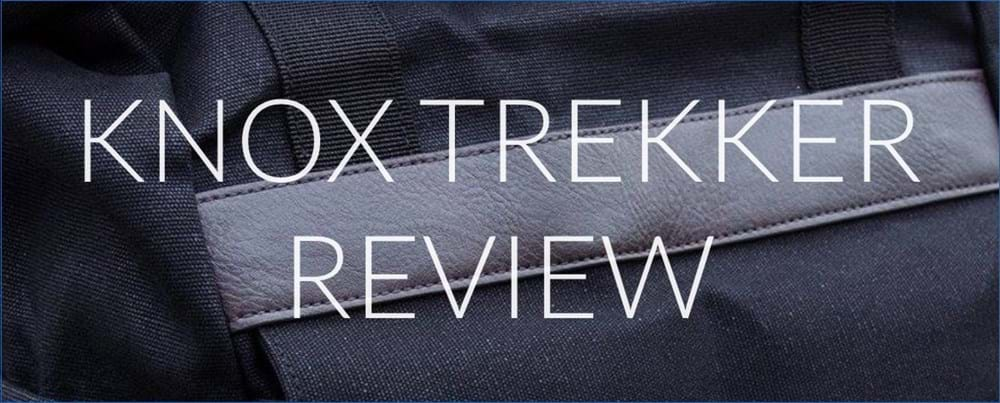 One hundred and fifty two. That's how many sausages you can fit into the Knox Trekker rucksack, but we're getting ahead of ourselves. Welcome to the 110% scientific review of the Trekker.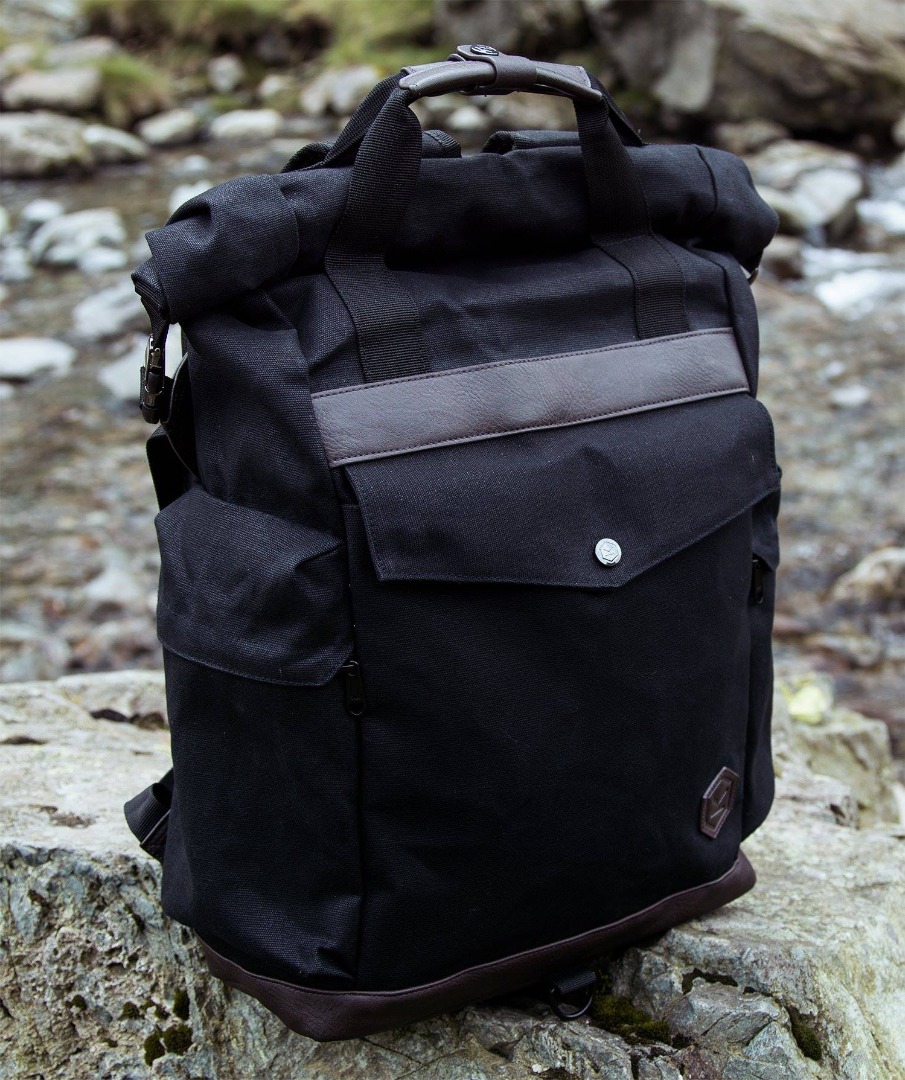 The Knox Trekker is a purpose built biker rucksack with 25 litres of storage, one main roll-top dry sack compartment, a variety of splashproof organiser pockets and an integrated pop out helmet holder. The front pocket stores the helmet holder sack while the back pocket is setup to take a 13"-15" laptop inside the included dry bag.
Like most dry bags it's essentially a large waterproof sack, where the top rolls down three times to create a watertight seal, which is then secured tightly in place. Where Knox have innovated over most of the competition however is securing the seal in place at either end with Chromed buckles and adjustable straps.
Most other bags, like the SealLine Urban, use one securing strap in the centre but this tends to cause the ends of the roll top to stick out the sides and these can protrude into your eyeline when looking back over your shoulder. On the Trekker however they fold down neatly on to the sides of the bag out of the way. Designing in a top carry handle which then clips over the top the seal is a clever and practical addition. We highly recommend the Trekker! RRP is £100
Pros

 

Cons

Quality materials, construction and design
Really quite stylish and very practical
Included laptop dry bag

 

Nowhere to stow the waist strap when not in use
Chrome buckle clips tend to smash into things
Outer pockets may be more splashproof
30 Minutes In
The bag is heavier than you would expect when you first pick it up, due to the 14oz cotton canvas construction, but it immediately feels very well made, strong and durable. The canvas is nice and thick but unlike some other dry bags it isn't providing 100% of the waterproofing, instead the Trekker's main compartment make use of a second internal bag to keep the wet stuff out.
Keeping the waterproof plastic on the inside and the cotton on the outside is a good thing because it looks classy with it's mostly black stealth scheme, accented by the brown leather effect bottom panel, strip along the middle, top carrying handle and a few little stitched triangles where the straps join the bag. Plus it goes equally well with brown or black jackets.
The front pocket looks quite large but it's mostly filled up with the integrated helmet sack, while on the side and back the zips look to be a high quality sealed design. Round the back is a full length laptop pocket with a bit of organisation for pens etc. and the compartment is both completely hidden and inaccessible when it's on your back, so would make a great place to keep valuables safe from pick-pockets when you're walking around. In fact the whole bag looks pretty secure, with the possible exception of the side pockets, because there is no way the roll-top could be accessed without you noticing.
We also really liked the two areas of hard plastic spikes on the bottom. They should give some real protection to the contents every time you pop it down on the tarmac, especially if it's wet. It would no doubt add to the price and possibly be a bit overkill but we suspect making them larger or having a few more of them would improve things even more. A nice touch that you don't see on many bags though!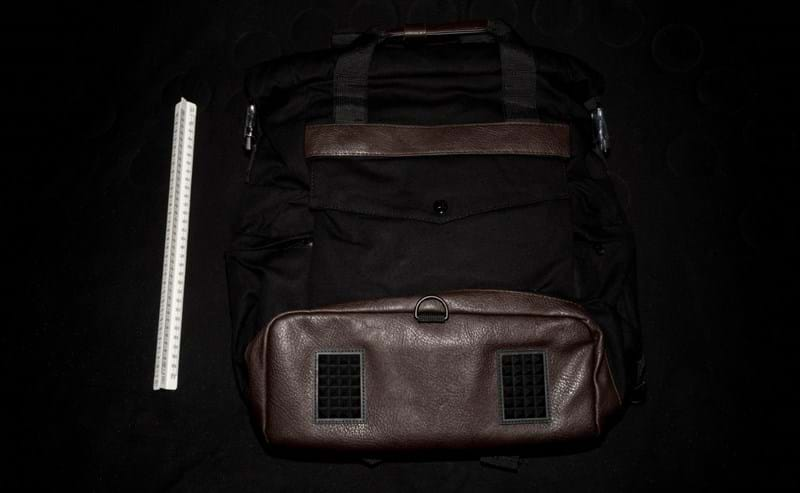 What Is It?
It's a £100 premium 25 litre rucksack designed specifically for bikers, which looks stylish, has a roll top dry sack main compartment, a pop out helmet sack in the front pocket and a laptop/organiser compartment at the back with additional laptop dry sack. The design is mostly thick black 14oz cotton canvas, mixed with brown leather effect accents and bottom panel. It looks good paired with brown and black jackets: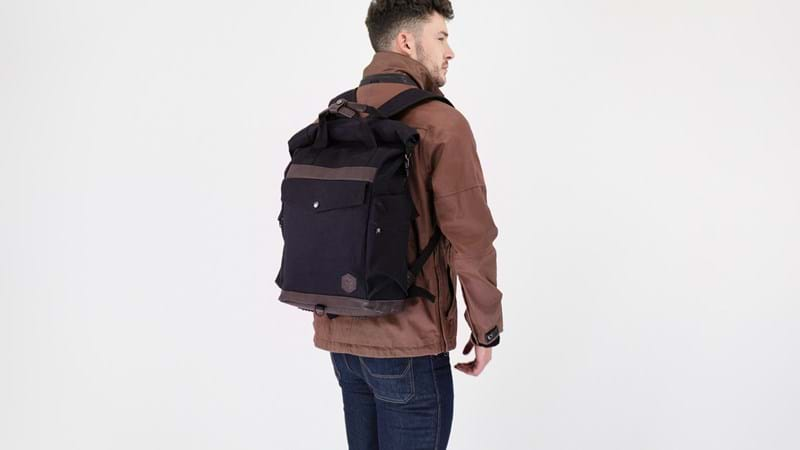 The interior of the main compartment is a separate waterproof bag stitched inside the outer cotton canvas and what makes it waterproof once the top is folded over three times. There are even a few additional pockets, made out of the same material, sewn inside to give some additional compartmentalism. Dry bags often lack any internal structure so it's a really practical touch and they are really deep to boot. You could probably get an iPad in either of them.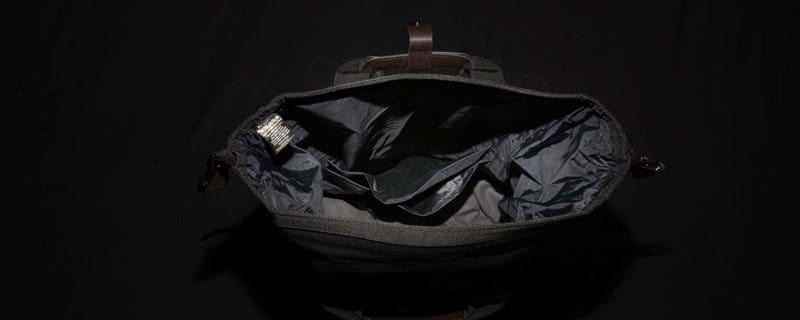 The back compartment has a full length laptop pocket at the back with a large Velcro strap to secure it and that's where the laptop would would sit inside the dry bag. In front of that there are three pen holders and a pocket which is roughly phone sized (it's a Samsung Galaxy S7 Edge in the pic below):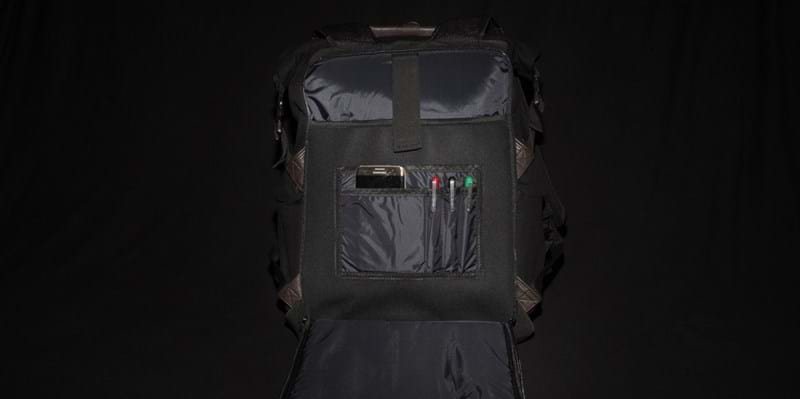 The included laptop dry bag is sized to fit exactly in the back compartment and features a roll top design like the main compartment. It looks to be well made from thick waterproof material and folds three times to get a good seal before tying down the seal with two Velcro straps. In fact the seal is so good you can put a load of pressure on the bag without any air escaping. It's a quality addition and could be useful for all sorts, not just laptop storage.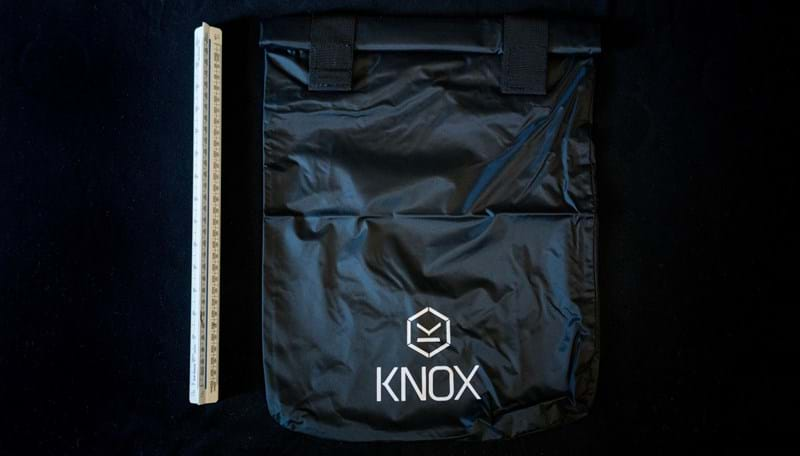 Sewn into the top of the front pocket is a large pop-out helmet sack, which closes via an elasticated drawstring and then attaches to the D-ring on the front of the base with a small Velcro strap. The strap is attached to the sack so it all folds away neatly when not in use and the sack seems to be made from a lightweight shell suit type of material so it doesn't add much weight and packs down to almost nothing.
The front pocket is actually closed with three poppers but only the central one can be seen from the front. It closes firmly but obviously isn't massively waterproof and we found the poppers sometimes difficult to close without one hand inside the bag pushing back out at the same time. This might be less of an issue if the bag is rammed full of stuff though and there is something to push them against.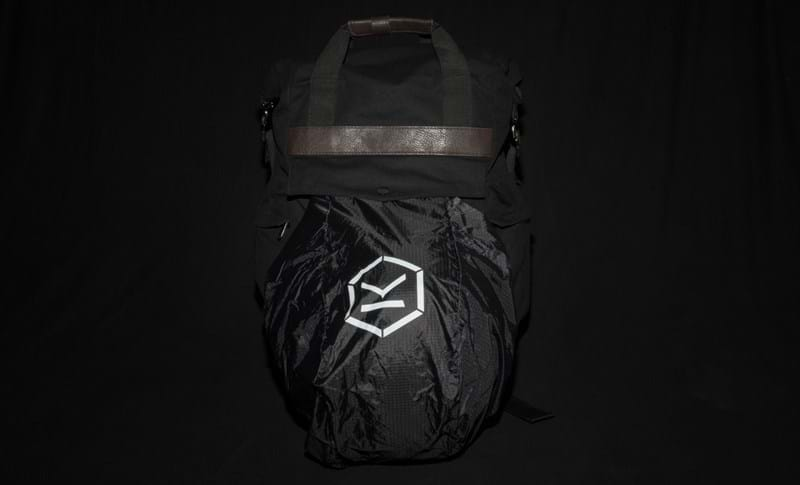 How Many Sausages?
For this part of the test we used the industry standard Ye Olde Oak American Style Hot Dogs in brine (8 per jar). It's a premium pork recipe with a smoky flavour and only 111 calories per dog. The answer is 19 jars, tightly packed, formed of two rows of 8 with 3 on top. That's a capacity of 152 sausages.
On Your Back
It fits really well and the main straps feel ergonomically designed, while the chest strap is partly elasticated for a tight but flexible fit and can adjust vertically over 10cm. The waist strap has lot of adjustment potential and some thoughtful elastic hoops to keep any excess tidied away. Our only criticism is that there's nowhere to store them out the way when not in use, as is standard on quite a few bags these days (like the SealLine Urban).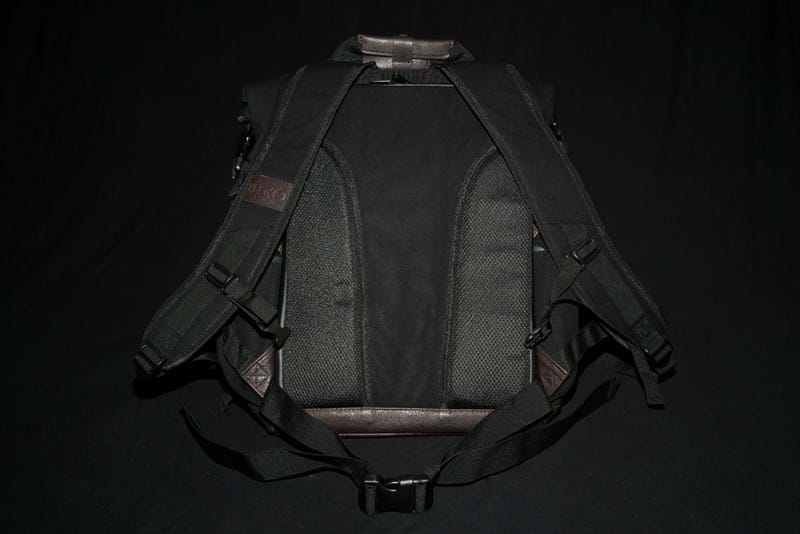 The two areas of padding on the back are generous, making it comfy against your back with a bit of air flow in the middle and the main straps have a very thin bit of padding as well. We found them nice and wide, easily distributing the weight and not digging in anywhere.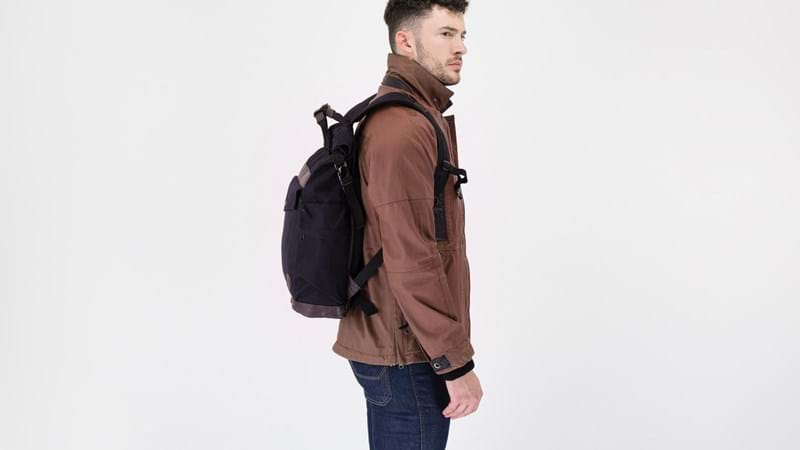 How Waterproof Is It?
To keep things scientific we popped several new kitchen rolls, fresh out of their plastic wrapping, into the Trekker and then took a 10 minute power shower with it. Several sheets were placed in the laptop pocket with several secure inside the laptop dry bag, also in the laptop pocket. Sealing up the Trekker was deliberately quick and imprecise, just like you would do before heading out. No, it's not exactly British rain, but it is very wet and very predictable. What do we do with all these kitchen rolls afterwards you ask? That's what the office gerbil is for.
So what happened? The rolls in the main compartment were bone dry, as expected. I suspect you'd have to actually go swimming to get a decent amount of moisture in there. The laptop compartment on the back was a bit 50:50 though. While the sheets in the laptop dry bag were bone dry, the sheets just in the compartment itself were a little damp; when we say a little we mean only just noticeable. At a guess this was less to do with the YKK Aquaguard zips and more to do with the back panel absorbing some water - more testing might be required to figure out exactly what is happening.
It's not necessarily a problem though because a laptop inside the included dry sack will easily take up the whole rear space and if you wanted to be extra careful you would simply pop it in the main compartment for 100% waterproofing. To be fair most dry sacks only guarantee the waterproofing on the main compartment and the laptop bag was so airtight you could give it a good squeeze without any air escaping. As an everyday walkaround rucksack for your laptop etc it would clearly perform better than most if you get caught in the rain.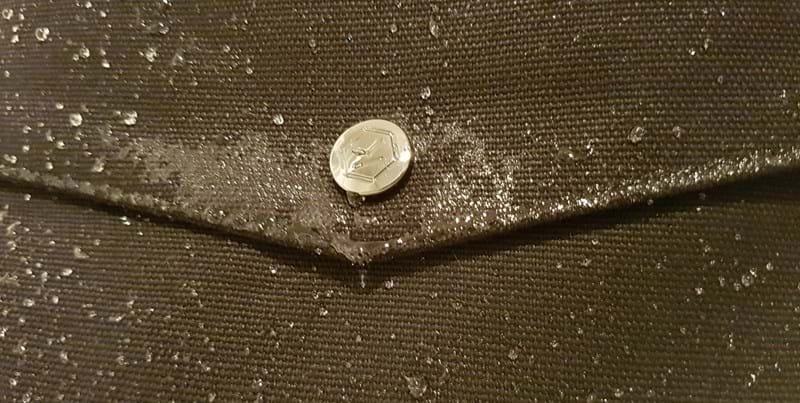 How Does It Arrive?
As you can see below it arrived in Knox branded heavy plastic wrap. Inside that there is another thick plastic bag containing the rucksack, so all in all it's well wrapped up. They even put little plastic wrappers on the two main Chromed buckles to keep them looking crisp for you. An excellent idea because they are huge fingerprint magnets.

Conclusion
It's a stylish, well designed and really well made rucksack. The 14oz cotton canvas not only looks great but should keep going for many years of use, the main compartment is properly waterproof and the inclusion of an additional dry bag for your laptop is a great touch.
We felt there could be a few small improvements but really they are more tiny niggles than anything that should put you off buying one. The side pockets, front pocket and back compartment seem best described as splashproof, not that it's a problem. We would probably carry our laptop in the main compartment anyway, then fill the side pockets with already waterproof things like antibac gel or wetwipes. The front pocket is only really there to house the helmet sack when it's not in use so don't expect to get much in there.
Other than that the Chromed buckles have a tendency to whack into things when loading and unloading the bag. They do look nice being all shiny but would perhaps be more day to day usable if they were the same black plastic as the other clips and a few more plastic protection patches on the bottom could only make an already excellent product even better.
Yep, we highly recommend the Trekker!
Videos
Check out this quick review of the Studio and Trekker from RevZilla:
Also Consider