Knox Studio Review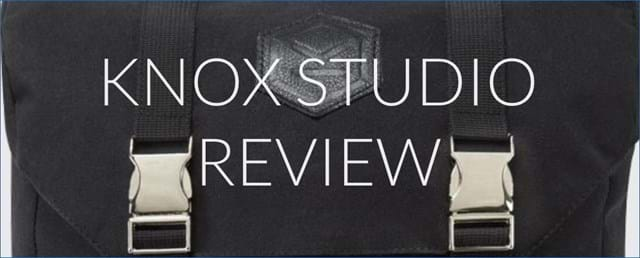 One hundred and thirty six. That's how many sausages you can fit into the Knox Studio rucksack, but we're getting ahead of ourselves. Welcome to the 110% scientific review of the Studio. Reviewed by Naomi Wicklen.
| | | |
| --- | --- | --- |
| REVIEW | | ★★★★★ |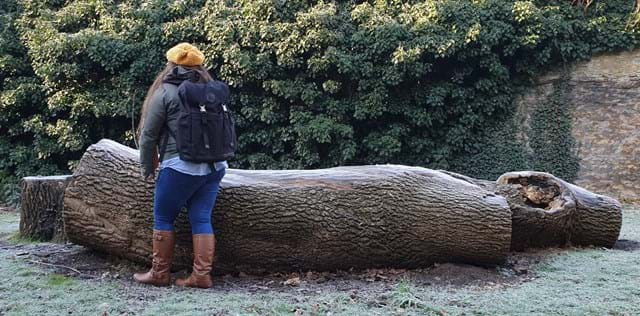 The Knox Studio is a purpose built biker rucksack with 25 litres of storage, one main roll-top dry sack compartment, a helmet strap and three external organiser pockets.
Like most dry bags it's essentially a large waterproof sack, where the top rolls down three times to create a watertight seal, which is then secured tightly in place. The seal is then further protected by a fold over top panel, which also makes the end result look like a standard non-waterproof stylish rucksack. RRP is £75.
Pros
Quality materials, construction and design
Understated, really stylish and very practical
Cons
Nowhere to stow the waist strap when not in use
Outer pockets more splashproof than waterproof
30 Minutes In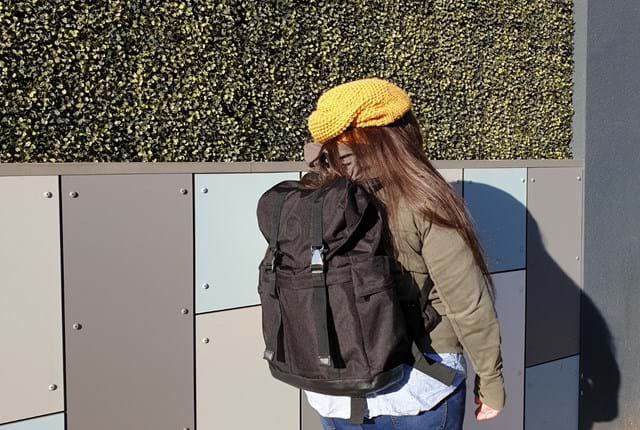 The bag is heavier than you would expect once unboxed, due to the PU backed 600 denier nylon construction, but it immediately feels very well made, strong and durable. The material is nice and thick but unlike some other dry bags it isn't providing 100% of the waterproofing, instead the Studio's main compartment makes use of a second internal bag to keep the wet stuff out.
Keeping the waterproof plastic on the inside and the rough texture of the nylon on the outside is a good thing because it looks classy in the black stealth colour scheme and is accented by the black real leather bottom panel. The side pockets have weather sealed zips and the front pocket is just a normal zip but to be honest anything you want to keep truly dry will be living in the main compartment. We love the fact that the whole bag looks pretty secure and there is no way the roll-top could be accessed without you noticing; great for everyday use commuting in big cities!
We also really liked the two areas of hard plastic spikes on the bottom. They should give some real protection to the contents every time you pop it down on the tarmac, especially if it's wet. It would no doubt add to the price and possibly be a bit overkill but we suspect making them larger or having a few more of them would improve things even more. A nice touch that you don't see on many bags though!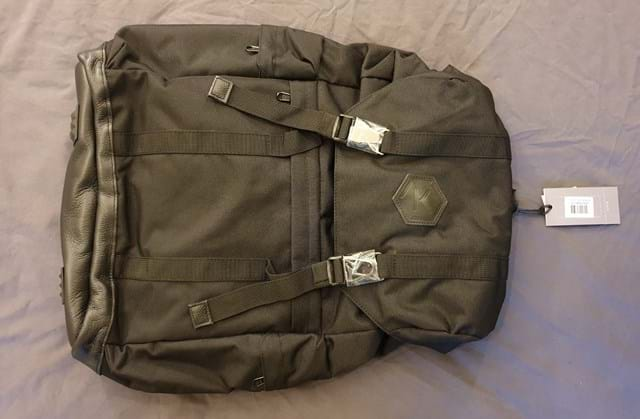 What Is It?
It's a £75 premium 25 litre rucksack designed specifically for bikers, which looks stylish, has a roll top dry sack main compartment, three handy pockets and a pop out helmet strap under the top flap: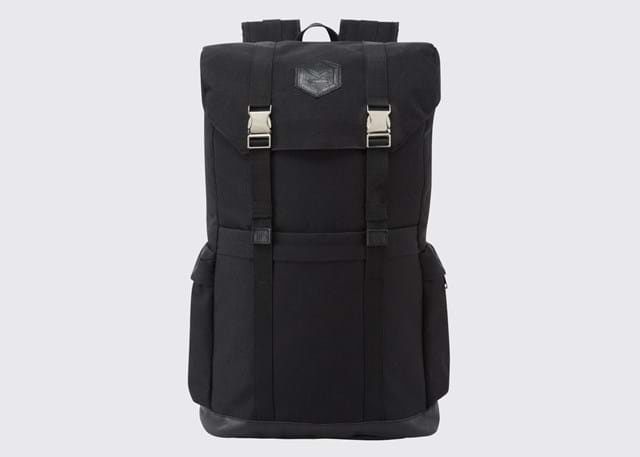 The interior of the main compartment is a separate waterproof bag stitched inside the outer heavyweight nylon material and what makes it waterproof once the top is folded over three times.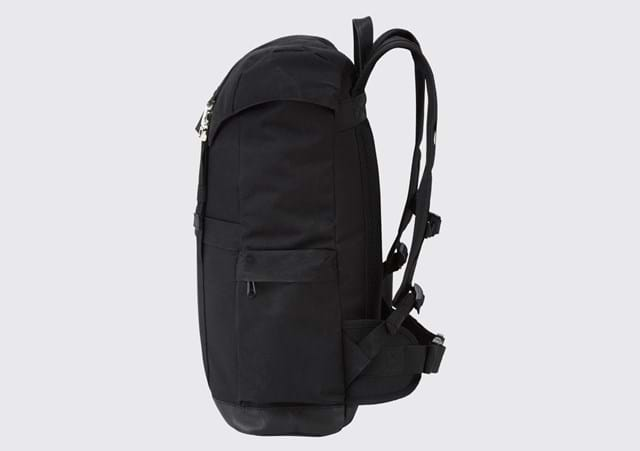 Sewn into the underside of the top panel is a substantial pop out helmet strap so your helmet can hang off the back. The strap is attached to the sack and it folds away neatly into a small pocket when not in use.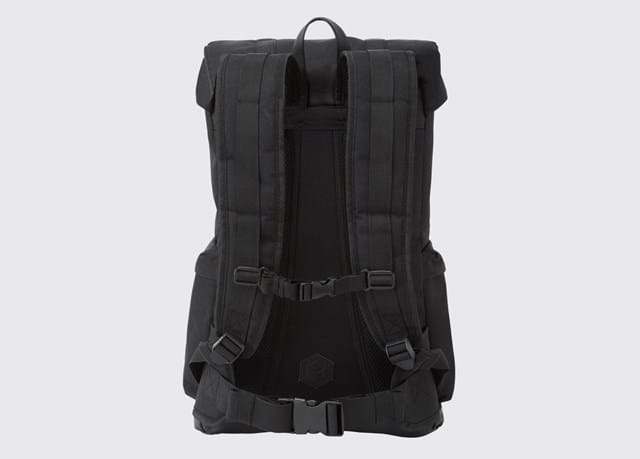 How Many Sausages?
For this part of the test we used the industry standard Ye Olde Oak American Style Hot Dogs in brine (8 per jar). It's a premium pork recipe with a smoky flavour and only 111 calories per dog. The answer is 17 jars, tightly packed, formed of two rows. That's a capacity of 136 sausages.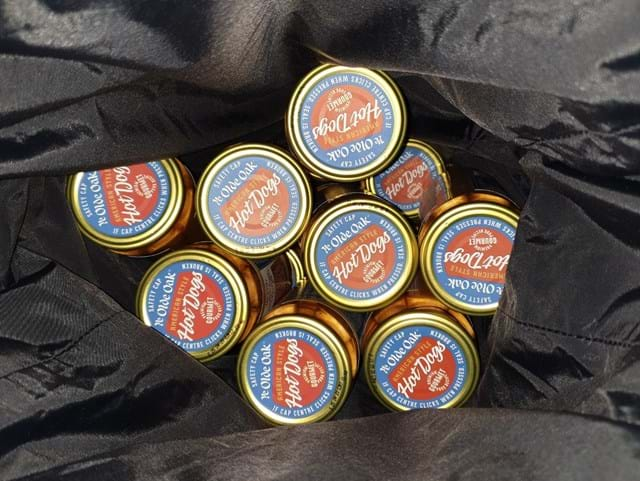 On Your Back
It fits really well and the main straps feel ergonomically designed, while the chest strap is partly elasticated for a tight but flexible fit and can adjust vertically over 10cm to get the perfect fit. The waist strap has lot of adjustment potential and some thoughtful elastic hoops to keep any excess straps tidied away. Our only criticism is that there's nowhere to store them out of the way when not in use, as is standard on quite a few bags these days (like the SealLine Urban).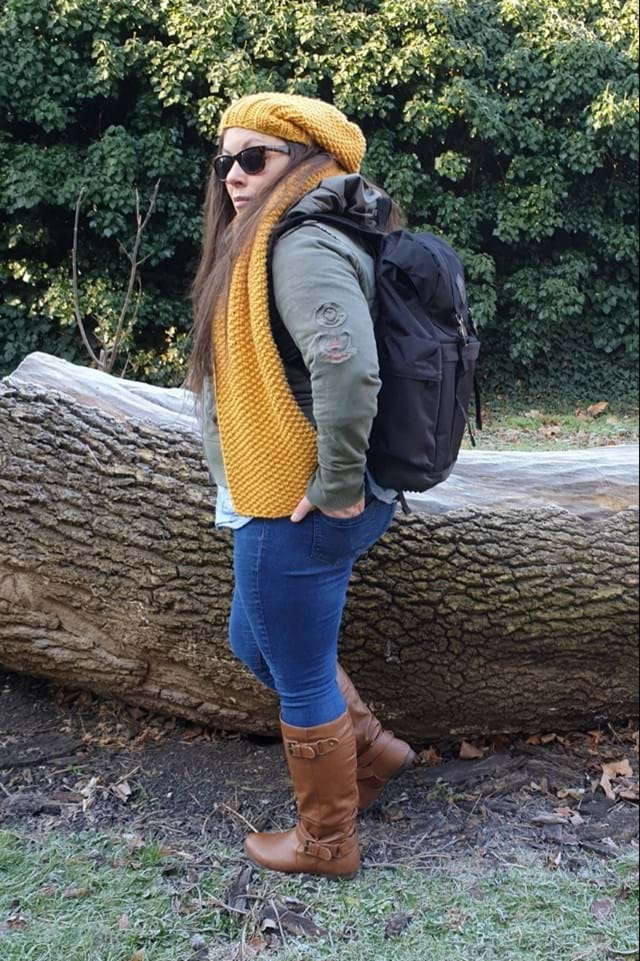 When wearing it felt very comfortable and was perfect for a short person like me (5ft 1 3/4"). The 3/4 part is very important 😉. The two areas of padding on the back are generous, making it comfy against your back with a bit of air flow in the middle and the main straps have a thin bit of padding as well. We found them nice and wide, easily distributing the weight and not digging in anywhere.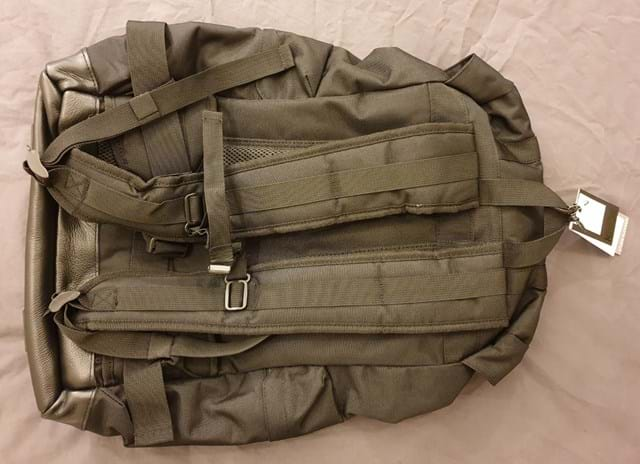 How Does It Arrive?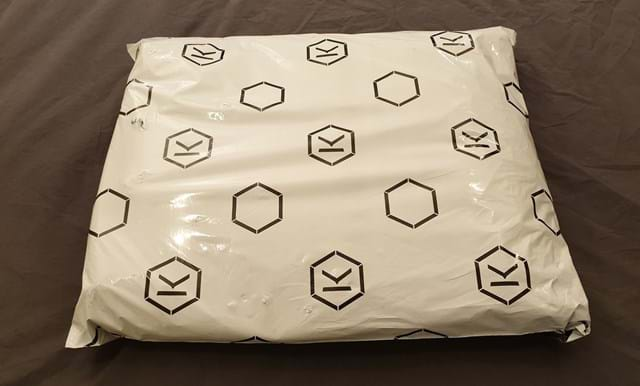 As you can see above it arrived in Knox branded heavy plastic wrap. Inside that there is another thick plastic bag containing the rucksack, so all in all it's well wrapped up. They even put little plastic wrappers on the two main Chromed buckles to keep them looking shiny. An excellent idea because they are fingerprint magnets. The Chrome buckles look quite funky, just like viking helmets from back in the day.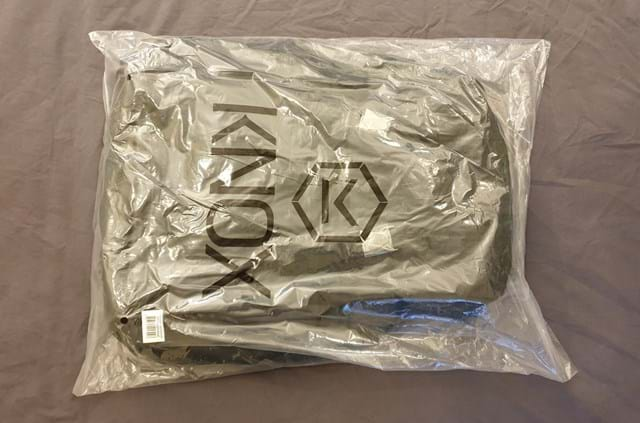 Conclusion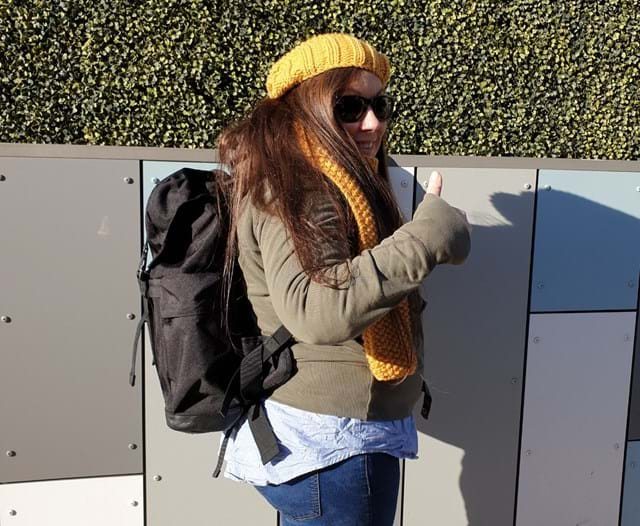 It's a stylish, well designed and really well made rucksack. The heavy nylon material not only looks great but should keep going for many years of use and the main compartment is properly waterproof.
We felt there could be a few small improvements but they are really more tiny niggles than anything that should put you off buying one. The front and side pockets seem best described as splashproof, not that it's a problem. We would probably carry our laptop in the main compartment anyway, then fill the side pockets with already waterproof things like antibac gel or wetwipes.
Other than that a few more plastic protection patches on the bottom could only make an already excellent product even better. Yep, we highly recommend the Knox Studio and at £75 it's a bargain for the quality you get!
Studio vs Trekker
Knox also offer the Trekker rucksack for £100 and there are a few differences to note:
The base is faux leather unlike the real leather on the Studio
It seems to have a slightly larger maximum capacity
The roll-top fastens on the sides and doesn't have a top flap
The front pocket fastens with studs instead of a zip and includes a pop out helmet bag
The back of the rucksack features a laptop/organiser pocket
A separate laptop dry bag is include (a super helpful extra)
Videos
Check out this quick video review of the Studio and Trekker from RevZilla.