Triumph Thunderbird 900 Sport Review
What Is It?
The 1997 Triumph Thunderbird Sport is a cruiser style bike which builds on the original 900 with better suspension and brakes.
Engine: 885 cc Triple, 82 bhp
Economy: 40 mpg, 130 miles
Seat Height: 790 mm
Wet Weight: 238 kg
| | | |
| --- | --- | --- |
| What Is It Like? | | ★★★☆☆ |
| | |
| --- | --- |
| ✓ | Smooth engine |
| | |
| × | Rear brake |
Triumph Thunderbird Sport 900 (TBS)
Around 4 years ago I read an article about the TBS, I was taken by the looks and the write up and decided there and then I would find one to use as a second bike which will become a future classic. Having owned two Tiger 800's I was familiar with the great triple engine, smooth and powerful. I also have a friend who owns a TBS and he gave me some great tips on what to look out for when deciding to buy.
Following research into prices and condition it soon became clear that it would not be easy to track a good one down at a reasonable price. After several visits to see TBS's in poor condition and overpriced I came across an advert in the Triumph Owners Club magazine, Nacelle. It was a 2004 model, (last year of the run) and looked in excellent condition for around £4,000. Luckily the owner was fairly local so I went for a look and a test ride. The owner had virtually re-built the bike, new wheels, new paint, engine tip top etc.
The owner knew his stuff as he answered all the questions my friend gave me without hesitation and went into great detail into the work he had done on the bike. It had 25,000 miles, all the MOT's and stacks of receipts. The test ride seemed weird to start with have been so used to my Adventure bike, the TBS is low down and almost like a café racer. The 82hp comes in with smooth efficiency, instant in any gear at any revs! I was so impressed I bought it.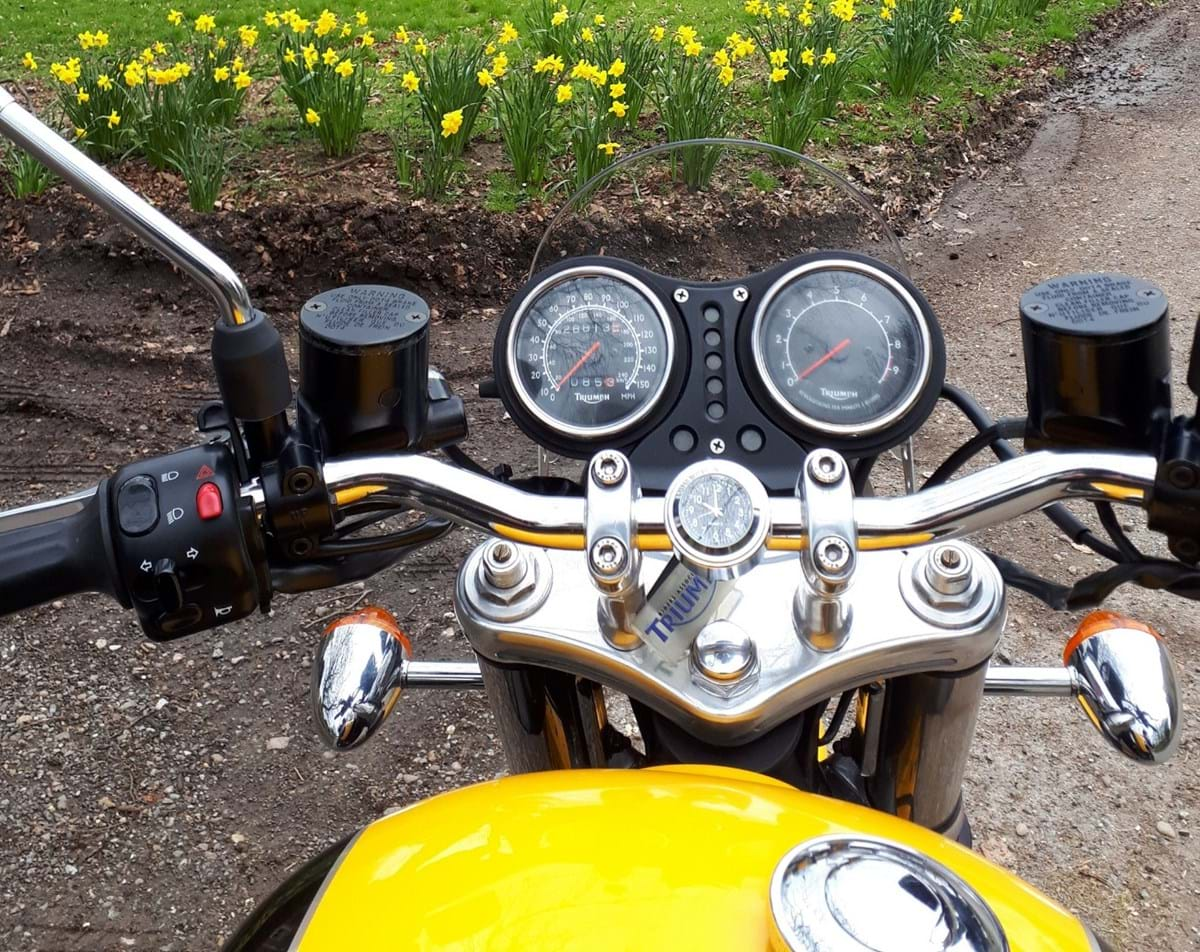 I have now owned Bumble (my affectionate name for her) for over 2 years and have done around 2,500 miles. She has been trouble free apart from a blocked pilot jet in one of the carbs, soon sorted! I have Bumble serviced by a trusted friend who knows these bikes well.
As I said, the engine is very smooth and responsive and is soon up to legal speeds with no fuss. Overtakes are done in no time, often without having to change down. The gearbox is silky smooth too, upward clutchless changes are easy, sometimes downward too if you get the revs just right.
The handling is very good, recently made better by changing the fork oil. I will be upgrading the rear shock as it is getting a little bouncy on long fast sweepers, the adjustment seems to make no difference. Even so it holds its line and keeps up easily with more modern bikes.
The twin front discs are very powerful, the rear not so, but together speed can be scrubbed off with no fuss.
Some people say they are top heavy, but to me as they are low down and I am fairly tall there are no issues in that department, perfectly balanced.
Comfort wise, as I am 6ft 1in it seemed a little cramped at first but I am now used to it and enjoy the change from sitting upright and high on my Triumph Explorer. The seat is excellent and no numb bum has been experienced.
One thing I was advised was to always keep the battery in tip top condition as without a full charge you can damage the Sprag clutch on starting. I keep the TBS on an optimiser most of the time when garaged, it has a gel battery.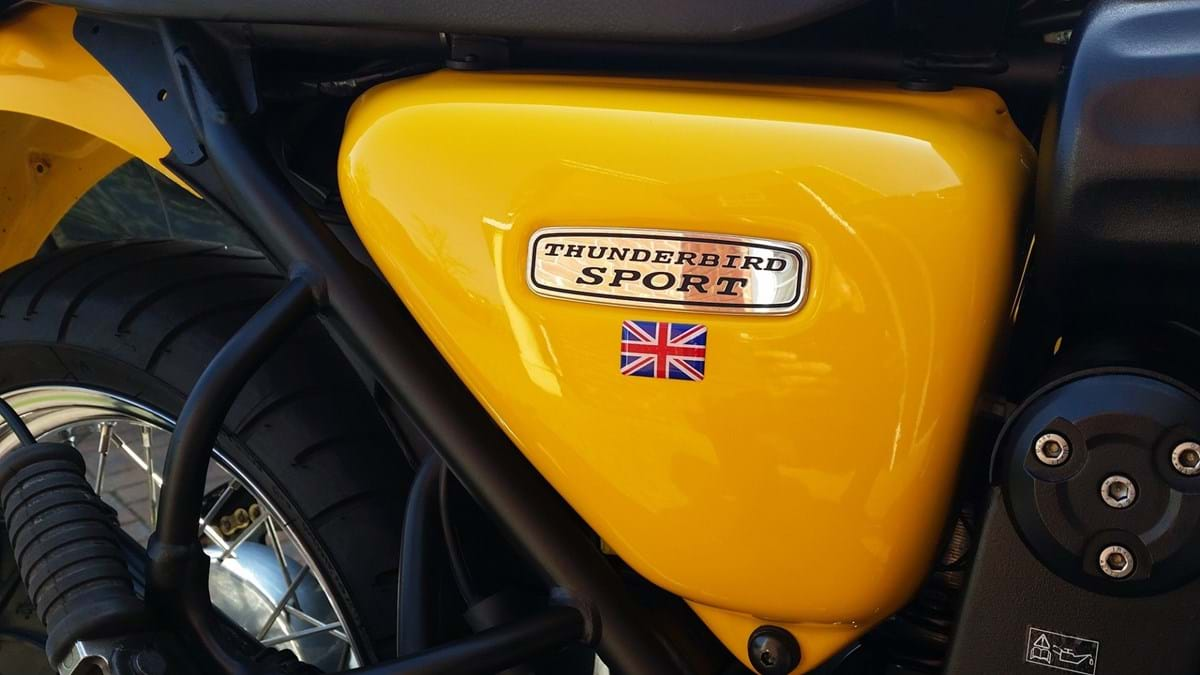 Experts on the TBS may notice that my colour scheme is Yellow and Black as per the earlier models (1999), which also had stacked silencers on one side. The previous owner changed the original Black and Yellow to its present colours as he preferred it, well so do I! Yes it is not the original colour scheme but could easily be returned to it if needed one day. The only other extra is the Puig fly screen, small but very good at keeping a lot of bugs off my jacket!
I would like to upgrade the silencers soon to more free flowing types, there are some lovely sounds in the TBS ready to be released! Not easy to find original looking louder pipes.
To sum up; for me the TBS is a brilliant second bike for sunny days and showing off at bike meets. It always gets plenty of attention as it's different and has classic British looks, including Union Jacks on the side panels! Apparently there were only 764 2004 TBS's sold in the UK, I don't know how many are still on the road but I do not come across many on my travels.
I would thoroughly recommend the TBS to anyone looking for a modern classic with plenty of power and a comfy cruiser. Just ensure you take your time choosing and take advice from experts on the model and what to look for.
- Roland J, 2018
Triumph Thunderbird 900 Sport For Sale →
Price Guide
| Year | Dealer | Private | Part Ex | Mileage |
| --- | --- | --- | --- | --- |
| 1997 | £5,400 | £4,350 | £3,800 | 28,400 |
| 1998 | £5,350 | £4,300 | £3,750 | 27,900 |
| 1999 | £5,300 | £4,250 | £3,700 | 27,400 |
| 2000 | £5,250 | £4,200 | £3,700 | 26,700 |
| 2001 | £5,200 | £4,150 | £3,650 | 25,900 |
| 2002 | £5,150 | £4,150 | £3,600 | 25,100 |
| 2003 | £5,100 | £4,100 | £3,600 | 24,200 |
| 2004 | £5,050 | £4,050 | £3,550 | 23,200 |
Year shows signs of appreciation