Road Test: 2015 KTM Freeride E electric bikes
25th April 2015
The 2015 KTM Freeride range of more accessible off-road motorcycles includes five motorcycles. Two are petrol models, with the Freeride 250R single cylinder two-stroke 250cc, and Freerider 350 single cylinder four-stroke. But three are electric motorcycles - the forthcoming Freeride E-SM Supermoto and the two examples we were able to ride at a recent KTM Media Day.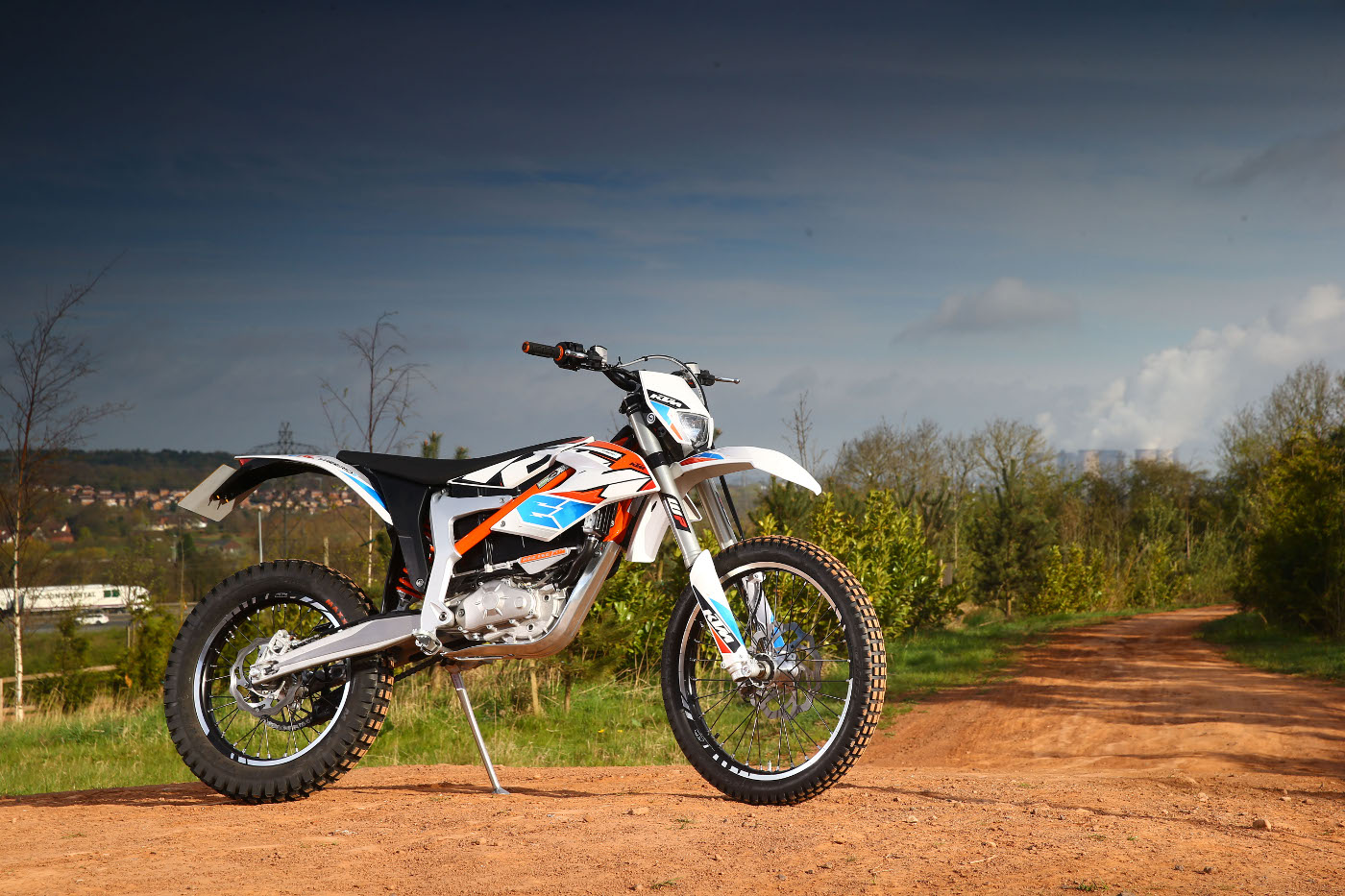 2015 KTM Freeride E-XC and E-SX
The electric Freeride E-XC and E-SX are essentially very similar machines. The SX is purely for off-road riding, while the XC gets everything required to be road legal. And the power output of 16kW/22hp means it's available for anyone with an A1 license.
While the petrol and electric models look broadly similar, there are a number of technical differences, which is where we'll begin.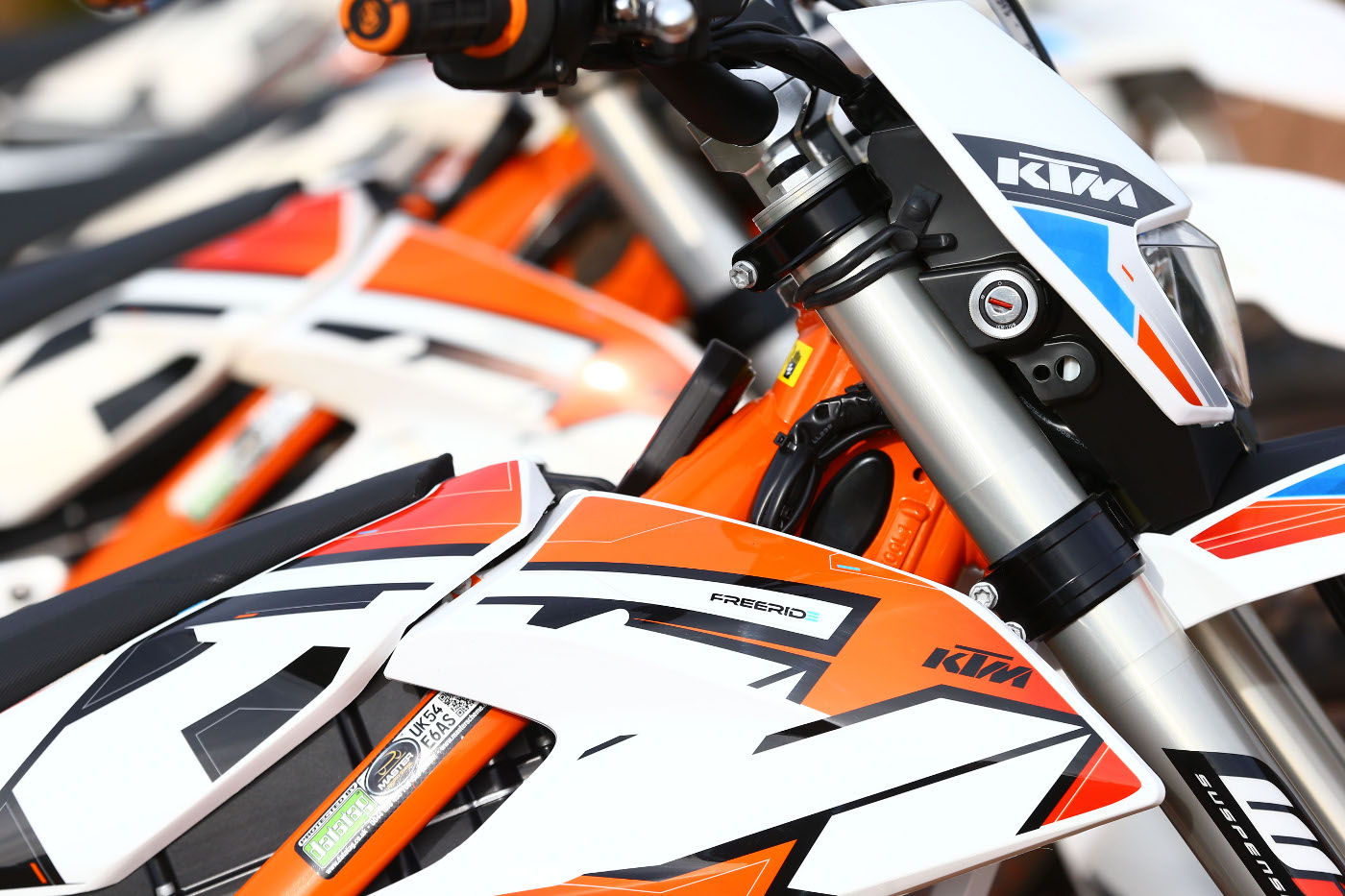 Without internal combustion, the electric motorcycles have no need for an exhaust, and are almost silent in operation. The torque available also means there's no need for a traditional gearbox, instead featuring 3 power settings to tweak the overall performance and save battery life if required.
The brake has also been repositioned as a lever on the left handlebar, as you'd find on a bicycle rather than a motorcycle.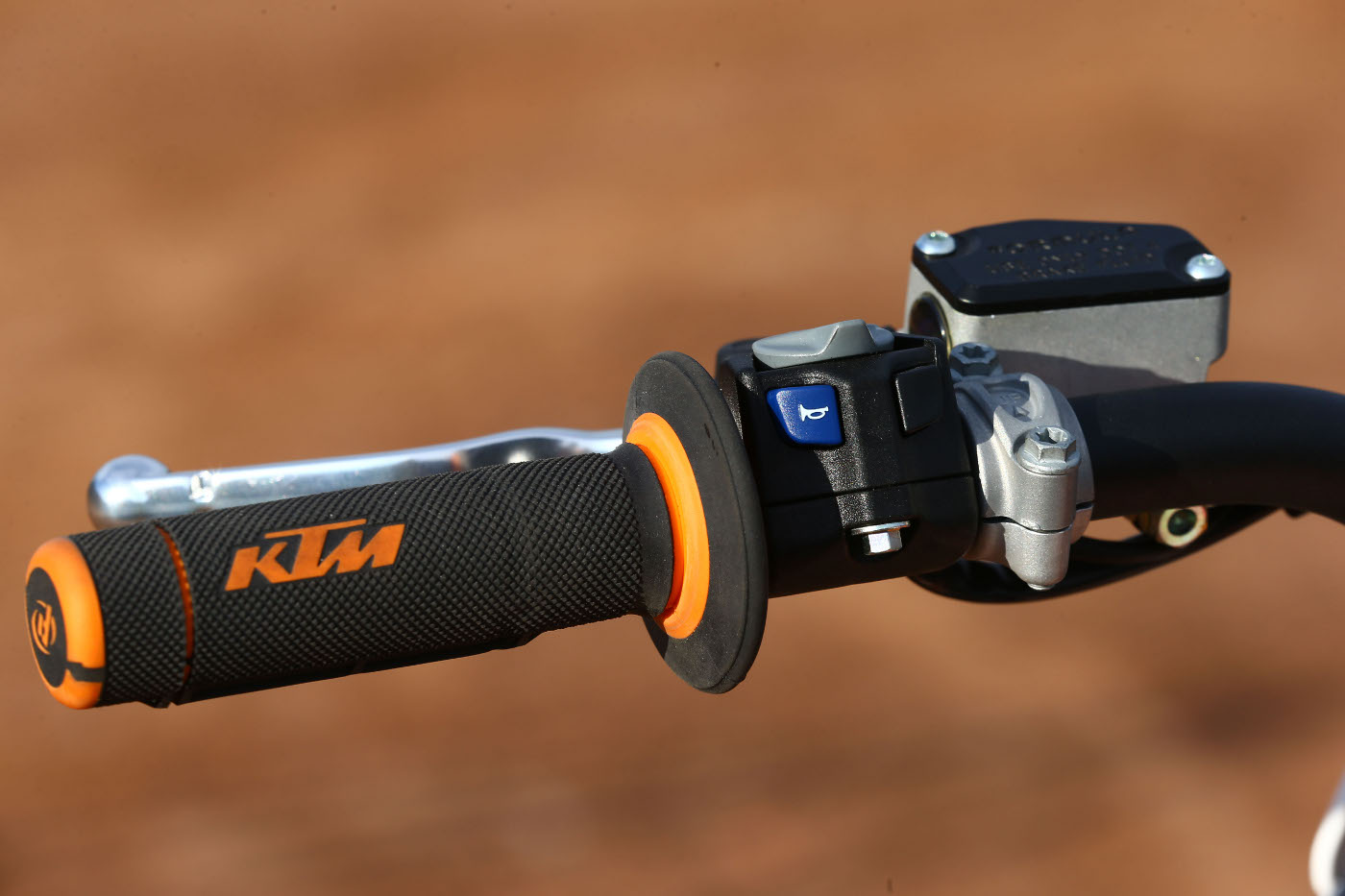 While a number of parts have been removed, the power comes from a battery which does weigh 27kg - that means the electric bikes weigh around 20kg more than the petrol versions.
On the plus side, there's minimal maintenance required, with just a transmission oil change every few thousand miles. Aside from the tyres and brakes, everything else is in the sealed battery or motor unit.
One consideration for an electric off-road motorcycle is the combination of electricity and water - the sealed KTM PowerPack battery includes moisture sensors to shut down if water becomes an issue, but KTM also recommend you don't try to ride through deep water or jet wash your motorcycle. But the bikes are splash proof.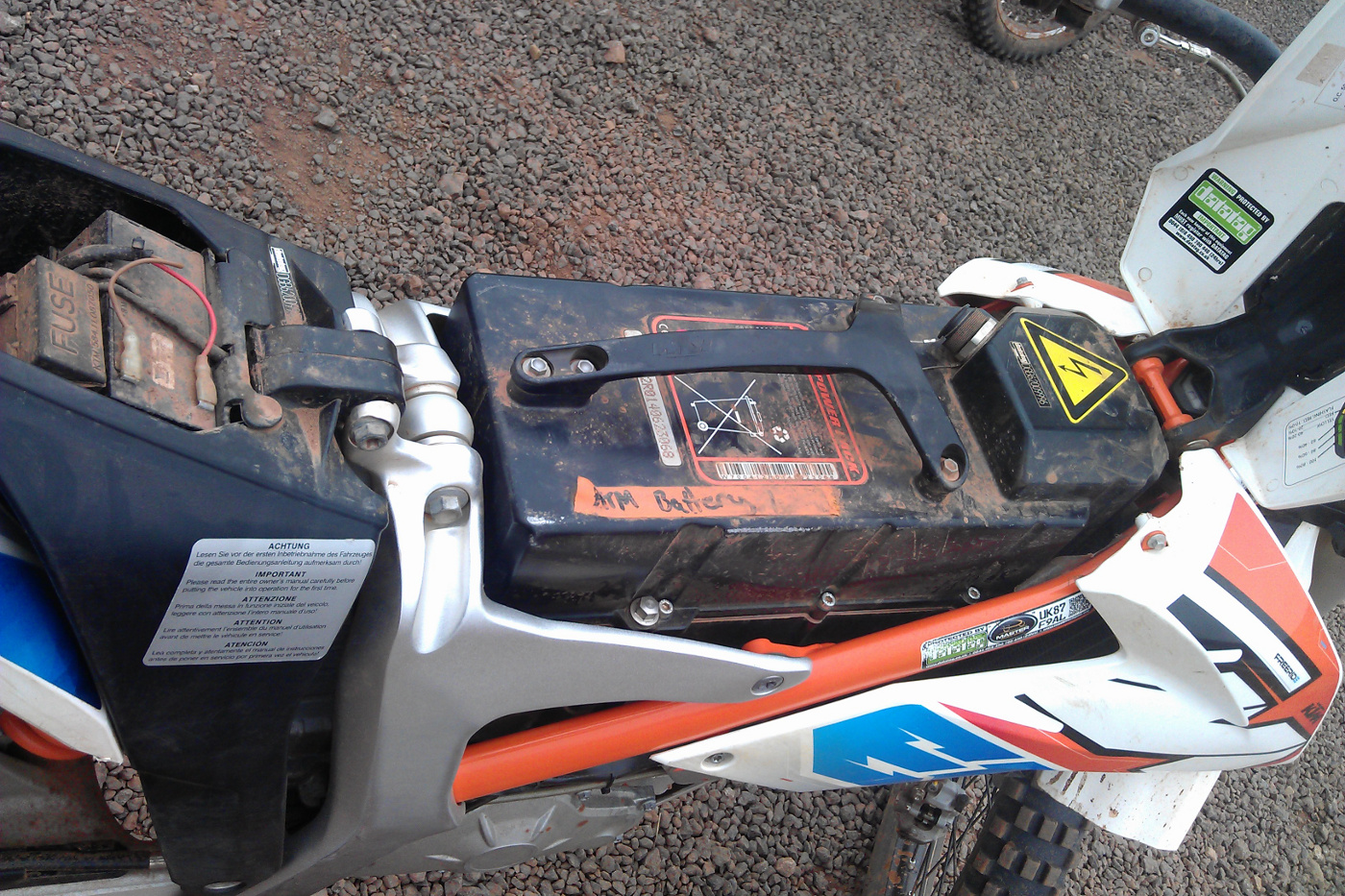 The biggest difference between the petrol and electric motorcycle world is the price. The list price for the petrol Freerides start at £6,000 - while the E-SX is £10,000, the E-XC is £10,300 and the E-SM is £10,600. The difference includes the KTM battery charger (£700), and the KTM PowerPack battery (£2,900), and doesn't include the recent UK Government subsidy for electric motorcycles of up to £1,500.

Charging the battery takes around 50 minutes to reach 90% and 90 minutes to 100%, and will probably cost about 60p in electricity. That will give you between 30 minutes (full power) and 60 minutes (low power) riding time. KTM estimate the battery should last around 5 years and 700 charges before the performance may drop to around 80%.
Riding the electric KTM Freeride E-XC and E-SX
We rode the KTM Freeride E-XC and E-SX at the E-Scape electric riding zone near Warrington. It's an off-road track purely devoted to electric motorcycles for all ages, and they've been using the KTMs for adult riders for a while.
There are a couple of differences to get used to, which took a couple of minutes of riding. Besides the back brake now being on the handlebars, the electric motor also doesn't provide any engine braking. So you'll need to make sure you're using the rear braking frequently to keep a sensible pace downhill.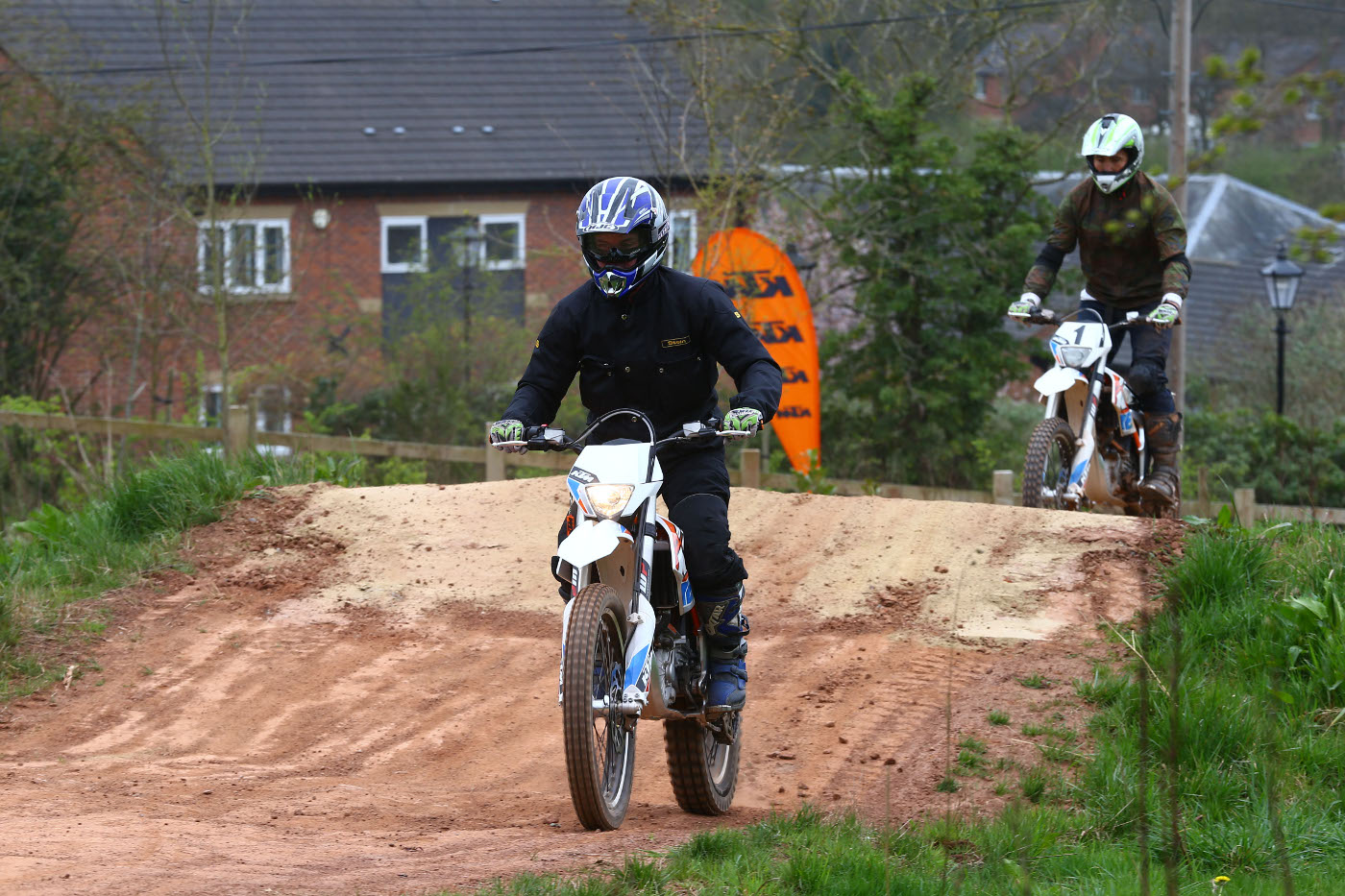 Initially I set off using the lowest power setting. And at my modest pace, I didn't really notice much restriction - the electric motor provides instant torque and acceleration to handle the course at a fairly rapid pace, and the added weight over a petrol version wasn't really noticeable. The KTMs use the same 43mm WP forks and WP shock with progressive damping, plus the same swingarm, as their 85SX models, but stiffened to cope with the additional weight. The result is that the Freeride E-SX and E-XC both hide their weight and handle sharply enough on the dirt, with no noticeable disadvantage from a traditional off-road bike.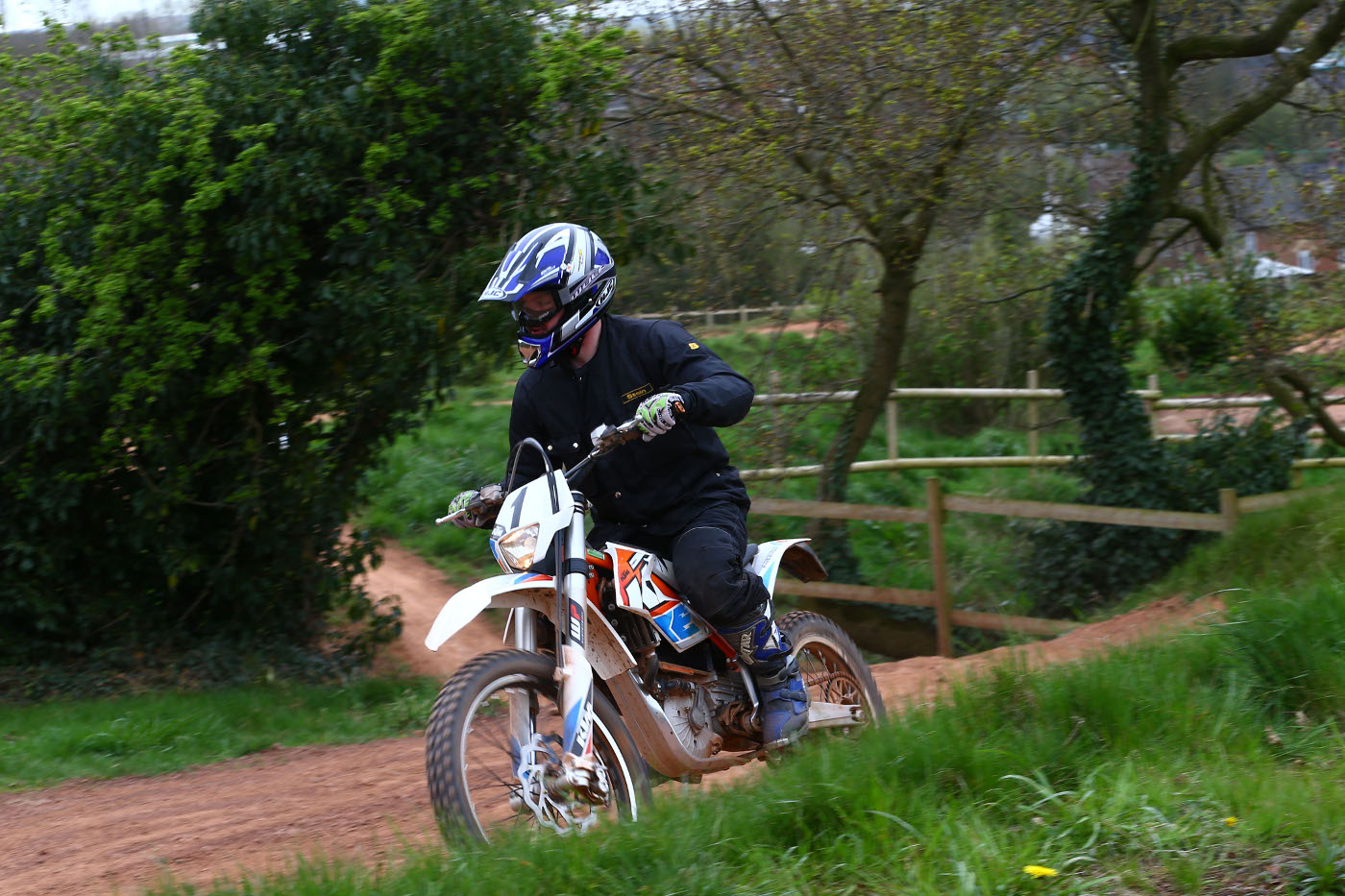 But both electric models have a big advantage for new riders and a reason for the more experienced to be happy - that mass of instant torque.
The removal of selecting the right gear makes riding much easier as your full concentration is on what the motorcycle is doing, not trying to remember what gear you're in. And there's no fear of stalling, which is normally the most frustrating part of starting to ride off-road. Anyone that's ridden a bicycle will feel at home pretty quickly, and after a couple of minutes most motorcycle riders will have forgotten that the rear brake pedal is missing.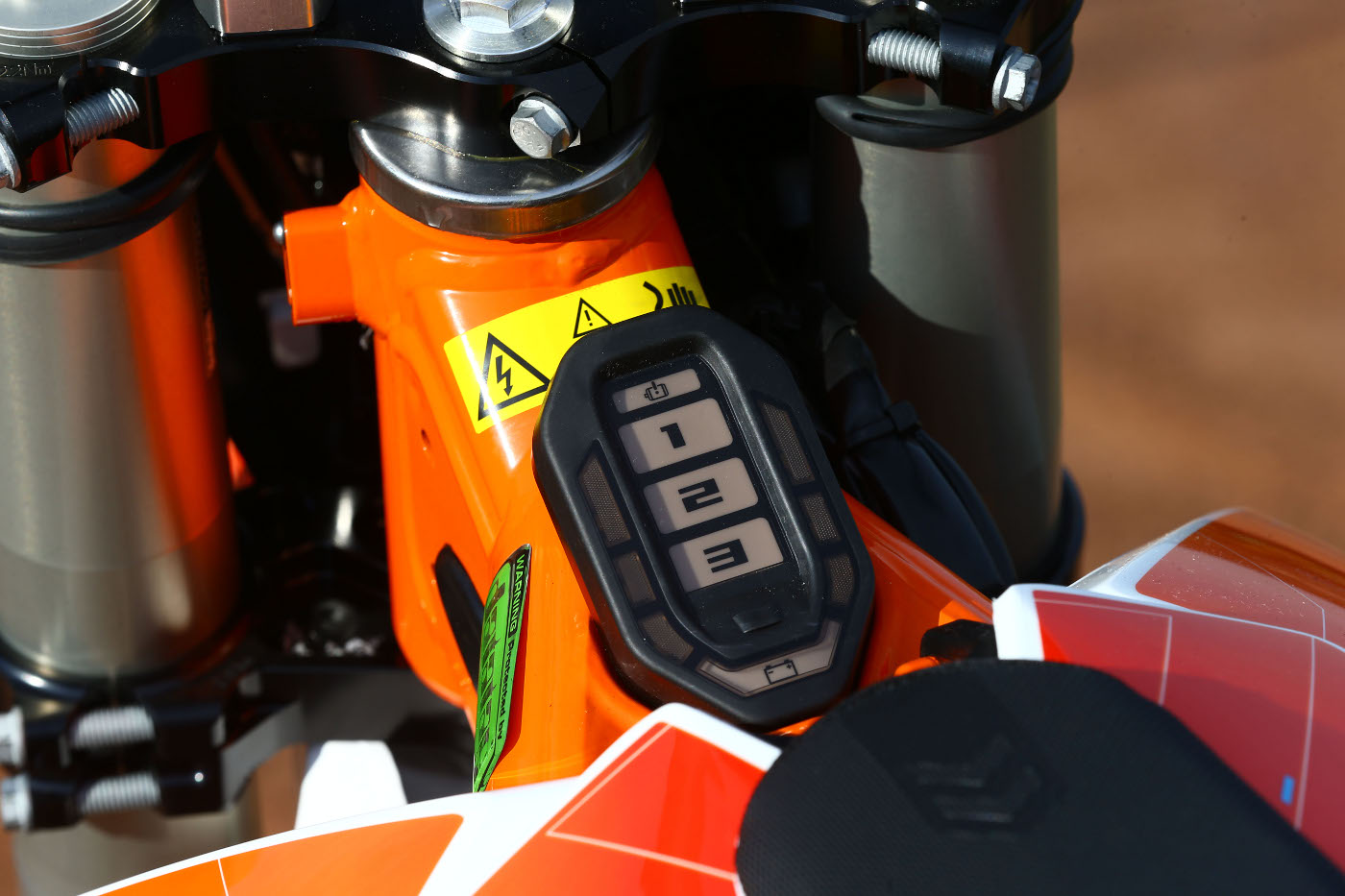 The instrumentation is clear and easy to read. In addition to the dash you get a handy 1, 2 and 3 for your power setting, and a battery indicator around the edge which can be noted in a quick glance. There's also an on/off indicator, which is useful considering how quiet the bikes are when stationary, and a 'park' mode if you want to stop on an incline and keep the bike still.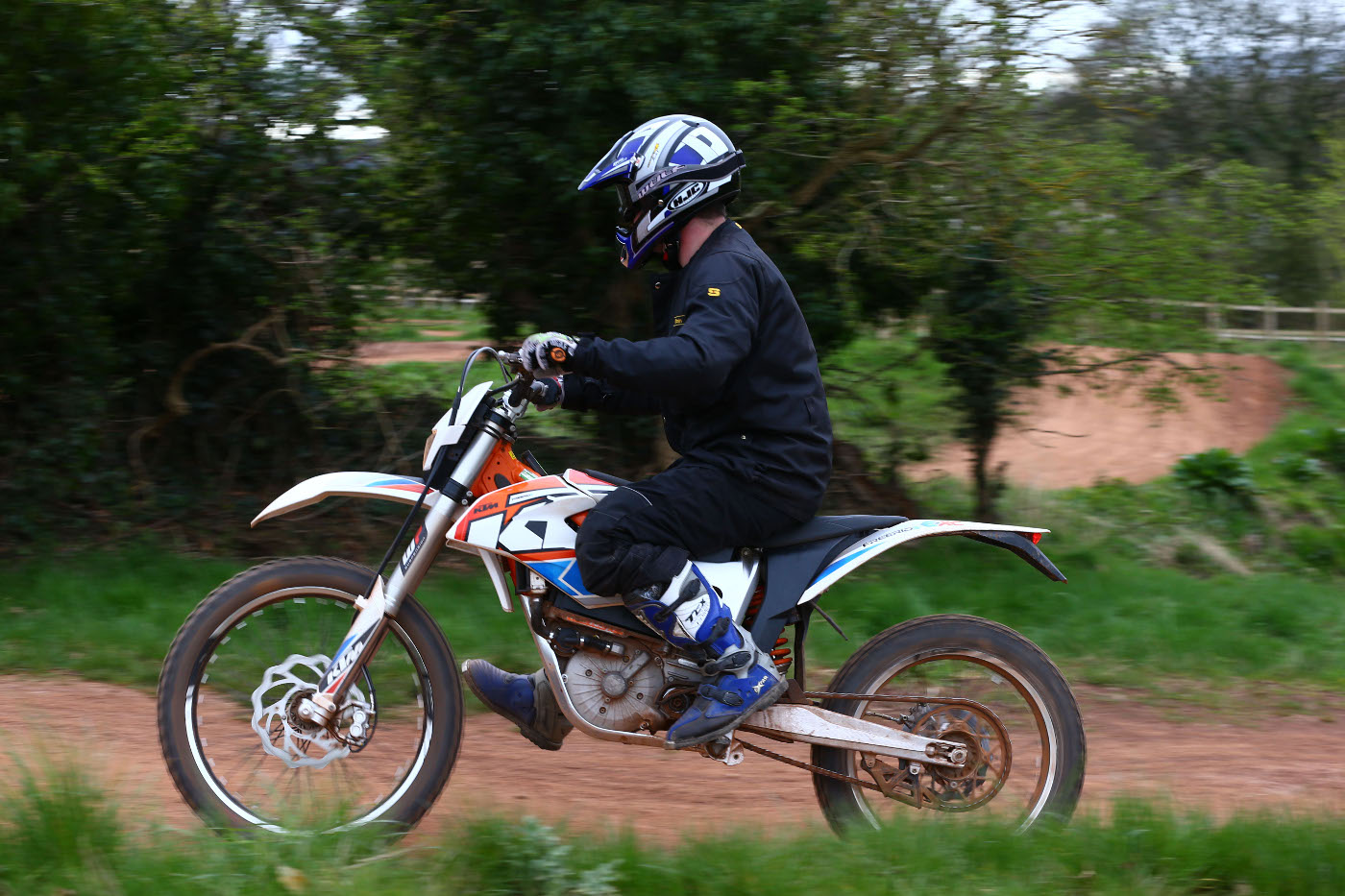 The slight whine of the bike and the noise of wheel on gravel means that you have a much more peaceful experience, and there's no need for ear plugs. You can still hear other riders close behind, but it's possibly easier to judge the traction of your rear wheel without the noise of an engine in the way - you can really hear when it starts to spin up on a loose surface or if it leaves the ground.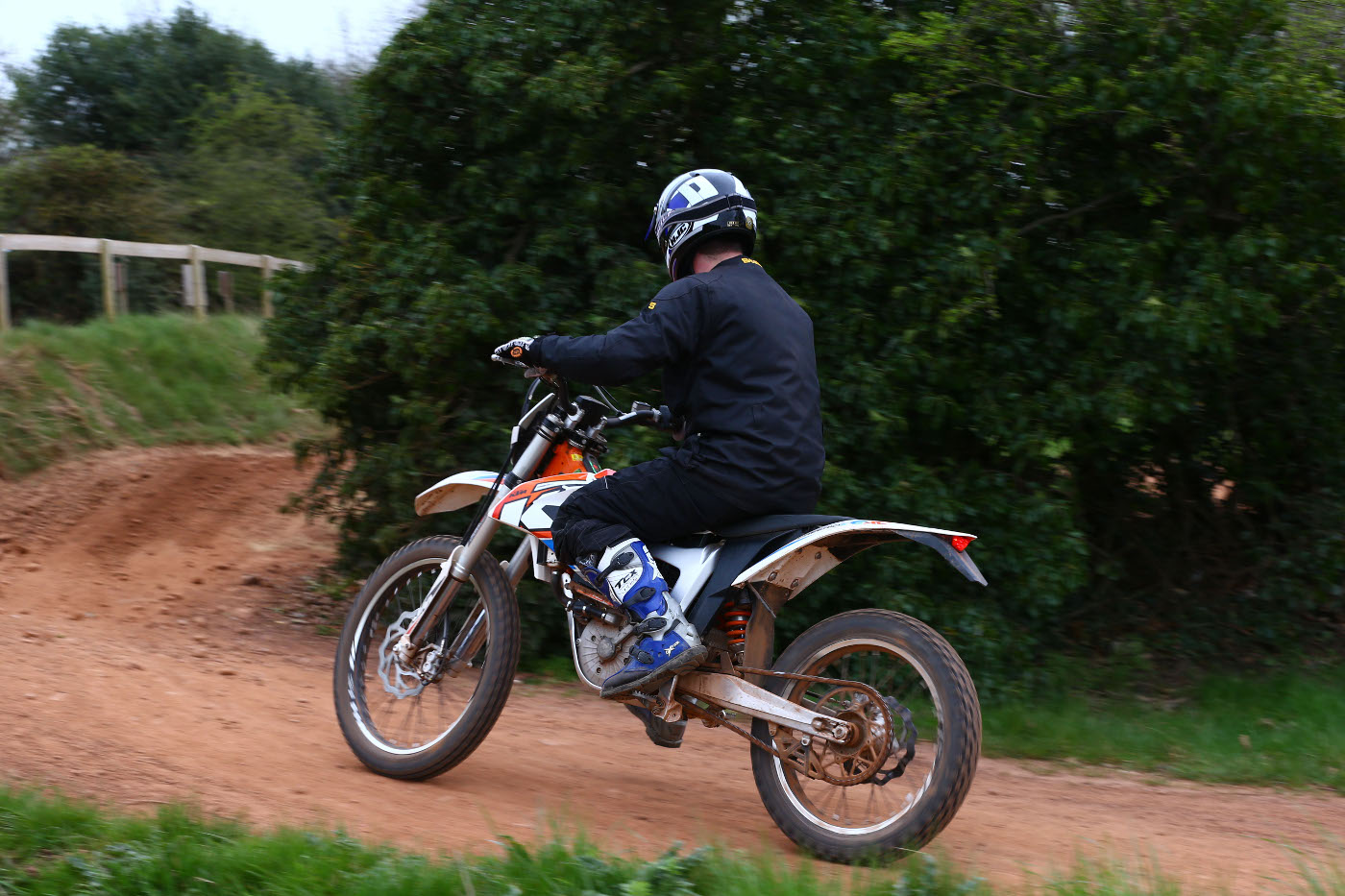 During a day of constant use by a range of riders from novices to Enduro racer Paul Bolton, there wasn't a single mechanical failure I saw - in fact, I didn't even see anyone fall, which is a first for any group off-road riding.
2015 KTM Freeride E-XC and E-SX Verdict:
The KTM Freeride electric motorcycles worked absolutely brilliantly at a dedicated venue like E-Scape, and the E-XC is also fine on the road as it quickly reaches the 50mph top speed. As a demonstration of electric bikes, they're perfect and I'd recommend anyone hires one out for some fun track time.
The two main problems at the moment are the range and the cost. You're going to have a maximum radius of about 50 miles from your start, and although swapping batteries is extremely quick and easy, each spare costs £2,900. And commuting with just one spare would mean you'd need to carry a 27kg PowerPack in your rucksack.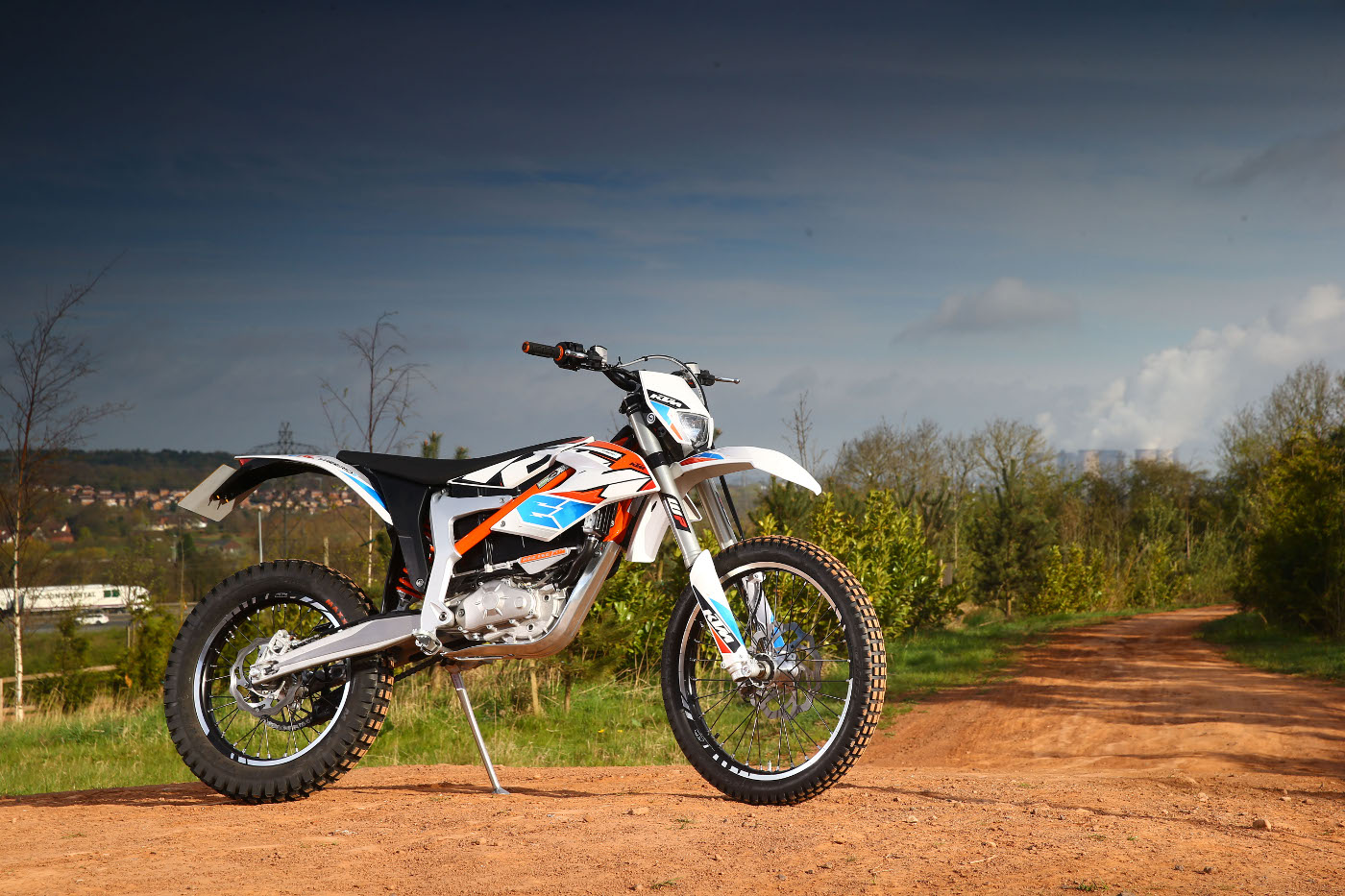 The new £1,500 subsidy from the UK Government does help with the initial purchase price, and until electric motorcycles reach critical mass, they'll always be pricey. KTM aren't planning to sell millions of the battery-powered Freerides, but see this as an important start from a mainstream manufacturer, and as technology and usage increase, the costs will come down.
It's a shame because the savings on congestion and pollution charges in London, the saving on petrol costs, and the reduction in maintenance are all awesome incentives, but it'll take a few years before you'd recoup the initial added investment.
If you have the money and the right use case, they're brilliant. Own a farm and want to get around it without the neighbours complaining? Want to keep a bike at your local MX track and just turn up, charge it and ride? Or want to be able to use an off-road or urban track for the same price or less than karting, bowling or other entertainment? The KTM Freeride E bikes are perfect.
Using them for anything else will be a bit of a challenge at the moment, but will only get easier over time - we'd imagine that battery improvements would be compatible in the future, so by the time you need to replace your battery, a more powerful and cheaper version might slot straight in. But at the moment, we'd be asking for the Freeride E-SX, a charger, two batteries and our own MX track to get the most of it